The Good, the Bad, the Ugly: What We Learned in Year 1 of Wide-Spread Legal Sports Betting
Our panel of experts hits on some highlights and lowlights from the first year of wide-spread legalized sports betting in the U.S.
The topics include: New Jersey's smart approach, New York's failure, the issue with lotteries, the limiting of professional bettors and more.
It's been 365 days since we entered the brave new world of legalized sports betting outside of Nevada, and — breaking news — the world didn't come to an end.
Year 1 brought plenty of good — we have more states offering legal betting at this juncture than even the most optimistic person would've predicted — and a few rough patches.
Let's hit the highlights (and lowlights) as we head into Year 2.
---
THE GOOD
Coast-to-coast: I am pleasantly surprised that 12 jurisdictions have now legalized sports betting in some capacity within the first year of the PAPSA repeal. Given all of the bureaucratic red tape, I didn't expect this many this quickly. — Stuckey
Shop around: If there is a positive from the past year, it's the number of sportsbooks available. As someone who consumes college football numbers 365 days a year, I now have the ability to shop for lines outside of Las Vegas at casinos in Pennsylvania, New Jersey, Mississippi and beyond. Our ability to truly find the best price will only intensify as more states go legal and more operators pop up. Heck, Jersey alone has 14 sportsbooks that are fully operating the mobile space. — Collin Wilson
New Jersey built the ideal model for how a state should legalize sports betting after the Supreme Court's ruling. With full mobile wagering and registration that doesn't need to happen in person, it's about as easy of a process as you can imagine. The good news is that it's been successful, and other states are starting to take note (hello, Indiana). The bad news? Far too many states are still taking a different approach (more on that later). — Josh Appelbaum
New blood, new ideas: We've seen a good amount of innovation in Year 1, and I expect that to continue in the coming years. Part of this optimism comes from what we saw in the DFS market with DraftKings and FanDuel, both of which have continually added new game types around their core products to drive user engagement.
A lot of the peer-to-peer concepts that have made DFS successful over the last half-decade can and will be incorporated into the sports betting market on a broader scale. Specifically, I think we will see more top-heavy, large-scale competitions like the Super Contest, more live contest experiences, and more head-to-head game types as we move forward.
I expect the way in which I speculate on sports to change dramatically over the next couple of years, and I can't wait to see how it all takes shape. — Bill Monighetti
Odds boost, anyone? Competition breeds creativity in any industry, and as legal sportsbooks battle for market share in new markets such as New Jersey, we've seen them widen the scope of their offerings. For example, Jersey books took action on the Oscars and kept up NFL draft props longer than their counterparts in Vegas. They also tried to entice bettors via unique odds boosters, the most famous of which might have been DraftKings offering Tiger Woods at 10-1 to win the Masters the night before the final round.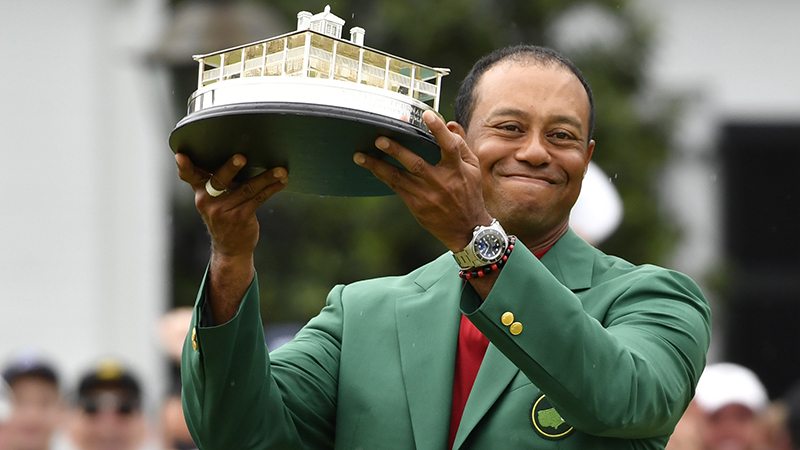 We've also seen operators like FanDuel and DraftKings embrace player props on a larger scale than those in Vegas, which shouldn't come as a surprise given their roots in daily fantasy. And PointsBet has guaranteed that it will take up to a $10,000 bet from any bettor on any game, so long as the wager occurs on the day of the contest.
As Bill alluded to above, these ideas will only continue to pop up as more competition enters the space — and the end result will be a better experience for the bettor overall. — Scott T. Miller
---
THE BAD
Scared of mobile? Of the 12 jurisdictions with legal sports betting, only four have truly set themselves up for success with full mobile wagering throughout the state: Nevada and New Jersey to start, followed by Indiana and Iowa, both of which recently legalized but aren't yet up and running.
Jersey has become the East coast rival to Nevada not just because of its proximity to New York, but because of its policy. Nearly 80% of the $2.32 billion in bets placed in the first nine-and-a-half months have come via a mobile device.
This shouldn't be a surprise: According to a recent Action Network survey, 80% of respondents say they would prefer to bet via an app or website, compared to 50% who want bet in-person.
Delaware, Mississippi, Montana, Rhode Island, Pennsylvania and West Virginia have all had less success than they probably expected — and it's because of their restrictions on mobile betting. Expect Pennsylvania and West Virginia to rectify this soon; the others, frankly, look a little clueless. — Scott T. Miller
What is New York thinking? In 2013, New York prepared for the moment that there would be some reversal in the federal sports betting landscape, providing that four upstate sportsbooks would immediately become legal if that reversal came.
But here we are a year later, and the state hasn't even tested brick-and-mortar sports betting, let alone come close on a mobile offering that would make it a true competitor to Nevada.
Expect those four casinos to be running by football season, but it's hardly a real solution for New York bettors, as the casinos aren't close to Manhattan. That means New Jersey will continue reap the benefits of New York's baffling approach to sports betting. — Darren Rovell
Stay far, far away, lottery: There were three other states besides Nevada that were grandfathered in and didn't need any legislative action to roll out sports betting: Montana, Oregon and Delaware. And all three have taken an unfortunate course of action in my humble opinion by sticking with the state lottery to run things.
It creates a monopoly of sorts and hasn't allowed for the type of creative competition Scott mentioned earlier to manifest itself. Ultimately, that's a disservice to bettors. Oregon has been the most disappointing by far. Not only will the state lottery run everything, it still doesn't have anything ready and it looks as if it will exclude college sports from its offering. Big mistake for all parties involved.
Illegal bookmakers in those states are probably thrilled with the decision to go with an existing lottery versus the free-market approach. And that should tell you all you need to know about whether it was the right decision. — Stuckey
---
THE UGLY
Stop limiting the pros: According to some sharper sports bettors, many operators in states on the East coast have taken some notes from their counterparts in Nevada — and that's not necessarily a good thing. Casinos in states new to sports bettors have reportedly been quick to significantly limit professional bettors, or those who show the ability to win over the long term.
With limits low and even non-existent in some cases, bettors have sometimes been forced to return to offshore shops to get down the amounts they want. As more states come online, it'll be interesting to monitor the appetite for operators to accept high-limit wagers from the country's sharpest bettors.
PointsBet's aforementioned $10,000 Gameday Guarantee is a step in the right direction, but there's still a lot of work to do in this area. — PJ Walsh
Taking the short view: This has certainly been happening less as sportsbooks have gotten called out for it more, but some of the odds we saw early on in legalization were totally out of whack with reality. Moneylines with a 35- or 40-cent vig, futures with a massive hold percentage … we saw it all as new legal books began to pop up.
These tactics were (and are) very short-sighted, hoping to take advantage of some unassuming new bettors. Here's the reality: Books already have an edge over bettors thanks to the juice they can charge, but charging anything beyond standard rate will only alienate bettors and make it harder to take business away from offshore operators.
In fact, I'll take it a step further: I'm surprised we have yet to see a low-juice, high-limit sportsbook emerge in the U.S. It's a much different market, but SoFi has had a ton of success taking this approach in the student loan/mortgage business. You have to think it's only a matter of time before a similar model emerges on the bookmaking side of things. — Scott T. Miller
How would you rate this article?