2018 Cleveland Browns Betting Odds & Season Preview: Over Six Wins A Losing Bet
Credit:
Ken Blaze-USA TODAY Sports. Pictured: Hue Jackson
Win Over/Under: 6 (-110/-110) 
Make AFC Playoffs: +375 (21%) 
Win AFC North: +1000 (9%)
Win AFC Championship: +4000 (2.4%) 
Win Super Bowl: +8000 (1.2%)
---
The Action Network's Projected Wins: 5.28 (32nd)

There are various definitions of insanity, and they're all wrong.
Insanity is betting on the Browns.
Since 2008, Cleveland is 1-9 vs. its win-total over, and the under has cashed in both seasons under Hue Jackson by an average of 4.0 games.
In fact, since Jackson took over, betting against the Browns has essentially been the best investment in sports. If you bet against the Browns spread in each of their games over the past two seasons, you would be up a ridiculous 48.3%.
Will the fade-the-Browns bubble finally burst in 2018?
Considering that one of the primary reasons NFL teams fail is that they do a poor job of self-evaluation, the Browns' decision to replace executive vice president Sashi Brown with general manager John Dorsey would point toward the affirmative. Because as soon as he took over, Dorsey realized the Browns' exact problem: "They didn't get real players."
But, seriously, if you're a team looking for your first win since December of 2016, you could do worse than acquiring quarterback Tyrod Taylor.
Teams that win the turnover differential tend to win nearly 80% of their games, and over his past 29 starts, Taylor has turned the ball over only 14 times. Browns quarterbacks eclipsed that mark by Week 6 of 2017.
As long as Taylor is starting, the Browns are guaranteed to ruin someone's survivor pool by eking out a 6-3 win over a playoff contender that picked the wrong day to fumble four punts.
The issue is that much like Alex Smith's conservative play, Taylor's approach comes at a cost.
Taylor has the tendency to leave throws on the field, so it's no coincidence that he and Smith were let go despite leading their respective teams to the playoffs last season. As a starter, Taylor is 19-3 when his team allows fewer than 20 points. When it allows 20 or more, he's 3-17.
Having pass-catchers such as Josh Gordon (if he still exists), Jarvis Landry and David Njoku combined with running backs Duke Johnson, Carlos Hyde and Nick Chubb — in addition to a decent offensive line that Pro Football Focus ranks No. 14 heading into the season — should put Taylor in a better position than he was in with Buffalo for the past two seasons.
But if you look at only 2015 — when Taylor had the NFL's No. 1 rushing attack, a top-flight O-line, a 1,000-yard season from Sammy Watkins and competent No. 2 and No. 3 receivers with Robert Woods and Chris Hogan — Taylor was still 1-5 vs. opponents with at least 20 points.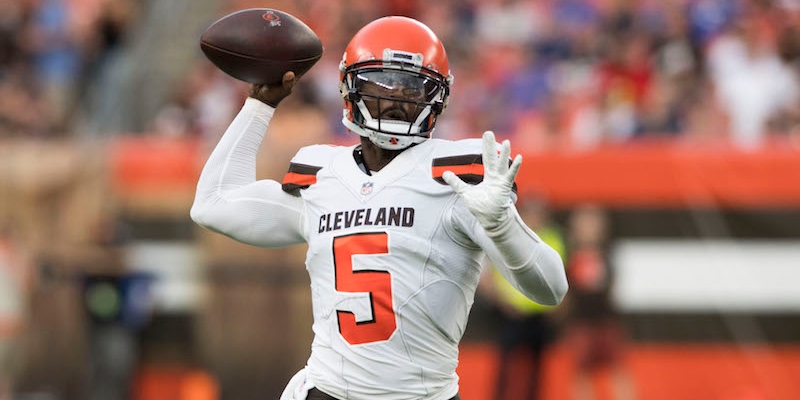 If you replace the Browns quarterbacks' astronomical 34 turnovers from last season with the equivalent of Taylor's rate since 2016, the Browns would still have had a negative turnover differential.
It's ironic that defensive coordinator Gregg Williams once got suspended for Bountygate, because the best thing he could probably do for his defense is take himself out. He had the brilliant idea of playing his safeties a step from the tunnel and counteracting it by never leaving base personnel when opponents lined up in three-wide sets.
Williams is like that noob in Madden who still thinks using punt return on every defensive play is a fantastic idea. His innovative scheme resulted in a last-place finish in takeaways and a second-to-last finish in points allowed.
There's no question that Cleveland's defensive talent has improved with linebacker Mychal Kendricks and cornerbacks Denzel Ward, T.J. Carrie and E.J. Gaines. But the jury is still out on cornerback Terrance Mitchell and corner-turned-safety Damarious Randall.
It's worth noting that while Carrie and Gaines graded as top-40 PFF corners last year, 2017 was each player's first strong season. And they're essentially replacing Jason McCourty and Briean Boddy-Calhoun, who were also top-40. And while Kendricks was PFF's No. 11 linebacker, he's also coming off ankle surgery and expected to start the year as a rotational player.
That means much of the net gains on defense will have to come from No. 4 overall pick Ward and two players who graded out 70th or worse in PFF's charting and are now switching positions: Randall (corner to deep safety) and Jabrill Peppers (deep safety to box safety). It's also worth noting that Mitchell (No. 84) is listed as the starter over Gaines, who is currently week-to-week with a knee injury.
The Browns face 11 teams that averaged 20 or more points last season, and it would be a stretch to expect them to go from a defense that allowed 25.6 points per game to one that consistently shuts down above-average offenses — especially with Williams' questionable scheming.
Of course, this could be less of an issue if Taylor is quickly supplanted by No. 1 overall pick Baker Mayfield, who could be for the Browns what Sam Darnold might be for the Jets:
Since 2000, teams that have drafted a quarterback in the top five picks and started him for at least 13 games in Year 1 have reached seven wins 75% of the time and made the postseason at a 33% rate.
This situation is a little different, though. Only 25% of the teams that hit 7-plus wins actually improved by the seven wins that the Browns would need to go over their win total (the average improvement was 4.0 wins). Also, Jackson has insisted Taylor will be the starter for the foreseeable future.
And that brings us back to one of the main issues with this team: Coaching.
According to Pythagorean expectation, the Browns should have won 6.8 games over the past two seasons, meaning that they've underperformed by 2.9 wins per year under Hue's watch.
Hue's new offensive coordinator, Todd Haley, was essentially run out of Pittsburgh because of mind-numbing decisions, such as throwing 57 times on the league's best pass defense and calling for a fake spike in a situation that clearly demanded a real spike. Things got so bad that Ben Roethlisberger reportedly "requested to have a buffer" between Haley and himself.
The Browns' win total has been bet up from 5.5 to 6, potentially due in part to their appearance on HBO's "Hard Knocks." But teams featured on "Hard Knocks" have gone 4-7-1 (.364) against their win-total over — an improvement compared to the Browns' recent history, but a losing proposition for bettors nonetheless.
I wonder if the public knows what the hard-knock life really is?
Full of sorrow life
No tomorrow life
…
We get kicked
It's the hard-knock life
– Annie & the Orphans, "It's the Hard Knock Life"
Yup, sounds like the Browns to me. – Chris Raybon
Raybon's Bet: Under 6 Wins
---
>> Sign up for The Action Network's daily newsletter to get the smartest NFL conversation delivered into your inbox each morning.
---
If You Needed Another Reason Not to Get Your Hopes Up…
There is no question that Cleveland has improved on both sides of the ball, but a six-win increase from prior-year wins to current-year over/under is something only one team since 2000 has experienced before the 2018 Browns.
The 2000 Chargers went 1-15 but had a win total of 7 the next season. They started 5-2 … but ended the season losing nine consecutive games. Ouch.
The Browns will be better, but seven wins is a stretch. – Evan Abrams
Abrams' Bet: Under 6 Wins
---
Cleveland Browns 2018 Schedule
Games Favored: 2
Avg. Spread: +4.8
Strength of Schedule: 22nd (1 = Easiest, 32 = Hardest)
---
Survivor Pool 101
Use the Browns: Not recommended
Use Browns' opponents: Week 2 @ NO, Week 8 @ PIT, Week 13 @ HOU
---
Fantasy Football Outlook
Top Picks: WR Josh Gordon, WR Jarvis Landry
Sleeper: TE David Njoku
Potential Bust: RB Carlos Hyde
>> Full Fantasy Rankings | Player Projections | Printable Cheat Sheet
---
Best of "I'll Take That Bet" on ESPN+
---
Bookmaker Unfiltered
"The Browns are the biggest liability for us in the division. They've received considerable betting support to win the North. We've also seen decent wagers come in on them to win the Super Bowl and moved them from 100-1 to 80-1, and there's still money coming in."
– Westgate bookmaker Jeff Sherman to The Action Network's Michael Leboff
---
Lock in Jets (+2.5) at Browns in Week 3
This matchup is perceived as soft by the public, but the Jets played to the level of 7.25 wins — according to Pythagorean expectation — in Weeks 1-12 last season with a competent quarterback (which they now might have three of). They are generally being underestimated because of four disastrous games from Bryce Petty.
But even looking at it objectively, -2.5 home favorites coming off a year in which they did not make the postseason are 44-52 ATS (.458) since 2003, according to BetLabs. – Chris Raybon
The Bet: Jets (+2.5) in Week 3
---
Flash Gordon Becomes Cash Gordon in DFS
Josh Gordon posted an asinine 87-1,649-9 line in 14 games in 2013 while catching passes from Jason Campbell, Brandon Weeded — er, Weeden — and Brian Freaking Hoyer.
But according to the FantasyLabs NFL Trends tool, Gordon ranked among the 10 highest-owned receivers on both DraftKings and FanDuel in 2017. He's best used in cash games, not tournaments. – Ian Hartitz
---
---
---
More on the 2018 Cleveland Browns
How would you rate this article?