2018 Denver Broncos Betting Odds & Season Preview: Don't Bet on Case Keenum to Win 7 Games
Credit:
Ron Chenoy-USA TODAY Sports. Pictured: Case Keenum
Win Over/Under: 7 (-150/+130) 
Make AFC Playoffs: +260 (28%) 
Win AFC West: +450 (18%)
Win AFC Championship: +2000 (4.8%) 
Win Super Bowl: +4000 (2.4%)
---
The Action Network's Projected Wins: 7.61 (20th)
The Broncos have had a quarterback problem since Peyton Manning left — and they still do.
That's not a shot at Case Keenum. It's not even a shot at Trevor Siemian or Brock Osweiler. And it probably has less to do with Manning than you think.
This is about former Broncos quarterbacks, one who sits upstairs and another who used to walk the sidelines: John Elway and his longtime backup, Gary Kubiak.
Elway rightly attributed the team's three straight 12-plus win seasons from 2012 to 2014 to Manning rather than to John Fox. Elway eventually fired Fox for Kubiak, who brought in Wade Phillips, his former defensive coordinator in Houston.
Both moves are instructive to forecasting the Broncos 2018 outlook. They're evidence that the team's fate has been determined by coaching and Elway's decisions a lot more than it's been determined by its quarterback.
The Broncos won the Super Bowl in 2015 with a quarterback situation no worse than they had in 2016 or 2017. The legendary Manning had a 9-17 touchdown-to-interception ratio and played himself onto the bench for Osweiler.
(Do you realize how bad Peyton Manning has to play to get benched for Brock Osweiler?)
Meanwhile, Phillips took a defense that ranked 16th in points allowed in 2014 and led it to a fourth-place finish the next season. "Took a defense" is not just a figure of speech here, either: 10 of the 11 starters were on the roster the year before, including pass-rushers Von Miller and DeMarcus Ware and "No Fly Zone" corners Aqib Talib and Chris Harris.
Phillips is the anti-Kardashian when it comes to his affect on professional athletes. Each of his last six defenses jumped at least 10 spots in the rankings in his first year as coordinator.
2017 Rams: No. 23 to No. 12
2011 Texans: No. 29 to No. 4
2004 Chargers: No. 31 to No. 11
2002 Falcons: No. 24 to No. 8
1995 Bills: No. 22 to No. 12
1989 Broncos: No. 20 to No. 1
In 2016, Kubiak and Phillips coached a team with the toughest schedule in the NFL (according to the combined winning percentage of opponents) to a 9-7 record, this time with Trevor Siemian starting 14 games at quarterback and without key defensive lineman Malik Jackson.
But since Kubiak retired in 2016, Elway's decision-making process has regressed. It was only through the stupidity of another franchise that Elway got bailed out of the deal he offered Osweiler, which would have paid him $16 million per year.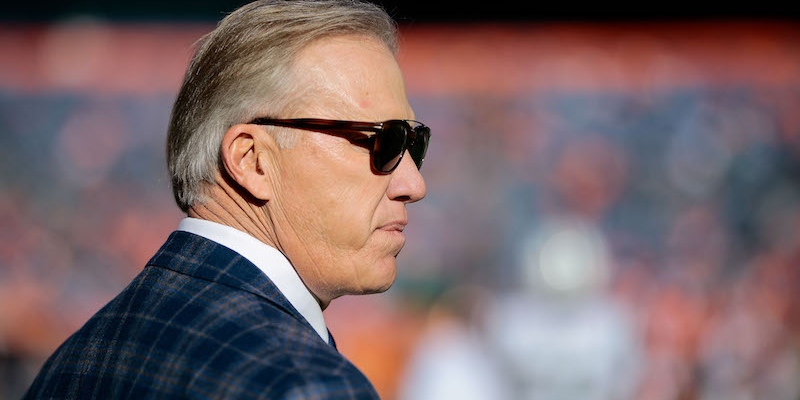 Elway decided that with Kubiak gone, retaining Phillips wasn't a priority. So he let Phillips go and promoted defensive backs coach Joe Woods to complete a staff with new head coach Vance Joseph and offensive coordinator Mike McCoy.
The results in 2017 were as follows:
Even though Siemian led the Broncos in starts, the defensive core was largely intact and the team went from the hardest schedule to the 16th-easiest, the team dropped from 9-7 to 5-11.
The performance of Siemian as well as Elway's irrational man crushes Osweiler and Paxton Lynch regressed relative to their performance under Kubiak. McCoy was fired before Thanksgiving.
Woods had the anti-Phillips effect on the defense, and it fell to 22nd in points allowed amidst Elway's unpopular decision to move on from safety T.J. Ward, which gave opposing offenses a respite of soft underneath coverage despite the continued presence of Harris and Talib on the outside (and drew a scathing but honest critique from Talib after he was traded to the Rams).
Now, it's hard to argue that the on-field play of their quarterback isn't bound to regress like the decision-making of their former quarterback-turned-GM.
Keenum last year in Minnesota was paired with a head coach in Mike Zimmer who had already proven he can exceed expectations with a 32-16 (.666) record against the spread in 2014-2016, helping the Vikings exceed their Vegas win total in two of those three seasons.
In Denver, Keenum is paired with Joseph, who not only went 4-11-1 (.267) ATS and watched his team fall three games short of its Vegas win total in Year 1, but who also failed to live up to expectations in his lone season as a defensive coordinator in 2016, overseeing a Dolphins unit that finished 18th in points and 29th in yards allowed.
Keenum's offensive coordinator last season, Pat Shurmur, in 2016 helped Sam Bradford complete a then-record 71.6% of his passes.
Now Keenum's coordinator is Bill Musgrave, whose resume includes one No. 6 finish in points but eight others between 14th and 29th.
Last year Keenum threw to Adam Thielen and Stefon Diggs in their prime as well as tight end Kyle Rudolph, who is second among tight ends in touchdown catches over the past two seasons.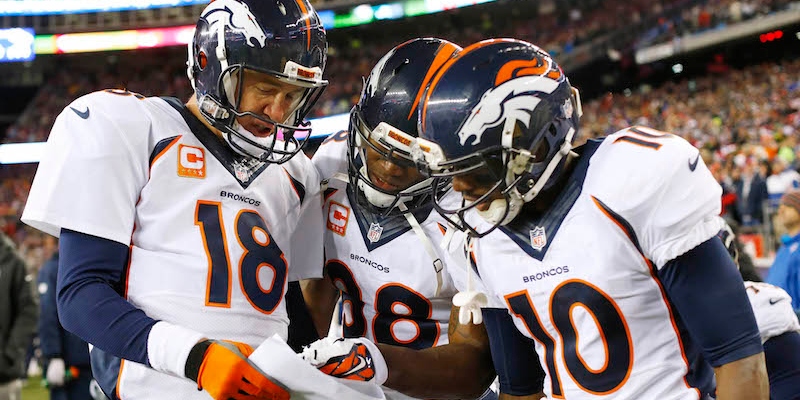 Now he'll be throwing to the aged Demaryius Thomas and Emmanuel Sanders as well as a group of tight ends whose names you probably wouldn't recognize unless you're in a dynasty league. And while the preseason proved that Sanders still has juice, Thomas is in the midst of a four-year decline and could be mostly pulp at this point.
Musgrave's lone No. 6 finish in points came on the heels of the Raiders' league-best starting field position in 2016, which then points the finger back to Woods, whose defense finished dead last in starting field position, partially because of the McCoy/Musgrave offense. See where this is going?
Denver's two quality wins last season came on a last-second field-goal block of the Chargers in Week 1 and a rout of the Cowboys in Week 2, when every touchdown pass, run and return was accounted for by a player no longer on the team.
The other three wins came against the Raiders with E.J. Manuel (after Derek Carr's in-game injury), the Colts with Jacoby Brissett and the Jets with Bryce Petty.
In fact, if you remove all games in which the Broncos faced a non-Week 1 starting quarterback for a significant portion of the contest — so, the three aforementioned wins plus a 27-24 loss to the Chiefs with Patrick Mahomes in Week 17 — their win total according to Pythagorean expectation drops from 5.4 to 3.7.
The help that's on the way — Keenum, rookie running back Royce Freeman, rookie wideout (and potential Thomas succession plan?) Courtland Sutton, tackle Jared Veldheer (who joins an offensive line that Pro Football Focus still ranks 19th in the NFL), pass-rusher Bradley Chubb and even swag champ/punter Marquette King — isn't enough to get the Broncos over the top. It's merely enough to make them competitive again.
A coaching staff with a dubious track record that has gone somewhat underreported must now prove it can maximize its team's talent.
Elway deserves credit for betting on Manning coming off neck surgery, shaking up the coaching staff of a team that had won more than 75% of its games and ultimately allowing another Lombardi Trophy to be hoisted above sea level.
But in failing to prove he can make bets that pay off in a post-Manning and post-Kubiak world, Elway has given us more reason to bet against him than on him. – Chris Raybon
The Bet: Under 7 Wins
---
Denver Broncos 2018 Schedule
Games Favored: 7
Avg. Spread: +1.0
Strength of Schedule: 11th (1 = Easiest, 32 = Hardest)
---
Survivor Pool 101
Use the Broncos: Week 15 vs. CLE
Use Broncos' opponents: Week 3 @ BAL, Week 11 @ LAC, Week 14 @ SF
---
Fantasy Football Outlook
Top Pick: RB Royce Freeman
Sleeper: WR Courtland Sutton
Potential Bust: WR Demaryius Thomas
>> Full Fantasy Rankings | Player Projections | Printable Cheat Sheet
---
Best of "I'll Take That Bet" on ESPN+
---
Bookmaker Unfiltered
"They have long odds and a good fanbase so they are our biggest liability in the division. For the Super Bowl we opened them at 60-1 and moved them to 40-1 as well."
– Westgate bookmaker Jeff Sherman to The Action Network's Michael Leboff
---
Demaryius Thomas Under 1,049.5 Receiving Yards? (-125/-105)
Thomas is entering the twilight of his career. Turning 31 in December, he saw the Broncos this year draft a couple of prospects who could replace him in the coming years.
The impressive rookie Sutton has made some noise in the preseason. He could eat into both Thomas' and Sanders' targets as soon as this year; both veteran receivers have benefited from the lack of a third receiving option in past years.
This prop is a good 100-150 yards too high. There's serious value on the under. – Sean Koerner
The Bet: Under 1049.5 (-105)
---
Slot Emmanuel Sanders Into DFS Lineups Outside Mile High
The Broncos are expected to feature Thomas and Sutton outside in three-wide sets, which opens up the slot for Sanders, who could be Keenum's new Thielen.
Keenum fed Thielen 8.9 targets per game last season, and the Broncos don't have a receiving tight end or running back on the level of Kyle Rudolph or Jerick McKinnon.
Look to take advantage of Sanders when the Broncos are traveling: He's averaged an additional 3.7 DraftKings points on the road compared to at home since 2014, boasting a +1.6 Plus/Minus and 53% Consistency Rating away from Denver over that span. – Ian Hartitz
---
---
---
More on the 2018 Denver Broncos
Authors of this article include The Action Network's own: Chris Raybon, Sean Koerner and Ian Hartitz.
How would you rate this article?