Our Staff's Favorite Under-the-Radar Fantasy Football Players in 2018
Credit:
Eric Hartline-USA TODAY Sports. Pictured: Nelson Agholor
The Action Network staff picks its top fantasy football sleepers for 2018, from Browns tight end David Njoku to 49ers running back Matt Breida.
Eagles wide receiver Nelson Agholor had a quiet Year 3 breakout in 2017 and could see an even higher volume of targets this season.
Seahawks wide receiver Tyler Lockett should benefit from the departures of Jimmy Graham and Paul Richardson.
The Action Network has you covered with the top fantasy football players for 2018, but which guys should you target in the later rounds of your draft?
Our staff makes its top picks for this season's fantasy football sleepers.
Note: Average Draft Projection (ADP) for 12-team PPR leagues courtesy of Fantasy Football Calculator (as of Aug. 22).
Nelson Agholor, WR, Philadelphia Eagles
ADP: 102 (WR42)
Finding his niche in a "big slot" role in Philadelphia, the 2015 first-rounder turned in a post-hype breakout campaign last season, quietly finishing as the WR21 overall and WR28 in points per game.
As he began to flourish, his role grew. Between Week 13 and the Super Bowl (excluding Week 17), Agholor averaged 8.1 targets and 5.9 receptions per game. It's worth noting that Zach Ertz missed one of those games, but Agholor still led the Eagles in targets in Ertz's active games in that span.
With Alshon Jeffery's shoulder surgery putting him against the clock for Week 1 and potentially hindering him early in the season, Agholor has the potential for an even higher-volume role. – Chris Raybon
Matt Breida, RB, San Francisco 49ers
ADP: 136.8 (RB50)
Most are expecting the newly acquired Jerick McKinnon to handle the lion's share of running back touches in San Francisco, but McKinnon remains overrated as a ball carrier. He averaged only 3.8 yards per carry on 150 carries for the Vikings last season after averaging just 3.4 yards per carry the season before.
Breida averaged 4.4 yards per carry on 105 carries for a significantly worse team in 2017 and is an excellent pass-catcher out of the backfield.
Kyle Shanahan utilized a two-headed monster approach at RB as the offensive coordinator in Atlanta, and he could take the same approach in San Francisco. Breida should have some stand-alone value right out of the gate in PPR leagues and would be an every-week starter if McKinnon went down with an injury. – Matt LaMarca
John Brown, WR, Baltimore Ravens
ADP: 138.8 (WR57)
Brown is slated to start for the Ravens, has reportedly stood out in practice and now seems healthy for the first time since 2015, when he had a 1,000-yard campaign in his second NFL season.
Brown can line up across the formation, and his deep speed is a natural complement to Joe Flacco's strong arm. Brown has a real chance to overtake the almost 31-year-old Michael Crabtree as the No. 1 receiver on an unsettled depth chart. – Matthew Freedman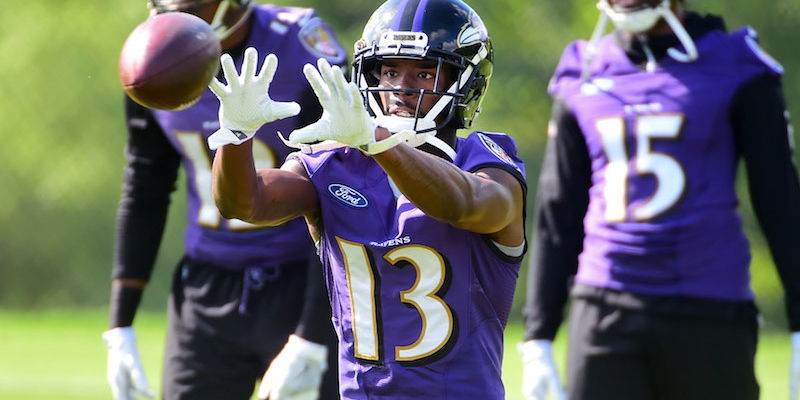 "Smokey" Brown is being overlooked right now if he is in fact healthy heading into 2018.
For the past couple of seasons he has battled a range of injuries that appear to be linked to his sickle cell trait. Apparently the trait flares up more in hot and humid weather, so maybe leaving the desert in Arizona will help curb the issue.
Flacco seems poised for a highly motivated season — a la Alex Smith last year — with the Ravens sending the veteran QB a signal by drafting Lamar Jackson. I think he steps up big, with Brown as one of his go-to guys. Brown is going late enough that he can easily be dropped if he doesn't pan out after a few weeks. – Sean Koerner
Tyler Lockett, WR, Seattle Seahawks
ADP: 133.3 (WR54)
Lockett finished third on the Seahawks in receiving yards (555), targets (71) and air yards (922) last season. The departure of Jimmy Graham and Paul Richardson will free up 178 targets and 1,912 air yards, which bodes well for Lockett.
And if Doug Baldwin's knee is an ongoing issue, that's another positive for the contract-year wideout. – Justin Bailey
David Njoku, TE, Cleveland Browns
ADP: 104.1 (TE11)
Njoku was one of just 11 tight ends with at least eight catches of 20-plus yards last season despite playing only 47% of the offense's snaps. New offensive coordinator Todd Haley appears poised to feature his 22-year-old tight end, considering Njoku played on 30 of 32 first-team snaps with Tyrod Taylor over the first two weeks of the preseason.
Njoku's elite athleticism gives Taylor a rich man's Charles Clay. – Ian Hartitz
---
More Fantasy Football Content from The Action Network
---
Kenny Stills, WR, Miami Dolphins
ADP: 120.0 (WR49)
Stills was the Dolphins' leading receiver in air yards last season and second to the gone-but-not-forgotten Jarvis Landry in total targets, total receptions, total receiving yards, touchdowns and average receiving yards per game.
DeVante Parker — Stills' biggest competition for targets — is questionable for Week 1 with a broken finger and seemingly plays with numerous broken fingers at all times, anyway.
If Stills can make the jump from a field-stretching speedster to his team's de facto No. 1 receiver, getting him outside the top 100 is free money. – Kyle Dvorchak
Robert Woods, WR, Los Angeles Rams
ADP: 103.8 (WR43)
Woods averaged 13.6 points per game in PPR leagues last season — high-end WR2 numbers — yet he's being drafted as a WR4.
Brandin Cooks is probably an upgrade on Sammy Watkins — especially with an offseason to get acclimated to the system — but Woods was arguably the Rams' best receiver in 2017. His strength is finding holes in zone coverage, where he provided an 81.5% success rate last season (Reception Perception), and he should remain a prime beneficiary of Sean McVay's commitment to generating layup throws for Jared Goff. – Joe Holka
Authors of this article include The Action Network's own: Chris Raybon, Sean Koerner, Ian Hartitz, Kyle Dvorchak, Matt LaMarca and Matthew Freedman.
How would you rate this article?