Koerner's 2018 Fantasy Football Tiers: QB
Credit:
Jayne Kamin-Oncea- USA TODAY Sports. Pictured: Jimmy Garoppolo.
The prudent fantasy football draft strategy this year is to wait to draft your quarterback.
Aaron Rodgers is in the top fantasy tier all by himself, but let someone else in your draft set the market for him.
You're better off selecting a QB from the fifth tier, which includes Kirk Cousins, Jimmy Garoppolo and Andrew Luck.
The quarterback position is as deep as it has ever been in fantasy football this season. So it's critical to wait as long as possible before drafting your QB.
That's not to imply that you should punt on the position entirely in your draft, but trust me, QB1s will be available later in drafts than you might think.
All of this is why I like thinking in tiers as opposed to rankings, because not all ranks are made equal.
At QB specifically, there is more of a difference between QBs No. 4 and 5 than there is between QBs No. 8 and 16.
The point of these tiers is to distinguish the true coin-flip decisions from the easier calls.
You can debate for hours whether Cam Newton or Russell Wilson should be the second QB taken this season, and neither one would really be "wrong" in my opinion.
But I wouldn't recommend taking either over Aaron Rodgers. This is the best way to think of a tier.
It's also important to know when there are only one or two players left in a tier, as those players increase in value.
The worst thing you can do is draft a player atop a tier that's loaded with players who project to have similar outputs in 2018.
Use the tiers below to find hidden value while drafting to construct a winning team.
Without further ado, here are my 2018 QB tiers!
All tiers/rankings as of Aug. 20.
Tier 1
Aaron Rodgers
Yes, Rodgers still deserves his own tier. We all know his ability to put up elite passing stats on a weekly basis, but his rushing prowess gives him additional value.
With the QB position as deep as it is this season, I'm willing to let someone else take him first to set the market for QB and scoop up the QB who falls toward the middle to late rounds.
---
See My Tiers for Other Positions
---
Tier 2
Russell Wilson
Cam Newton
Tom Brady
Wilson and Newton have the dual-threat ability to be high floor/ceiling options each week.
Newton may have his most passing weapons ever headed into a season. The same can't be said for Wilson, who lost Paul Richardson and Jimmy Graham and will have to rely on Doug Baldwin even more this year.
No offense relies on its QB more than the Seahawks. Last season, only one offensive TD was scored by a Seahawk other than Wilson.
They drafted a first-round RB in Rashaad Penny and brought in offensive coordinator Brian Schottenheimer to potentially become more "balanced."
But with their defense likely to take a pretty big step back, the Seahawks very well could be forced to throw more than they would like, preventing Wilson from reverting to the game manager role we saw a few years ago.
There's not much left to say about Brady: He's simply Mr. Reliable. You can typically expect top-10 numbers each week with very few crazy spikes, given his lack of rushing stats.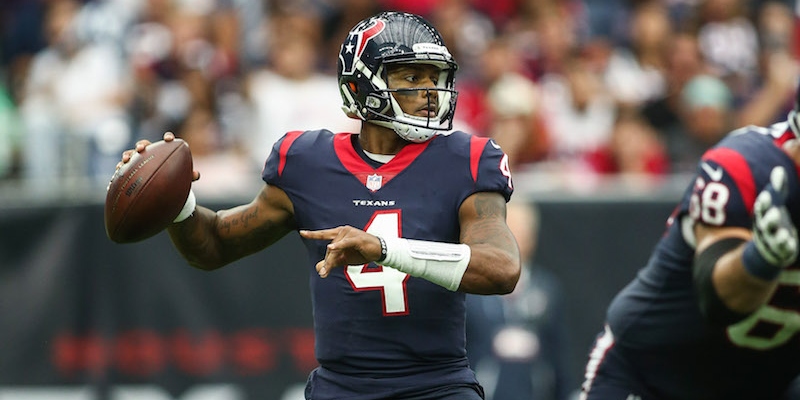 ---
Tier 3
Deshaun Watson
Drew Brees
You could not have two guys more dissimilar sharing a tier.
With Watson, you are relying on a half-season sample, during which we may have seen the best seven-game stretch of his career.
The thing is, it may be one of the best seven-game stretches we have ever seen from any fantasy quarterback.
Obviously it may be difficult for Watson to sustain that pace, but I think too many people are writing him off, simply because he was so freaking good last year.
That's a mistake. If you want to swing for the fences, you can justify drafting Watson in the tier above. He put up insane numbers in college, much like Newton, so you wouldn't be crazy to think he will have a similar career arc.
Brees, like Brady, is much more of a steady force than Watson, and his lack of rushing stats will curb his upside a bit.
Last season, we saw Brees attempt fewer than 600 passes for the first time (in a full season) in more than a decade.
A lot of that had to do with the Saints having one of the most improved defenses in the NFL and an elite running game.
I expect him to have a slight uptick in pass attempts this year, which will only help his week-to-week consistency.
---
More Fantasy Football Content from The Action Network
---
Tier 4
Carson Wentz
One of the biggest surprises of 2017, Wentz was a legit MVP candidate — in real life and fantasy. He went undrafted in most leagues last season, but was the No. 2 QB from Weeks 1-14 before missing the rest of the season with a torn ACL.
Unfortunately, he's still not a sure thing to suit up in Week 1.
If he's ready to go to start the season and has most of his mobility back, he will deserve to be in the tier above. If not, he will drop to the tier below.
---
Tier 5
Ben Roethlisberger
Matthew Stafford
Kirk Cousins
Philip Rivers
Jimmy Garoppolo
Andrew Luck
Patrick Mahomes
Matt Ryan
Jared Goff
This is the start of a massive pileup in the QB rankings this year.
If you look at other experts' rankings, you'll see a wide range of rankings for the players above. The order doesn't really matter.
This tier is the driving force behind the strategy of waiting as long as possible to select your QB this year. There are only six projected points separating the top to the bottom of this list for me.
The way to take advantage of this tier is to let others draft who they want from here early on while you load up on RB/WR/TE. Then you can snatch whichever one of these QBs falls to you.
I would be OK with any of these guys being my QB1 to start the season.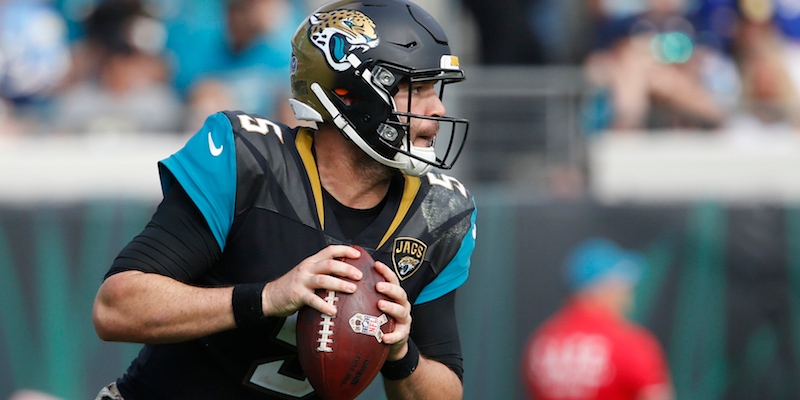 ---
Tier 6
Alex Smith
Dak Prescott
Marcus Mariota
Blake Bortles
I wouldn't want to rely on any of these guys to be my every-week QB1 in a standard 12-team league. But in a two-QB format, these guys are elite.
They all provide a good blend of passing/rushing stats that gives them a nice floor/ceiling combo.
Much like Bortles, who tends to get bashed a bit too much considering he puts up solid fantasy stats year after year, this tier is underrated.
---
Tier 7
Derek Carr
Mitchell Trubisky
Andy Dalton
Jameis Winston
Case Keenum
Eli Manning
This is another tier that gets a bit of a bad rap, but will deliver solid value in two-QB leagues.
I think the anti-Gruden rhetoric has gone a bit too far. Yes, he has been away from coaching for a decade now, but it's not like he was off in India getting stoned with Ricky Williams; he was simply in the announcer booth.
I would imagine the Raiders' coach is well aware that the game has evolved since he was last on the sidelines.
The Carr/Amari Cooper combo has a good chance to (finally) break out in 2018. By the end of the season, I predict we will shift to the other end of the spectrum and be giving Gruden too much credit for the duo's turnaround.
---
>> Sign up for The Action Network's daily newsletter to get the smartest NFL conversation delivered into your inbox each morning.
---
With a new offensive-minded coach in Matt Nagy, Trubisky could make a big second-year leap, similar to what we saw last year with Goff.
I would caution that we might not see that type of production through the air with Trubisky, but his rushing ability gives him some serious high-end QB2 upside.
Winston, who's suspended for the first three games, is worth a stash in two-QB leagues; just make sure to also grab Ryan Fitzpatrick, who will be Winston's replacement.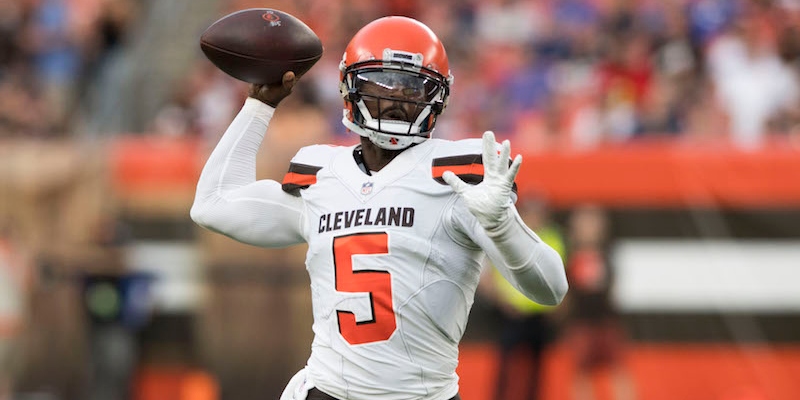 ---
Tier 8
Ryan Tannehill
Tyrod Taylor
Joe Flacco
We are now starting to see QBs who very well could be replaced by their backups midseason.
This is a make-or-break year for Tannehill. He doesn't offer enough upside to worry about this late in the draft.
Taylor will have first overall pick Baker Mayfield waiting for his number to be called. That sort of pressure will force Taylor to play at a high level.
It's not crazy to think he could make it as a starter all 16 games if the Browns are winning games at a decent clip. As long as he is the starter, Taylor will provide high-end QB2 upside in certain matchups.
Flacco is in a similar position as Alex Smith was last season, after the Ravens drafted Lamar Jackson with their first-round pick. We should treat Flacco like a dormant game manager QB who could erupt.
Reports have been glowing, calling this the best camp of Flacco's career. He even decided to participate in voluntary offseason workouts with his wide receivers and tight ends for the first time since 2011.
It's amazing to see how much a high draft pick can motivate a veteran.
My prediction: Flacco will remain the starter for all 16 games and surprise people this year.
---
Tier 9
Josh Allen
Josh Rosen
Sam Darnold
Sam Bradford
Josh McCown
Baker Mayfield
This is the flier tier for those of you in two-QB leagues. The choices: Gamble on the first-round rookie who should start at some point this season, or take a chance on the veteran who will put up decent numbers until supplanted by the QB of the future.
I would say that Allen is the most likely rookie QB to start games given the shoulder injury AJ McCarron suffered in Week 2 of the preseason.
Darnold will be a close second. I could see the Jets starting McCown in Week 1, or even Teddy Bridgewater to potentially showcase him for a trade, then playing Darnold closer to midseason.
Rosen could remain the backup all season in Arizona if Bradford manages to stay healthy for 16 games. I don't see that happening, so expect Rosen to start some games this year, though it might not be until much later in the season.
How would you rate this article?