Koerner's 2018 Fantasy Football Tiers: RB
Credit:
Matthew Emmons-USA TODAY Sports. Pictured: Todd Gurley
You can never have too many running backs when playing fantasy football, so draft them early and late.
It's especially pivotal to target RBs in the mid-to-late rounds who have the upside to be lead backs by the end of the season.
Players such as the Ravens' Alex Collins, Titans' Derrick Henry and Eagles' Jay Ajayi are part of the boom-or-bust tier of fantasy football RBs. If they win the majority of carries on their teams, watch out.
Running back is the most critical position to a fantasy team's success. In short: If you have a top 4-5 pick, you must spend it on a workhorse RB.
Yes, the position is tough to predict and comes with the greatest injury risk, but that's simply the nature of the game and not something you should let alter your strategy.
Instead adopting the "Zero RB strategy" and waiting until much later in the draft to take your first back, a much better approach is to always act like you can never have too many RBs.
Target RBs at all stages of the draft who could benefit from potential chaos.
Tevin Coleman and Derrick Henry come to mind this year. They're both part of a running back-by-committee approach, and when their fellow backfield-mate is healthy, they will put up RB2/FLEX value (which is right where they are being drafted).
But if their teammates were to miss any time, they would be RB1s.
This gives Coleman and Henry hidden upside that makes them valuable to snag in the mid-rounds.
A late round player who fits this strategy is someone like Chris Ivory. Right now he is LeSean McCoy's primary backup. Considering McCoy's current legal situation, he could face some sort of suspension this season.
If McCoy ends up getting suspended, Ivory would be the top pickup on waiver wires across all leagues. He's worth a flier draft pick and a spot on your bench.
If at any point McCoy no longer looks like a threat to be suspended, you can simply drop Ivory for another RB who could become a team's starter if the No. 1 back misses time.
I will dive more into more RB strategy such as this in the individual tiers below.
Please keep in mind that these tiers are based on standard fantasy scoring.  Using a +/- figure, I will indicate how many tier(s) that player would move up or down based on a full-PPR scoring system.
All tiers/rankings as of Aug. 20.
Tier 1
Todd Gurley
Gurley's TD expectations give him enough of an edge over Le'Veon Bell that he deserves a tier all to himself in standard. In a PPR format, I think you can make a case for Bell over Gurley, I just won't be pulling that trigger myself.
---
See My Tiers for Other Positions
---
Tier 2
Le'Veon Bell (+1)
Ezekiel Elliott (-1)
Bell is expected to hold out right up until the season starts again. We could see him start off a bit slowly, but I expect him to get back to his usual ways in no time. Elliott has the volume and TD production to warrant being in this tier in standard leagues. He falls to the tier below in PPR.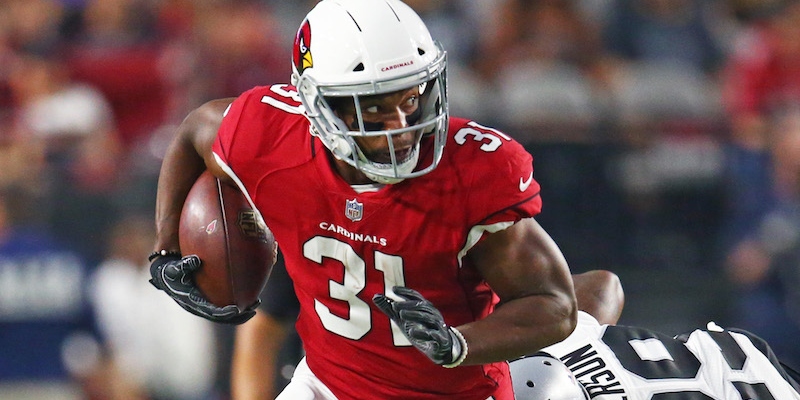 ---
Tier 3
David Johnson
Johnson is a top-3 pick in PPR, but I'm a bit more cautious with him in standard. The Cardinals O-line — and their overall team in general — won't produce many positive game scripts for DJ.
He's going to have to get a lot of his production in the passing game, making him a much better option in PPR.
---
Tier 4
Alvin Kamara (+1)
Leonard Fournette (-2)
Saquon Barkley
There may not be a more polarizing pick than Kamara in the top 5 overall this season.
Based on last season's production, he absolutely deserves to go that early, but it's reasonable to expect his efficiency to come back down to earth.
Even if that happens, Kamara could offset that drop-off with an increase in volume. Mark Ingram missing the first four games due to suspension will give Kamara a boost early.
---
More Fantasy Football Content from The Action Network
---
Tier 5
Melvin Gordon
Kareem Hunt
Gordon should continue to see massive workloads in both the rushing and passing game, making him a fairly safe pick at the end of Round 1.
Hunt relies on big runs, which may cause him to be fairly inconsistent, like we saw last season. It's important to stick with him even if he appears to be struggling.
I can't tell you how many people I had to convince to start him in the fantasy playoffs after his nine-week scoreless drought from Weeks 4-12. Hunt went on to score in each of the final four weeks.
---
Tier 6
Devonta Freeman
Dalvin Cook
Cook could easily provide top-five value if he is 100% recovered from his ACL surgery a year ago. We have yet to see him in preseason, leaving me to keep him as a low-end RB1.
Cook's ranking could go slightly up or down based on if/when we see him in preseason. I'll be watching to see how he looks making cut-backs and running after contact.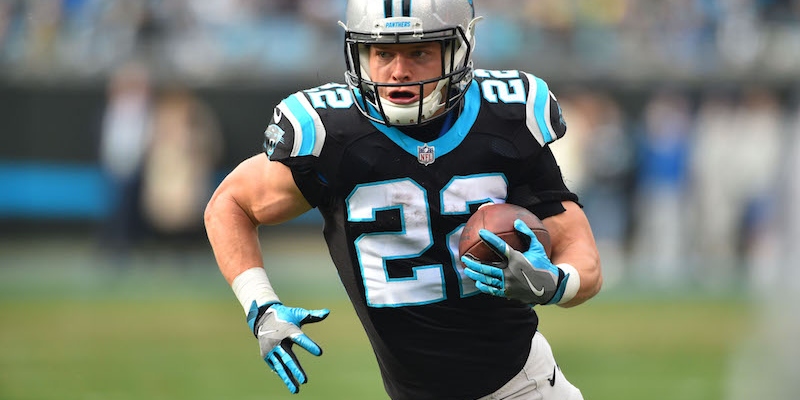 ---
Tier 7
Christian McCaffrey (+1)
Jordan Howard (-1)
Joe Mixon
Jerick McKinnon
McCaffrey has bulked up in the offseason with the hopes of being able to handle a bigger workload.
He is less of a PPR-only player now and certainly could be a week-to-week low-end RB1 even in standard if the Panthers intend to use him more in the running game.
Howard could benefit from more positive game scripts, as the Bears look like they'll be better this season.
McKinnon is a bit of a gamble this high, but investing in the lead back in a Kyle Shanahan offense has been a profitable strategy for a decade now.
---
Tier 8
Alex Collins
Mark Ingram
Jay Ajayi
Derrick Henry
Kenyan Drake
LeSean McCoy
Call this the boom-or-bust tier.
Collins, Ajayi and Drake enter the season as their team's No. 1 RB, but there's enough depth behind each of them that we can't guarantee they will maintain a high workload throughout the season.
The market seems to be drafting them as if they're locked in to that No. 1 role, banking on their upside a bit too much.
Henry is in a similar position, but as I mentioned in my intro, he is being ranked/drafted as if Dion Lewis is going to play an entire 16-game season and lock Henry into a full on RBBC situation.
But if Lewis happens to miss any time, Henry will be a borderline RB1 those weeks which gives him some nice upside that I don't think is reflected enough in his ADP.
Ingram will miss the first four games due to suspension, but could be a low-end RB1 when he returns.
More experienced managers who can overcome Ingram's absence early on should have a high probability of making the playoffs.
McCoy is another player I mentioned in the intro whose stock could rise/fall a ton based on how his legal situation plays out. The risk of drafting him is baked into his placement in this tier.
---
Tier 9
Lamar Miller
Tevin Coleman
Royce Freeman
Marshawn Lynch
Kerryon Johnson
Coleman and Henry are in similar spots: If Devonta Freeman stays on the field for all 16 games, Coleman is likely being drafted where he should end up at season's end.
But if Freeman misses any time, Coleman should be a borderline RB1 for those weeks, giving him unrealized upside in his current ADP.
Denver's Freeman and Detroit's Johnson are rookies who make sense to draft as your RB3. Both have a good chance to become lead backs by season's end.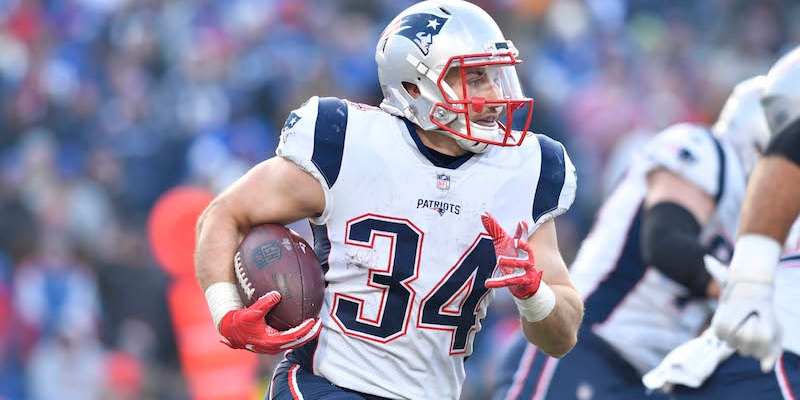 ---
Tier 10
Rex Burkhead
Rashaad Penny
Dion Lewis
Jamaal Williams
Ronald Jones
Isaiah Crowell
Sony Michel
Marlon Mack
All of these RBs are entrenched in a dreaded full-on RBBCs.
By the end of the season, we will see 2-3 of them being massive values.
The deciding factors will often have nothing to do with the players themselves. If a teammate misses time or the offense as a whole is much better than we anticipated, we'll see the value of these RBs skyrocket.
The opposite is just as likely to occur. We'll see two to three of the players in this tier end up as complete fantasy duds.
It's ideal to take a flier on one or two of these RBs, but don't pull your hair out trying to figure out who will have the luck of the draw.
---
Tier 11
Carlos Hyde
Chris Thompson (+1)
Devontae Booker
Tarik Cohen (+1)
Peyton Barber
Samaje Perine
C.J. Anderson
Chris Carson
Duke Johnson Jr. (+1)
Giovani Bernard
James White
Similar to the tier above, this is another batch of RBBC whose ultimate season production will be decided many factors outside of their control as opposed to their talent alone.
Thompson, Cohen and Duke Johnson are all great late-round options in PPR. Their roles are pretty stable, which makes them less risky in that format.
Hyde, Booker, Barber and Carson are likely to start the season as their team's lead back, but they'll have to hold off talented rookie backups.
How would you rate this article?