Koerner's 2018 Fantasy Football Tiers: TE
Credit:
Credit: Jay Biggerstaff-USA TODAY Sports. Pictured: Kansas City Chiefs tight end Travis Kelce.
The tight end position in fantasy football is top-heavy and touchdown-dependent.
Rob Gronkowski deserves to be the No. 1 TE in 2018 drafts despite his ever-present health concerns.
If you miss out on the marquee guys -- Gronk, Travis Kelce, Zach Ertz -- don't panic, the value is relatively even after those names are off the board.
Tight end can be fairly frustrating to analyze in fantasy football.
It's time to embrace two simple facts about the position: It's both top-heavy and touchdown-dependent.
There is such a drop-off from the three top tight ends this season that if you miss out on them, you are likely better served punting on the position until the later rounds.
Consider streaming your tight end this season: Instead of getting attached to one player, you can use the waiver wire to add the top available option for each week.
Also, remember that most tight ends are not highly targeted in the passing game, given their blocking responsibilities. But their bigger frames and ability to create mismatches make them great red zone targets.
As a result, tight ends tend to have a very high TD-to-yardage ratio. This makes it a very inconsistent position as a whole and really illustrates just how valuable having a tight end from the first two tiers can be.
All tiers/rankings as of Aug. 22
Tier 1
Rob Gronkowski
The only risk in taking Gronk as the first tight end off the board is that you are betting on him playing 14 or more games. He hasn't played a full 16-game season since 2011.
When healthy, Gronk has been in a league of his own and gives owners a huge leg up at the weakest skill position in fantasy football.
However, the prudent strategy might be to let someone else invest a second-round pick in Gronk while you sit back and snag one of Travis Kelce and Zack Ertz Rounds 3 or 4.
---
See My Tiers for Other Positions
---
Tier 2
Travis Kelce
Zach Ertz
As mentioned, these tight ends have helped closed the gap on Gronk enough that it has decreased his value a bit.
The top two tiers are close enough now that I'll have Kelce ranked as the No. 1 TE over a healthy Gronk in some weeks this season.
Ertz, meanwhile, is the model of consistency at a position that lacks it. He had either 80-plus yards or a touchdown in 11 of the 14 games he played in last season.
That is remarkable.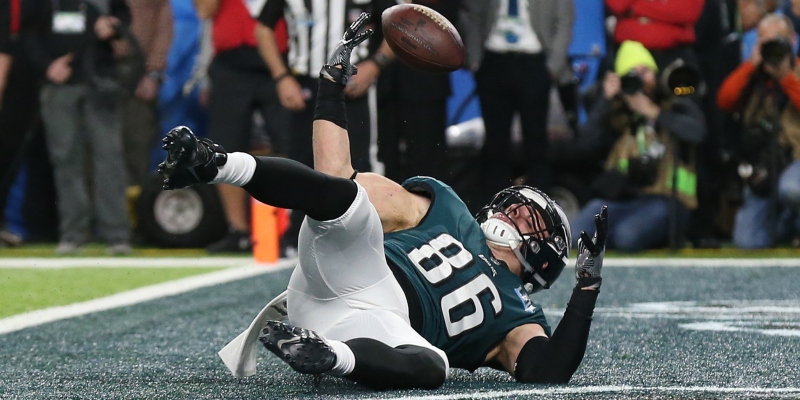 ---
Tier 3
Jimmy Graham
Greg Olsen
Delanie Walker
Evan Engram
Kyle Rudolph
Jordan Reed
The drop-off from Zach Ertz to Jimmy Graham is the biggest between two players at any position.
If you miss out on the top trio of Gronk, Kelce and Ertz, it's crucial to not panic and snatch a tight end because you feel like you are missing out.
It's OK to ignore the position for a while and let others panic.
There is a very real chance one of the players in this tier falls far enough to justify drafting. You can count on these guys to be every-week TE1s when healthy.
Graham is likely to become Aaron Rodgers' favorite red zone target. I would not be surprised if he scores 10 or more touchdowns again this season.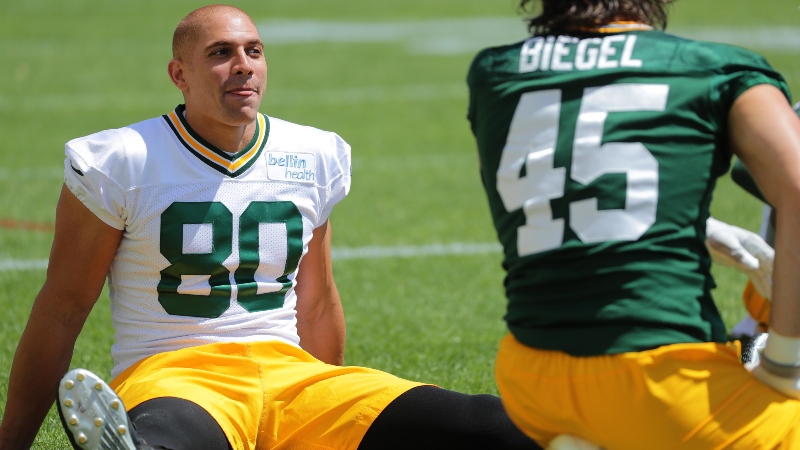 In weeks that Graham fails to find the end zone, he likely won't put up enough yardage to make a real impact. (That's how most tight ends work in fantasy, and Graham is the most likely in this tier to find the end zone each week.)
Walker is a rare TE outside of the first two tiers who can get you enough consistent yardage production each week to put up points even when he fails to score a TD.
In 2017, he had eight games with at least 60 yards. The only other tight ends to do that: Gronk (9), Kelce (8), and Ertz (7).
---
More Fantasy Football Content from The Action Network
---
Tier 4
Trey Burton
Jack Doyle
David Njoku
This entire tier's stock is rising.
I would have no problem waiting until the later rounds to draft any one of them to be my weekly starter.
Trey Burton has enormous upside, considering he was brought in to play Kelce's "U" tight end role in Matt Nagy's Bears offense.
His stock went up even more after Adam Shaheen suffered what appears to be a sprained right foot in Chicago's third preseason game.
There's a chance Shaheen misses a game or two to start the season, which gives Burton a bit of a boost early on.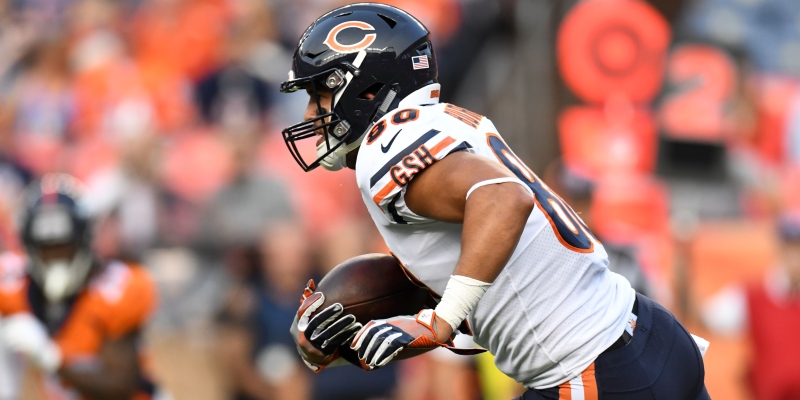 I am still not convinced Andrew Luck's surgically repaired shoulder is anywhere near 100%, which would actually be a good thing for Doyle's stock (I'll explain in a bit).
Having had the same surgery myself — no, I am not saying I'm anywhere near the same athlete Luck is — I'm fully aware that doctors have to alter the actual structure of the shoulder before they can even fix it.
You do not regain full mobility, no matter how athletic you are. Luck will certainly have to alter his throwing motion with the new shoulder.
As I also mentioned on our tight end episode of the Action Network NFL Podcast, Doyle will benefit from Luck's safety valve.
Sure enough, in very next preseason game after that pod, Luck was hesitant to throw downfield and peppered Doyle with four targets in the only half they played.
The needle for Doyle is pointing up.
---
Tier 5
Cameron Brate
O.J. Howard
Tyler Eifert
Eric Ebron
Jared Cook
If you are still without a tight end in the later rounds of the draft, you can consider any of the above to be your TE1 to start the year.
A perfect guy to roll the dice on is Tyler Eifert.
We know he has top-five upside when healthy; the problem is he's played double-digit games in just two of five NFL seasons.
Considering you can get Eifert practically for free at the end of the draft, there is no downside to taking him as a last-round flier. You can always cut bait if/when he misses time.
Another strategy you can take with this position is to stream the best tight end available each week from the waiver wire. If done correctly, you can generate TE1-level production.
If you utilize this approach, be sure to check out my award winning in-season rankings/tiers all season long on The Action Network. I'll help you spot the top available tight end in your league each week.
How would you rate this article?