Koerner's 2018 Fantasy Football Tiers: WR
Credit:
Noah K. Murray-USA TODAY Sports. Pictured: Odell Beckham Jr.
You will have plenty of quality wide receivers to choose from during your 2018 fantasy football drafts.
While Steelers WR Antonio Brown remains in the top tier by himself, the Texans' DeAndre Hopkins has proven he doesn't need an elite QB to put up big numbers.
The looming health questions surrounding Colts QB Andrew Luck should impact the draft stock of speedy WR T.Y. Hilton.
Wide receiver is as deep as ever this year in fantasy football.
Because of this, you should have the flexibility to load up on running backs — or even quarterback/tight end — in the early or mid-rounds if you want.
Tiers 6 and 7 of the WR rankings below should act as your safety net to either round out your starting WR unit or start bolstering your bench.
It's also critical to balance out your high-risk/high-reward players with safer options.
I'll highlight these players within the individual tiers below. Feel free to choose your own draft adventure and decide how much risk you are willing to take on.
Please keep in mind that these tiers are based on standard fantasy scoring. Using a +/- figure, I will indicate how many tier(s) that player would move up or down based on a full-PPR scoring system.
All tiers/rankings as of Aug. 21.
Tier 1
Antonio Brown
AB is the first non-RB I would consider taking in the draft. At 30, this may be the last season he gets Tier 1 all to himself.
The often-overlooked risk involved in taking AB is that you are also banking on Ben Roethlisberger staying healthy.
I typically have Brown ranked as a WR2 in weeks when Big Ben is out. In the five games Roethlisberger has missed over the past three seasons, AB has averaged a 4.8/68/0 line.
---
See My Tiers for Other Positions
---
Tier 2
DeAndre Hopkins
Julio Jones
Odell Beckham Jr.
Unlike Brown, Hopkins appears to be QB-proof.
Last season, Hopkins was the No. 1 WR in fantasy from Weeks 1-8 with Deshaun Watson at QB. He then somehow managed to remain the No. 1 WR in fantasy from Weeks 9-16 with Tom Savage and T.J. Yates under center.
One downside to Hopkins is that he plays in the same division as the Jaguars, who have the league's best pass defense and arguably the top shutdown corner in Jalen Ramsey.
But a close look at the Texans' schedule shows that Hopkins only has to face Jacksonville once during the fantasy football season, as they have their second matchup in Week 17.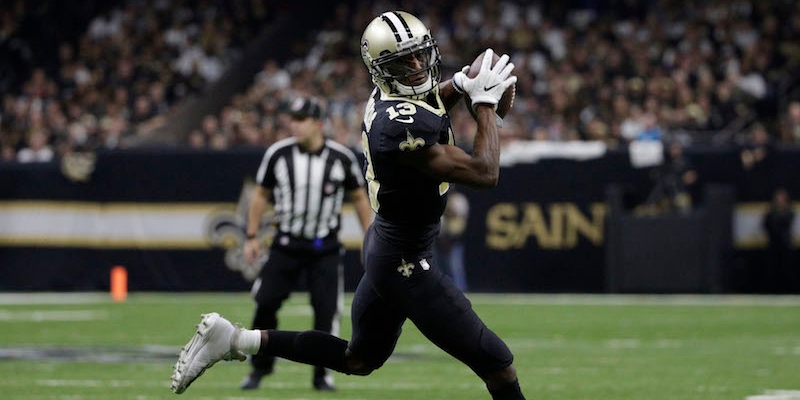 ---
Tier 3
Michael Thomas
Davante Adams (-1)
Keenan Allen
A.J. Green
Thomas is one of the most consistent players in fantasy. He only had one week last season in which he put up fewer than 9.5 PPR.
Adams gets to open 2018 as Aaron Rodgers' No. 1 target. This alone makes him an elite WR1, but he showed last year that he can put up WR1 numbers should Rodgers miss time.
Adams was the No. 11 fantasy WR in Weeks 6-14 with Brett Hundley under center.
In a PPR format, I would draft Keenan Allen over A.J. Green every single time. For standard formats, it's pretty much deadlocked.
Be sure to check out our WR1 episode of The Action Network NFL Podcast. Our analysts Chris Raybon and Matthew Freedman debated this very decision for nearly 10 minutes!
---
Tier 4
Mike Evans
Tyreek Hill
T.Y. Hilton
Adam Thielen
Doug Baldwin
Stefon Diggs
Amari Cooper
There is so much upside in this tier, but the expected inconsistency is why a lot of these guys aren't higher.
Hilton's rank largely depends on Andrew Luck's arm strength. If we fail to see Luck attempt a pass of more than 20 yards in the Colts' third preseason game, I may start moving the deep threat down in my ranks.
Until then, he remains a borderline WR1 due to Luck's return.
Baldwin is going to miss the entire preseason due to a knee injury, but with a proven veteran like Baldwin, I don't think we need to be too concerned.
It sounds like he should be ready for Week 1, and he's worth snagging in drafts if he falls this far.
Cooper was the epitome of a boom/bust WR last season.
From Weeks 3-6, he only put up a combined line of 9/51/0. I remember having to convince a lot of people to keep him in their starting lineup for Week 7. Sure enough, Cooper dropped an 11/210/2 line on the Chiefs, putting up 44 PPR on some people's benches.
He scored 28% of his season points in that game. I'm banking on the Derek Carr-Cooper combo finally breaking out in 2018, which will hopefully lead to more consistency.
---
Tier 5
Marvin Jones
JuJu Smith-Schuster
Allen Robinson
Golden Tate (+1)
Brandin Cooks
There has been some concern that a breakout season by Kenny Golladay could dampen the outlook for the Lions' duo of Marvin Jones and Tate.
While it could negatively impact Jones to a certain extent, I think TE Eric Ebron's departure will boost Tate's outlook more than people realize.
Tate and Ebron's game logs last year had a strong negative correlation. In Ebron's four best games in 2017, Tate averaged just 9.9 PPR/game, compared to a lofty 18.7 PPR/game in Ebron's four worst games.
Having less competition for targets over the middle will ensure Tate is a rock-solid WR2 heading into the season.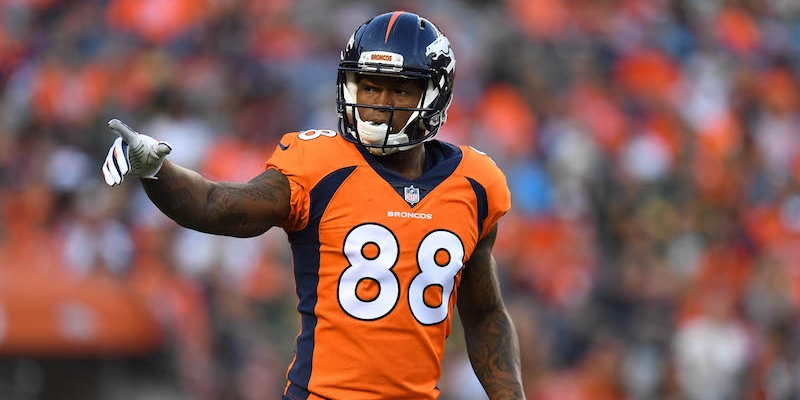 ---
Tier 6
Demaryius Thomas
Chris Hogan
Larry Fitzgerald (+1)
Sammy Watkins
Jarvis Landry (+1)
Josh Gordon
Robby Anderson
Marquise Goodwin
Alshon Jeffery
Julian Edelman
Corey Davis
Devin Funchess
Michael Crabtree
Cooper Kupp
Will Fuller V
This is a massive WR2/3 tier that offers some interesting options.
For the risk-takers, Gordon, Edelman and Jeffery could all outperform their current ADP if they play a full allotment of games.
In Edelman's case, we know that he will miss the first four games due to suspension. But as I mentioned in the RB Tiers regarding Mark Ingram, taking a player who is suspended makes sense if you are in a less competitive league or feel your in-season management skills are good enough to make up for not having an every-week starter the first four weeks.
For the risk averse, Thomas, Fitzgerald and Landry are more trusted veterans who you know are more likely to return value based on their current ADP.
I'm just not so sure they can offer as much upside as some of the other WRs in this tier.
---
More Fantasy Football Content from The Action Network
---
Tier 7
Robert Woods
Emmanuel Sanders
Randall Cobb
Kenny Stills
Jamison Crowder
Pierre Garcon
Jordy Nelson
Nelson Agholor
Kelvin Benjamin
Sterling Shepard
Marqise Lee
There are still a ton of WRs I like in this tier.
Ideally, you're filling out your bench slots with these players. All of them should make for good spot starts or bye-week replacements.
But if you load up on QB/RB/TE earlier in the draft, this group could also provide fairly good starting WR3 options.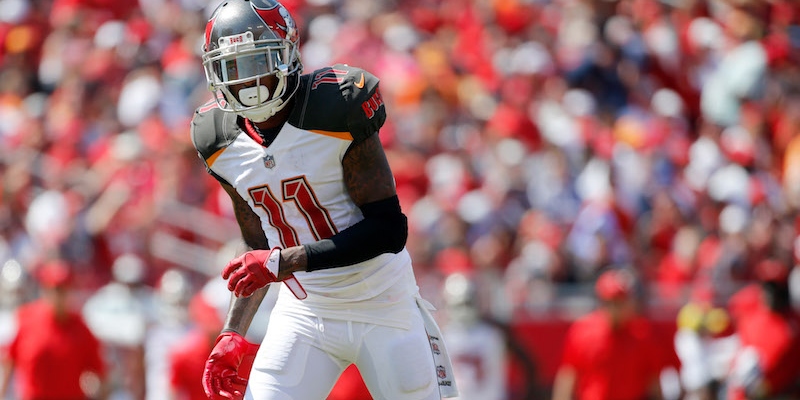 ---
Tier 8
DeSean Jackson
Kenny Golladay
DeVante Parker
Allen Hurns
Tyler Lockett
Rishard Matthews
D.J. Moore
Paul Richardson
Ted Ginn Jr.
At this point in the draft, you're either adding stability to the back end of your bench with guys such as Jackson, Lockett or Richardson. Or you're taking a high ceiling/low floor player like D.J. Moore.
If you are in a league with six or fewer bench slots, I would lean toward being more aggressive and adding as much upside as possible, knowing that if you need to drop one of these players early in the season, it's not a big deal. There should be plenty of options on the waiver wire.
---
Bonus: Late-Round Options
For the later rounds of the draft, I wouldn't blindly draft off raw projections.
Depending of the construction of the rest of your lineup, I'd either add stability to your bench or swing for the fences on a WR who could break out and be an every-week starter.
Below are some great options who fall into both categories:
Safe options
Mohamed Sanu
Mike Wallace
Jermaine Kearse
Danny Amendola
Terrance Williams
Ryan Grant
High-Upside Fliers
Calvin Ridley
John Ross
Anthony Miller
John Brown
Mike Williams
Michael Gallup
Dante Pettis
Christian Kirk
Taywan Taylor
Courtland Sutton
How would you rate this article?