2018 Indianapolis Colts Betting Odds & Season Preview: Andrew Luck Won't Win 8 in Return
Credit:
Joe Nicholson-USA TODAY Sports. Pictured: Andrew Luck
Win Over/Under: 7.5 (+110/-130) 
Make AFC Playoffs: +240 (29%) 
Win AFC South: +350 (22%)
Win AFC Championship: +2000 (4.8%) 
Win Super Bowl: +4000 (2.4%)
---
The Action Network's Projected Wins: 6.25 (28th)
Since making the interception in the 2014 AFC Championship Game that gave birth to Deflategate, the Colts have suffered bad enough luck to make the horseshoe on their helmet too ironic for even the most-hipster hipster.
The Colts were outscored 31-0 the rest of that game, haven't had a winning season since, ran the worst fake punt of all time and watched Andrew Luck miss 26 of his next 48 games while a shell of their former future Hall of Fame quarterback won a Super Bowl with his new team in Denver.
The Colts have also fallen victim to an endless loop of world-class troll jobs from the Patriots over that span.
Brady won the Super Bowl the year of his Deflategate suspension, the Colts went 4-12 with Brady's former backup, then Josh McDaniels ghosted the head-coaching job he'd already accepted in Indianapolis and went back to New England.
After going 31-16-1 (.660) against the spread and exceeding their preseason win total in each of Luck's first three seasons, the Colts have deflated backers' bankrolls with a 23-24-1 (.489) record ATS while going under their win total in all three years since.
Oddsmakers opened the Colts' 2018 win total at 6.5, but breaking news that Luck's shoulder was again powerful enough to throw a child's-sized football sent the betting world into a frenzy that resulted in a one-win increase.
The Colts have never fallen below 8-8 in a full season that Luck has appeared in, so is the over still a smart bet?
Without even factoring in Luck's return, the Colts' 3-6 record in one-score games and nine fourth-quarter leads in 2017 suggest positive regression.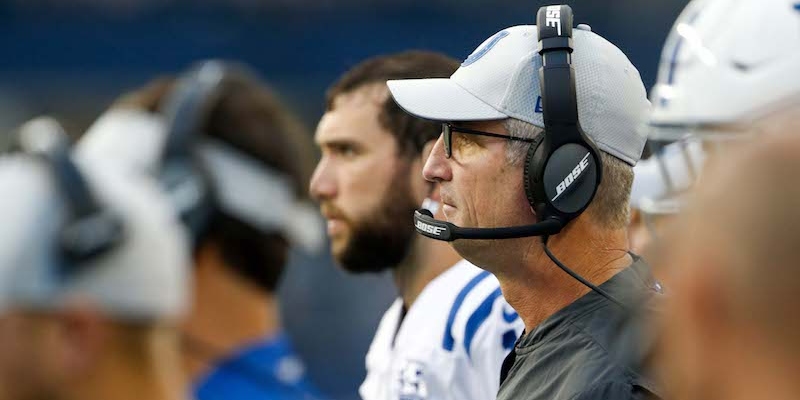 McDaniels' rebound/new head coach Frank Reich will take over an offense that was thwarted by poor offensive-line play, overly conservative play-calling and a quarterback in Jacoby Brissett whose three true outcomes were handoff, sack and two-yard checkdown to Jack Doyle.
Even though Brissett acquitted himself well considering the circumstances, he had neither the time nor the willingness to throw to a triple-teamed T.Y. Hilton, who plummeted from an average stat line of  81/1,250/5.8 from 2013-2016 to 57/966/4 in 2017.
Luck should have better protection than Brissett after the Colts drafted Notre Dame guard Quenton Nelson sixth overall; Indianapolis should also benefit from the return of 2016 first-round center Ryan Kelly from injury.
PFF rates the offensive line 17th heading into 2018, up eight spots from where it finished last season.
Frank Gore never averaged 4.0 yards per carry as a Colt and didn't break a run longer than 22 yards after 2015, so now Reich will roll with a present-generation committee of Day 3 picks including explosive second-year man Marlon Mack, rookie speedster Nyheim Hines and rookie 216-pounder Jordan Wilkins.
But any positives on the offensive end are at risk of being undone by the Colts' defense.
Highly regarded new defensive coordinator Matt Eberflus will try to remedy a unit that allowed the third-most points in the league by switching from a 3-4 to a 4-3, but a depth chart that lacks both talent and experience is likely to both bend and break in Year 1.
The Colts ranked 31st in sacks last season and don't have much pass rush to speak of beyond Jabaal Sheard, or much at linebacker to speak of beyond rookie second-round pick Darius Leonard.
Their top-graded corner by PFF (Quincy Wilson) still gave up just under 10 yards per target, and their most promising player (safety Malik Hooker) is coming off a torn ACL and MCL.
When the Colts ripped off three straight 11-5 seasons from 2012-2014, their defense's average ranking in points allowed was 16.3. When it dropped to 23.5 over the next two seasons, the Colts went 10-12 in Luck's starts.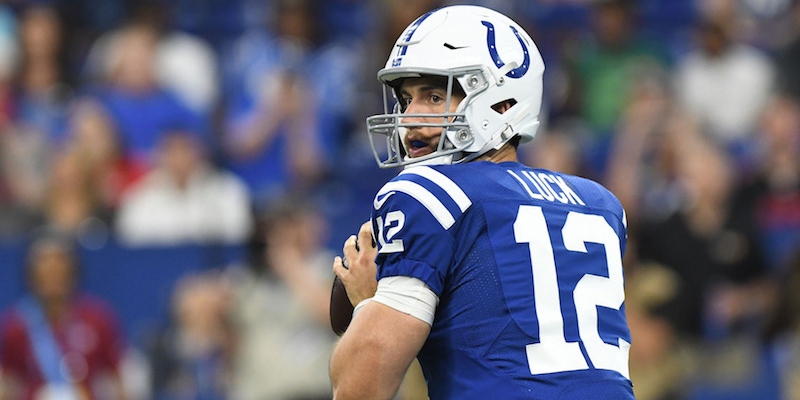 While it's technically true that the Colts have yet to fall under .500 in a season that Luck has appeared in, they did go 2-5 in his 2015 starts, managing to finish only 8-8 by beating six teams that had a combined .385 winning percentage. The Colts are unlikely to have that same luxury this season, as 10 of their 16 opponents have a Vegas win total of 8 or more.
Throughout his career, Luck has been able to beat up on a trio of AFC South squads that lacked the requisite offense to make even the worst Colts defenses pay: The Texans' average ranking in points scored from 2012-2016 was 20.4, the Titans' was 22.2 and the Jaguars' was 26.6.
Last season, though, the Jaguars finished fifth in points scored and the Titans finished 19th. Tennessee could also improve under new offensive coordinator Matt LaFleur. And the Texans were first in points scored (by a mile) over the six games Deshaun Watson started.
While the Colts' one-score luck could be a sound regression-based reason for optimism, their 4.2 wins according to Pythagorean expectation suggests that they were just as lucky to have those leads in the first place.
Despite moving on from Dino-Gore, the running game might still have to be viewed with beer goggles. Mack is already battling what could be a lingering hamstring issue. Hines fumbled four times in the preseason while amassing a grand total of 19 yards on 13 touches. And Wilkins looked like a plodder, as he gained just 75 yards on 27 carries with a long of 8 yards.
All of this puts more weight on Luck's (still balky?) shoulder than ever before.
According to PFF's charting, only seven of Luck's 32 preseason attempts traveled even 10 yards downfield, and it's hard to know for certain whether his arm strength will improve or wear down as the season progresses.
Promising rookie wideout Deon Cain is also lost for the season with a torn ACL, solidifying the No. 2 receiver role for Ryan Grant, who the Ravens essentially blocked and reported after they found out they could swipe right on Michael Crabtree.
This Colts roster has the look of one that still needs at least one more year of work from general manager Chris Ballard, and it's hard to make a convincing case that the team's current win total is more accurate than it was when it opened. – Chris Raybon
The Bet: Under 7.5 Wins
---
Indianapolis Colts 2018 Schedule
Games Favored: 3
Avg. Spread: +3.4
Strength of Schedule: 18th (1 = Easiest, 32 = Hardest)
---
Survivor Pool 101
Use the Colts: Week 7 vs. BUF, Week 12 vs. MIA
Use Colts' opponents: Week 3 @ PHI, Week 5 @ NE
---
Fantasy Football Outlook
Top Pick: WR T.Y. Hilton
Sleeper: TE Eric Ebron
Potential Busts: QB Andrew Luck, RB Marlon Mack
>> Full Fantasy Rankings | Player Projections | Printable Cheat Sheet
---
Best of "I'll Take That Bet" on ESPN+
---
Bookmaker Unfiltered
"We have a lot of liability on Indy to win the division. Support showed up for them at 10-1 and we moved them to 4-1. A lot of the support has to do with Andrew Luck looking like he's healthy again. In terms of the Super Bowl, we moved them from 60-1 to 40-1 and adjusted their win total from 6.5 to 7 then 7.5, once again because of Luck."
– Westgate bookmaker Jeff Sherman to The Action Network's Michael Leboff
---
T.Y. Hilton Over/Under 87.5 Receptions? (+120/-150)
I spotted this prop as soon as it was posted. It's nearly 10 receptions higher than where I would have opened it.
Hilton will benefit from the return of Luck, but it still remains to be seen just how much arm strength the veteran QB will be able to regain after surgery to repair a torn labrum in his throwing shoulder. If Luck is unable to throw the ball downfield like he could pre-surgery, it will directly hurt Hilton the most.
A lot of the value has been lost since the line moved from -115 to -150, but I would say it offers +EV until it hits -180.– Sean Koerner
The Bet: Under 87.5 Receptions
---
Don't Try Your Luck with T.Y. Hilton on the Road in DFS
Luck's return is great news for Hilton, who has averaged an additional 3.8 PPR points per game with Luck under center during his career. This produced a productive fantasy relationship: According to the FantasyLabs NFL Correlations Dashboard, Luck and Hilton posted a .32 correlation together from 2014-2017 while Brissett and Hilton posted an ugly -.01 correlation last season.
Still, be wary of rostering Hilton on the road, as the FantasyLabs NFL Trends tool reveals that he's posted an average DraftKings Plus/Minus of -0.4 and a pedestrian 33% Consistency Rating away from Lucas Oil Stadium since 2014. – Ian Hartitz
---
---
---
More on the 2018 Indianapolis Colts
Authors of this article include The Action Network's own: Chris Raybon, Sean Koerner and Ian Hartitz.
How would you rate this article?