2018 Jacksonville Jaguars Betting Odds & Season Preview: Bet on Ramsey & Co. To Keep Pressure Off Bortles
Credit:
Mark J. Rebilas-USA TODAY Sports. Pictured: Jalen Ramsey
Win Over/Under: 9 (-130/+110) 
Make AFC Playoffs: -160 (62%) 
Win AFC South: +175 (37%)
Win AFC Championship: +800 (11%) 
Win Super Bowl: +1600 (6%)
---
The Action Network's Projected Wins: 9.28 (9th)
The Patriots ended up making it to the Super Bowl (as usual), so it goes somewhat forgotten that the AFC playoffs felt more like college basketball's NIT.
The Bills backed in, the Titans made it to the second round and the Jaguars made it to the title game.
The Jags have been a national laughingstock for the better part of the decade — 2017 was the first time they went over their preseason win total since 2010 — so it's easy to chalk up their season as an outlier.
Oddsmakers certainly have, setting the Jaguars' total at 9.
The public isn't optimistic, either: The Jags are among the quarter or so teams that were actually generating more bets on the under from a normally over-happy betting public.
But there's one key difference between the Jaguars and teams such as the Bills and Titans: Jacksonville actually belonged in the playoffs.
A team's point differential is more predictive of future performance than actual record, and while the Bills skated by with a -57 point differential that is equivalent to 6.4 wins (aka their total according to Pythagorean expectation) and the Titans' -22 mark equated to a 7.4-win caliber team, the Jags outscored opponents by 149 — good for 11.8 wins per Pythagorean expectation.
The only two teams with a higher point differential? The AFC champion Patriots and Super Bowl champion Eagles.
But can the Jags really be underrated with Blake Bortles — a quarterback who has the on-field body language of a preteen with anger management problems, a world-famous Twitter account that was created just to mock him, and the unfortunate distinction of being thought of by his own coaching staff as a player to hide?
Let's just say Bortles has some pretty good players to hide behind.
The defense returns every starter except slot corner Aaron Colvin, whose 77.0 passer rating allowed will be replaced by D.J. Hayden and his 76.7 passer rating allowed (per Pro Football Focus data).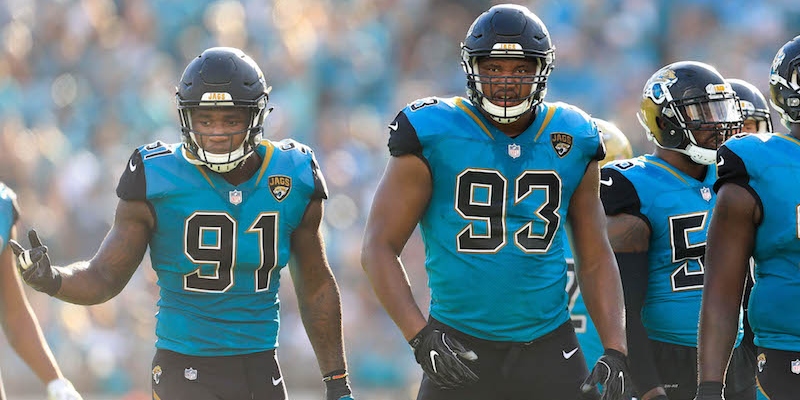 That means another year of Calais Campbell and Yannick Ngakoue — the only teammates to both finish in the top 10 in sacks — and a full season of run-stuffer Marcell Dareus paired with monster Malik Jackson on the interior.
That also means another year of Telvin Smith, PFF's No. 7 linebacker, and Myles Jack, who quietly finished in the top 20.
And most importantly, it means another year of arguably the game's best corner in Jalen Ramsey and arguably the game's best No. 2 corner in A.J. Bouye.
Ramsey allowed a passer rating of 66.5 and Bouye was even better at 49.6.
Jacksonville's run game rivals the defense in its ability to shield Bortles: The Jaguars had the No. 1 rushing attack in the league, led by 2017 No. 4 overall pick Leonard Fournette.
Their most inefficient runner from last season, Chris Ivory (3.4 yards per carry), was smartly let go. This clears the way for the 112 carries he left behind to go to T.J. Yeldon, who found his niche as a change-of-pace back, as well as big-play cheat code Corey Grant.
The offensive line was a slightly above-average unit last season and Jacksonville added Andrew Norwell, PFF's third-highest graded guard in 2017, this offseason.
Many were baffled by the Jags' decision to re-sign Marqise Lee (who is now out for the season with a knee injury) instead of Allen Robinson, but losing Robinson to a torn ACL in Week 1 of 2017 was probably a blessing in disguise.
With A-Rob out, the Jags discovered that Bortles throwing higher-percentage passes to shiftier receivers who get enough separation to create a safety net for his off-target throws is better than him relentlessly forcing contested 50-50 balls (more like 40-60) deep downfield to Robinson.
Even without Lee, the Jags still have depth at receiver in Keelan Cole, who averaged more yards per target (9.0) than Lee (7.3), and Dede Westbrook, a fourth-place runner-up in 2016 Heisman voting who fell to the fourth round of the draft due to off-field issues.
Donte Moncrief has caught a touchdown on 11.8% of his career receptions and can provide a big red-zone target without being as commandeering as Robinson.
Moncrief isn't worth the $9.6 million guaranteed he's getting, even if it is only for one year. But it's unfair to pin last year's down season all on him when Jacoby Brissett clearly had a negative impact on T.Y. Hilton, too. Moncrief performed well when targeted with the Colts, posting 8.3 yards per target and a career-high 15.0 yards per catch.
Austin Seferian-Jenkins is also an upgrade over Marcedes Lewis as a pass-catching tight end.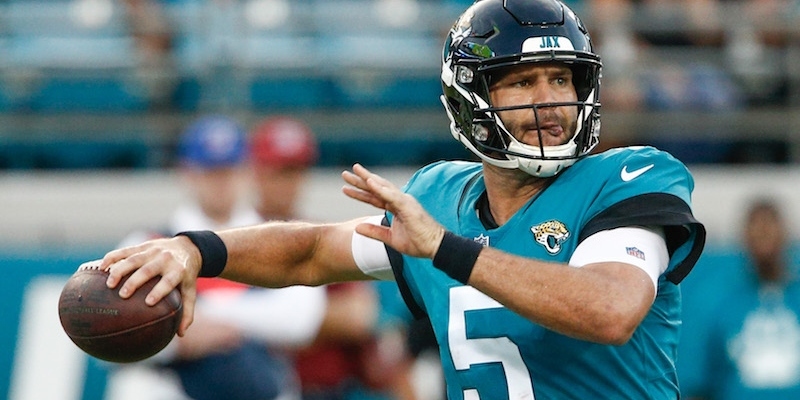 Executive VP of Football Operations Tom Coughlin, GM Dave Caldwell, head coach Doug Marrone and offensive coordinator Nathaniel Hackett found a way to create an environment in which Bortles could function at a higher level than in years past. The quarterback rewarded them with a 12th-place finish in ESPN's Total QBR while using an assist from the defense to help the team finish fifth in points scored.
The organization has built a roster that isn't as fragile as those of most teams. It can withstand injuries on defense due to the sheer amount of impact players, and it has a deep skill-position corps on offense that isn't overly reliant on any single player — not even Fournette, who was responsible for only 46% of the Jaguars' league-leading rushing total last season.
The Jags had a fairly easy schedule last season, but went 6-4 against winning teams including the playoffs, which would come out to 9.6 expected wins if they had played nothing but winning teams. But they play only seven teams with projected win totals above .500 in 2018.
Their toughest games come at home against the Patriots, who were nearly beaten by the Jaguars in the AFC Championship Game; the Steelers, who lost to the Jags 30-9 in the regular season and 45-42 in the playoffs; and the Eagles.
It's fair to expect the Jags to go 9-7 in a competitive AFC South, but considering the dominance of their defense and the way their roster is constructed, it's difficult to argue that eight losses are more likely than six. – Chris Raybon
The Bet: Over 9 Wins
---
Jacksonville Jaguars 2018 Schedule
Games Favored: 9
Avg. Spread: -2.8
Strength of Schedule: 9th (1 = Easiest, 32 = Hardest)
---
Survivor Pool 101
Use the Jaguars: Week 4 vs. NYJ
Use Jaguars' opponents: Week 2 vs. NE
---
Fantasy Football Outlook
Top Pick: RB Leonard Fournette
Sleeper: WR Keelan Cole, WR Dede Westbrook, RB Corey Grant
>> Full Fantasy Rankings | Player Projections | Printable Cheat Sheet
---
Best of "I'll Take That Bet" on ESPN+
---
Bookmaker Unfiltered
"They are getting the most money to win the division, but there's not much coming elsewhere. Some smaller tickets have come in on their Super Bowl odds."
– Westgate bookmaker Jeff Sherman to The Action Network's Michael Leboff
---
Blake Bortles Over/Under 13 Interceptions? (-115/-115)
Bortles' interception rate has gone down in each of his four seasons and was a respectable 2.5% in 2017. While it's fair to assume that Bortles will either stabilize in this range or regress toward his 2.9% career average, total pass attempts will factor in here.
Last season, the Jaguars benefited from having a premier defense that managed to avoid any serious injuries. This allowed them to shut down their opponents and have a run-heavy offense to help shorten the game and limit Bortles' pass attempts. It's likely that he'll need to throw more this year, which would play right into the over.
It's also worth noting that Bortles has never thrown fewer than 13 interceptions in a season; the 13 he threw in 2017 were a career low. A better number for this prop would be 14. – Sean Koerner
The Bet: Over 13 Interceptions
---
Blake Bortles is No One's Favorite DFS Play … But Maybe He Should Be
Bortles is what some might call a front-runner.
According to the FantasyLabs NFL Trends tool, he's averaged an additional 3.6 DraftKings points per game with a +4.5 Plus/Minus and a 75% Consistency Rating as a favorite since 2014.
This didn't change with the addition of Fournette, as Bortles surpassed his salary-based expectation in nine of his 11 games as a favorite compared to just one of his five games as an underdog.
Overall, only Tyrod Taylor has averaged a higher Plus/Minus than Bortles has as a favorite since 2014.  – Ian Hartitz
---
---
---
More on the 2018 Jacksonville Jaguars
Authors of this article include The Action Network's own: Chris Raybon, Sean Koerner and Ian Hartitz.
How would you rate this article?