2018 New Orleans Saints Betting Odds & Season Preview: Ultimate Boom-Or-Bust Team
Credit:
Derick E. Hingle-USA TODAY Sports. Pictured: Drew Brees
Win Over/Under: 9.5 (-140/+120) 
Make NFC Playoffs: -180 (64%) 
Win NFC South: +120 (45%)
Win NFC Championship: +700 (13%) 
Win Super Bowl: +1400 (6%)
---
The Action Network's Projected Wins: 9.31 (7th)
Last year was almost the Saints' year.
Almost.
Drew Brees set the all-time mark for completion percentage (72.0) and led the league in yards per attempt (8.1) at 38 years old.
Alvin Kamara had the rookie season of a future Hall of Famer. Only four other rookie backs since 2002 have averaged 5.0 a carry on 100-plus rushes and scored 10 or more touchdowns: Ezekiel Elliott, Adrian Peterson, Maurice Jones-Drew and Clinton Portis. If you go back further, you can add Barry Sanders to that group.
Marshon Lattimore intercepted a pass with his back.
Now with their best defense in years and a dominant running game, 2018 could really turn out to be the Saints season.
At least they might have tricked us into thinking it will be.
If you divide the 18 games the Saints played in 2017 between the regular season and playoffs into two halves, some interesting trends emerge:
First 9 games: 7-2 record, 29.8-18.3 average score
Last 9 games: 5-4 record, 26.1-24.0 average score
Over the first half of their 2017 campaign, the Saints faced the Dolphins in London with Jay Cutler in vintage DGAF mode, Matthew Stafford on a bum ankle with a banged up offensive line, Brett Hundley in his first NFL start, Mitchell Trubisky in his fourth NFL start, Ryan Fitzpatrick in relief of Jameis Winston and Nathan Peterman in relief of Tyrod Taylor.
Some of the drop-off down the stretch can be attributed to the absence of defensive end Alex Okafor, but the Saints had Okafor over the first three weeks of the season and still gave up an average of 437.7 yards and 26.0 points per game.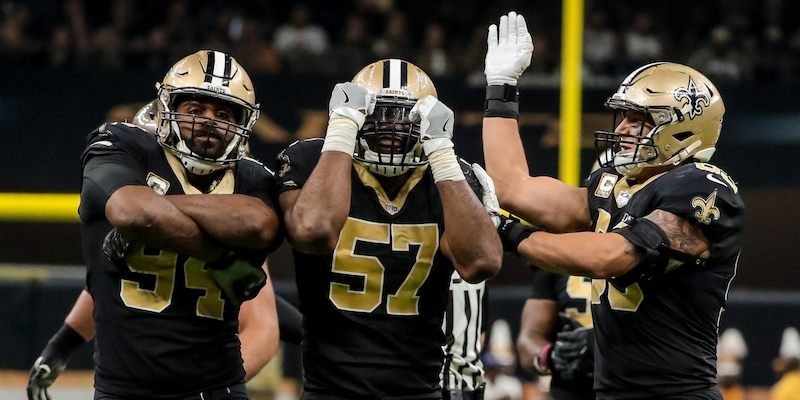 But a narrative about the defense suddenly being solved doesn't necessarily match up.
If you take out the six-game stretch between Weeks 4 and 10, the Saints' average of 24.5 points per game allowed in the other 12 weeks would have ranked in the bottom five over a full season.
This would be easier to ignore if we hadn't seen it from this team before.
The Saints were also 11-5 in 2013, when they had the fourth-best defense in both points and yardage allowed under Rob Ryan. The next year they slipped to 28th in points and 31st in yardage allowed despite having the same defensive coordinator and minimal roster turnover.
For all the defense's improvement, it was 27th in 2017 in third-down conversion rate allowed … and that's including their six-game cakewalk.
Other signs of potential regression are staring us right in the face. (See: Brees' and Kamara's aforementioned 2017 seasons.)
Not to mention Mark Ingram, who had the best season of life and started his regression the moment he got hit with a four-game suspension.
For all of Brees' efficiency, the offense was 19th in the league in third-down conversion rate. The Saints had never finished below sixth in Brees' 11 seasons before that.
And I'm a big fan of rookie Tre'Quan Smith, but even the narrative of Brees' supporting cast being markedly better is tenuous.
We're still talking about a 33-year-old wideout who has never topped 800 yards in a season (Ted Ginn Jr.), an undrafted free agent who is coming off an ACL tear (Cameron Meredith) and a 37-year-old tight end who tore his Achilles in 2016 (Benjamin Watson).
Lookahead lines suggest that the Saints will stomp the Buccaneers, Browns and Redskins. (Which is fair, although the Saints did lose to the Bucs and needed overtime to beat the Redskins last season.)
But take away those three games, and lookahead lines have New Orleans favored by more than a field goal only once, and the Saints' remaining home slate is against the Rams, Eagles, Falcons, Steelers and Panthers.
The remaining road games are against the Falcons, Giants, Ravens, Vikings, Bengals, Cowboys, Bucs and Panthers.
Since 2014, Sean Payton has gone 11-5 only once and has Jeff Fisher'd (aka gone 7-9) three times. And since 2003, more than three quarters of 11-win teams have declined.
At Bookmaker, 86% of the bets were coming in on over 9.5 wins, making the Saints the heaviest-bet "over" team in the league.
I offered this 86% negative case as a reminder that many of these lines are fairly close to 50/50 propositions.
The value is on the under. – Chris Raybon
The Bet: Under 9.5 Wins
---
BlackJack: Why I'm Betting the Saints to Win the Super Bowl (+1400)
The fact that the 49ers are at shorter odds than the Saints is absolute insanity.
This team is the model of consistency with Brees and Payton at the helm. Michael Thomas could prove to be the best wide receiver in the NFC by the end of the season. Kamara comes in as the lead back after a stellar rookie campaign. And the defense is young, talented and getting better.
I think at these odds, this bet is a steal. – BlackJack Fletcher
BlackJack's Bet: Saints to Win the Super Bowl
---
New Orleans Saints' 2018 Schedule
Games Favored: 11
Avg. Spread: -2.1
Strength of Schedule: 21st (1 = Easiest, 32 = Hardest)
---
Survivor Pool 101
Use the Saints: Week 1 vs. TB, Week 2 vs. CLE, Week 5 vs. WAS
Use Saints' opponents: Week 8 @ MIN
---
Fantasy Football Outlook
Top Picks: RB Alvin Kamara, WR Michael Thomas
Sleepers: TE Ben Watson, WR Tre'Quan Smith
Potential Bust: RB Mark Ingram
>> Full Fantasy Rankings | Player Projections | Printable Cheat Sheet
---
Best of "I'll Take That Bet" on ESPN+
---
Bookmaker Unfiltered
"We moved them from 18-1 to 16-1 and then to 14-1 and are still seeing support on them. They also moved from +165 to +125 to win the division and have support on the over."
– Westgate bookmaker Jeff Sherman to The Action Network's Michael Leboff
---
Alvin Kamara Over/Under 12.5 Total Touchdowns? (-115/-115)
Kamara might be the most fascinating player to project for 2018.
While he is sure to regress in terms of efficiency, he is likely to get a big enough increase in volume that it's fair to expect him to repeat last season's eye-popping performance. But it's more likely that he will duplicate last year's yardage totals than he will his 13 total touchdowns.
However, there is no doubt that Brees will have positive touchdown regression in the passing game, which could keep Kamara in the range of 10 to 12 touchdowns. – Sean Koerner
The Bet: Under 12.5 Total Touchdowns
---
Target Michael Thomas on the Road for Low DFS Ownership
The Saints have typically offered increased value at the Superdome, aka the Coors Field of fantasy football. However, their undisputed No. 1 receiver has been impervious to his quarterback's drastic home/away splits.
According to the FantasyLabs NFL Trends tool, Brees has averaged 23.4 DraftKings points per game with a +2.6 Plus/Minus in New Orleans compared to 19.6 points per game and a -1.5 Plus/Minus on the road since 2014.
Meanwhile, Thomas has averaged 15.2 points per game at home with a +1.2 Plus/Minus compared to 19.0 points per game on the road with a +5.1 Plus/Minus.
Intriguingly, Thomas has posted an average ownership rate of 12.9% at the Superdome compared to 8.3% on the road. – Ian Hartitz
---
---
---
More on the 2018 New Orleans Saints
Authors of this article include The Action Network's own: Chris Raybon, BlackJack Fletcher, Sean Koerner and Ian Hartitz.
How would you rate this article?