2018 Oakland Raiders Betting Odds & Season Preview: Don't Bet on Return to Glory With Jon Gruden
Credit:
Cary Edmondson-USA TODAY Sports. Pictured: Tahir Whitehead
Win Over/Under: 7.5 (-110/-110) 
Make AFC Playoffs: +220 (31%) 
Win AFC West: +400 (20%)
Win AFC Championship: +2000 (4.8%) 
Win Super Bowl: +4000 (2.4%)
Odds from Westgate as of Sep. 1.
---
The Action Network's Projected Wins: 7.82 (18th)
The Raiders opened their own Museum of Natural History this offseason when they turned the reigns over to Jon Gruden, and it's hard to blame them.
Gruden delivered as many winning seasons (two) and playoff berths (two) in four years as the Raiders head coach from 1998 to 2001 as the franchise has had in its other 19 seasons since moving back to Oakland in 1995.
Given some of the past-their-prime additions Gruden has made, we can't be sure whether he took the job because he thought he was getting David Carr at quarterback instead of Derek. Real quote from the Gruden-Derek Carr QB Camp: "We had to trade a first- and second-rounder for a star. That was me. So we couldn't take your brother."
But despite public perception, Derek Carr has a long way to go to earn his badges from Gruden.
When Carr supposedly broke out with 32 touchdown passes in 2015, he ranked only 30th of 33 qualifiers in ESPN's Total QBR.
When Carr supposedly had an MVP-caliber campaign in 2016 when the Raiders finished 12-4, he ranked just 16th in QBR while benefiting from the best starting field position in the league.
Carr deserves credit for leading seven game-winning drives that season en route to a 9-2 record in one-score games, but one-score game performance is known to regress heavily to the mean, and the Raiders' 8.7 wins according to Pythagorean expectation (derived from their point differential) correctly foreshadowed their slide last year.
Carr slipped to 20th in QBR in 2017 and — perhaps haunted by ghosts of his brother's three-peat league-lead in sacks or his own broken leg and subsequent back injury — he led the league in quickest time to throw, according to Pro Football Focus (minimum 240 dropbacks).
Carr's hot-potato release wasn't particularly efficient: He was average when he got rid of the ball in under 2.5 seconds with a 96.6 passer rating (ranked 16th) per PFF, bad when he took longer with a 68.0 rating (28th) and even worse when under pressure with a 40.8 rating (31st).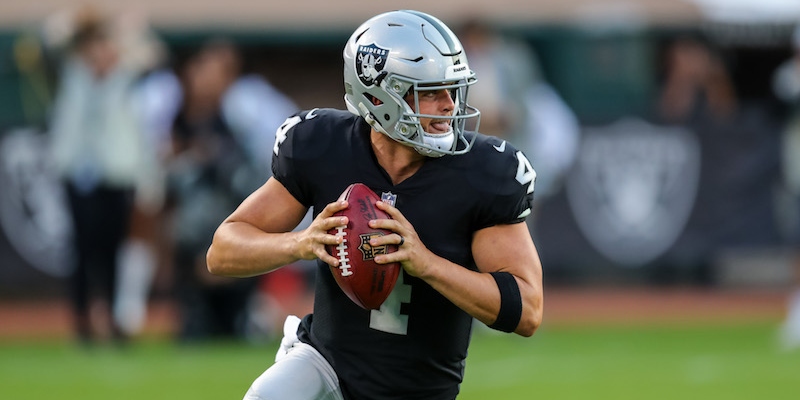 Working in Carr's favor is an offensive line that PFF ranks seventh heading into the season, aided by the addition of first-round rookie Kolton Miller at left tackle, which allows Donald Penn to slide over to the right and replace turnstile Marshall Newhouse.
Also working in Carr's favor is that, after inheriting a crew of career backups in his first year in Oakland in 1998, Gruden brought Rich Gannon in for Year 2. That season Gannon increased his year-to-year passer rating by 5.9 points and his per-attempt average by 1.0 yard.
In Tampa Bay, Brad Johnson enjoyed similar improvements of 15.2 percentage points and 0.7 yards in Gruden's first year. Two years later, Brian Griese led the NFL with a career-high 69.2% completion rate in his first season under Gruden.
Greg Olson is back as the Raiders offensive coordinator for the first time since 2014, when he oversaw Carr's rookie season (5.5 yards per attempt). Olson doesn't have a great record of making a positive lasting impact on his previous young quarterbacks — Joey Harrington, Blake Bortles and Josh Freeman — but Sean McVay thought enough of Olson to employ him as the Rams quarterbacks coach last year, so there's that.
The bigger issue is that Gruden's elevations of Gannon, Johnson and Griese are relics from 1999, 2002 and 2004 — and those are far from the only antiques on display:
Jordy Nelson is 33 years old: After averaging between 62.1 and 94.9 yards per game and 13.0 and 18.6 yards per catch from 2011 to 2016, he stumbled to a tight end-like 32.1 yards per game and 9.1 yards per catch in 2017.
Doug Martin is old for a running back at 29: After ripping off 4.38 yards per carry on 868 carries in 2011-15, he has averaged 2.93 on 282 carries in the two seasons since, an average more fit to a statuesque pocket passer whose most frequent running play is a kneel down.
Marshawn Lynch is an even older back at 32:  After averaging 1,339 rushing yards and 12 touchdowns per season from 2011 to 2014, he topped out at 891 yards and seven scores last year despite a strong finish.
Jared Cook is 31: The tight end (somewhat hilariously) led the team in receiving with (only) 688 yards last year despite getting fewer targets than Michael Crabtree (101) and Amari Cooper (95), but he's caught only three touchdowns in the past three years after catching (a still underwhelming) 12 the three before that.
Even Oakland's younger, more explosive players are at least a season removed from their peak.
After averaging 4.8 catches for 69.5 yards per game over the first two years of his career, Cooper solidified himself as the least fun player in fantasy with an average of 3.4 catches for 48.6 yards per game last season.
Then there's Martavis Bryant, whose yards per catch has gone from 21.1 in 2014 to 15.3 in 2015 to 12.1 last season. (He was suspended in 2016.)
This all has the potential to send Gruden on a VCR-smashing rampage, because Carr is at his best when he can get rid of the ball fast, and none of these players get open particularly quickly.
Not even Cooper, especially after he reportedly packed on pounds for the second year in a row in an effort to beat bigger cornerbacks at the line, which a top-10 pick in his fourth season should not have a problem with in the first place.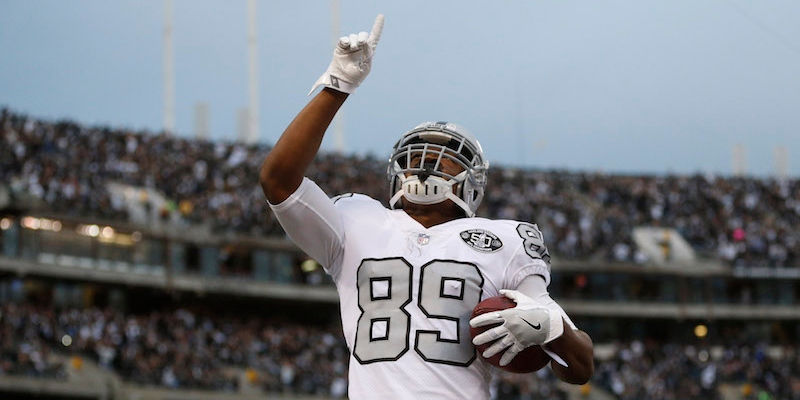 I (foolishly?) continue to rank Cooper as a top-20 fantasy wideout, but it's unrealistic to expect all six of those players to rebound. And even if Gruden somehow does manage to get them all to go Benjamin Button, it might not even matter because of the defense.
Defensive coordinator Paul Guenther had a generally successful tenure in Cincinnati, but it would be a reach to expect his complex scheme to pay Year 1 dividends for a unit that ranked 28th in Football Outsiders' Defense-Adjusted Value Over Average last season and hasn't ranked higher than 20th in points allowed for more than a decade.
According to Pro Football Reference's Approximate Value metric, two-time first-team All-Pro quarterback-destroyer Khalil Mack has been Oakland's best player — not best defensive player, best player — for all four years of his career, which is problematic because the "Raiders Trade Khalil Mack – Yes" prop is currently a -500 favorite.
The bulk of the defensive additions are straight out of a period piece as well.
Linebacker Derrick Johnson is 36 years old and defensive tackle Frostee Rucker is 35, while defensive backs Leon Hall (34), Dominique Rodgers-Cromartie (32), Shareece Wright (31) and Marcus Gilchrist (30) are all on the wrong side of 30. And none cracked the top 50 in PFF grading at their position last season.
More contemporary additions such as linebacker Tahir Whitehead and cornerback Daryl Worley failed to crack the top 50, too. The only one who did was former Colts corner Rashaan Melvin.
The Raiders have assembled a championship Madden roster from two Xboxes ago, but that experience hasn't translated to results in the recent past. Such a roster could even leave the team vulnerable to inferior or less experienced opponents who are simply more athletic.
The roster also puts the Raiders at risk of wearing down more than usual as the season progresses, and underdog status in four of their first five games means a fast start is far from a given.
Carr has led Oakland to only one winning season in four years, when the team won 3.3 more games than its point differential suggested it should have.
To produce a .500 record or better, Gruden would have to buck a trend of failed first seasons for coaches coming off a hiatus of at least five years set by the likes of Art Shell (2-14 in 2006), Joe Gibbs (6-10 in 2004), Mike Ditka (6-10 in 1997), Dick Vermeil (5-11 in 1997), Tom Flores (2-14 in 1994) and even the legendary Paul Brown (3-11 in 1968).
It's hard to argue that 8-8 is more likely than 7-9.
The Bet: Under 7.5 Wins
---
Oakland Raiders 2018 Schedule
Games Favored: 8
Avg. Spread: +0.1
Strength of Schedule: 11th (1 = Easiest, 32 = Hardest)
---
Survivor Pool 101
Use the Raiders: Week 4 vs. CLE
Use Raiders' opponents: Week 5 @ LAC, Week 12 @ BAL
---
Fantasy Football Outlook
Top Pick: WR Amari Cooper
Sleeper: WR Martavis Bryant
Potential Bust: WR Jordy Nelson
>> Full Fantasy Rankings | Player Projections | Printable Cheat Sheet
---
Best of "I'll Take That Bet" on ESPN+
---
Bookmaker Unfiltered
"We have liability on them in the Super Bowl market and moved them from 30-1 to 20-1 but a lot of it is local support because of the move. In terms of the win total we've seen a split between the public and the sharps. The public are taking the over while the sharps are on the under."
– Westgate bookmaker Jeff Sherman to The Action Network's Michael Leboff
---
Marshawn Lynch Over/Under 675.5 Rushing Yards? (-115/-115)
When Lynch came out of retirement at 31 years old, it was anyone's guess how it would turn out. But the result was better than anyone could have expected.
He managed to rush for 891 yards on only 207 carries, proving he still has some gas left in the tank. And based on how he looks heading into 2018, there's a chance that he's in even better shape than he was last season.
Gruden would be wise to give Lynch around 250 carries this year. And given the sheer volume he's expected to get behind a solid offensive line, I think this prop easily clears the total — especially considering Lynch has never had durability issues throughout his illustrious career. – Sean Koerner
The Bet: Over 675.5 Rushing Yards
---
Target Carr as a Home Favorite in DFS
Carr didn't earn his status as one of football's most overrated quarterbacks without displaying some token frontrunner splits.
According to the FantasyLabs NFL Trends tool, Carr has averaged more DraftKings points per game and a better Plus/Minus and Consistency Rating both at home and as a favorite since 2014. It follows, then, that the league's fourth-highest paid quarterback has been particularly reliable as a home favorite, averaging 19.7 DraftKings points with a +1.0 Plus/Minus and 72% Consistency Rating. – Ian Hartitz
---
---
---
More on the 2018 Oakland Raiders
Authors of this article include The Action Network's own: Chris Raybon, Sean Koerner and Ian Hartitz.
This article has been updated to reflect a drop in the Raiders' win total since publication.
How would you rate this article?