2018 Seattle Seahawks Betting Odds & Season Preview: Russell Wilson Can Carry Them to 8 Wins
Credit:
Joe Nicholson-USA TODAY Sports. Pictured: Russell Wilson
Win Over/Under: 7.5 (-110/-110) 
Make NFC Playoffs: +260 (28%) 
Win NFC West: +500 (17%)
Win NFC Championship: +3000 (3.2%) 
Win Super Bowl: +6000 (1.6%)
---
The Action Network's Projected Wins: 7.82 (18th)
Richard Sherman. Kam Chancellor. Michael Bennett. Sheldon Richardson. Cliff Avril. Jimmy Graham. Paul Richardson.
Seattle hasn't seen this kind of exodus since the Sonics up and left to Oklahoma City in 2008.
After missing the playoffs for the first time since 2011, the Seahawks brought in an offensive coordinator who hasn't overseen a top-half unit in points since that same year and a defensive coordinator who has never had better than a 20th-place finish in points allowed in three years on the job.
Seattle has gone under its last three preseason win totals and has posted back-to-back losing seasons against the spread (13-17-2 over that span). Alarmingly, the Seahawks are favored in only three games this season.
Now Earl Thomas doesn't want to play for them, Rashaad Penny is apparently stress-eating, and bettors are hammering the under on their win total more than any other team in the league.
And yet, reports of the Seahawks' demise are greatly exaggerated.
In evaluating Seattle, the public generally tends to make three errors:
Comparing the defense to past versions instead of the rest of the league.
Not accounting for improvements and additions by subtraction.
Overestimating the difficulty of the schedule.
Let's tackle all three, starting at the top.
---
Just Because the Defense is No Longer Elite Doesn't Mean It's Bad
If you only look at the names that left, it's understandably alarming. And we saw regression last season when the Seahawks fell to 13th in points allowed.
But this defense still has enough pieces at each level to be a league-average unit — or better:
Defensive line: Frank Clark and Dion Jordan earned top-22 pass-rushing grades from Pro Football Focus (out of the 148 edge defenders who played at least 100 snaps). Third-rounder Nazair Jones also flashed as a rookie, earning the 16th-highest grade out of 163 interior lineman who played 100-plus snaps.
Secondary: Shaquill Griffin was targeted relentlessly opposite Sherman, but his 75.1 passer rating allowed was fourth-best among the 18 corners targeted 85 or more times, according to PFF's data. His 2.4 yards after catch per reception allowed was the best among that group, too. And safety Bradley McDougald had the 13th-highest coverage grade among qualified 87 safeties.
Linebacker: All-Pro Bobby Wagner is one of the two best linebackers in football, and K.J. Wright is another extremely high-level player at the position.
While Ken Norton's track record as Oakland's coordinator looks bad, it was largely a product of the franchise's long-standing issue of subpar defensive personnel; his finishes of 22nd, 20th and 20th in points allowed were the Raiders' best since 2010. Norton is also familiar with the Seahawks' system from his time as their linebackers coach from 2010-2014.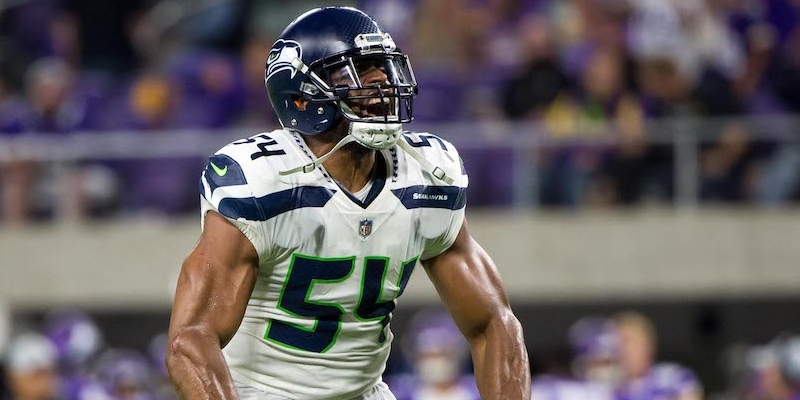 Seattle Improved in Subtle But Key Areas
Again, the free-agent departures overshadow that the team did, in fact, improve in certain areas — many of which will help mitigate those departures.
1. The offensive line should no longer be among the league's worst.
The Seahawks kicked the 2017 season off with Justin Britt at center and four other linemen who block about as well as Kenny Britt.
But after acquiring left tackle Duane Brown at midseason and guards D.J. Fluker and J.R. Sweezy this offseason, they could conceivably start four linemen who graded anywhere from average to high quality by PFF (pending Sweezy beats out Ethan Pocic).
The Germain Ifedi-George Fant potential disaster at right tackle isn't ideal, but it still equates to a net decrease in actual disasters compared to last season.
Tom Cable has been replaced as offensive line coach by more experienced man-blocking proponent Mike Solari, meaning Cable's falling-domino zone scheme is no more.

2. The run game should no longer be among the league's worst.
Even if Penny took the whole "replace Eddie Lacy" thing a little too close to heart, Chris Carson will start.
Carson averaged 4.24 yards per carry on 49 carries through his four 2017 games — all before Brown arrived — while the team's other backs collectively averaged 3.11 for the season.
3. The impact of Jimmy Graham's departure is grossly overstated. 
Russell Wilson averaged 5.4 yards per attempt to Graham in 2017, meaning Wilson would have literally been better off pulling the ball down and running — he averaged 5.7 yards per carry last season — or, you know, throwing to any other tight end he's ever targeted before.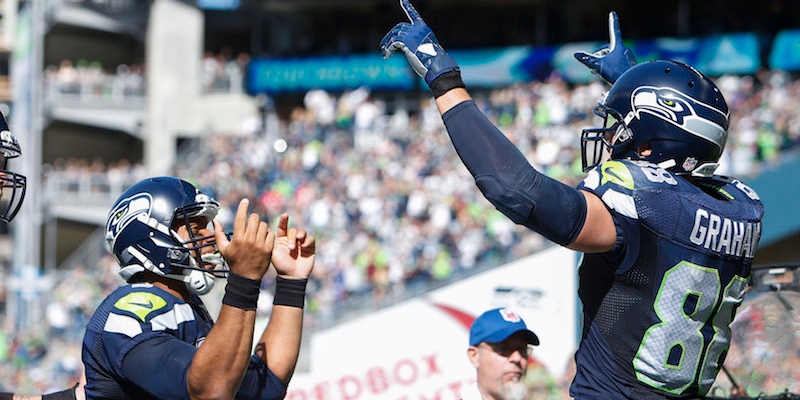 Wilson averaged a full 1.5 yards or more to every other tight end he's targeted more than six times over his career, and has collectively averaged 7.9 career yards per attempt to tight ends not named Jimmy Graham (including 8.2 in limited action with projected starter Nick Vannett).
Yes, Graham caught 10 of Wilson's 34 touchdowns in 2017. But Wilson also threw 34 touchdowns in 2015. Graham caught two of those.
4. Seattle's kicking game will take pressure off of the offense.
The Seahawks chose to ride with the Curse of Blair Walsh to a 30th-place finish in field-goal percentage (72.4%), which is even worse when you consider that Walsh attempted only one 50-yarder (and missed).
Sebastian Janikowski hit on 83.1% of his kicks over his last three seasons and has banged home at least three 50-yarders a season for more than a decade.
5. Rookie phenom Michael Dickson's punting will set the defense up in better field position.
The Seahawks finished third-worst in net punting average last season with Jon Ryan. It's not an exaggeration to say this could do a complete 180 with Dickson, who earned the highest grade PFF has ever given to a punter, went in the fifth round of the draft and already boasts an NFL highlight reel.
6. Brian Schottenheimer might be the Case Keenum of coordinators. 
Schottenheimer's track record is unimpressive, but in hindsight, it doesn't look so bad that he dragged the Jets to a 17th-place finish in points scored despite 20 picks from rookie Mark Sanchez, then to back-to-back 13th-place finishes with Sanchez again at the helm.
Even two 21st-place finishes in three years in St. Louis don't look as bad considering Schottenheimer was coordinating arguably the least-talented offense in the league for Jeff Fisher.
And it's not like the bar was set high by Darrell Bevell, who, well … you know.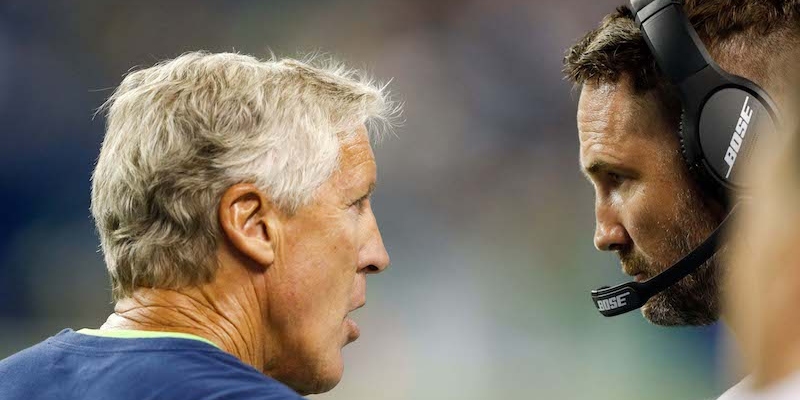 The Schedule Isn't As Hard As It Seems
The fact that the Seahawks are only favored in three games is misleading.
They have three pick 'ems and a whopping seven games in which they're underdogs by less than a field goal.
In their first seven games leading up to a Week 9 showdown with the Chargers — at Denver, at Chicago, vs. Dallas, at Arizona, vs. the Rams, at Oakland then at Detroit — they're only favored once. But would it really be a surprise if they came into the Chargers game 6-1?
The Seahawks will also have the 12th Man on their side for four of their most difficult games (against the Rams, Chargers, Packers and Vikings).
The Bottom Line
With everything that's been said, the best reason to bet on the Seahawks is still Wilson, who we now know has the ability to be the entire offense. He accounted for an NFL-record 86% of the Seahawks' offensive yardage and 37 of their 38 offensive touchdowns last season.
Since Wilson came into the league, 16 to 19 teams per season have finished .500 or better. Though I initially was on the under at 8, the ensuing drop to 7.5, coupled with my subsequent research, has left me unable to justify betting against Wilson leading Seattle to at least the .500 mark for the seventh time in his seven pro seasons.
(I also anticipate that the public will overreact to Doug Baldwin saying he won't be 100% this season, which could create a more favorable payout on the over.) – Chris Raybon
The Bet: Over 7.5 Wins
---
Seattle Seahawks 2018 Schedule
Games Favored: 3
Avg. Spread: +1.1
Strength of Schedule: 30th (1 = Easiest, 32 = Hardest)
---
Survivor Pool 101
Use the Seahawks: Week 3 vs. DAL
Use Seahawks' opponents: Week 10 @ LAR
---
Fantasy Football Outlook
Top Picks: WR Doug Baldwin, QB Russell Wilson
Sleeper: RB Chris Carson
Potential Bust: RB Rashaad Penny
>> Full Fantasy Rankings | Player Projections | Printable Cheat Sheet
---
Best of "I'll Take That Bet" on ESPN+
---
Bookmaker Unfiltered
"We took some under money and moved them from 8 to 7.5. We are writing some tickets on the Seahawks at 60-1 to win the Super Bowl just because people are not used to seeing them at that high of a number."
– Westgate bookmaker Jeff Sherman to The Action Network's Michael Leboff
---
Russell Wilson Over/Under 3,850.5 Passing Yards? (-115/-115)
Wilson's pass attempts have increased in each of his six NFL seasons, but there's reason to believe that trend will end in 2018: The Seahawks brought in a more conservative offensive coordinator in Schottenheimer and spent their first-round pick on Penny. And after losing Richardson and Graham, Wilson will be forced to rely almost wholly on Baldwin, who missed the entire preseason due to a knee injury and could be less than 100% to start the season.
All signs point to there being value on the under here. This number is about 75 yards too high. – Sean Koerner
The Bet: Under 3,850.5 Passing Yards
---
Russell Wilson is a DFS Stud in All Situations
Schottenheimer's run-first mentality isn't ideal for Wilson's fantasy stock, but last season's fantasy QB1 is too good to let an old-school coach ruin his good time.
Wilson displayed his patented schoolyard ability to make plays both on the ground and downfield during the preseason, and the breakup of the Legion of Boom could inevitably lead to even more game scripts that necessitate passing in 2018.
The seventh-year quarterback has never let anything get in the way of his fantasy production. He's posted largely agnostic home/away and favorite/dog splits since 2014, according to the FantasyLabs NFL Trends tool. – Ian Hartitz
---
---
---
More on the 2018 Seattle Seahawks
Authors of this article include The Action Network's own: Chris Raybon, Sean Koerner and Ian Hartitz.
How would you rate this article?