2019 Fantasy Football Dynasty Rankings: Freedman's Top 200 Players
Credit:
USA Today Sports. Pictured: Alvin Kamara, JuJu Smith-Schuster, George Kittle
Matthew Freedman breaks down his 2019 fantasy football dynasty rankings, featuring his top 200 players.
With the 2019 NFL draft in the past, I've updated my fantasy football dynasty rankings.
While these are specifically for point-per-reception (PPR) leagues, keep in mind that scoring format doesn't have much impact on a player's long-term value, so these rankings are still useful for standard and half-point PPR leagues.
To see why I'm higher or lower on select players compared to other dynasty rankers, and for details on my methodology, see my takeaways below the table.
Rankings as of May 1.
2019 Fantasy Football Dynasty Rankings
Higher-Ranked Players in My Dynasty Rankings
In comparison to most dynasty analysts, I'm high on the following players.
QB Kyler Murray: I'm going to be aggressive in ranking and drafting Murray, who I consider a league-winning talent. With his rushing ability (1,001 yards and 12 touchdowns) and passing prowess (13.0 adjusted yards per attempt), Murray is basically Michael Vick with a better arm.
RB Josh Jacobs: Based on his draft position, age and physical profile, Jacobs is already a top-10 back. Past 21-year-old, big-bodied first-rounders have had outstanding success throughout their careers.
WR Will Fuller: Although he's recovering from a season-ending knee injury, he's an elite athlete and only 25 years old. In his 11 games with quarterback Deshaun Watson over the past two season, Fuller has averaged 17.3 PPR points.
TE George Kittle: He set an NFL record for a tight end with 1,377 yards receiving in 2018 and is the youngest high-end player at a position with few elite options. He's easily my No. 1 tight end and a top-20 player.
Lower-Ranked Players in My Dynasty Rankings
Relative to other dynasty rankers, I'm low on these players.
QB Aaron Rodgers: He might be one of the greatest quarterbacks of all time, but he's aging and is surrounded by uncertain pass-catching talent (outside of wide receiver Davante Adams). I wouldn't be surprised if Rodgers retired within three years.
RB Dalvin Cook: When healthy, Cook has flashed some playmaking ability, but he's struggled to stay on the field through two seasons, and the Vikings just drafted a 21-year-old, big-bodied back — Alexander Mattison — with a third-round pick. I'm unconvinced Cook will ever be a lead back.
WR Antonio Brown: You might have heard this before, but Brown's 2018 production was misleading. For 2019, I'm projecting Brown for 1,150 to 1,250 yards and seven to eight touchdowns, which would give him his worst season since 2012.
TE Travis Kelce: I still like Kelce and view him as a top-25 asset, but he turns 30 this year and plays a physically demanding position. He has more present value than Kittle, but less long-term potential.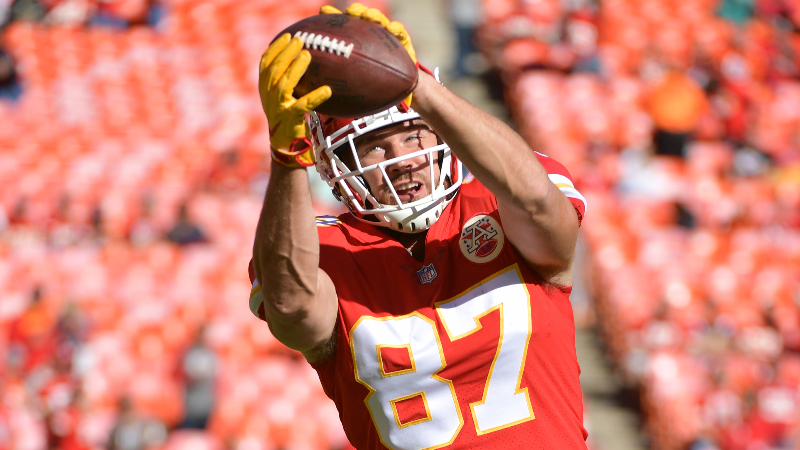 My Dynasty Ranking Methodology
Here are some general notes on my ranking process and perspective.
Age: I tend to place a premium on youth, which correlates with longevity and degree of future production. If a veteran doesn't currently have starter-caliber value, I probably have him ranked lower than younger players, even if he has more current production: The younger players have more long-term upside.
Positional scarcity: I tend to devalue players at a position of depth. In other words, quarterbacks are usually low in my rankings because there are so many viable options at the position.
Longevity: Everything else equal, I usually rank wide receivers ahead of running backs and tight ends because receivers as a group last longer in the league and maintain value deeper into their careers.
Other factors for specific players: I've relied on the following primary data points for ranking these three types of players.

Young players: Draft position, physical profile, college production, recent production and projected opportunity.
Prime veterans: Long-term production, positional decline curve, recent production and projected opportunity.
Aging veterans: Recent production, projected opportunity, positional decline curve and long-term production.
Matthew Freedman is the Editor-in-Chief of FantasyLabs. He has a dog and sometimes a British accent. In Cedar Rapids, Iowa, he's known only as The Labyrinthian.
How would you rate this article?