Raybon's 2019 Fantasy Football Guide: Tendencies to Know for All 32 NFL Offenses
Credit:
Trevor Ruszkowski-USA TODAY Sports. Pictured: Baker Mayfield
Chris Raybon analyzes the playcalling tendencies of all 32 NFL offenses, along with the undervalued studs and overvalued duds.
Understanding each team's playcalling tendencies — and coaching philosophy in general — is one of the most important aspects of being a successful fantasy football player. Here are three key tendencies for each offense that will give you an edge in 2019.
ARI | ATL | BAL | BUF | CAR | CHI | CIN | CLE | DAL | DEN | DET | GB | HOU | IND | JAC | KC | LAC | LAR | MIA | MIN | NE | NO | NYG | NYJ | OAK | PHI | PIT | SF | SEA | TB | TEN | WAS
---
Arizona Cardinals
Head Coach/Playcaller: Kliff Kingsbury
In six seasons with Texas Tech from 2013-18, Kingsbury's offense reeled off 82.0 plays per game, best in the nation over that span. Ninety plays in a game is a possibility, David Johnson told ESPN, and Kingsbury himself said Johnson will see an "extensive" role that could involve as many as 35 carries or 10 catches in a given game, which could return DJ to his fantasy glory days of 2016. Last season, he got a touch on 34% of plays, but the Cardinals ranked 31st in plays per game with only 56.4. In 2016, Johnson touched the ball at the same rate for a squad that ranked second with 67.9 plays per game, and the result was a league-leading 373 touches and the best fantasy running back season of the past half-decade.
To understand how Kingsbury's up-tempo, no-huddle approach will help his rookie quarterback, Kyler Murray, it's helpful to look at the effect of pace in situations that don't necessitate it. In the first halves of games in 2018, passes  after a huddle averaged 6.4 net yards and a 46% success rate, while no-huddle passes averaged 6.8 and 53%. First-half quarterback runs after a huddle averaged 4.8 yards and a 53% success rate, but that jumps to 5.8 and 79% in no-huddle. And when leading or tied in the first three quarters, huddle passes produced 6.6 net yards and a 47% success rate, while no-huddle passes generated 6.8 and 55%. Quarterback runs in these situations averaged 5.2 yards and a 55% success rate from a huddle and 7.2 and 72% without.
The Air Raid offense emphasizes spreading the defense out, and Johnson is a natural fit to split out wide or line up in the slot after spending only 39 snaps as a receiver in 2018 (which should count as criminal misuse after he posted 80 catches, 879 yards, and 4 touchdowns receiving on more than five times as many snaps as a receiver in 2016). But wide receiver will be the featured position in Kingsbury's passing game. Wide receivers accounted for 79% of the receptions in Kingsbury's offense at Texas Tech, compared to 16% for running backs and 5% for tight ends. 
Click here to return to the top.
---
Atlanta Falcons
HC: Dan Quinn, Offensive Coordinator/PC: Dirk Koetter
On first and second down inside the 10 last season, the Falcons ran the ball just 43% of the time and their running backs had only eight rushing TDs to show for it, a Quinn-era low after they punched in 14.7 per year in his first three seasons. Koetter's offense ran 55% of the time in that situation over the last four years, and his No. 1 back has a 78% share of running back TDs over that span. Despite missing 14 games last season, Devonta Freeman ranks sixth among running backs in rushing touchdowns since 2015 with 29. He's the PPR RB7 and standard RB8 over that span. With Tevin Coleman now in San Francisco, Freeman is in line to get his largest workload since 2015. Coleman averaged 11.1 touches with Freeman active from 2016-18, while Ito Smith averaged 8.9 as the No. 2 back from Week 3 on last season.
Matt Ryan's play has tended to drop off in Year 1 under a new offensive coordinator before rebounding in Year 2. Starting with 2014, Ryan's passer ratings have gone 93.9 (Koetter Year 3), 89.0 (Kyle Shanahan Year 1), 117.1 (Shanahan Year 2), 91.4 (Steve Sarkisian Year 1), 108.4 (Sarkisian Year 2). Year 1 of Koetter's initial stint breaks with the trend, though, as Ryan saw his rating increase from 92.2 in 2011 to a then-career high 99.1 in 2012. That familiarity should help Ryan adapt quickly to a Koetter scheme that will include more hurry-up. Koetter's offenses went no-huddle 10.9% of the time in his first go-round with Atlanta and 10.7% of the time with the Bucs, while the Falcons used it just on just 7.4% of snaps while he was gone. Ryan's no-huddle vs. huddle splits over that span favor no-huddle in completion rate (75.8% vs. 66.8%), yards per attempt (9.1 vs. 8.0), and TD rate (6.1% vs. 4.9%). Julio Jones has posted an 85.7% catch rate, 13.5 yards per target, and an 11.9% TD rate on 42 no-huddle targets over that span.
Mohamed Sanu and Calvin Ridley drew 5.7 targets per game apiece last season, but Sanu's advantage was volume based. Ridley was targeted on 19.6% of his routes compared to 16.1% for Sanu, but Sanu's role in two-wide sets allowed him to run 6.3 more routes per game than Ridley. Last season, Koetter's offense passed out of sets with at least three wide receivers 83% of the time, compared to 74% for the Falcons.
Click here to return to the top.
Baltimore Ravens
HC: John Harbaugh, OC/PC: Greg Roman
Roman was promoted to OC by Harbaugh due to his experience in crafting functional offenses around aerially-challenged scramblers Colin Kaepernick and Tyrod Taylor. A Lamar Jackson rush attempt was worth 0.61 fantasy points last season compared to 0.40 for a pass attempt, so how closely Jackson's 2019 usage aligns with the 23.4 pass attempts and 16.0 rush attempts he averaged as the starter last season could have a major impact on his fantasy numbers. Going from his first to second year as a starter under Roman, Taylor's pass attempts per game increased by 7% while his rush attempts decreased by 28%. Applied to Jackson, that would equate to 25 passes and 11.5 rushes (or 25.7 and 10.0 if we remove his outlier 26-carry, 19-pass game in his first start). A run-pass split in that range would net Jackson 16.0-17.5 fantasy points per game, which would put him around QB15-20. But considering Kaepernick and Taylor both regressed in efficiency in their second year as a starter, averaging a drop-off of 1.6 fantasy points per game, Jackson will need to either make significant leap as a passer or continue to rely on abnormally high rushing totals to hit his true ceiling.
During his time with Kaep and Tyrod, Roman always had a 30-ish-year-old lead back who got 15-18 carries per game. Mark Ingram figures to serve in that role. Roman mostly had grinders in the No. 2 back role (Carlos Hyde, Karlos Williams, Mike Gillislee) carrying 6-9 times per game, which would suggest Gus Edwards could be involved, but the selection of Justice Hill in the third round says otherwise. Hill is just the third running back drafted by the Ravens since 2015, and the last two (Buck Allen, Kenneth Dixon) averaged 10.7 touches per game in Year 1.
Tight end Mark Andrews failed to eclipse a 44% snap rate in any game as a rookie last season. But the pass-catching specialist ranked 19th in routes run and posted a top-17 fantasy finish at the position. His 3.24 yards per route once Jackson took over would have led all tight ends over a full season, and Roman is rewarding him with a featured role in the offense. If Andrews can replicate his full-season mark of 2.01 yards per route run, he'd need only 22-23 routes per game to push for TE1 numbers.
Click here to return to the top.
---
Buffalo Bills
HC: Sean McDermott, OC/PC: Brian Daboll
LeSean McCoy's 2.01 yards after contact per carry last season ranked 60th of 61 qualifiers, according to Pro Football Focus. After deploying McCoy on just 53% of Buffalo's offensive snaps last season, Daboll now has Frank Gore, who ranked 12th with 3.27 yards after contact. Rookie Devin Singletary is likely to eat into McCoy's workload, as well: Backs picked in Round 3 over the past decade have averaged 9.5 touches per game in their rookie year. Bills running backs collectively averaged 25.9 touches per game last season, meaning there wouldn't be enough to go around if this situation devolved into a three-way committee.
The revamped backfield and addition of slot receiver Cole Beasley signal that Daboll wants Josh Allen to run less in 2019, but that would not be ideal for fantasy purposes. In the 11 games Allen started, he attempted 47% of Buffalo's carries inside the 5, punching in four for scores. Without that goal-line usage, his fantasy points per game average drops from 18.4 to 16.0 (the equivalent of dropping from QB13 to QB22 last season). Allen also ripped off an absurd 10.8 yards per scramble last season. The scheme should cause his year-long numbers to regress, but his high-ceiling potential in any given game makes him the perfect DFS tournament play. Per the FantasyLabs NFL Trends tool, Allen led all QBs in 2018 with a 27% rate of upside games, but he was rostered in just 2.6% of contests on average.
A 56-652-7 line in Year 2 afforded Zay Jones a degree of sleeper appeal, but the arrival of Beasley probably should put it to bed. Jones spent roughly half of his snaps last season in the slot, where he's posted 7.0 yards per target and a 63% catch rate in his career. But with Daboll's 81% usage of 11 personnel, the presence of Beasley would force Jones to spend the majority of his reps lined up outside, where he's gained just 5.4 yards a target and caught only 47% of his looks.
Click here to return to the top.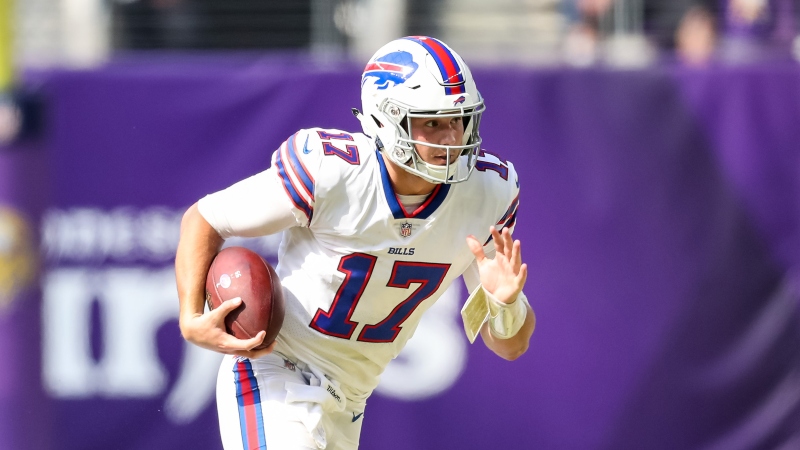 Carolina Panthers
HC: Ron Rivera, OC/PC: Norv Turner
Christian McCaffrey saw his usage rise from a 73% snap rate and 12.3 touches a game in 2017 under Mike Shula to 96% snaps and 20.4 touches last year under Norv. That workload should be more than enough to leave his RB1 floor intact as the coaching staff looks to delegate his goal-line work. Inside the 5 last season, McCaffrey ranked top-six in carries (16), yards (19), and TDs (6). Take away that usage and McCaffrey loses roughly 38 fantasy points, but drops only three spots in ranking (RB2 to RB5 in PPR, RB3 to RB6 standard).
Turner has traditionally run an Air Coryell scheme based around stretching the defense with vertical routes, but he meshed it with spread concepts in 2018,  which helped turn Cam Newton into a more consistent real-life and fantasy passer. Newton's average pass depth of 7.1 yards ranked 32nd league-wide but led to three-year highs in passing yards per attempt (7.2) and touchdowns per game (1.7) and career-best marks in completion percentage (67.9%) and rate of 20-point fantasy games (57.1%). At one point, he ran up a streak of 11 straight games with multiple TD passes. The one downside: If those passing TDs dry up, his floor could be lower than usual, as his 21% share of his team's rushing attempts inside the 10 was barely half of his 38% career average pre-Norv.
McCaffrey, D.J. Moore, and Curtis Samuel give Turner three movable chess pieces he can motion to and from the backfield to force the defense to dictate its coverage, but he also mixed in 0.75 designed runs per game for Moore and 0.67 for Samuel. The league average wide receiver run generated 6.4 yards and 0.81 fantasy points per attempt in 2018.
Click here to return to the top.
---
Chicago Bears
HC/PC: Matt Nagy, OC: Mark Helfrich
Nagy got 

Allen Robinson

 matched up in the slot on 40% of his snaps last season, doubling his previous career high, and it paid off as A-Rob's 8.9 yards per target and 7.1% TD rate from the slot were a step up from his 7.6 and 3.0% marks when lined up outside. If you aren't excited about a WR who averaged 4.2 catches, 58 yards and 0.31 touchdowns per game, I get it, but remove the two games Daniel started and include A-Rob's 10/143/1 postseason eruption against Philly, and all of a sudden he's at 4.8/65/0.42 and goes from WR39 to WR24 in PPR points per game.

Injuries had a major impact on Nagy's game plans last season. For instance, Mitch Trubisky averaged 32.6 pass attempts in 11 games with Robinson healthy but 25.0 in three games with him out. And rather than have Chase Daniel air it out in his two starts in relief of Trubisky, Nagy had Daniels force-feed Tarik Cohen, who averaged a ridiculous 11.0 targets, 9.5 catches, 101.0 yards, and 0.5 TDs as a receiver in those contests compared to 4.8-3.7-37.0-0.3 in all other games. Keep this in mind when making start/sit decisions or building DFS lineups.
The whole offense was forced to endure the inefficiency stemming from Jordan Howard being a poor scheme fit. His lack of pass-catching ability restricted what Nagy could do out of the shotgun, but he was also a liability in under-center formations (3.2 yards per carry). Nagy replaced Howard with two backs who have more diverse skill sets in David Montgomery and free agent Mike Davis. Along with Cohen, they've been referred to as a three-headed monster, but it might end up being a two-headed monster of Montgomery and Davis. Nagy lined up Cohen as a wide receiver on 34% of his snaps last season and had him block on just 2.5% of his pass snaps, lowest among all running backs. This suggests Nagy used Cohen as a running back more out of necessity. Montgomery would essentially need this to turn back into a two-man show to outplay his ADP, and Cohen's versatile skill set may end up being the reason it ends up as one, except with Montgomery and Davis instead of Montgomery-Cohen.
Click here to return to the top.
Cincinnati Bengals
OC/PC: Zac Taylor, OC: Brian Callahan
Taylor and Callahan want to predominantly feature 11 personnel (1 RB, 1 TE, 3 WR) a la Sean McVay's Rams, but admit they will likely employ more 12 personnel (1 RB, 2 TE, 2 WR) until A.J. Green returns from his ankle injury, according to Paul Dehner Jr. of The Athletic. Much has been made of the dip in Tyler Boyd's numbers without Green, but you can attribute a lot of that to Andy Dalton missing a chunk of that time, as well. Boyd was effective both in the slot (9.8 YPT) and outside (10.8) last season, and Taylor's arrival will bring about an increase in pre-snap motions that should allow him to continue to gain the most separation among Bengals receivers.
Joe Mixon saw an increase from 3.6 to 4.3 targets per game with Green in vs. out of the lineup last season, and that will likely be the case again because the Bengals struggled to run out of 12 personnel (4.3 YPC) compared to 11 (4.9 YPC), but had much more success throwing to backs in 12 (6.9 YPA) than 11 (4.7 YPA).
A shift to more 11 as the season moves on could mean a gradual decline in production for Tyler Eifert. Passes to tight ends are much more successful out of 12 (115.8 passer rating) than 13 (92.9 passer rating), and while Eifert will be needed with Green, Taylor would have the luxury of using him as more of a receiving specialist to preserve him down the stretch, which would likely result in inconsistent weekly results.
Click here to return to the top.
---
Cleveland Browns
HC/PC: Freddie Kitchens OC: Todd Monken
Once Kitchens took over the offense, breakout rookie Nick Chubb handled 19.8 of the team's 26.4 backfield touches per game. Chubb averaged 0.98 PPR and 0.83 standard points per touch last season, and thus would have needed 17.6 touches per game to crack the top 10 PPR backs and 16.2 touches per game to crack the top 10 in standard. Chubb could easily maintain RB1 numbers even if Kareem Hunt pushes for double-digit touches once he returned mid-season. In the meantime, the Duke Johnson trade and unproven No. 2 back Dontrell Hilliard's lingering preseason hamstring injury could potentially result in even more volume for Chubb than he had over the second half of last season.
Monken preaches balance, but it's not the usual kind of fantasy-value-draining balance we're all too familiar with. Instead, it was a fantasy owner's dream. His top three perimeter wideouts were showered with air yardage totals that ranked second, 15, and 21st at the position. His slot receiver ran the second-most slot routes in the league. His top tight end was on pace to finish fourth in air yards at the position, and both of his top two tight ends finished top-20 in red zone targets. The result? Four different wide receivers of his finished inside the top 36 in PPR and top 45 in standard points per game. As a team, the Bucs led the league in WR fantasy points and were top-seven in TE points. Not to mention, Ryan Fitzpatrick and Jamison Winston combined for a QB2 finish despite neither one of them having ever cracked the top 10 in 16 combined seasons prior. We saw glimpses of this out of Mayfield once Kitchens took over. Jarvis Landry's target share decreased from 30% to 21% but his yards per target increased from 5.6 to 8.2 while Mayfield was hyper-efficient at distributing the ball to wide receivers Breshad Perriman (14.5 YPT), Rashard Higgins (10.6 YPT), Antonio Callaway (10.3 YPT), and tight end David Njoku (9.2 YPT).
Speaking of Njoku, Monken's tenure with the Bucs coincided with a three-year period in which they ranked top-four in tight end TDs each season. Meanwhile, Year 1 of Kitchens — who has seven years of experience as a tight ends coach — saw Browns tight ends post a top-six finish in TDs, as well. Entering his third season way lower on the defense's list of priorities than his talent would otherwise warrant, Njoku could be this year's Eric Ebron.
Click here to return to the top.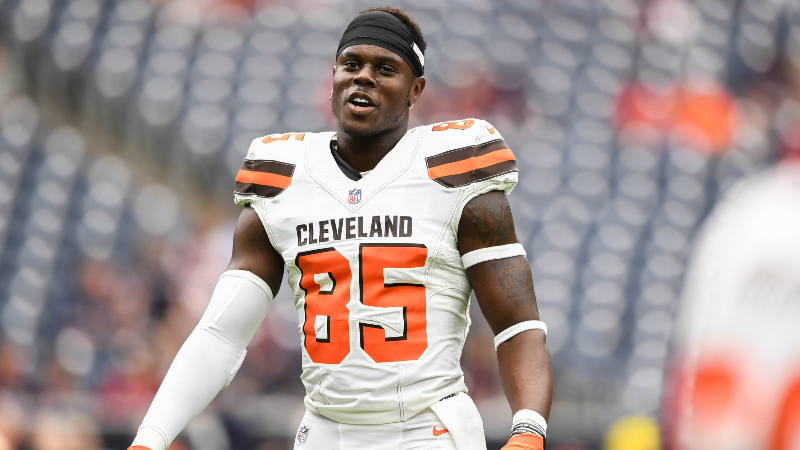 Dallas Cowboys
HC: Jason Garrett, OC/PC: Kellen Moore
Gone is Scott Linehan's scheme that was essentially static pre-snap, rarely doing anything to scheme his receivers open. In its place is Kellen Moore's system, which utilizes more pre-snap motion. This should have a profound impact on the weekly consistently of Amari Cooper, who was a monster from the slot with Dallas last season with 11 catches, 203 yards, and 2 TDs on 14 targets.
Moore will also emphasize creating big plays via the deep ball, according to an interview that appears on the Cowboys' official website. Dak Prescott ranked 24th in deep passing rate (10.8%), but fourth in passer rating on such throws (115.7). This should boost the Year 2 breakout potential of Michael Gallup, who amassed 39% of his total receiving yardage via the deep ball last season. Gallup put up 3.5 receptions, 60.0 yards and 0.5 TDs on 6.3 targets per game over the last four, which are top-24 WR numbers in standard and top-30 in PPR.
The re-signing of Alfred Morris, who averaged 16.5 carries per game over a six-game stretch with Ezekiel Elliott out in 2017, suggests Morris would be involved if Zeke were to miss games. But with Moore now calling the shots, a committee that also features explosive rookie fourth-rounder Tony Pollard seems more likely than Morris reprising a full workload.
Click here to return to the top.
---
Denver Broncos
HC: Vic Fangio, OC/PC: Rich Scangarillo
The Broncos hope to finally establish a "true split-touch situation that they envisioned between [Royce] Freeman and Phillip Lindsay last season," reports Charles Robinson of Yahoo — which is interesting because (1) they have a new head coach and offensive coordinator this year, and (2) Lindsay deserves more carries than Freeman. Lindsay averaged 1.4 yards per carry more than his fellow second-year back and posted a better success rate on first, second, and third down. Scangarillo's scheme will be in part borrowed from Kyle Shanahan, who he worked under in San Francisco over the past two seasons. The 49ers' backfield ranked fifth in the league with 23 carries per game during this span, which means a true split would result in Lindsay and Freeman topping out at 11.5 carries apiece. Last season, the top 25 RBs in PPR points per game only contained five backs who failed to top 11.5 carries; the top 25 in standard contained three. Especially with the franchise seemingly insistent on also mixing in a third back as a passing-down specialist, Lindsay and Freeman are capped-ceiling investments.
In drafting Noah Fant, athletic pass-catching tight end out of Iowa, Scangarillo appears to be emulating what his old boss had with George Kittle. As a rookie, Kittle played 57% of the snaps and turned in a 2.9-34.3-0.13 line on 4.2 targets, finishing as TE22. He began that year as an every-down player before injuries forced Shanahan to scale back his role, so Fant could have a shot at even better numbers this year, which would put him in the fringe TE1 conversation.
Another staple of Shanahan's that Scangarillo will adapt is heavy formations with the quarterback under center. John Elway's latest stopgap, Joe Flacco, averaged 7.9 yards per attempt under center and 6.2 from the gun last season, which isn't a scheme fit so much as it is Flacco being unable to move the ball when the defense has the slightest inkling of what's coming. Compounding the problem is that Flacco is the NFL's worst play-action passer. Hopefully his backup becomes a quarterback soon.
Click here to return to the top.
Detroit Lions
HC: Matt Patricia, OC/PC: Darrell Bevell
In 12 seasons as an NFL offensive coordinator, Bevell's offenses average the ninth-most rush attempts and 24th-most pass attempts. The Lions averaged 35.9 pass attempts (13th) and 25.3 rush attempts (18th) last season and would gain 3.3 rush attempts while losing 3.9 pass attempts if the offense adheres to Bevell's norm — scary considering that on a per-game basis, Matthew Stafford was outscored by 29 other QBs (min. 5 starts).
Kerryon Johnson saw 3.9 targets per game overall, but just 0.6 of them came on third or fourth down. Theo Riddick's departure frees up another 1.5 of those targets, which will likely go to Johnson. Even with the expected pace, inducing a dip in play volume, Johnson's rookie-year workload (11.8 carries, 3.9 targets) leaves room for growth. An increase of just one catch per game, for instance, would have vaulted him from 19th to 11th in PPR points per game.
Let's pump the brakes on Johnson for a second, though, because what's a Detroit Lions running back without some type of fantasy red flag? In Johnson's 10 active games, LeGarrette Blount handled 75% of the carries inside the 5. Blount and then-offensive coordinator Jim Bob Cooter are both gone, but the signing of C.J. Anderson suggests that Patricia prefers a big (fat?) back over Johnson in short-yardage situations.
Click here to return to the top.
---
Green Bay Packers
HC/PC: Matt LaFleur OC: Nathaniel Hackett
The Packers ran the ball out of shotgun 53% of the time last season, but will be switching to a wide zone that features more runs from under center. This suits Aaron Jones, who ripped off 5.7 yards per carry on under-center runs compared to a still-very-good 5.1 out of the gun. Jamaal Williams, meanwhile, managed just 3.2 yards per carry on under-center plays, versus 4.3 from the gun. Pro Football Focus graded Jones 13th at the position in pass blocking compared to 54th for Williams, so there's a chance he takes a stranglehold of LaFleur's backfield a la Derrick Henry last season.
Aaron Rodgers' 2.75-second average time to throw last season ranked fifth-highest in the league, and when holding the ball for more than 2.5 seconds, his 50.2% completion rate ranked 36th, ahead of only Jeff Driskel, Josh Rosen, and Josh Allen. LaFleur will install shorter dropbacks, but at what cost? Rodgers tossed twice as many TD passes when he held the ball more than 2.5 seconds as he did in under 2.5 on the same amount of attempts. Like Rodgers this season, Mariota entered last season coming off a career low in passing TDs per game. Mariota was able to elevate his yards per attempt from 7.1 in 2017 to 7.6 under LaFleur's watch, but his TDs per game sunk to a new low. Oh, who am I kidding? Rodgers will just check out of LaFleur's calls at the line, anyway.
LaFleur has rolled with Marques Valdes-Scantling in two-wide sets with Geronimo Allison manning the slot when they go to three-wide, according to Matt Schneidman of The Athletic. LaFleur will let positional strength dictate his base look, so he figures to go three-wide most of the time anyway. Rodgers and Allison have failed to establish a consistent connection on throws 10 or more yards downfield (8-of-22, 257 yards, 2 TD, 2 INT) but have been mostly efficient underneath (35-of-44, 299, 0 TD, 1 INT). MVS, meanwhile, parlayed his 4.37 wheels into a connection with Rodgers that netted him a top-15 finish among wide receivers in yardage gained on passes that traveled 20-plus yards in the air. Within the context of the scheme, Allison is better positioned for weekly consistency, while MVS is the more volatile but higher ceiling option.
Click here to return to the top.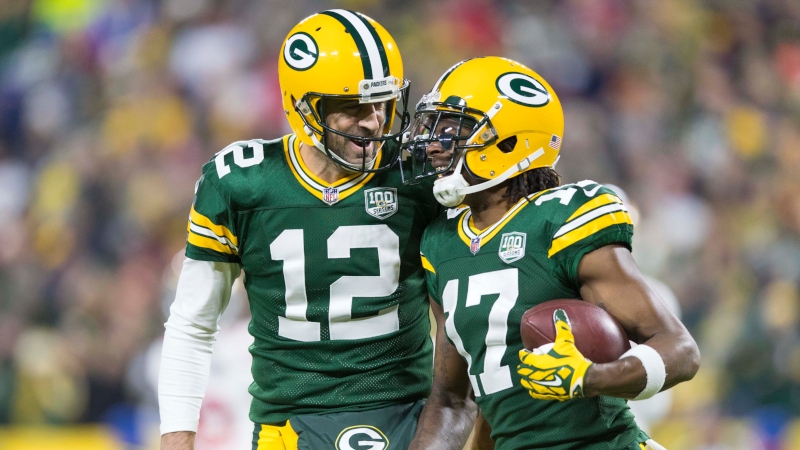 Houston Texans
HC/PC: Bill O'Brien, OC: Tim Kelly
Editor's Note: This story was published before the news of Lamar Miller's season-ending ACL injury. See how Raybon has adjusted his RB rankings to account for Duke Johnson taking over as the lead back here.
In the seven games Will Fuller and Keke Coutee both missed last season, DeAndre Hopkins operated more as an underneath receiver, commanding 12.0 targets per game at an average depth of 10.2 yards and posting a 8.6-106-0.57 line. In the nine games at least one of the two played, Hopkins dropped to 8.8 targets per game, but they came at an average depth of 14.4 yards, netting a 6.1-93.4-0.78 line. And in the four games which both of them played, Hopkins saw 9.8 targets at a depth of 13.8 yards and put up a 6.8-108.3-0.75 line. In other words, he'll get his WR1 numbers regardless of scheme.
Fuller saw 8.7 targets per game without Coutee, but only 4.8 in four games with him, while Coutee saw 7.5 targets with Fuller, 3.6 without — but the small sample is no more reliable than their brittle bodies.
In his first season with Houston, Lamar Miller handled 19.1 carries and 2.8 targets per game. In the two since, that's down at 15.0 carries and 2.7 targets. O'Brien gave D'Onta Foreman 9.3 touches per game in 2017 and Alfred Blue 9.5 in 2018 in games Miller was active, which is line with Duke Johnson's career average of 8.4 touches per game. The third-down back role "addresses a hole O'Brien has long wanted to fill," according to Aaron Reiss of The Athletic. Miller saw 37% of his targets come on third or fourth down last season, and he would have lost 1.6 PPR and 0.9 standard points per game without them. That would have dropped him from RB23 to RB31 in PPR and RB22 to RB25 in standard.
Click here to return to the top.
---
Indianapolis Colts
HC/PC: Frank Reich, OC: Nick Sirianni
Editor's note: This story was first published before the news of Andrew Luck's retirement. See how Raybon has adjusted his QB rankings to account for Jacoby Brissett taking over as the starter here.
After an embarrassing 6-0 defeat to the Jaguars in Week 12 in which Reich gave Marlon Mack only nine touches while Nyheim Hines got 13, Mack received 85% of the running back carries and 77% of the overall backfield touches, averaging 19.7 per game. In eight active games prior, he'd been getting 56% of the touches and averaging 16.1. If you project Mack at 19.7 touches, he would have ranked 11th in standard and 15th in PPR points per game. Hines, meanwhile, averaged just 3.5 carries — and 2.5 carries from Week 12 on. His curtailed run-game usage wasn't a surprise after he averaged just 3.84 yards per carry, but it was concerning that he wasn't targeted in either postseason game. All of Reich's comments since — from Mack carrying the load to Parris Campbell "affecting" Hines' workload — paint the picture of a player slated to see his usage scaled back.
In the six games Jack Doyle was active, the Colts used multiple tight ends on 38% of snaps compared to 16% when he was inactive. With Doyle in the lineup, Eric Ebron experienced a drop-off in targets (8.8 vs. 3.5), receptions (4.8 to 3.0), and yards (52.2 to 38.0) compared to when Doyle was sidelined. Ebron did find himself wide open for more easy TDs, though, averaging 1.2 per game with Doyle compared to 0.6 without — but TDs are notoriously the most difficult stat to repeat.
Three or more wide receivers were on the field for 62% of the Colts passing plays with Doyle active compared to 85% with him out. Whether due to lack of practice time with Andrew Luck (calf), or because the team ends up being forced to play it closer to the vest with Jacoby Brissett in his place, the odds are against Campbell and Devin Funchess becoming major parts of the offense, at least early on. Even with Doyle's prolonged absence last year, no Colts wide receiver besides (the under appreciated) T.Y. Hilton averaged more than 4.5 targets per game. Fewer than 10% of wide receivers to crack the top 50 last season were targeted less than 4.5 times per game.
Click here to return to the top.
Jacksonville Jaguars
HC: Doug Marrone, OC/PC: John DeFilippo (1st year)
DeFilippo stated that passing to running backs is a key part of his scheme. While the numbers don't necessarily back that up — his offenses ranked 19th and 15th in receptions by running backs his two prior gigs as an offensive coordinator — we should probably take him at his word because that's how Leonard Fournette was misused last season. If the Jags gained even a yard on first down, opponents could bank on them running over half the time on second down. Nearly one-third of Fournette's total carries come in these situations, and he gained only 2.5 yards a pop. Minnesota, meanwhile, passed at the fourth-highest rate in such situations under DeFilippo. Trading some of Fournette's carries for catches makes sense and seems likely.
The two offenses DeFilippo has coordinated in the past (2015 Browns, 2018 Vikings) each finished 27th in rush attempts and top-11 in pass attempts. We tend to still think of this team as the Hide Bortles Jags, but after Fournette repeatedly got stonewalled last season while facing third-highest rate of stacked boxes (36.1%, per Player Profiler), the DeFilippo hire hints that Marrone & Co. are ready to embrace a more pass-happy approach. Over his last seven starts Nick Foles has completed five or more passes to an average of 1.9 wide receivers per game, with at least one in every game. Dede Westbrook, D.J. Chark, and Chris Conley are being overlooked.
Another sneaky source of value on this team could be tight end Geoff Swaim. Kyle Rudolph was looked at as a dud last season under DeFilippo but posted the second-highest per-game reception and yardage totals of his career. And in his only other year as an offensive coordinator, DeFilippo elevated Gary Barnidge from the depths of obscurity to fantasy legend. In between those two stints, DeFilippo worked in the Eagles system that led the NFL in catches by tight ends in both 2016 (129) and 2017 (110).
Click here to return to the top.
---
Kansas City Chiefs
HC/PC: Andy Reid | OC: Eric Bieniemy
Damien Williams was initially anointed as the team's feature back, but Reid has changed his tune as of late, stating that the team would use a committee approach. It's clear the team values Williams most in the passing game. Whereas former starting running back Kareem Hunt averaged 16.8 carries and 3.6 targets in 2017-18, Williams averaged 13.8 carries and 5.6 in five regular and postseason starts last season. As Kansas City's lead back, Williams only topped 13 carries once; Hunt did so in 20-of-27 games (74%). To that end, you can see why the team signed Carlos Hyde despite his career 3.97 yards per target, which ranks 114th of 115 backs since 2014 (min. 50 targets). A shakeup on the interior line — Austin Reiter will replace Mitch Morse at center, and Laurent Duvarnay-Tardif returns at right guard — gives Reid a stronger but less athletic unit that could be well suited to run more power concepts than Reid has in the past. You can also see why the franchise attempted to trade up for Darwin Thompson, who they eventually got anyway in the sixth round. Thompson averaged 15.3 yards per reception at Utah State and wasted no time catching his first ever NFL touchdown. Ultimately, the Chiefs operated from shotgun on 82% of plays last season, so I wouldn't expect much to change from last season other than Hyde mixing in for some goal-line and clock-killing work. Williams scored five rushing TDs in his five starts last season; take all five away, and he's still posting RB1 numbers (19.8 PPR, 15.0 standard points per game).
With an average depth of target of 9.6 yards, Sammy Watkins mostly served in a possession role in his first year under Reid, freeing up Tyreek Hill and travis Kelce to run deeper routes. Watkins played eight full games, and in those games Tyreek Hill's average depth of target goes from 13.1 to 16.1, and Travis Kelce's goes from 8.8 to 10.3.
Watkins himself was involved more than you would think by looking at his numbers. He had a 12-snap game in Week 4 and then a five-snap outing in Week 11, which drag down his regular-season stat line to 4.0 catches, 51.9 yards, and 0.3 touchdowns on 5.5 targets. Remove those games, and he jumps to 4.9-64.3-0.37 on 6.6 targets. Include his two postseason games, and now he's up at 4.9-69.1-0.3 on 6.9 targets. Reid has shown he'll involve Watkins when healthy, and Mahomes is so godly that it doesn't have to come at anyone else's expense.
Click here to return to the top.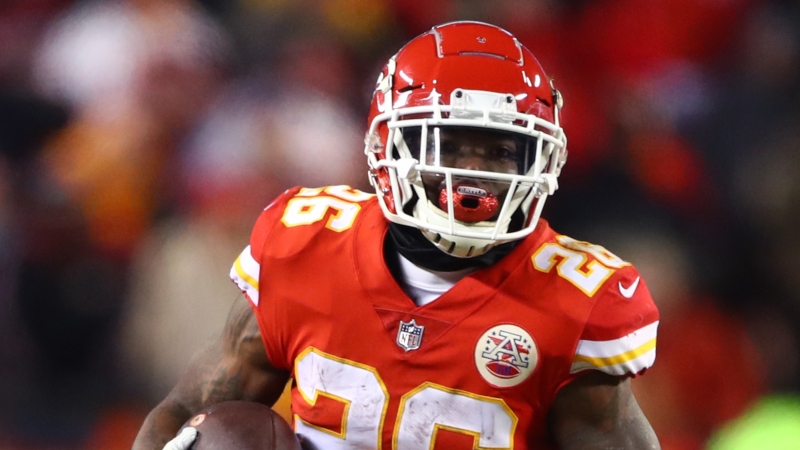 Los Angeles Chargers
HC: Anthony Lynn, OC/PC: Ken Whisenhunt
In games Melvin Gordon has missed over the past two seasons, Austin Ekeler's carries per game go from 4.7 to 13.3 and his targets from 2.8 to 6.7. In the one game both of them missed last season, Justin Jackson got 16 carries and 4 targets. In the Lynn-Whisenhunt era, Chargers starting running backs are averaging 19.4 PPR and 15.5 standard points, or the equivalent of RB6 numbers. In the event that Gordon misses time, it's worth noting Danny Woodhead carried 9.5 times per game through two games under Whisenhunt before tearing his ACL, so Ekeler would likely continue to get a fair shake at a sizable role.
After carrying the ball twice in his first five years in the league, Keenan Allen posted a career-high 9-75 rushing line last season, good for an extra 0.5 fantasy points per game.
Mike Williams played 63% of snaps and ran 23.3 routes per game last season, which is expected to increase with Tyrell Williams now in Oakland. But given his team's average of 32.0 pass attempts and his per-route target rate of 16.8%, he would project for just 5.4 targets per game if he ran every route. He did seem to turn a corner down the stretch, though, and his 20.5% rate over the final eight games (including postseason) would project him for 6.5 targets per game, or 104 over 16 games. No WR with 104 or more targets finished below WR30 in PPR or WR37 in standard.
Click here to return to the top.
---
Los Angeles Rams
HC/PC: Sean McVay
After feeding Todd Gurley 19.8 carries and 5.3 targets over the first 10 games of the season, McVay dialed it back to 12.6 carries and 3.3 catches over the last seven games (including just 10.0 carries and 2.3 targets in three postseason games) as Gurley's knee increasingly became an issue. Picking up Malcolm Brown's option and drafting Darrell Henderson in the third round provide hints about McVay's plan going forward. Brown is the clock-killer: Of his 106 carries in two seasons under McVay, 50% have come in the fourth quarter up by more than one score. Gurley has 47 over that span, so using Brown more in this role would allow McVay to chop 1.6 carries off Gurley's per-game workload. Henderson can replace Gurley in shotgun situations. While Gurley averaged just 2.8 yards per carry on 49 shotgun carries and 6.8 yards per target on 107 shotgun targets under McVay, scouting reports note it's where Henderson is at his best. That could theoretically cut another 4.0 touches per game from Gurley, though Henderson will likely be even more involved than that, considering that over the past 10 years, running backs drafted in Round 3 have averaged 9.4 per game. (The "Chris Thompson role" has been floated regarding Henderson, and Thompson handled 7.3 touches per game in McVay's final season in Washington.) All in all, McVay has the means to take anywhere from 5-11 touches per game from Gurley, who averaged 22.5 per game last season, without hindering the offense much, if at all. That would leave Gurley around 15 touches per game, which, using his per-touch fantasy scoring rates from last season, would net out to 17.7 PPR points per game (RB9 finish) and 14.9 standard points per game (RB10 finish).
One of the most underrated fantasy developments last season was the emergence of the jet sweep. Rams wideouts averaged 2.2 carries per game last season, which essentially tacked on a game of RB1 production to Robert Woods' stat line (19/157/1) and RB2 production to Brandin Cooks (10/68/1).
Cooper Kupp's ability to get open from the slot unlocks the best of McVay's play designs, forcing the defense to pick its poison among single covering one of the wide receivers or letting Gurley run free in the flat. The offense gets more efficient as a result: Kupp has a positive effect on the per-game splits of both Cooks (6.3-102.7-0.29 with Kupp, 4.5-60.6-0.38 without) and Woods (5.6-85.5-0.38 with Kupp, 5.1-66.9-0.38 without Kupp). Kupp's 2.26 yards per route from the slot in 2018 ranked 11th in the league, Josh Reynolds is virtually a non-factor inside (0.74 slot yards per route run), forcing Woods and Cooks to instead pick up the slack. Woods' yards per route run drops 2.61 outside from to 1.59 in the slot, while Cooks dips from 2.64 outside to 1.26 in the slot. No one benefits from Kupp's presence as much as Jared Goff, though: Goff averages a full yard per attempt more (8.3 vs. 7.3) with Kupp in the lineup over the past two seasons.
Click here to return to the top.
Miami Dolphins
HC: Brian Flores, OC/PC: Chad O'Shea
From the moment he was hired, Flores stated that there would be a competition for carries between Kenyan Drake and Kalen Ballage. That shouldn't come as a surprise; Flores has spent the better part of the last two decades watching Bill Belichick rotate backs and win championships. Drake spent 14.4% of his routes lined up either in the slot or out wide last season and is too valuable a weapon to be smashing into the tackle box 15-20 times a game. In an ideal world, Drake and Ballage would be used in a similar manner to the tandem of Sony Michel and James White last season.
O'Shea, the former wide receivers coach of the Patriots, brings with him an Erhardt-Perkins scheme, which allows the skill-position players to not have to make any on-sight adjustments, and thus, hopefully play faster, while relying upon the quarterback to make the correct pre- and post-snap reads. This favors Ryan Fitzpatrick over Josh Rosen, and makes Rosen a prime target for D/STs should he get the nod.
Fitzpatrick's superior processing ability would enable him to get the ball downfield to receivers like Kenny Stills, DeVante Parker, and Preston Williams. Fitzpatrick has targeted wide receivers on 70% of his passes over the past five seasons, while Rosen went to the position only 58% as a rookie in 2018.
Click here to return to the top.
---
Minnesota Vikings
HC: Mike Zimmer, OC/PC: Kevin Stefanski, Ast. HC: Gary Kubiak
Zimmer fired former OC John DeFilippo late last season for employing an approach Zimmer felt was too pass-heavy. The Vikings ran on just 36.7% of plays under DiFilippo, but 52.5% once Stefanski took over. Running on more than half the plays isn't easy to do over the long term but it would be reasonable to expect a return to the offenses previous norms in Zimmer's first four seasons (32.6 pass attempts, 27.6 rush attempts).
Dalvin Cook averaged 18 carries, 3.3 targets, and 2.8 catches per game under Stefanski compared to 10.9 carries, 4.9 targets, and 4.0 catches under DeFilippo. In addition to the increase in overall touches under Stefanski, the carry/target split is notable. Cook's 0.45 avoided tackles per reception ranked first among running backs (min. 25 receptions). But he's also dropped six of his 65 career targets. Then there's the fact that Kubiak's last two offenses ranked bottom-four in receptions by running backs.
Click here to return to the top.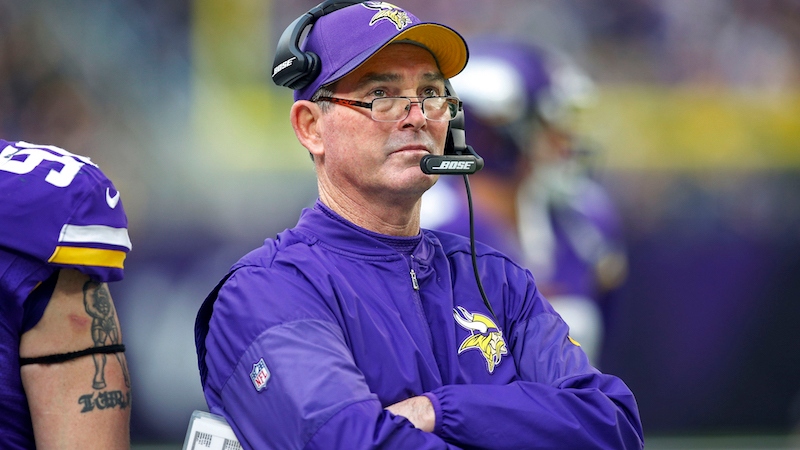 New England Patriots
HC: Bill Belichick, OC/PC: Josh McDaniels
Since Belichick became head coach of the Patriots in 2000, no Patriots wide receiver has exceeded 72 targets, 43 catches, 519 yards, or 4 touchdowns as a rookie. None exceeded 113 PPR points or 76 standard points, which would have equated to WR66 and WR62 finishes, respectively, last season. Josh Gordon's reinstatement sent N'Keal Harry's ADP into free-fall, but he should have never been coming off the board in the top 50 in the first place.
Gordon was limited to 18 snaps in each of his first two games last season, then was a full go for nine. Here's how the targets per game broke down with Gordon as a full-time player: Julian Edelman 9.1, James White 7.8, Gordon 6.9, Rob Gronkowski 6.0, Chris Hogan 2.8.
Over the past three seasons, McDaniels has settled on an approach to dictate the start of games: Force opponents to stop the run in Foxborough, and come out throwing on the road. In the first half, Patriots have rushed 44% of the time at home but only 37% of the time on the road over the past three seasons. In none of the past three seasons has their first-half pass rate been above 56% at home or below 61% on the road.
Click here to return to the top.
---
New Orleans Saints
HC/PC: Sean Payton, OC: Pete Carmichael
It was thought by some that Latavius Murray was signed to assume a role that saw Mark Ingram average 12.0-55-0.55 rushing and 1.7-14.0-0.09 receiving in 11 games with Alvin Kamara active last season. The resulting per-game averages of 12.45 PPR and 10.73 standard points would have placed Ingram at RB23 in PPR and RB20 in standard. But this is Kamara's backfield now, according to Jeff Duncan of The Athletic, which tells me it's Kamara's splits without Ingram we should be looking at. Without Ingram over the first four games of last season, Kamara averaged 13.8-65.8-1.25 on the ground and 8.8-84.0-0.25 on 11.8 targets in the pass game.
Drew Brees' pass attempts per game went from 42.1 in 2016 to 33.6 in 2017 to 32.1 in 2018. Given his age, performance down the stretch (6.77 YPA, 6 INT in last seven games), and the surplus at the position, it doesn't make sense to invest in Brees in 1QB fantasy leagues.
Last year's starting tight end, Ben Watson, was in on just 60% of pass plays and spent 14% of them blocking, but tight ends coach Dan Campbell has indicated the Saints will use Jared Cook like he was used in Oakland, where he was in 89% of pass plays and spent just 4% of them as a pass blocker in 2018. That usage in this offense would have been worth 9.4 PPR and 5.6 standard points, or TE8 numbers.
Click here to return to the top.
New York Giants
HC: Pat Shurmur, OC/PC: Mike Shula
Both Sterling Shepard (7.8 vs. 8.3) and Golden Tate (7.8 vs. 8.2) have averaged more yards per target from the outside than in the slot, though Shepard has yet to score a TD outside of the slot in his career. In terms of fantasy points per target, Sterling Shepard drops from 1.84 in the slot to 1.61 outside in PPR and 1.16 to 1.00 in standard. Golden Tate goes from 1.78 inside to 1.80 outside in PPR and 1.03 in the slot to 1.10 outside in standard.
Dan Duggan of The Athletic reports that the Giants spent a lot of time in 12 personnel (1 RB, 2 TE, 2 WR) in camp, which should be a positive: Compared to 11 personnel (1 RB, 1 TE, 3 WR), New York's performance when targeting wide receivers in 12 had the edge in yards per attempt (8.9-8.1) and fantasy points points per attempt (1.66-1.44 PPR, 1.10-0.81 standard). Saquon Barkley & Co. averaged 5.2 yards per carry and a 5.5% TD rate in 11, but 4.9 yards per carry and a 1.8% TD rate in 12.
In Shurmur and Shula's first year they essentially turned Evan Engram into a running back. His average depth of target was 5.8, down from 8.8 in 2017, and it was 5.5 in games without Odell Beckham. "True" YAC takes roughly 84 targets to stabilize, meaning Engram's true YAC is 5.7 and you would have expected him to average 9.8 rather than 12.8 YPC last season. He averaged 5.5 receptions without Beckham last season, which would have netted 53.9 yards, and increases of 1.54 and 0.14 PPR and standard points. That would have lifted him from TE7 and TE5 in PPR and left him as the TE7 in standard. If Engram stayed true to 4.1 receptions per game, he'd average just 40.2 yards, a loss of 1.23 fantasy points per game, which would have caused no drop-off from TE7 in PPR points per game, but a drop from TE7 to TE10 in standard.
Click here to return to the top.
---
New York Jets
HC/PC: Adam Gase, OC: Dowell Loggains
The best comp for Le'Veon Bell among RBs who Gase has coached is Matt Forte. Gase fed Forte 20.2 touches per game in 2015, which would have ranked sixth in the league last season.
Since 2013, the top slot receiver in Gase's offense has averaged 7.2 targets, 5.1 catches, 50.3 yards, and 0.33 touchdowns per game. Last season, those numbers would have equated to only a WR47 finish in standard but WR30 in PPR. Either way, it makes Jamison Crowder undervalued. According to FantasyPros' consensus ADP, Crowder is being drafted as the WR65 in standard and WR57 in PPR.
Quincy Enunwa flourished in the slot last season. The big-bodied wideout posted a 33-20-271-1 line from the slot but just 35-18-176-0 from outside. The real issue for Enunwa is his connection with Sam Darnold. Enunwa received 10 deep targets, but only two were catchable and he dropped one, catching the other for 41 yards. In 2016 he also received 10 deep targets, but eight were catchable, and he hauled in all eight for 278 yards and a touchdown. Over the past three seasons, no team in the NFL ran fewer plays per game than Adam Gase's Dolphins (58.0). Darnold completed only 47.6% of his passes over 10 yards and threw a pick on 7.3% of them, and then the team went out and got Darnold an array of check-down options in Bell, Crowder, and Ty Montgomery, which, coupled with Gase's slow pace, could cause perimeter options like Enunwa and Robby Anderson to struggle for weekly consistency. UPDATE (Aug. 19): The Jets have showed a lot of up-tempo offense in the preseason, and Connor Hughes of The Athletic reports that Gase "wanted to win games by shortening them" in Miami due to personnel limitations, so — barring injury —

pace shouldn't be an issue for this team. 
Click here to return to the top.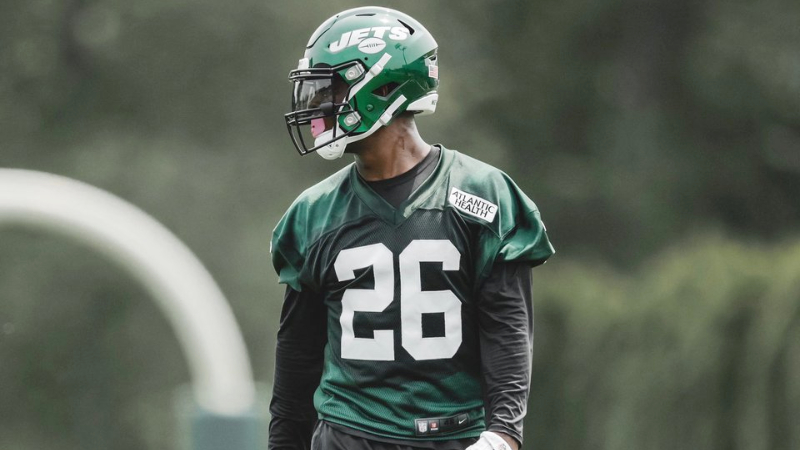 Oakland Raiders
HC: Jon Gruden, OC/PC: Greg Olson
Even if Antonio Brown is not on the field, his target share wouldn't necessarily go to Tyrell Williams. Williams finished 52nd in separation and is targeted 11.5 yards downfield on average, and Carr was the quickest to throw in the NFL last season at 2.55 seconds, and his 7.1 average depth of target ranked 36th. Carr already isn't the type to let those routes develop, and without AB there to take defensive attention away, those routes are less likely to be open even if Carr was willing. Instead, targets would likely go redirected to the backs or rookie slot receiver Hunter Renfrow. Gruden seems to be making an effort to get Carr to throw deep more.
Josh Jacobs was drafted to replace Marshawn Lynch, who saw 15.0 carries and 3.2 targets in six games as the lead back before going on injured reserve. Doug Martin was used similarly as a runner with 14.9 carries, but his 1.9 targets represented a substantial decrease. Jalen Richard mixed in for 5.1 targets and 3.4 carries, and then was likened to Charlie Garner by Gruden this offseason. But general manager Mike Mayock has since publicly sold first-round pick Josh Jacobs as an every-down back, and it appears Gruden will at least give Jacobs a chance in that role. Still, usage resembling Martin's is a realistic floor possibility for Jacobs.
Last season marked the beginning of Olson's second stint coordinating a Derek Carr-quarterbacked offense, and a couple of themes have emerged: (1) out-of-nowhere career years by tight ends (Mychal Rivera, Jared Cook), and (2) a washed-up former Packer as the lead wide receiver (James Jones, Jordy Nelson). History suggests Darren Waller has a good shot at outperforming his ADP. In between Olson's time with Rivera (TE20) and Cook (TE6), he oversaw TE16 and TE17 finishes for Julius Thomas in Jacksonville.
Click here to return to the top.
---
Philadelphia Eagles
HC/PC: Doug Pederson, OC: Mike Groh
Whether we're talking about Ryan Mathews, LeGarrette Blount or Jay Ajayi, Pederson has installed a two-down grinder in the mold of Jordan Howard as the lead dog in his backfield each year with the team. The three aforementioned backs averaged between 10.8-11.9 carries per game, which is a fair benchmark for Howard this season.
Miles Sanders truthers are probably already asking, "What about the change-of-pace role?" Philly backs have collectively averaged 23.4 carries and 6.1 targets under Pederson, which leaves another 11-12 carries and five targets up for grabs after accounting for Howard. On average, backs drafted in Round 2 such as Sanders have averaged 10.4 carries and 1.7 targets per game over the past 10 seasons. With Darren Sproles back for his age-100 season, he figures to command a workload similar to the 4.8 carries and 3.8 targets he got last year, Sanders projects to open the year in the 7-9 touch range with the chance to earn more looks by way of his play and/or injury.
Eagles insider Zach Berman reports that it's clear the Eagles will play more 2TE sets to get Dallas Goedert involved. Goedert only saw 2.8 targets per game in Year 1, so how much volume upside could he gain from a shift in formational philosophy? The Eagles had just over nine pass plays per game on first or second down with less than two tight ends on the field last season that took place either (a) in the first half, or (b) in the second half up by more than one score. Given Goedert's 16.5% target rate, in a best-case scenario 2TE sets could get him up to 4.5 targets per game, tops. Projecting based on his 2018 numbers, Goedert would have finished as the TE10 in standard but TE19 in PPR. His four TDs in 44 targets will likely get hit with some regression, but he's still the highest-upside bench stash at the position and has an outside shot at producing standalone value.
Click here to return to the top.
Pittsburgh Steelers
HC: Mike Tomlin, OC/PC: Randy Fichtner
Since Tomlin took over as Steelers head coach in 2008, his starting running backs have collectively averaged 17.7 carries and 4.0 targets per game, which falls in line with James Conner last season (16.5, 5.0).
Much has been made of the extra defensive attention JuJu Smith-Schuster will warrant in Antonio Brown's absence, but the key is keeping JuJu in the slot. In Year 1 under Fichtner, JuJu's slot snaps increased from 58.0% to 61.0%. From the slot, JuJu has averaged 14.9 yards per reception and 10.5 yards per target, compared to 11.4 and 7.7, respectively, from the outside.
James Washington saw 12 deep targets last season, but only two were catchable. He and Ben Roethlisberger also were able to connect on just 4-of-11 targets for 46 yards in the intermediate range. With Roethlisberger's downfield accuracy becoming increasingly scattershot, Washington may be more Sammie Coates than Martavis Bryant.
Click here to return to the top.
---
San Francisco 49ers
HC/PC: Kyle Shanahan
Shanahan's starting tailbacks averaged 12.9 touches per game last season, which is a marked departure from the 18.7 touches per game he fed Carlos Hyde in 2017 and the 20.3 he gave Devonta Freeman as in lead back in Atlanta in 2015-16. Nevertheless, it serves as a solid benchmark for Tevin Coleman, who also averaged 12.9 touches per start with the Falcons last season. Shanahan's outside zone scheme has featured 59% of its runs from under center, where Coleman has ripped off 4.7 yards per carry on 442 career handoffs compared to 2.9 from the shotgun. At 210 pounds to Matt Breida's 190, Coleman is the better short-yardage bet (Shanahan hinted as much in an interview with The Athletic back in March).
Dating back to Breida's rookie year in 2017, Shanahan has given him 12-13 touches in five of the last six games where he wasn't the No. 1 back.
Shanahan is known for feeding his X receiver, but the truth is he feeds his best receiver(s). This season has the makings of a fantasy headache, with up to five players being part of a rotation for an offense that passed with fewer than three wide receivers on the field a league-high 44% of the time last season, as Shanahan prefers to use versatile chess pieces in heavy personnel (read: the NFL's highest-paid fullback, Kyle Juszczyk) to create play-action opportunities. Pettis is the starting X, but his job isn't safe. Shanahan plans to "lighten [Marquise] Goodwin's load this season in an effort to squeeze more quality snaps out of him," according to Mark Barrows of The Athletic. Second-rounder Deebo Samuel and Jalen Hurd looked like the team's best receivers in preseason. What figures to be a four-man rotation may expand to five when Trent Taylor returns from a foot injury. No San Francisco wideout averaged more than 5.8 targets per game, but four averaged between 2.9 and 4.1. A return to the 66.1 play, 37.4-pass attempt per game pace they employed in 2017 from last year's 62.7 plays and 33. pass attempts could alleviate the issue to some degree, but 49ers pass catchers not named George Kittle figure to be tough to predict in 2019.
Click here to return to the top.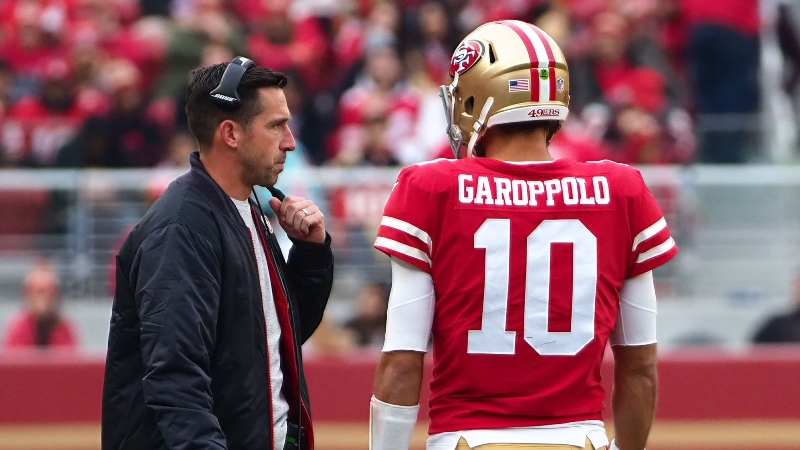 Seattle Seahawks
HC: Pete Carroll, OC/PC: Brian Schottenheimer
From Week 3 through the postseason, Chris Carson averaged 20.5 touches per game — but only 1.5 came through the air. However, 50 targets is Schottenheimer's goal for Carson this season, according to Seahawks insider Joe Fann. Projecting an additional 1.5 targets per game on top of Carson's workload from Week 3 on would have netted him an extra 2.1 PPR and 0.9 standard points per game and respective RB11 and RB9 finishes.
Rashaad Penny, meanwhile, caught only eight balls in 15 games and was not targeted on a single third or fourth down, but Schottenheimer plans to use Penny more in the pass game as well, according to Bob Condotta of The Seattle Times. In games Carson was active from Week 3 on, Mike Davis averaged 6.2 carries and 2.1 receptions, while Penny averaged 4.6 carries and 0.5 receptions. Add it all up and you get a 10.8-carry, 2.6-reception workload as a best-case scenario for Penny, which would have equated 11.56 PPR and 9.03 standard points, or RB31 and RB35 finishes, respectively.
In the three games Doug Baldwin missed, Tyler Lockett spent slightly more time in the slot (56.2% vs. 49.5% when Baldwin played), but the big change was that he was the clear featured player in the offense, averaging a 4.7-60-0.67 line on 6.3 targets (25% target share). When Baldwin played, Lockett averaged 3.3-60-0.62 on 4.0 targets (14% target share). With Jaron Brown having played 38.2% of his snaps in the slot last season and David Moore reportedly now able to play all three receiver positions as well, Schottenheimer should have no problem freeing Lockett up for a  career-high in targets while using a rotation of Brown, Moore, and second-round pick D.K. Metcalf in the other two spots.
Click here to return to the top.
---
Tampa Bay Buccaneers
HC: Bruce Arians OC/PC: Byron Leftwich
Though Arians is known for his aggressive, "no risk it, no biscuit" downfield passing approach, it's Leftwich, not Arians, who will be calling plays, and Leftwich wants Jameis Winston to be smarter, which could signal regression. Despite ranking top-five in average depth of target in each of his four of his pro seasons, Winston's highest ever finish in fantasy points per game was QB15 last season (QB11 if you remove the two games he came off the bench).
Arians said Chris Godwin may never come off the field in 2019, citing Godwin's ability to play the slot. In his career, Godwin has posted a 70.6% catch rate , 9.71 yards per target, and 2.9% TD rate on 173 slot routes and 62.7%-9.43-0.82 on 543 perimeter routes. Arians' offenses in Arizona averaged 39.2 pass plays per game, so if we assume Godwin doesn't come off the field and splits his time 50-50 between the slot and outside, he would project for 15.65 PPR and 10.43 standard points per game, the equivalent of WR20 and WR16 finishes, respectively, in 2018.
During his tenure in Arizona, Arians' running backs averaged 23.3 carries and 0.73 rushing TDs per game, with the starter accounting for 70% of carries and 66% of TDs. The most comparable situation to what the Bucs have going on right now with fourth-year vet Peyton Barber and second-year man Ronald Jones is Arians' 2013 Cardinals squad which saw Arians give sixth-year vet Rashard Mendenhall 15.7 touches and second-year man Andre Ellington, 10.5.
Click here to return to the top.
Tennessee Titans
HC: Mike Vrabel, OC/PC: Arhur Smith (1st year)
Derrick Henry's usage resembled what you'd expect from a bruising grinder who doesn't do much in the passing game. Henry averaged 17.8 touches, 105.3 yards, and 0.65 in six games as a favorite, but 12.5 touches, 56 yards, 0.4 TDs in 10 games as an underdog.
Matt LaFleur was able to squeeze a better season out of Corey Davis by tripling his slot snaps from 10.3% in Year 1 to 30.2% in Year 2. Davis averaged 2.05 yards per route run from the slot compared to 1.83 out wide. He scored a TD every 19.5 targets from the slot but every 54.0 targets out wide. So what did the Titans do? Go out and get the top slot receiver in free agency. Adam Humphries not only bested Davis in PPR points per game, 11.79-11.48, but in standard as well (7.56-7.41). It wouldn't be a shock if that happened again.
The big loser could be Dion Lewis. With Delanie Walker back and the Titans set to feature fewer 2TE personnel and more 3WR to feature Humphries, blocking responsibilities will fall more on the RBs. Lewis blocked on 17.4% of pass snaps last season, while the Titans' main No. 2 tight end, Luke Stocker, did so on 38.0% of pass snaps. Walker blocked on none of his 27 pass snaps before going down and has blocked on only 4.7% of pass snaps since Mariota was drafted. The reality is, players that we dub "third-down backs" tend to get a lot of their work on early downs: Lewis caught 47 balls on first- and second-down last season, but with Henry eating up more of those snaps, Lewis's only spikes in pass-game usage may be limited to true hurry-up situations when the defense is sitting back in prevent and there's no threat of a pass rush.
Click here to return to the top.
---
Washington Redskins
HC/PC: Jay Gruden, OC: Kevin O'Connell
In June, ESPN reported that running backs coach Randy Jordan envisions a 50-50 or 60-40 split in carries between Adrian Peterson and Derrius Guice. That doesn't even factor in Chris Thompson, who is averaging 4.4 targets and 4.2 carries since Gruden came aboard in 2014. Gruden's backfields have collectively averaged 21.8 carries and 6.4 targets over that span, so even if we take the five-year highs (24.9 carries, 6.9 targets) and subtract only Thompson's five-year lows (1.5, 3.5), we're looking at roughly 23.5 carries and 3.5 targets — and the carries may not be realistic in the first place given they went 9-7 that year but are projected to be one of the worst teams in the league in 2019. If anything, the Redskins should be running less: Their 59% run rate on first down last season tied for second-highest, but their 43% success rate ranked 29th.
The Redskins, may, in fact, run less often on first down with O'Connell promoted to offensive coordinator. Jordan Reed has been at his most efficient on first down (8.9 vs. 7.3), as have Paul Richardson (10.6 vs. 6.6) and Josh Doctson (9.2 vs. 5.7), though rookie third-rounder Terry McLuarin will probably be starting over Doctson sooner rather than later.
Jamison Crowder averaged 5.9 targets and a 4.0-47-0.27 receiving line as the slot receiver in this offense from 2015-18, but that dropped to 5.4 targets and a 3.7-42-0.26 line in games which Reed plays. Given the low-upside nature of his role, Trey Quinn shouldn't be an option unless (until?) injuries thin out the team's pass-catcher corps.
Click here to return to the top.
---
Note: All personnel grouping and success rate data via Sharp Football Stats. All pass route and target depth data via Pro Football Focus.
How would you rate this article?