Koerner, Raybon, Freedman: Way-Too-Early 2019 Fantasy Football Rankings
Credit:
USA Today Sports. Pictured: Alvin Kamara, Todd Gurley
Let our fantasy football experts -- Sean Koerner, Chris Raybon and Matthew Freedman -- help get you ready to dominate your 2019 fantasy football drafts.
Koerner, Raybon and Freedman rank their first-round picks for the PPR format.
Only one game remains in Week 16, so not all 2018 fantasy football championships have been decided, but it's never too early to start looking ahead to next year.
Here are the official 2019 Action Network Fantasy Football Rankings for the first round of point-per-reception (PPR) redraft leagues, as determined by our intrepid crew of experts: Sean Koerner, Chris Raybon and Matthew Freedman.
For the complete breakdown on how our experts ranked each players, check out the table at the bottom of the article.
---
Tier 1
1.01: Todd Gurley (RB), Los Angeles Rams
Sean Koerner: Gurley is coming off another season as the top running back and entering his prime on one of the top offenses in football.
Chris Raybon: Gurley has piled up 1.38 touchdowns per game since head coach Sean McVay took over but enters the final week of 2018 averaging 22.5 touches per game, trailing Elliott by 2.9.
Matthew Freedman: Gurley has averaged 135.3 yards from scrimmage per game under McVay. He's a consummate three-down back.
1.02: Saquon Barkley (RB), New York Giants
Sean Koerner: After passing even his high expectations, Barkley could improve in his sophomore season if the Giants go with a free-agent veteran like Nick Foles to be their quarterback next season and take some of the defensive attention away.
Chris Raybon: Barkley has overcome substandard quarterback and offensive line play to post top-three numbers as a rookie through 15 games.
Matthew Freedman: Entering the draft, Barkley was the best running back prospect of the past decade. With one game left and 87 receptions, he's just one reception short of Reggie Bush's rookie record for running backs.
Tier 2
1.03: Ezekiel Elliott (RB), Dallas Cowboys
Sean Koerner: Zeke finally became heavily involved in the passing game and will be much more valuable in PPR leagues in 2019.
Chris Raybon: No running back comes within 2.9 touches per game of Zeke's league-leading 25.4 average.
Matthew Freedman: No running back has more rushing yards per game since Zeke entered the league than he has with 101.2.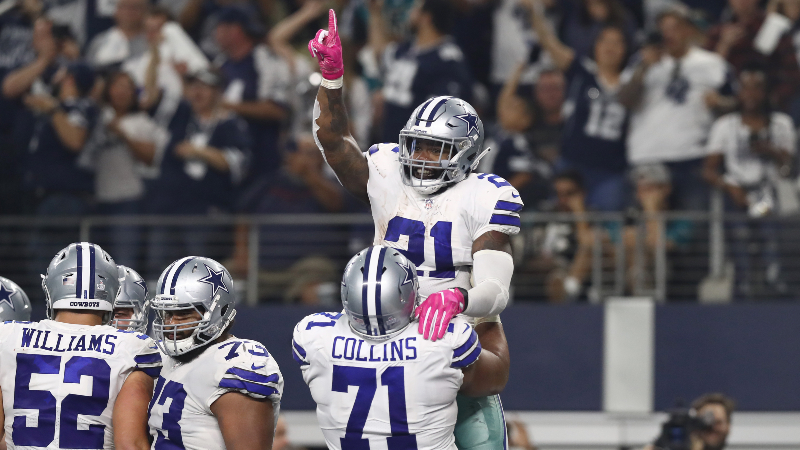 1.04: Christian McCaffrey (RB), Carolina Panthers
Sean Koerner: McCaffrey proved in 2018 that he can handle a full workload.
Chris Raybon: McCaffrey has at least 13.0 PPR points in every game heading into Week 17 and has a position-high 97.7% snap rate.
Matthew Freedman: With 106 receptions through 15 games, McCaffrey has broken Matt Forte's 2014 NFL record of 102 receptions for a running back.
Tier 3
1.05: Alvin Kamara (RB), New Orleans Saints
Sean Koerner: He regressed a bit once Mark Ingram returned from suspension but still managed to put up top-five PPR numbers.
Chris Raybon: Kamara has gotten off to a legendary start with 32 touchdowns in his first 31 games, but he could have reduced snaps next season if the Saints keep him in a committee role.
Matthew Freedman: In his four games to start the season without Ingram, he averaged 152.8 yards and 1.5 touchdowns from scrimmage. Ingram is a free agent in 2019 and seems likely to be on another team next year.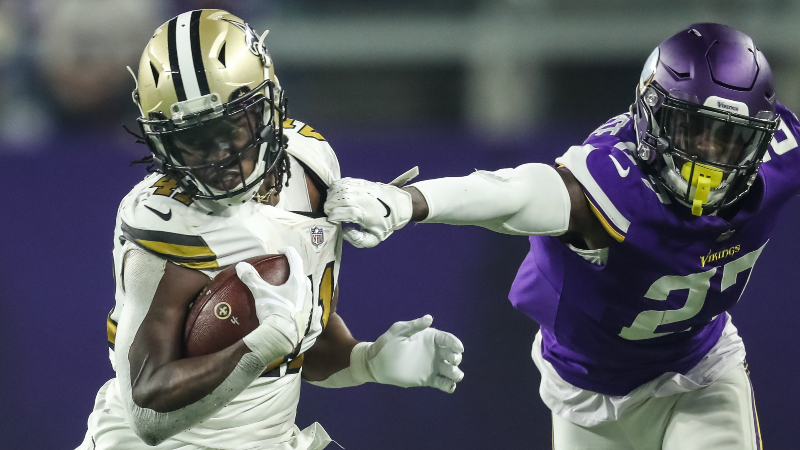 1.06: Davante Adams (WR), Green Bay Packers
Sean Koerner: Wide receiver is much more bunched up near the top, and the slight edge goes to Adams, who has been a top PPR receiver despite a pretty disappointing season from quarterback Aaron Rodgers.
Chris Raybon: It's been 18 games since we've seen Adams put anything less than 16 PPR points in the game log.
Matthew Freedman: Adams is the only player with 10-plus receiving touchdowns in each season since 2016.
1.07: DeAndre Hopkins (WR), Houston Texans
Sean Koerner: Nuk is arguably the top wide receiver in the NFL and should be one of the first two receivers selected next season.
Chris Raybon: Hopkins has hit double-digit PPR points in 29 of his past 30 games. His only miss came by a mere tenth of a point.
Matthew Freedman: Since last season, Hopkins has averaged 96.5 yards and 0.75 touchdowns receiving per game without quarterback Deshaun Watson. Hopkins is a passer-proof receiver.
1.08: Melvin Gordon (RB), Los Angeles Chargers
Sean Koerner: MG3 battled an injury down the stretch but proved to be an elite back when healthy.
Chris Raybon: The only thing separating him from the top four is a 71% snap rate that pales in comparison to the 80-plus marks of the backs at the top of the board.
Matthew Freedman: With 119 yards and 1.27 touchdowns from scrimmage per game this year, Gordon is the arbitrage version of Gurley.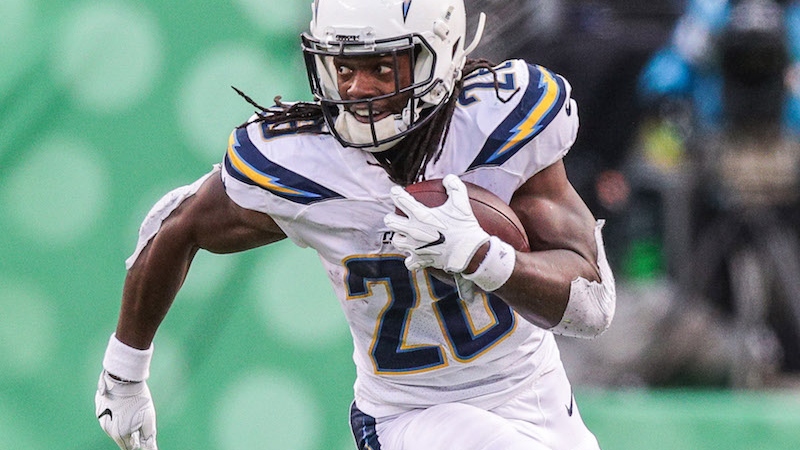 Tier 4
1.09 (tie): Michael Thomas (WR), New Orleans Saints
Sean Koerner: Thomas faded a bit down the stretch but is entering his prime with quarterback Drew Brees set to play another season and showing no signs of slowing down.
Chris Raybon: He has caught an absurd 86% of his 140 targets in Weeks 1-16 and has been held under 10 PPR points in just three of his past 31 games.
Matthew Freedman: No player in NFL history has more receptions in his first three seasons than Thomas has with 316, and he still has one more game this year.
1.09 (tie): James Conner (RB), Pittsburgh Steelers
Sean Koerner: He proved that the lead role with the Steelers sets up almost anyone for success.
Chris Raybon: His ascension to a featured role resulted in 114.5 yards and 1.08 total touchdowns per game and maybe even an inadvertent gut punch to Le'Veon Bell's future earnings.
Matthew Freedman: Conner's 2018 campaign is no fluke. He has excellent size (6-foot-1, 233 pounds), good draft pedigree (third-round pick in 2017) and notable pass-catching ability (302 yards and four touchdowns receiving as a senior in 2016). Running backs with those attributes tend to have NFL success.
1.11: Le'Veon Bell (RB), Unknown Team
Sean Koerner: Bell is likely an early second-rounder for me, since the next team he plays for will likely be a downgrade.
Chris Raybon: Bell has overall RB1 upside but could also be the 2019 David Johnson if he ends up in the wrong situation.
Matthew Freedman: Bell's next team will likely not be as good as the Steelers are, but he's averaged 137.5 scrimmage yards per game since 2014 and is perhaps the league's best three-down back.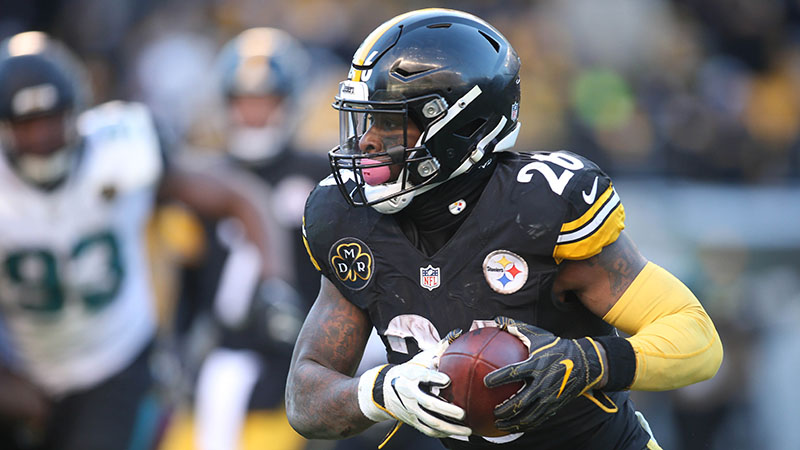 Tier 5
1.12 (tie): Odell Beckham (WR), New York Giants
Sean Koerner: OBJ should benefit if the Giants bring in a veteran quarterback to take advantage of both Beckham and Barkley in their prime.
Chris Raybon: Beckham is so nasty that we consider his 102-1,354-9 receiving line over the past 16 games a relative disappointment.
Matthew Freedman: Beckham is one of just three players to open his career with three 1,000-yard, 10-touchdown receiving campaigns. He has an NFL-high 390 receptions through his first 59 games played.
1.12 (tie): Antonio Brown (WR), Pittsburgh Steelers
Sean Koerner: No comment.
Chris Raybon: Antonio enters the final week of his age-30 season with a career-high 15 touchdown catches as well as a three-year high in targets (169) despite the continued emergence of JuJu Smith-Schuster.
Matthew Freedman: This year's fantasy production to the contrary, Brown is not even a top-12 wide receiver, much less worthy of a top-12 pick next year. This is as good of a hill as any to die on.
1.12 (unanimous): Julio Jones (WR), Atlanta Falcons
Sean Koerner: Julio will be 30 next year, so we should expect him to start to take a step back, but his late-season touchdown surge was a good sign that offensive coordinator Steve Sarkisian finally figured out how to get his best wide receiver the ball in the red zone.
Chris Raybon: Julio found the end zone a promising seven times in an eight-game stretch (Weeks 9-16) but has been held to single-digit PPR points in 15 of 31 games since the start of last season.
Matthew Freedman: Julio is (arguably) the best receiver in the league. In each season since 2015, he's led all wide receivers in yards per route run, as charted by Pro Football Focus (2.88, 3.08, 3.12, 3.04).
Way-Too-Early 2019 Fantasy Football Rankings
Meet Our Fantasy Football Rankings Experts
Sean Koerner is The Action Network's Director of Predictive Analytics and has been the No. 1 in-season FantasyPros ranker for three straight seasons.
Chris Raybon is a Senior Editor at The Action Network and a co-host of "I'll Take That Bet" on ESPN+. He has watched every play of every NFL game since 2010.
Matthew Freedman is the Editor-in-Chief of FantasyLabs and finished sixth overall in last year's FantasyPros competition.