2019 Fantasy Football Rankings For Every Position: PPR, Standard, Half PPR
Credit:
USA Today Sports. Pictured: Travis Kelce, Aaron Rodgers, James Conner
Find our experts' fantasy football rankings for PPR, standard and half PPR scoring formats below.
See which players they rank higher than industry standards (and vice versa), as well as where to create custom cheat sheets with their rankings.
Preparation for the 2019 season is in full swing and our experts Sean Koerner, Matthew Freedman and Chris Raybon are keeping their fantasy football rankings up to date so you can draft confidently.
You'll find links to their rankings for each position and scoring format below, followed by a series of select players they've ranked higher or lower than industry standards (and why).
Be sure to check out our Fantasy Football Draft Kit for our experts' most up-to-date rankings and projections, as well as customizable cheat sheets (more on those later).
Fantasy Football Rankings
---
Fantasy Football Cheat Sheets
You can create cheat sheets customized for your league settings, roster requirements and scoring format using our Fantasy Football Draft Kit. You can even generate auction values based on your league's budget.
The kit also features player projections and outlooks for more than 150 of the top players as ranked by our experts.
Players Our Experts Rank Higher Than Industry Standard
I have Jones ranked 52nd overall while his Expert Consensus Ranking/Average Draft Position sit in the mid-70s (as of writing).
The Bills brought in veteran WRs John Brown and Cole Beasley this offseason, which makes their WR depth chart incredibly crowded. I get how if you try to re-distribute their 2,794 passing yards from a season ago, a couple WRs will get lost in the shuffle. However, I'm projecting the additional talent to help increase the Bills' total passing yards by 500 to 600 yards this season.
Jones is still a talented second-round pick entering his third season, which is typically when WRs start to break out. We saw a glimpse of it in the second half of 2018, when he put up WR16 numbers from Weeks 10-17. He's at least worth a late-round flier at his dirt-cheap ADP to at least see how the Bills' pass catchers shake out.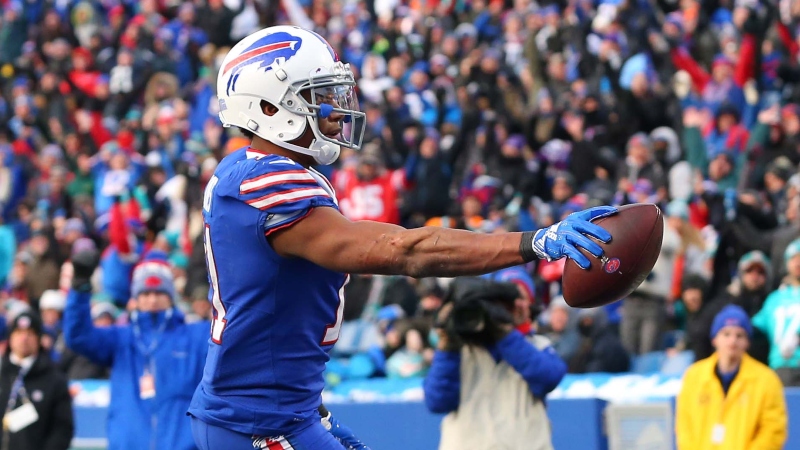 If he doesn't pan out early on, you can drop him without having spent much draft capital.
To put things into perspective, I'm actually projecting Jones for a 51/620/4 line, which are all lower than his 2018 stats. The market value for him seems off and is presenting you a potential WR3 for free.
I knew that I liked Smith-Schuster, but now that I've finished my first round of projections for each player, I'm surprised by how much I like him: He's my No. 1 projected wide receiver for 2019.
With Antonio Brown gone, I expect JuJu to build upon the 0.25 market share of targets per game he had last year with the Steelers. Since 2013, Brown has never had a target share below 0.27, and in three of six seasons it was at least 0.30.
With more targets — and especially more red-zone opportunities — JuJu should have enough volume to compensate for any regression in efficiency he might experience as the clear No. 1 receiver for his team.
In his three career games without Brown, JuJu has averaged 21.2 fantasy points in point-per-reception scoring with 6.7 receptions, 85 yards and one touchdown per game.
I like his chances to finish the season as a top-three fantasy receiver.
Over the past two seasons, Fuller is averaging 9.75 yards per target and 0.65 touchdowns per game, including a 4.1/71/1.0 line in 11 games with Deshaun Watson. Fuller is now up to 544 routes run over that span, which is not a huge amount, but still in the 83rd-percentile and enough to where we can't chalk it up to a fluke.
Even for someone like me who tends to be conservative with projections — especially for players coming off injury — it seems to me as if most are overrating the regression factor on Fuller's efficiency and underrating the regression factor on his games played. Even for a potentially "injury-prone" player like Fuller, the odds are he goes way over his average of 8.5 games played over the past two seasons.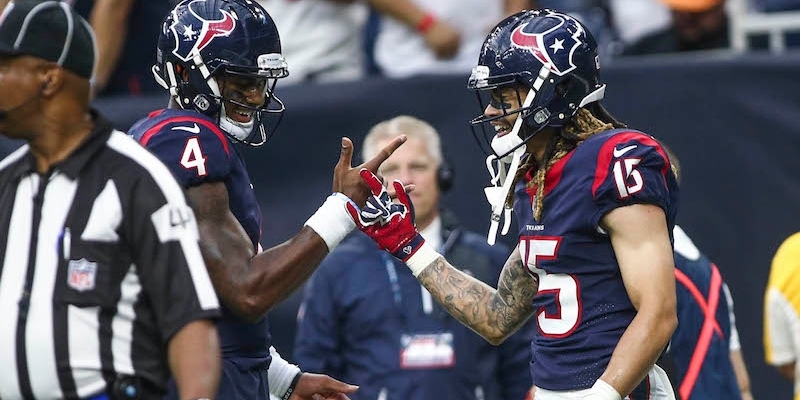 In my opinion, he has the most top-five upside of any WR who sometimes falls outside the top 30. (Save for Tyreek Hill, but that gives you an idea of just how much upside Fuller has.)
---
Players Our Experts Rank Lower Than Industry Standard
Koerner: Allen Robinson
I'm actually quite bullish on the Bears passing game entering 2019.
Mitch Trubisky should only improve in Year 3 and enters Year 2 in the Matt Nagy/Mark Helfrich scheme. The Bears have a ton of pass catching weapons on an offense that, due to their stout defense, doesn't have to throw much to win games. This is why Robinson gets lost in the shuffle a bit in my projections.
He certainly has the talent and skill-set to be a WR1 for a handful of teams, but in this Bears passing attack, he is more of a defacto WR1 in an offense that spreads the ball around.
Other than being part of a passing attack that spreads it around, Robinson can fall victim to weeks where Trubisky is asked to game manage to preserve a lead. There were six games last season in which Trubisky threw for 200 or fewer yards. As a result, Robinson has a weekly "dud" potential that's not worth his current ADP (28).
Freedman: Dalvin Cook
I admit that Cook is a talented player with a three-down skill set, and if he's able to stay healthy and operate as a high-volume back, he could be a top-eight producer. But I have my doubts about his ability to stay healthy. In his two NFL seasons, he's missed 17-of-32 regular-season games.
On top of that, the Vikings drafted Alexander Mattison at the end of the third round, and I expect him to get many of the opportunities that have gone to Latavius Murray over the past two seasons.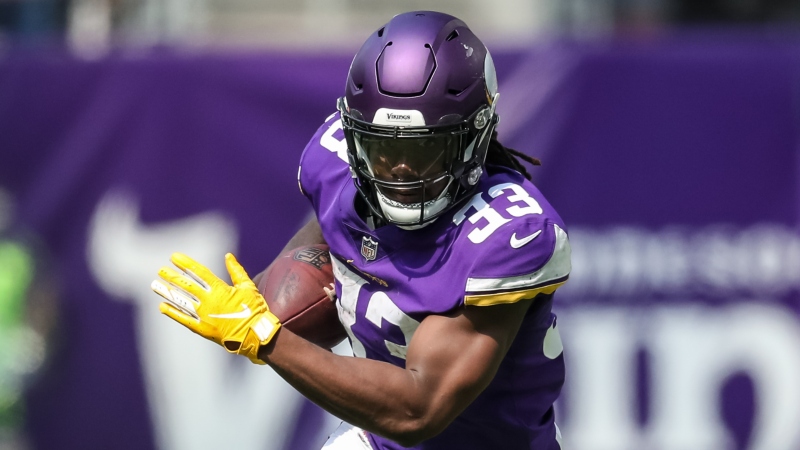 As dynamic as Cook is, it's rare for a team to select a back as highly as it drafted Mattison and not give him regular carries, especially when he's big (5-foot-11 and 221 pounds), young (21) and a college producer (2,958 yards and 30 touchdowns from scrimmage over his two final seasons at Boise State).
If the Vikings had been 100% sold on Cook as a high-volume back, I doubt that they would have invested so heavily in another player at the position. I just see too much risk in Cook to think of him as even a top-18 player at the position.
Raybon: Drew Brees
After launching more than 620 pass attempts each season from 2010-16, Brees is averaging just 513 over the past two seasons. My model knows 30-plus games of data is relatively predictive for a stat like pass attempts, and also that it will be difficult for Brees to maintain his otherworldly efficiency (and NFL-best 74.4% completion rate and 32-to-5 TD-to-INT rate in 2018).
Any dip in efficiency — such as his 6.7 yards per attempt and 11/6 TD/INT lull over the final seven regular and postseason games of 2018 — will be difficult to offset for fantasy purposes given Brees' lack of rushing upside, making him a lower-floor proposition than in years past.
He's a guy I would gladly stream in most spots when he's in the Dome, but I wouldn't blow a middle-round pick on him with so much value down the board at QB.
How would you rate this article?