2019 NFL Combine Props: How Fast Will Kyler Murray Run?
Credit:
Jasen Vinlove-USA TODAY Sports. Pictured: Oklahoma Sooners quarterback Kyler Murray (1).
The NFL combine starts on February 26, when more than 300 prospects will gather in Indianapolis for evaluation.
Some player performance combine props have been released, including those for quarterback Kyler Murray's 40-yard dash.
NFL Draft Analyst Matthew Freedman breaks down the props and highlights those that offer the most value.
The NFL combine is rapidly approaching, and we've already written about some props in the market.
Some sportsbooks have released props for specific players, such as quarterback Kyler Murray and wide receiver D.K. Metcalf.
Players start to report to Indianapolis as early as Feb. 26, with position groups working out according to the following schedule.
Friday, March 1: Running backs, offensive linemen, kickers, special teams
Saturday, March 2: Quarterbacks, wide receivers, tight ends
Sunday, March 3: Defensive linemen, linebackers
Monday, March 4: Defensive backs
Here are the player-specific props currently on the market, as well as my analysis based on some research and official combine data going back to 2006.
Kyler Murray: Best 40-Yard Dash Time
Over 4.37 seconds: -220
Under 4.37 seconds: +155
This line has really moved since opening, but I think there's still value on the over.
Just recently, Murray said that the last time he ran the 40-yard dash, he did so in 4.30 seconds.
That's fast, but when Murray last ran the 40-yard dash (in 2017 spring testing), his time was taken manually, not electronically. A hand-timed 40 isn't worthless, but it's less precise and almost always inflated.
The 40-yard dash is electronically measured at the combine, and in general, combine 40 times tend to be 0.05 seconds slower than those taken at pro days.
So if Murray was told that he ran a "4.30," he probably actually ran a 4.35.
Also, in April 2017, The Oklahoman reported that Murray ran a 4.38 in spring practices, not a 4.30. If we adjust for the manual measurement, Murray probably ran a 4.42.
Murray's fast, but I'd be surprised if he runs faster than a 4.37. In fact, I'd be a little surprised if he runs the 40 at the combine at all.
Reggie McNeal is the only quarterback ever to run the 40-yard dash at the combine faster than 4.37 seconds: In 2006, he hit the 4.35 mark. Robert Griffin III is second in the combine standings at 4.41.
With -220 odds, there's a 68.8% implied probability that Murray will run slower than 4.37 seconds. I think the true odds are closer to 90%.
Murray was fantastic in 2018, and he's an elite athlete, but whenever I have the chance to bet against anyone accomplishing any sort of near-historical feat, I'm almost always going to do it.
Here's the one thing that gives me pause: Murray was such a dynamic rusher in college, running for 1,001 yards and 12 touchdowns last year, and no quarterback at the combine has ever been as small (5-foot-10, 195 pounds). At his size, he could fly.
Still, I'd bet over 4.37 seconds all the way down to -300.
The Pick: Over 4.37 seconds (-220)
Dwayne Haskins: Best 40-Yard Dash Time
Over 4.71 seconds: -500
Under 4.71 seconds: +300
While Stephen A. Smith might view Haskins as more of a runner than a thrower, Haskins rushed for just 108 yards in 2018. He's definitely not a runner, and his size (6-foot-3, 220 pounds) doesn't do him any favors.
There's definitely a correlation between how efficient a quarterback is at rushing in college and how fast he runs at the combine. Just look at last year's five first-rounders at the position.
Lamar Jackson: Did not run (reported 4.34 in college); 6.3 yards per carry
Josh Allen: 4.75 seconds; 3.2 career yards per carry
Baker Mayfield: 4.84 seconds; 2.7 career yards per carry
Sam Darnold: 4.85 seconds; 2.4 career yards per carry
Josh Rosen: 4.92 seconds; -1.4 career yards per carry
For his career, Haskins averaged 1.9 yards per carry. I'd be surprised if he ran faster than a 4.80.
But -500 is a lot of juice. I'd bet over 4.71 seconds at that number, but I wouldn't bet it if it moves any lower.
The Pick: Over 4.71 seconds (-500)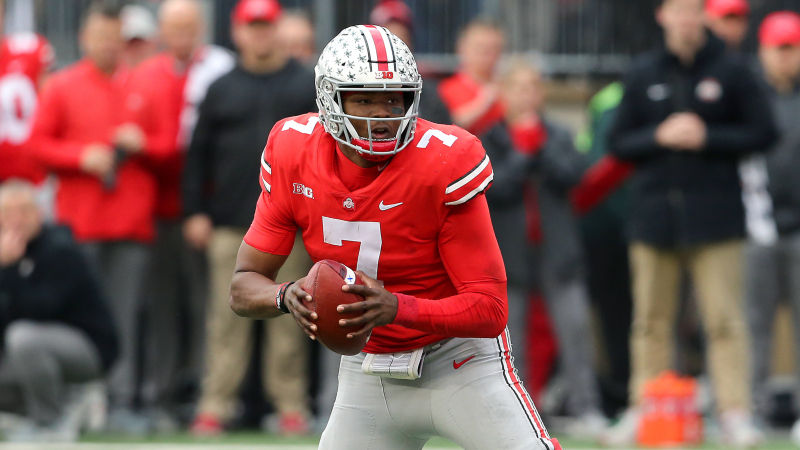 D.K. Metcalf: Best 40-Yard Dash Time
Over 4.59 seconds: +300
Under 4.59 seconds: -500
Metcalf recently mesmerized #DraftTwitter with the breathtaking photo below. He's the mountain of muscles on the far left.
In college, Metcalf was an explosive playmaker with elite listed size (6-foot-4, 230 pounds), but I'd be surprised if the guy in that photo didn't weigh at least 235 pounds.
It's possible for a big guy to run a fast 40. Wide receiver Mike Evans, for instance, ran a 4.53 at a similar size (6-foot-5, 231 pounds). For that matter, quarterback Jeff Driskel ran a 4.56 with comparable measurements (6-foot-4, 234 pounds).
Metcalf is being hyped as a first-round receiver, so it wouldn't be surprising for him to exhibit great speed.
But -500 is too rich for me. I'm staying away.
The Pick: Pass
Josh Jacobs: Best 40-Yard Dash Time
Over 4.50 seconds: -120
Under 4.50 seconds: -120
Jacobs arrived at Alabama as just a three-star recruit, which automatically makes me question the running back's athleticism. Still, he looked explosive last year, putting up 304 yards and three touchdowns on 39 touches in the SEC Championship and College Playoff.
I think the line of 4.50 is about right.
The Pick: Pass
Hunter Renfrow: Best 40-Yard Dash Time
Over 4.60 seconds: +150
Under 4.60 seconds: -200
Renfrow is easy to typecast as a shifty but slow-ish slot-bound receiver due to his size (5-foot-10, 185 pounds) and lowly status as a high school quarterback-turned-college walk-on.
But Renfrow reportedly runs a 4.50-second 40-yard dash.
At -200 odds, the under is probably fairly priced, but if I had to place a bet that's the way I'd probably lean.
The Pick: Pass
Trace McSorley: Best 40-Yard Dash Time
Over 4.65 seconds: +200
Under 4.65 seconds: -300
McSorley doesn't especially excite me as a quarterback prospect, but he did average 3.6 yards per carry for his college career, and he reportedly runs the 40 in the 4.50-4.64 range.
With his size (6-foot, 201 pounds), it's possible to imagine McSorley having enough speed to hit the under.
But -300 is steep, and 4.65 is an aggressive number. I'm staying away.
The Pick: Pass
The two Murray and Haskins props highlighted above I am considering as official picks to count toward my 2019 prop record.
As more combine props are released, we'll publish breakdowns on The Action Network NFL page.
---
Matthew Freedman is the Editor-in-Chief of FantasyLabs. He has a dog and sometimes a British accent. In Cedar Rapids, Iowa, he's known only as The Labyrinthian.
How would you rate this article?