2019 NFL Draft Fantasy Football Analysis for Every Day 2 Pick
Credit:
USA Today Sports. Pictured: D.K. Metcalf, Miles Sanders, Parris Campbell
Matthew Freedman analyzes the fantasy football fits for every second- and third-pick in the 2019 NFL Draft, from WR D.K. Metcalf to RB Miles Sanders and more.
And just like that, we're already onto the final day of the 2019 NFL Draft.
Before things wrap in Nashville, let's breakdown Day 2. I analyzed the fantasy football outlooks for every skill position player drafted in the second and third rounds, featuring an NFL comp from the past 20 years for Picks No. 33-64.
Go to:
My Analysis of First Round Picks
ROUND 2
Pick No. 36: Deebo Samuel, WR, San Francisco 49ers
Height: 5'11" | Weight: 214 pounds
40-yard dash: 4.48 seconds
School: South Carolina | Class: Redshirt Senior | 2019 age: 23
People who like watching football and breaking down tape tend to like Samuel quite a bit, and it makes sense: He was one of the most exciting players in college football over the past three years. He's a fun guy to watch.
Of course, in order to be watched, he needs to be on the field. And that's not one of his strengths. Not once in his five years at South Carolina did he play every game on the schedule.Throughout his career, he dealt with a never-ending series of leg injuries.
He comes with legitimate injury concerns. But when healthy, the dude can play.
Built like a running back, he exhibited good athleticism at the combine. And in college he contributed in a multitude of ways for the Gamecocks: For his career, he had 154 yards rushing and seven touchdowns on 25 carries, and on special teams he averaged 29.0 yards per kick return and scored another four touchdowns on kickoffs. He's a legitimate all-around weapon.
And as a receiver, Samuel has good route-running chops and after-the-catch tenacity, and he can play both out wide and in the slot. He's not the type of receiver who takes over games and imposes his will on defensive backs, and he still needs to refine his technique, but as a contributor he can do pretty much anything asked of him.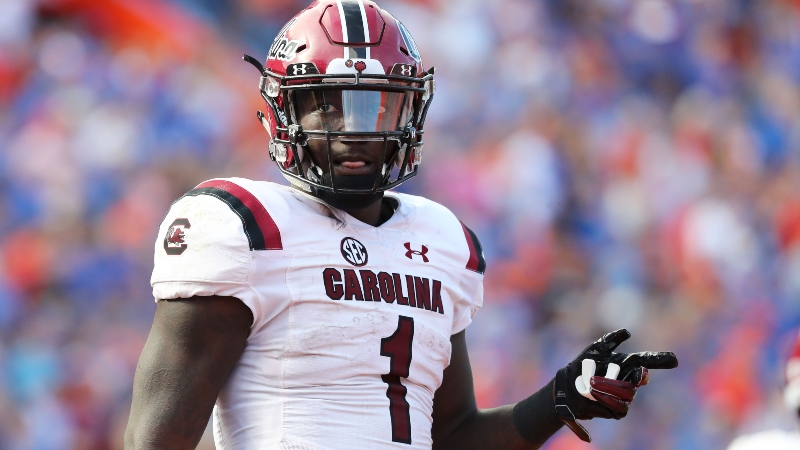 His landing spot in San Francisco is intriguing. With his size and athleticism, Deebo is quite similar to former 49ers wide receiver Pierre Garcon, a longtime favorite of head coach Kyle Shanahan, and it's probable that Deebo will receive a significant portion of the targets vacated by Pierre Garcon's departure this offseason.
But second-year second-rounder Dante Pettis will likely play ahead of Deebo, and speedster Marquise Goodwin is sure to get his targets, to say nothing of the dominant George Kittle at tight end. Deebo has potential with the 49ers, but I won't be counting on him as a rookie.
In rookie dynasty drafts, I could see Deebo getting some Round 1 hype because he was the No. 3 receiver off the board in the NFL draft — and he might actually settle into the bottom of the round whenever I finalize my rankings — but he feels like a Round 2 receiver.
Entering the draft, there was nothing exceptional about him as a prospect. Leaving the draft, there's nothing special about his landing spot. That sounds like the type of guy into whom I don't want to invest Round 1 draft capital.
NFL Comp: Leonte Carroo with less production but more versatility
Pick No. 42: Drew Lock, QB, Denver Broncos
Height: 6'4″ | Weight: 228 pounds
40-yard dash: 4.69 seconds
School: Missouri | Class: Senior | 2019 age: 23
Day 1 ended the way it started: With Lock sitting in the green room.
Despite being one of four quarterbacks invited to attend the draft, Lock was skipped over in Round 1 and forced to suffer the ultimate indignity: Watching an NFL team say to the world, "We think Daniel Jones is better than this other guy."
In retrospect, it shouldn't be a shock that the NFL didn't like Lock as much as we thought it would.
As a junior, he was interested in declaring early, but the NFL Draft Advisory Board gave him a "return to school" grade. Then as a senior, he played worse than he did as a junior.
If the NFL told him it didn't want him in Round 1 after his junior year, I don't know why it would want him in Round 1 after his senior season.
Even just a couple of weeks ago, Lock was getting serious hype as a potential top-10 pick, and I thought that was ridiculous. But as a Round 2 quarterback, Lock is perfectly palatable.
A four-year starter, Lock never seemed to put it all together in college. As a junior, he had a respectable 10.2 adjusted yards per attempt, but he completed only 57.8% of his passes. As a senior, he completed more of his passes (62.9%), but he still wasn't especially accurate, and he was far less efficient with just 8.5 adjusted yards per attempt.
Throughout his career, Lock was plagued by inconsistency, but as a high school recruit he was an Elite 11 participant, as a junior he led the nation with 44 touchdowns passing and at the combine he flashed a good arm and faster-than-expected speed. He's clearly not without talent.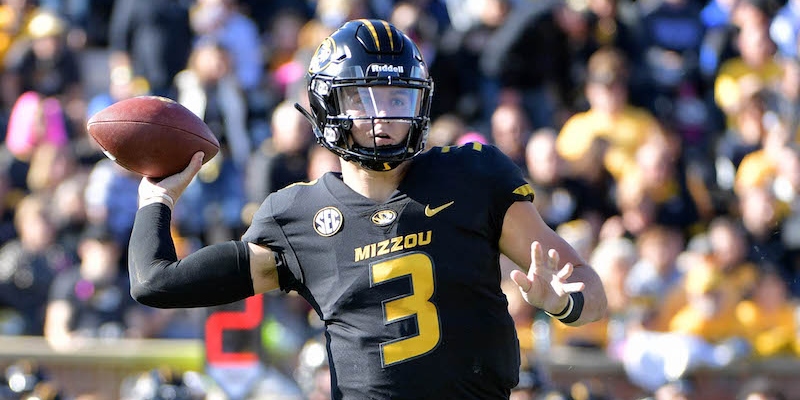 But Lock has two primary flaws.
Like Dwayne Haskins, Lock isn't much of a runner. When he actually does run, he's effective, but he hardly ever leaves the pocket. In reality, it's probably good for Lock to stay in the pocket and look to throw. For fantasy, though, it would be nice if he were more willing to produce with his legs.
Additionally, Lock notably lacks anticipation and struggles to move through his progressions. He completed just 56.9% of his passes for his career. While his completion rate would suggest that Lock struggles with accuracy — and that might be the case — it's probably more accurate to say that he doesn't process the game as quickly as he needs to.
Mechanically, he can throw the ball wherever he wants to put it. But during games he just doesn't process information as quickly as he needs to in order to know where to throw it. And I'm not sure his issues with anticipation and processing can be fixed.
But with the Broncos, Lock should be able to sit on the bench for a while behind starter Joe Flacco — maybe even a couple of seasons — and by the time he's ready to start, they could have a strong stable of pass-catching weapons in wide receivers Courtland Sutton and DaeSean Hamilton, tight end Noah Fant and running back Phillip Lindsay.
But if Lock is forced into action as a rookie, he's someone I will probably avoid, even in good matchups.
If he doesn't run and can't complete passes, what use is he? In rookie drafts, if I'm desperate for a young quarterback, I might think about drafting him near the bottom of the third round. But even then he's someone I'll probably avoid, knowing that it could be a year before he starts producing fantasy points.
NFL Comp: Jay Cutler with less arm strength and anticipation
Pick No. 50: Irv Smith Jr., TE, Minnesota Vikings
Height: 6'2″ | Weight: 242 pounds
40-yard dash: 4.63 seconds
School: Alabama | Class: Junior | 2019 age: 21
In what looks like a strong class for the position, Smith is the No. 3 tight end off the board. In an average year, he might be the top option.
Smith is more of a move tight end and big-bodied slot receiver than a traditional inline prospect, but he is still a strong run blocker, and he has the versatility to block or catch passes out wide, in the slot, in line and even out of the backfield.
The son of a former NFL tight end, Smith entered Alabama as a four-star recruit and one of the top tight ends in his class. He had literally zero receptions as a freshman reserve behind future first-rounder O.J. Howard, and as a sophomore Smith did little with just 128 yards and three touchdowns on 14 receptions.
As a junior, though, he flashed his high-end talent, setting the Alabama single-season touchdown record for the position with seven and leading all tight ends in the nation with 2.56 yards per route (per Pro Football Focus).
Smith is one of the youngest prospects of the 2019 class, and the long-term success rate for pass-catching tight ends who play as 21-year-old rookies is inordinately high.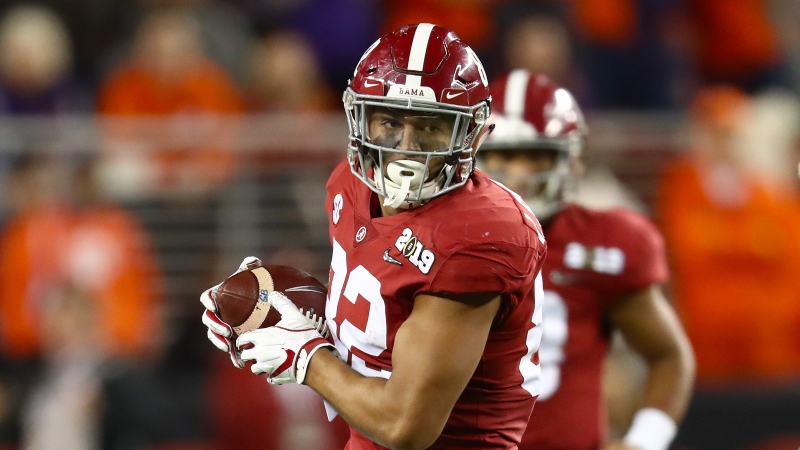 Here are the receiving tight ends over the past 25 years to enter the league as 21-year-old rookies drafted no later than the fourth round.
David Njoku
Maxx Williams
Eric Ebron
Rob Gronkowski
Aaron Hernandez
Martellus Bennett
Jermichael Finley
Kellen Winslow
Jason Witten
Todd Heap
Tony Gonzalez
That's an incredibly elite cohort, and it bodes well for Smith's fantasy future.
But as a rookie, Smith is undraftable.
Rookie tight ends struggle even in the best of circumstances, and Smith is likely to play behind veteran and team captain Kyle Rudolph. At best, Smith will be fifth in line for targets, after wide receivers Stefon Diggs and Adam Thielen, Rudolph and running back Dalvin Cook.
In rookie drafts, though, Smith's landing spot and immediate situation might create some value. Rudolph is in the final year of his contract, and Smith should have the starting job all to himself as soon as 2020. As a Round 2 pick, he offers a lot of long-term value to the forward-thinking dynasty manager willing to deal with what's likely to be a short-term dearth of production.
Smith is someone I will actively look to draft in dynasty.
NFL Comp: Aaron Hernandez with less versatility
Pick No. 51: A.J. Brown, WR, Ole Miss
Height: 6′ | Weight: 226 pounds
40-yard dash: 4.49 seconds
School: Mississippi | Class: Junior | 2019 age: 22
From a situation-agnostic perspective, Brown might be the best non-quarterback skill position player in this class. A case could at least be made for it.
Despite playing a chunk of his games with D.K. Metcalf, Brown dominated the SEC over his two final seasons, averaging 111.8 yards receiving per game over that span.
With back-to-back campaigns of more than 1,250 yards, he has strong production and he owns a high-end blend of size and speed. Although he often played in the slot, Brown also lined up out wide more than occasionally and displayed good route-running ability.
To compare him to another big-bodied productive receiver with good athleticism: Brown doesn't have the all-around versatility of first-rounder N'Keal Harry. Brown didn't produce as either a runner or return man, but he might be a better receiver. He creates more separation with his routes and has more after-the-catch capability.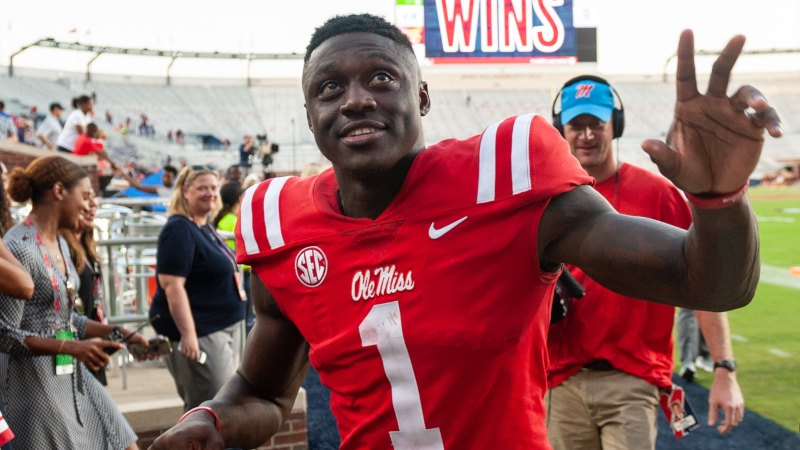 But I really hate his landing spot, at least for 2019.
The Titans use a run-heavy offense, and Brown will have to fight for targets with wide receiver Corey Davis, tight end Delanie Walker and maybe even running back Dion Lewis. And Marcus Mariota has failed to develop into a reliable starter. He might even be in his final season with the team.
For dynasty, though, Brown is intriguing. And his subpar landing spot might make him acquirable at a slight discount. And his long-term prospects probably won't be too impacted by his current situation. After all, he might have a new quarterback as soon as next year.
For rookie drafts, I'll be surprised if Brown's not in my top four when I finalize my board: Big athletic productive SEC wide receivers don't come along every year.
NFL Comp: Andre Johnson with more production and less athleticism
---
Pick No. 52: Drew Sample, TE, Cincinnati Bengals
Height: 6'5″ | Weight: 255 pounds
40-yard dash: 4.71 seconds
School: Washington | Class: Redshirt Senior | 2019 age: 23
Apparently, new Bengals head coach Zac Taylor has brought with him from Los Angeles the penchant Sean McVay has for drafting tight ends way sooner than he should.
Sample never had a breakout season at Washington. As a senior, he managed just 24 receptions for 252 yards and three touchdowns — and that was his best season.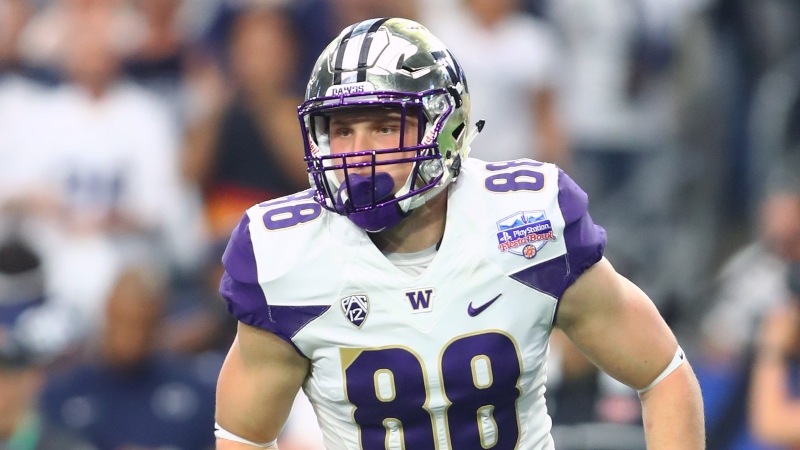 He's an outstanding blocker and reportedly an intelligent player, so it's not as if he won't contribute to the Bengals. But he won't be contributing to anyone's fantasy teams, at least not for a couple of seasons.
NFL Comp: Nick Vannett with more athleticism
---
Pick No. 53: Miles Sanders, RB, Philadelphia Eagles
Height: 5'11" | Weight: 211 pounds
40-yard dash: 4.49 seconds
School: Penn State | Class: Junior | 2019 age: 22
A five-star recruit entering college, Sanders signed in-state so he could realize his longtime dream of playing for the Nittany Lions — and then he sat on the bench for two years behind eventual No. 2 overall pick of the 2018 draft, Saquon Barkley.
Sometimes dreams turn into nightmares.
As a backup, Sanders was almost nonexistent. In his first two seasons, he totaled just 429 yards and four touchdowns on 56 carries and eight receptions. In fact, he wasn't even the primary backup. He was just one guy in a committee of backups. Basically, he was a guy standing on the sideline.
But as a junior, Sanders finally got his long-awaited opportunity to start, and he capitalized, putting up 1,413 yards and nine touchdowns on 220 carries and 24 receptions in 13 games. And he likely would have had more touchdowns if quarterback Trace McSorley had not vultured 12 rushing scores in Penn State's read option scheme.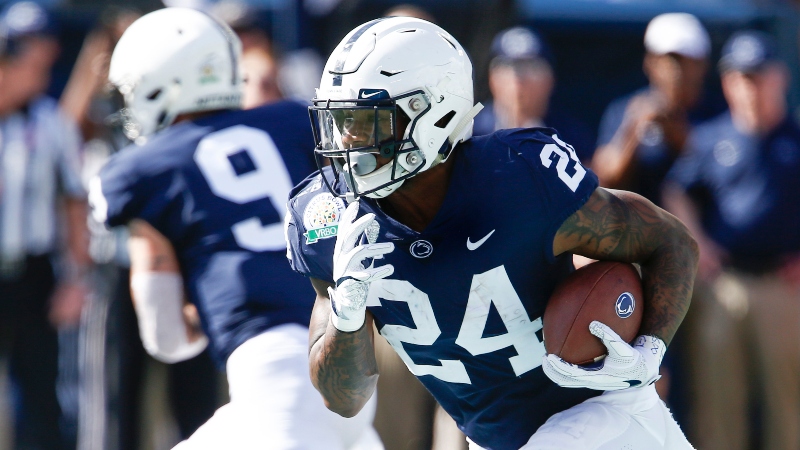 But Sanders isn't a finished product. He tried to bounce too many runs outside last year, he had an elusive rating of just 75.5 and he averaged only 0.7 yards per route run. He's an all-around good back with above-average athleticism, but he doesn't excel in any one thing.
With the Eagles, though, his versatility will be what sets him apart.
Under head coach Doug Pederson, the Eagles haven't had a lead back with a true three-down skill set. Instead, they've relied on committees of past-their-prime grinders, injury-impacted pass catchers and flash-in-the-pan undrafted free agents.
No more.
In Sanders, the Eagles have a lead back who can do it all.
As a rookie, he's still likely to split snaps and touches with at least one other back, but he should be given every chance to lead the backfield. And in that offense, he could finish the season as a top-20 back.
In rookie drafts, I imagine that Sanders' combination of college production, athletic profile, draft capital and landing spot will make him a top-five pick. And it wouldn't shock me if he slides in behind first-round running back Josh Jacobs as the No. 2 pick in the class.
In a class with little talent at the position, Sanders is one of the few rookie backs with true long-term potential.
NFL Comp: Julius Jones with more production and youth
Pick No. 56: Mecole Hardman, WR, Kansas City Chiefs
Height: 5'10" | Weight: 187 pounds
40-yard dash: 4.33 seconds
School: Georgia | Class: Junior | 2019 age: 21
This is what a Tyreek Hill replacement looks like.
A high school quarterback and defensive back, Hardman entered Georgia as a five-star recruit and the No. 2 overall "athlete" prospect in his class. After playing as a defensive reserve as a freshman, he moved to wide receiver as a sophomore and flashed playmaking potential with 25-418-4 receiving and 8-61-2 rushing as a rotational player, scoring two touchdowns against Alabama in the National Championship.
In 2018, Hardman improved in his second year as a receiver, ranking second on the team with 35 receptions, 543 yards receiving and seven touchdowns through the air. He also added 36 yards as a rusher, averaged 25.2 yards as a kick returner and took one punt return to the house for a touchdown.
Even though he never had a breakout season — and I typically don't like guys who don't produce in college — Hardman has a number of factors in his favor, and I must admit that he intrigues me.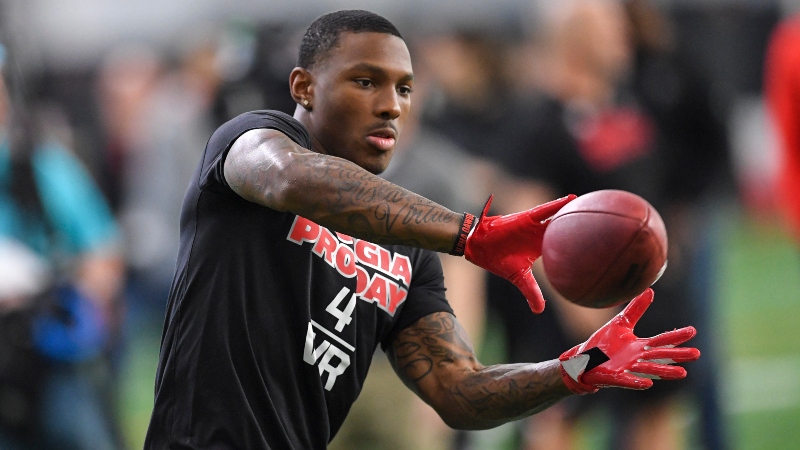 He's young. At 21 years old, he's one of the youngest receivers in the class. Additionally, he's still learning to play the position. For a guy who's played wide receiver for only two years, he's actually had respectable production.
He's explosive. Only four players at the combine ran a faster 40-yard dash than he did. And he's versatile. In two years of action as a receiver, he found the end zone as both a runner and returner. That versatility speaks to his overall skill set and ability as a player.
He was selected in Round 2. His team invested significant draft capital in him, which means that it will do what it can to ensure his success. He will get opportunities to produce.
And finally, he's with the Chiefs. Andy Reid and Patrick Mahomes together have the potential to make a superstar out of any wide receiver.
In seasonal leagues, Hardman will be difficult to rely on, but I'll be looking to draft him in the later rounds because he has a lot of upside, and he should have the opportunity to earn a starting job right away.
In dynasty, I imagine that Hardman will go off the board in Round 2 of rookie drafts. Although I appreciate his potential, that might be a little rich for me — but I'm going to curse myself whenever he turns into a star and I have little exposure to him. If there's one coach I would trust to turn a project into a producer, it's Reid.
NFL Comp: Antonio Callaway with more speed but less size and production
Pick No. 57: JJ Arcega-Whiteside, WR, Philadelphia Eagles
Height: 6'2″ | Weight: 223 pounds
40-yard dash: 4.49 seconds
School: Stanford | Class: Senior 2019 age: 23
Arcega-Whiteside isn't as hyped as many of the other receivers in this class, but he was the No. 1 receiver on his team for each of the past three years, and at his pro day he exhibited great size-adjusted speed. He entered the draft as Pro Football Focus' No. 3 receiver with his 90.0 grade.
A reserve as a freshman, Jaws had a modest breakout as a sophomore, flashing in 10 games as the primary receiver in a run-heavy offense that funneled the ball to star running back Christian McCaffrey. Even though he missed three games, he still finished first with five touchdowns and second with 379 yards among all receivers.
As a junior, running back Bryce Love dominated the ball for Stanford, but Jaws was still able to improve upon his previous season, leading the team with 48 receptions, 781 yards receiving and nine touchdowns through the air. And then as a senior he fully broke out, putting up a 63-1,059-14 receiving campaign in 12 games as the offense shifted to a more aerial attack.
A contested-catch artist, Jaws led the draft class last year with 19 such receptions on just 32 opportunities, essentially turning 50/50 balls into 60/40 propositions. And he also exhibited some real field-stretching utility, running deep patterns on a class-high 62.6% of his routes.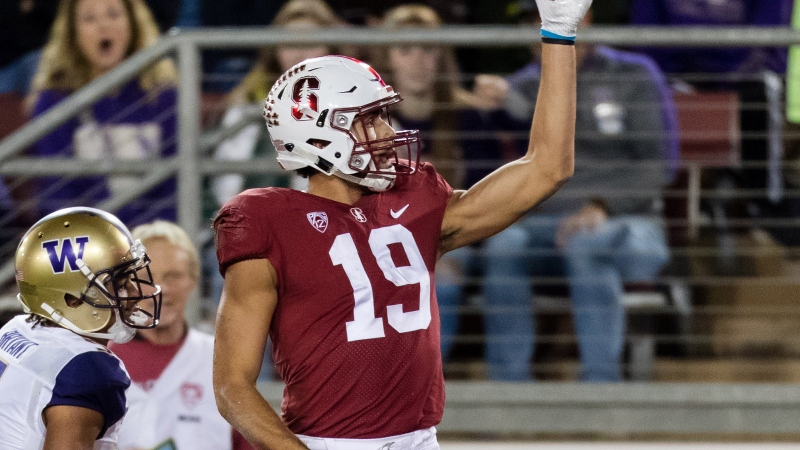 With his ability to make tough catches and get downfield, it's not a surprise that Jaws had an über-elite 56% market share of his team's receiving touchdowns in 2018.
In seasonal leagues, Arcega-Whiteside has some hidden antifragile potential: The wide receiver depth chart ahead of him seems stable, but it could crumble. Alshon Jeffery has a broken body. DeSean Jackson will turn 33 this year. And Nelson Agholor is on the trade market and might not even be on the team when the season starts. It's not inconceivable Jaws to finish the season second in targets behind tight end Zach Ertz.
In dynasty rookie drafts, Arcega-Whiteside looks like a low-end Round 1 pick with upside. He has a good coach in Doug Pederson and a good quarterback in Carson Wentz. He has the potential to be a WR2-caliber fantasy contributor for half a decade.
NFL Comp: Kenny Golladay with less agility and without the rushing and returning production
Pick No. 59: Parris Campbell, WR, Indianapolis Colts
Height: 6' | Weight: 205 pounds
40-yard dash: 4.31 seconds
School: Ohio State | Class: Redshirt Senior | 2019 age: 22
A top-25 recruit in 2014 with legitimate track speed, Campbell could be special in the NFL. He's not big — especially in comparison to many of the other receivers in the 2019 class — but he's also not small and his explosiveness is elite.
Next to some of the other non-Day 1 receivers in the class, Campbell compares well.
Unlike D.K. Metcalf, Campbell actually produced in college. In his final season, he had 90 receptions for 1,063 yards and 12 touchdowns. And unlike A.J. Brown, Campbell has elite speed: At the combine he blazed a position-best 4.31-second 40-yard dash.
Campbell is similar to Dabbo Samuel in his versatility: Campbell had 23 rushes for 210 yards and two touchdowns in his time at Ohio State, and he averaged an impressive 30.4 yards per kick return. But unlike Samuel, Campbell didn't deal with constant injury issues in college.
This isn't to say that Campbell is without concerns. Of all the wide receivers Urban Meyer had at Florida and Ohio State, no one ever had more receiving yards or touchdowns in a season than Campbell had last year — but he was strictly a one-year producer.
He redshirted his first year on campus. The next year he saw no playing time. The following year, he had just 13 receptions and four carries. Not until his junior year did he actually do anything of substance, when he had 716 yards and four touchdowns on 40 receptions and 10 carries.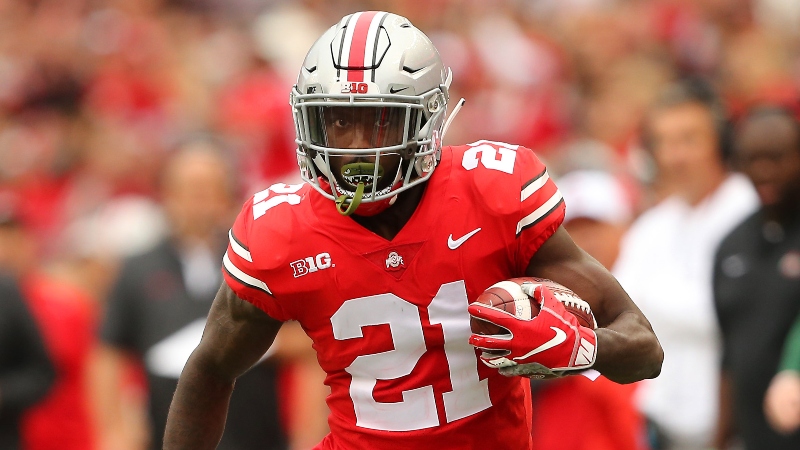 And when he finally broke out as a senior, he did so in a very manufactured way. He didn't dominate defensive backs with his route-running prowess or line up all over the field. Instead, he played 86.5% of his snaps in the slot last year and lived off of bubble screens and shallow crosses.
He has a limited route tree, and his 2018 average depth of target of 4.5 yards is embarrassing. There are legitimate concerns about whether his playing style will translate to the NFL.
But last year he finished fourth with 8.7 yards after the catch per reception and fifth with 3.47 yards per route. His upside is real. And most importantly, he has Andrew Luck as his quarterback.
With the Colts, Campbell could develop into a regular producer.
In seasonal leagues, I'll target Campbell heavily as a late-round depth player with league-winning potential. I doubt that his first-year production will be consistent, but that's fine: I want volatility. At worst, it means that Campbell could be great for the best-ball format.
In rookie drafts, Campbell's athleticism, college production, draft capital and landing spot will likely conspire to push him up the board. I would not be shocked to see him go as high as No. 3, and he probably won't be available at the end of Round 1. With Luck, Campbell is a player I want, but I doubt I'll be willing to pay what it will cost to get him.
NFL Comp: Santana Moss with less production and jaw-dropping big plays
Pick No. 62: Andy Isabella, WR, Arizona Cardinals
Isabella is basically Major Tom: He's stepping through the door, he's peculiarly floating and his stars look different than they did yesterday.
Just a few short months ago, Isabella was an undersized small-school receiver with uncertain athleticism and a likely late-round draft grade. Now he's a second-rounder slated to catch passes from No. 1 overall pick Kyler Murray in an Air Raid offense overseen by head coach Kliff Kingsbury.
It is entirely within the realm of possibility that Isabella could be Murray's top receiver as early as this year.
This is a great moment for Isabella truthers everywhere. It's also terrible.
I mean it. This is terrible. Absolutely horrible. For us. Not for Isabella. It's great for him. He could have a fantastic NFL career. But this is terrible for everyone who was hoping to draft him on the cheap in 2019. Especially in dynasty leagues.
Even though the Cardinals were horrible last year, I expect that fantasy players will want to invest in them this year because of the hype surrounding Murray, Kingsbury and the Air Raid offense. And people should want to invest in the Cardinals — especially Isabella.
A converted high-school running back, Isabella was a Biletnikoff finalist in 2018, finishing first in the nation with 1,698 yards receiving and 4.15 yards per route, second with 102 receptions and sixth with 13 touchdowns receiving. His use as a rusher (342 yards and two touchdowns in his career) speaks to his overall skill set.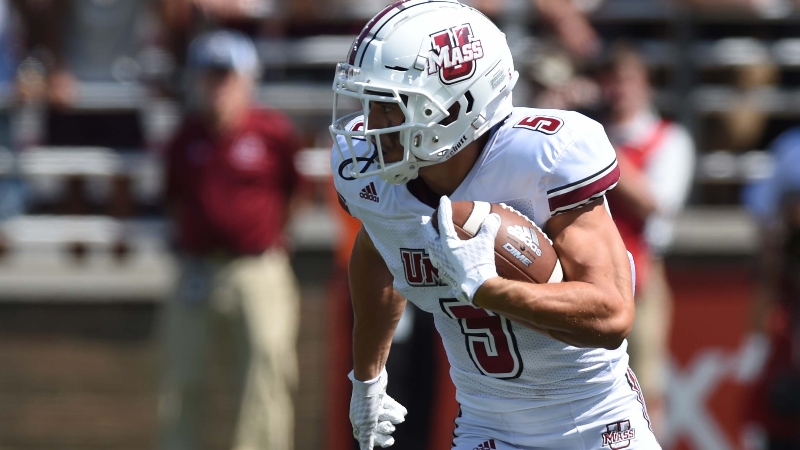 Although Isabella at first glance looks like a slot-only receiver, he played regularly on the outside at UMass and consistently displayed the ability to create separation down the field. With his speed and route-running nuance, Isabella should be able to get open in the NFL regardless of where he lines up.
And even if Isabella is nothing more than a slot receiver, he has the potential to be a superb middle-of-the-field pass catcher: In 2018, he accounted for a dominant 47.5% and 48.2% of the UMass yards and touchdowns through the air.
And with a coach as innovative as Kingsbury, Isabella could be a truly dynamic offensive weapon right away. He could take carries on end-arounds or out of the backfield. He could line up out wide or in the slot. He could operate in the middle of the field or stretch defenses deep.
He could be a league-winning fantasy receiver as a rookie.
But in dynasty, because of his college production, versatility, speed, draft capital and landing spot, he's going to be very hard to draft at a value. I was hoping to be able to get him at the bottom of Round 1 in rookie drafts, but I doubt that will be possible now. I'll be shocked — and pleasantly surprised — if his average draft position doesn't settle in the middle of Round 1.
For 2019, Isabella might actually provide the most value in seasonal leagues. Redrafters — who tend to be more casual as fans compared to dynasty managers — will probably look to invest in the Cardinals by drafting Murray, running back David Johnson and wide receivers Larry Fitzgerald and Christian Kirk. They'll look at Isabella, see a short rookie receiver from UMass and think, "Why would I invest in that guy?"
I probably won't be able to get as much Isabella as I want in dynasty, but in seasonal leagues he's going to be one of the upside rookies I religiously draft as often as I can.
NFL Comp: Brandin Cooks but older and less agile
Pick No. 64: D.K. Metcalf, WR, Seattle Seahawks
Height: 6'3″ | Weight: 228 pounds
40-yard dash: 4.33 seconds
School: Mississippi | Class: Redshirt Sophomore | 2019 age: 22
Widely expected to be selected in Round 1 as a draft attendee, Metcalf comes off the board at the end of Round 2.
On the one hand, it's surprising. Metcalf has an über-elite combination of size and explosiveness, and his draft position prop had him slated as the No. 1 receiver off the board.
But on the other hand, Metcalf was downright sloth-like in his combine agility drills.
And in college he struggled to stay healthy: In only one of his three years at Ole Miss did he play an entire season. Plus, he never had a true breakout campaign. His most productive season came in 2017, when he had just 39 receptions, 646 yards and seven touchdowns.
Perhaps most importantly, Metcalf exhibited little nuance as a player: He lined up almost exclusively as the X receiver and ran a very limited route tree consisting almost entirely of nothing but flies, curls and fades. In the NFL, it's very unlikely that he will ever be an effective receiver out of the slot, because he lacks the agility and route-running ability to operate in the middle of the field.
In other words, he's basically a one-dimensional player.
Even so, at his best, Metcalf can be incredibly dominant in that one dimension. He has unbelievable playmaking potential as a downfield threat: His speed allows him to get past defenders, and his size gives him an edge on contested catches. And before a neck injury cut his season short, he was on pace for a 1,000-yard, 10-touchdown performance in 2018.
A classic boom-or-bust player, Metcalf might have the widest range of professional outcomes of any receiver in this class.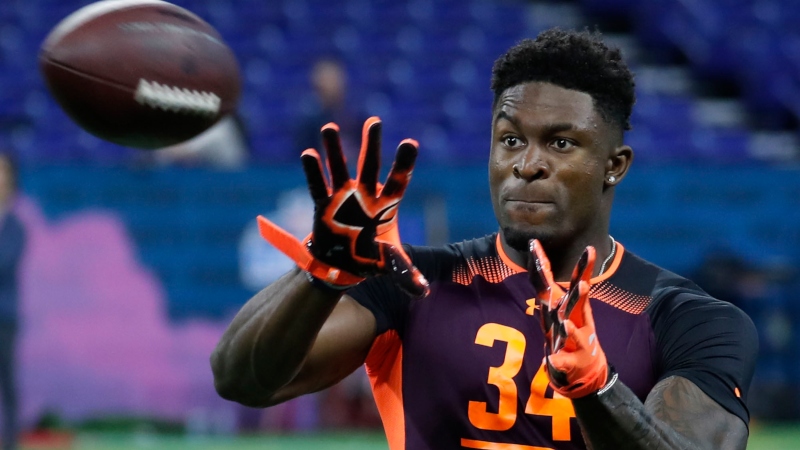 It theoretically is good for Metcalf that he now has Russell Wilson as his quarterback. But the Seahawks are such a run-heavy team that Metcalf might see relatively few targets per game, especially wide receiver Doug Baldwin and Tyler Lockett already have established connections with Wilson.
For dynasty rookie drafts, Metcalf firmly belongs in the bottom half of Round 1. If you're the type of dynasty manager who likes to maximize your exposure to risk, Metcalf is the 2019 rookie pick for you.
NFL Comp: Darrius Heyward-Bey with more size and less agility
---
ROUND 3
Pick No. 66: Diontae Johnson, WR, Pittsburgh Steelers
Height: 5'10" | Weight: 183 pounds
40-yard dash: 4.53 seconds
School: Toledo | Class: Redshirt Junior | 2019 age: 23
Johnson lacks great-timed athleticism, and he's coming off a down year in which he had just 49 receptions for 761 yards and eight touchdowns. But as a sophomore, he had an outstanding 74-1,278-13 campaign, and in each of the past two years he scored touchdowns as a kick returner and punt returner. Even without top-end speed, he still plays fast on the field thanks to his spatial awareness.
I don't want to get carried away, but the last time the Steelers drafted an undersized mid-major receiver with poor timed speed but good all-around production and playmaking ability, that guy turned into Antonio Brown.
Johnson has real potential, and after JuJu Smith-Schuster, the wide receiver depth chart is pretty open.
---
Pick No. 67: Jalen Hurd, WR, San Francisco 49ers
Height: 6'5" | Weight: 228 pounds
40-yard dash: 4.66 seconds
School: Baylor | Class: Redshirt Senior | 2019 age: 23
A five-star running back recruit, Hurd had back-to-back seasons with more than 1,000 yards from scrimmage to open his college career at Tennessee. But after falling out with the coaching staff as a junior, he left the program, transferred to Baylor and switched to wide receiver.
After sitting out for a year per the NCAA transfer rules, he led all Baylor receivers in 2018 with 69 receptions and 946 yards receiving and finished second with four receiving touchdowns. On top of that, he pitched in with 209 yards rushing and three touchdowns on the ground.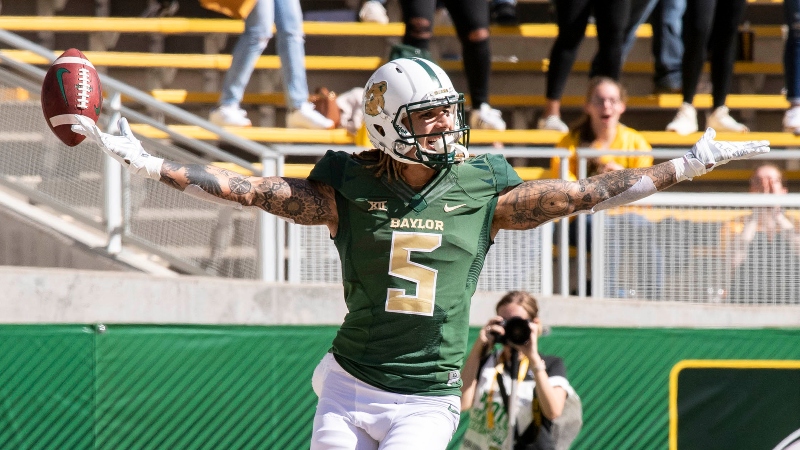 A versatile contributor who can run and catch and line up out wide, in the slot and in the backfield, Hurd is a high-upside player, but he lacks a clear role with the 49ers and is still learning the subtleties of the receiver position.
I like his long-term potential, but doubt he'll make much of a fantasy impact as a rookie.
---
Pick No. 69: Josh Oliver, TE, Jacksonville Jaguars
Height: 6'5" | Weight: 249 pounds
40-yard dash: 4.63 seconds
School: San Jose State | Class: Senior | 2019 age: 23
Oliver is an above-average athlete on a team with no established tight end on the roster. He has long-term potential: As a junior, he was second on the Spartans with 35 receptions, and last year he easily led the team with 56 receptions.
But rookie tight ends hardly ever produce, and he's unlikely to see many targets on a Jags team built to run the ball. If Oliver is still in the league in a season, I'll think about adding him in dynasty leagues.
---
Pick No. 70: Darrell Henderson, RB, Los Angeles Rams
Height: 5'8" | Weight: 208 pounds
40-yard dash: 4.49 seconds
School: Memphis | Class: Junior | 2019 age: 22
Despite his size, Henderson has three-down NFL potential. He's short but thick, and he impressed as much as any non-Power Five back could in the college ranks.
After putting up 2,099 scrimmage yards and 20 all-purpose touchdowns (including a return score) as a change-of-pace back in his first two seasons, Henderson exploded as the lead back in 2018, finishing second in the FBS with 2,204 scrimmage yards and 25 touchdowns.
And he wasn't just a statistical accumulator last year: He was also incredibly efficient, ranking first with 8.9 yards per carry, 6.0 yards after contact per attempt, 2.8 yards per route and a 70.8% breakaway rate. And he finished the season first with 71.6 expected points added and second with a 158.6 elusive rating.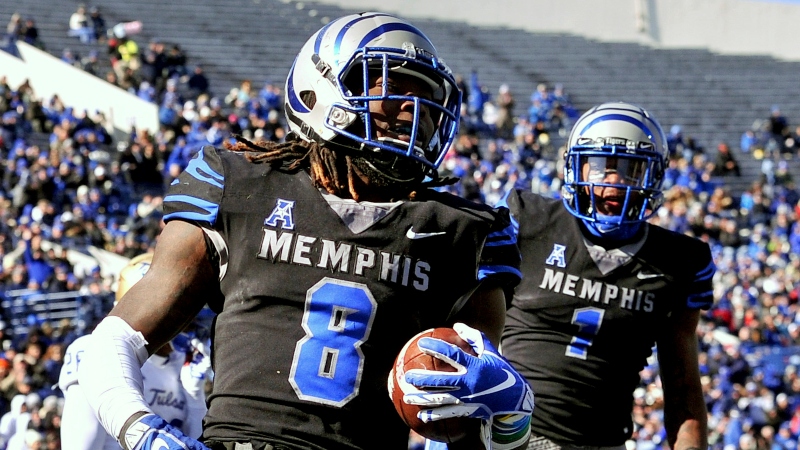 With the Rams, he's unlikely to be little more than a change-of-pace back — at least at first — but they invested a third-round pick in him, and starter Todd Gurley is something of a question mark with his knee issues.
If he wins the No. 2 job behind Gurley, Henderson at a minimum will be a coveted handcuff. And if the Rams actually give him touches as a rotational back, he could be a high-upside (albeit volatile) fantasy play.
---
Pick No. 73: David Montgomery, RB, Chicago Bears
Height: 5'10" | Weight: 222 pounds
40-yard dash: 4.63 seconds
School: Iowa State | Class: Junior | 2019 age: 22
Montgomery entered the combine as the potential No. 1 back in the class. He left the combine as a human with verified substandard athleticism.
But athleticism is overrated at the running back position: I still like Montgomery a lot.
After playing as a backup as a freshman, he broke out as a sophomore in 2017, putting up 1,442 yards and 11 touchdowns from scrimmage on 258 carries and 36 receptions and becoming the first player in the Pro Football Focus era (since 2014) with 100 forced miss tackles in a season.
In 2018, he proved that his sophomore campaign was no fluke. As a junior, Montgomery had 1,373 yards and 13 touchdowns from scrimmage in 12 games, once again exhibiting elite elusiveness as he forced a class-high 0.39 missed tackles per attempt.
With his junior rushing workload, Montgomery snagged a near-elite 88.8% Workhorse Score (adjusted rushing market share). He was pretty much the heart of the Iowa State offense.
Montgomery is not a flashy player, but last year he had no drops or blown blocks, and he routinely made the most of what his blockers give him. A workmanlike three-down player, Montgomery has a real chance of winning the starting job with the Bears and keeping it because he doesn't make many mistakes.
---
Pick No. 74: Devin Singletary, RB, Buffalo Bills
Height: 5'7″ | Weight: 203 pounds
40-yard dash: 4.66 seconds
School: Florida Atlantic | Class: Junior | 2019 age: 22
Look, here's the thing: You might be interested in reading a blurb about a small-and-slow mid-major back with three straight seasons of outstanding college production.
But I don't really feel like writing that blurb.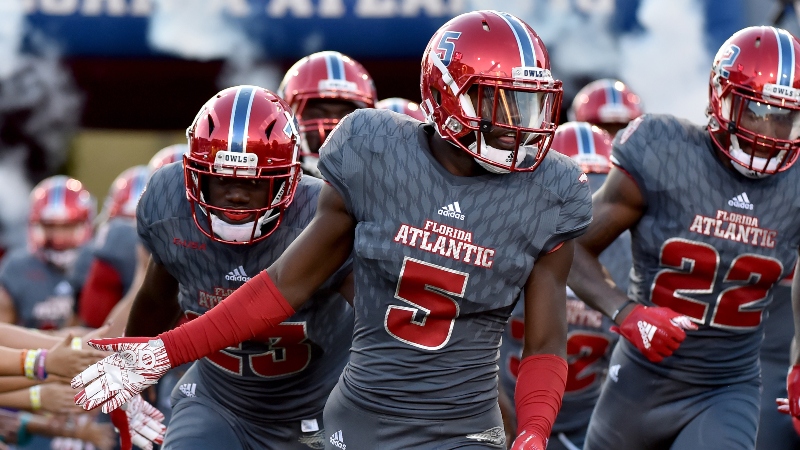 On the plus side, Singletary led the nation last year with 41 broken tackles forced per 100 touches. He actually might have some wiggle. But he got his production against weak competition, and now he's on the Bills and seemingly behind LeSean McCoy, Frank Gore and T.J. Yeldon on the running back depth chart.
I expect Singletary to get a shot at some point, because McCoy and Gore are old and the Bills invested a decent amount of draft capital into him. But I'm yet to go broke betting against small-and-slow mid-major backs, no matter how productive they were in college.
---
Pick No. 75: Jace Sternberger, TE, Green Bay Packers
Height: 6'4" | Weight: 251 pounds
40-yard dash: 4.75 seconds
School: Texas A&M | Class: Redshirt Junior | 2019 age: 23
This is a great pick: The Packers needed to find a young guy to help Jimmy Graham finish digging his grave before pushing him in it and shoveling the dirt on top of him.
Like all great assassins, Sternberger has had a winding road. He did next to nothing for two seasons as a Kansas Jayhawk, so he transferred to Northeastern Oklahoma A&M, where he led the team with six touchdowns, and then he transferred to Texas A&M for the 2018 season.
Out of nowhere, he led the Aggies with 48 receptions, 832 yards receiving and 10 touchdowns. He's only an average athlete, and I expect him to do little as a rookie as he acclimates to the league and plays behind Graham. But he has great long-term potential with Aaron Rodgers as his quarterback.
---
Pick No. 76: Terry McLaurin, WR, Washington Redskins
Height: 6' | Weight: 208 pounds
40-yard dash: 4.35 seconds
School: Ohio State | Class: Redshirt Senior | 2019 age: 23
It's not hard to figure out what to say about McLaurin: He's very similar to Ohio State teammate Parris Campbell … except older, slower, less explosive, less agile, less productive and less versatile.
His team also invested less draft capital in him, and he's with the Redskins instead of the Colts.
But on the plus side, at least he already has an established connection with rookie quarterback Dwayne Haskins.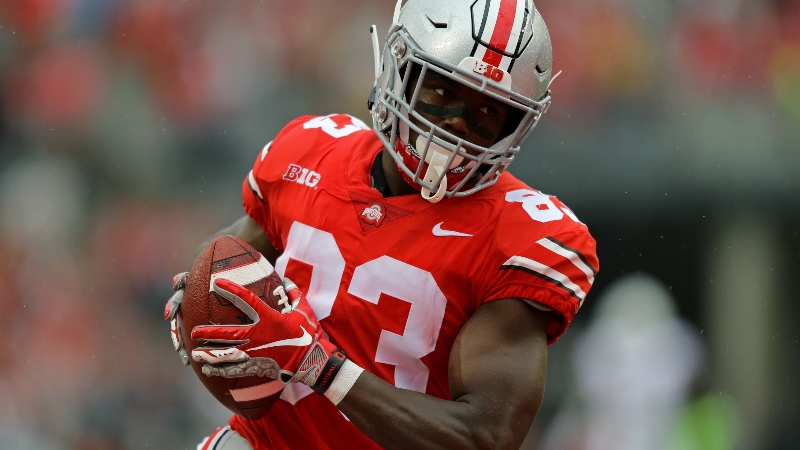 The Redskins are weak at wide receiver with only Josh Doctson, Paul Richardson and Trey Quinn ahead of McLaurin on the depth chart. He could play significant snaps right away and perhaps develop into a low-end fantasy starter in his second year.
Being the lesser Parris isn't really all that bad.
---
Pick No. 86: Kehale Warring, TE, Houston Texans
Height: 6'5" | Weight: 252 pounds
40-yard dash: 4.67 seconds
School: San Diego State | Class: Redshirt Junior | 2019 age: 22
I'm not at all excited about Warring. To his credit, he's an above-average athlete, he led the Aztecs last year with 31 receptions in just nine games and he has the surname of a Viking warlord (probably).
But the Texans just drafted two tight ends last year in the Jordans Akins and Jordan Thomas, and most of the targets will be funneled to wide receivers DeAndre Hopkins, Will Fuller and Keke Coutee for the foreseeable future.
For dynasty, if Warring is still in the league in two years, I'll think to myself: "If Warring is still in the league in two years maybe I'll add him from waivers."
---
Pick No. 87: Damien Harris, RB, New England Patriots
Height: 5'10" | Weight: 216 pounds
40-yard dash: 4.57 seconds
School: Alabama | Class: Senior | 2019 age: 22
While teammate Josh Jacobs has gotten all the draft hype and was taken in Round 1, Harris more than holds his own in a head-to-head comparison. He entered Alabama as a five-star recruit and the No. 1 running back in the nation, and he lived up to his promise in his four years with the Crimson Tide.
After backing up Derrick Henry and Kenyan Drake as a freshman, Harris emerged as the lead committee back as a sophomore, and he held that role for the rest of his college career, leading all 'Bama backs each year in touches and putting up three straight campaigns with 1,000 yards from scrimmage.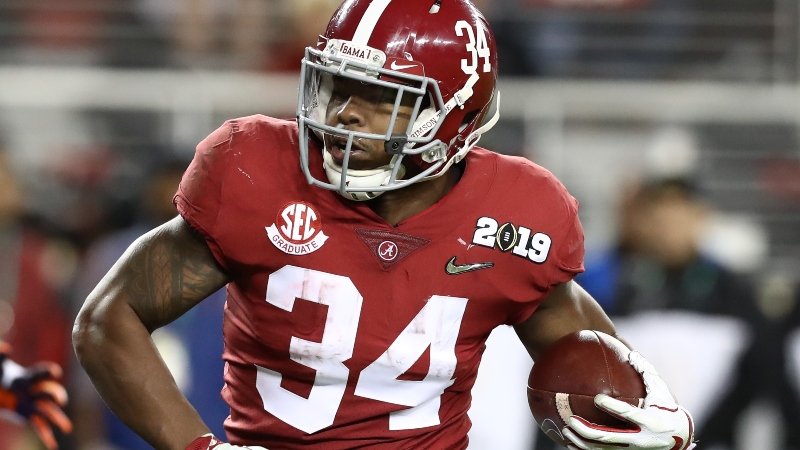 Harris isn't an exceptional athlete, but he's a natural runner, and he improved markedly as a receiver in his final season, ranking third among all backs likely to be drafted with his 2.0 yards per route (per Sports Info Solutions).
With the Patriots, Harris is likely to serve as a depth back behind starter Sony Michel, but it's possible that he could work his way into the backfield committee. Harris is probably a better receiver than Michel and a better runner than James White. And if he ever somehow becomes the starter, he'll be a locked-in fantasy starter with top-10 potential despite his athletic mediocrity.
---
Pick No. 93: Miles Boykin, WR, Baltimore Ravens
Height: 6'4″ | Weight: 220 pounds
40-yard dash: 4.42 seconds
School: Notre Dame | Class: Senior | 2019 age: 23
Over the course of two days, the Ravens have replaced wide receivers John Brown and Michael Crabtree with Marquise Brown and Miles Boykin, both of whom are basically younger, better, faster versions of their predecessors.
Given how physically impressive he is with his elite size/speed combination, Boykin especially is going to look good with quarterback Lamar Jackson underthrowing him.
A one-year wonder, Boykin did little more than nothing for the first three years of his career before leading the Fighting Irish as a senior with 59 receptions, 872 yards and eight touchdowns. For a breakout season … it was a rather mediocre breakout.
He has potential, but with the Ravens he seems unlikely to do much as a rookie. And he honestly feels like the kind of player I'll never have on any fantasy team of mine: If he's an exceptional athlete but he doesn't produce in college, why should I expect his athleticism all of a sudden to translate to production against NFL defenders?
---
Pick No. 96: Dawson Knox, TE, Buffalo Bills
Height: 6'4" | Weight: 254 pounds
40-yard dash: 4.59 seconds
School: Mississippi | Class: Redshirt Junior | 2019 age: 23
I don't care that Dalton Knox has above-athleticism. I don't care that Dalton Knox is beloved by the tape grinders. I don't care that Dalton Knox has a great mind for the game because he's a former quarterback.
I don't care that Dalton Knox has significantly above-average size-adjusted athleticism. I don't care that Dalton Knox has good route-running technique and natural hands. I don't care that Dalton Knox is on a Bills team that has only Tyler Kroft ahead of him on the tight end depth chart.
And I especially don't care that his name is not "Dalton."
The next time I write a non-snarky blurb about a tight end with no receiving touchdowns in college will be my first time.
---
Pick No. 100: Will Grier, QB, Carolina Panthers
Height: 6'2" | Weight: 217 pounds
40-yard dash: 4.84 seconds
School: West Virginia | Class: Redshirt Senior | 2019 age: 24
Grier ain't young, so it's best not to think of him as a developmental prospect, but he's unlikely to see much playing time for the next few years unless starter Cam Newton suffers a serious injury, which is always possible but not something to be planned on.
So for fantasy, Grier is basically just someone to keep in mind in case his circumstances change.
For what it's worth, I think he's the No. 3 quarterback in this class in terms of talent, just behind Kyler Murray and Dwayne Haskins. There was some bumpiness at the beginning of his college career, but after transferring to West Virginia from Florida he really came into his own.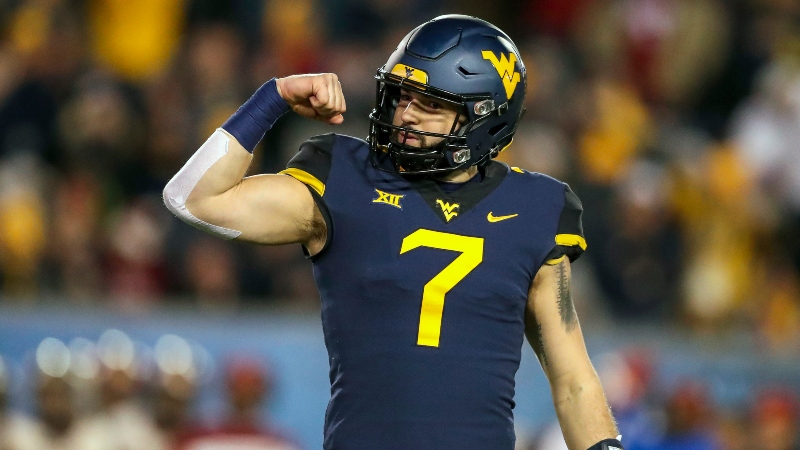 Last year, he ranked third in the nation — just behind Kyler and Tua Tagovailoa — with 10.7 adjusted yards per attempt, and among all quarterbacks likely to be drafted this year, he was second with 140.1 expected points added.
In Josh Hermsmeyer's FiveThirtyEight quarterback model, Grier is the No. 2 quarterback in the class.
---
Pick No. 102: Alexander Mattison, RB, Minnesota Vikings
Height: 5'11" | Weight: 221 pounds
40-yard dash: 4.67 seconds
School: Boise State | Class: Junior | 2019 age: 21
It's nothing new for the NFL to welcome into its ranks a big-bodied productive back from Boise State. And that's what Mattison is, with the 1,588 yards and 17 touchdowns he accumulated last year and the 1,370 yards and 13 touchdowns he totaled the year before that.
But unlike Doug Martin, Jay Ajayi and Jeremy McNichols, the guy whose name makes him sound like an old white Virginian from the 1700s has something that his predecessors didn't have: An ideal combination of youth, size and draft position.
Young producers with size and a decent amount of draft capital tend not to fail in the NFL.
Mattison isn't in the best of positions — he's clearly not slated to see lots of volume with Dalvin Cook locked into the starting role — but Mattison might steal some touches as a change-of-pace back, and he could have quite a bit of value as a handcuff: Cook hasn't enjoyed a clean bill of health for much of the past two years.
In seasonal leagues, I'll be keeping a close on Mattison in the event of a Cook injury, and in rookie dynasty drafts, I'll hope to add Mattison as an unassuming flier in Round 3.
How would you rate this article?