2019 NFL Draft Fantasy Football Analysis: Instant Reactions for First Round Picks
Credit:
Christopher Hanewinckel-USA TODAY Sports. Pictured: Josh Jacobs
Matthew Freedman analyzed the fantasy football fits for every first-round pick in the 2019 NFL Draft, from Josh Jacobs to the Raiders and more.
The first round of the 2019 NFL Draft is in the books.
I analyzed the fantasy football fits for every skill position player drafted on Day 1 in real time below. I've also provided an NFL comp from the past 20 years on the basis of how both guys measure up as prospects entering the league.
Note: Most recent picks are listed first.
Pick No. 32: N'Keal Harry, WR, New England Patriots
Height: 6'2″ | Weight: 228 pounds
School: Arizona State | Class: Junior | 2019 age: 22
Depending on what happens on Day 2, Harry will probably be my No. 1 wide receiver in the class — and not just because he landed with Tom Brady and the Patriots.
He probably lacks the upside potential of some other receivers, such as Marquise Brown and D.K. Metcalf, but Harry's combination of college production, biophysical profile and draft position makes him highly unlikely to be a total bust.
A five-star recruit, Harry led the Sun Devils as a true freshman with 58 receptions, and as a sophomore and junior he put up back-to-back 1,000-yard receiving campaigns. A versatile player, Harry lined up all across the formation, ran all varieties of routes and was athletic enough to contribute throughout his career as both a runner (144 yards, three touchdowns) and punt returner (11.8 yards per attempt, one touchdown).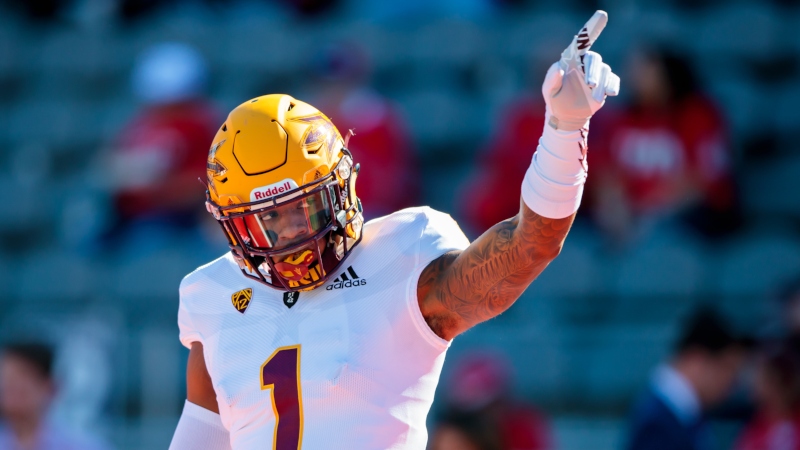 With the Pats, Harry has a good chance to see playing time right away, and his ability to play out wide and in the slot should help him stay on the field in more situations. Julian Edelman is likely to lead the Patriots in targets, but it wouldn't be surprising if Harry finished second on the team, capturing a chunk of the vacated targets that had previously gone to the now-retired tight end Rob Gronkowski.
In redraft, I will likely approach Harry with caution. The Patriots have a complicated offensive system, and wide receivers generally need time to adjust to the NFL, plus Pats players can often have inflated market valuations.
But in dynasty I like Harry a lot. When I finalize my rookie rankings, he will likely be in my top three. He has excellent long-term potential.
NFL Comp: Michael Crabtree with more size and versatility
Pick No. 25: Marquise Brown, WR, Baltimore Ravens
Height: 5'9" | Weight: 166 pounds
School: Oklahoma | Class: Junior | 2019 age: 22
Brown has been unable to work out for scouts in advance of the draft because of a Lisfranc injury he suffered in the Big 12 Championship Game, but he's assumed to have elite speed — which he'll need to have at his size.
As dynamic as Brown was last season, I think it's dangerous to assume that a small receiver — a guy who can win pretty much only through speed — is actually fast enough to produce against NFL defenders.
But in a vacuum, I still like Brown a lot. "Hollywood" enters the NFL with three consecutive seasons of good production. As a true freshman, Brown dominated the community college ranks, leading College of the Canyons in receiving with 50 receptions, 754 yards and 10 touchdowns in 10 games and chipping in two return touchdowns.
As a four-star junior college recruit, Brown transferred to Oklahoma, and as a sophomore he served as quarterback Baker Mayfield's top playmaker, leading the Sooners with 1,095 yards and finishing second with 57 receptions and seven touchdowns.
Then last year he put up even better receiving numbers with Kyler Murray at quarterback, finishing first on the team with 75 receptions and 1,318 yards and second with 10 touchdowns.
I'm not a big fan of situation: Quarterback Lamar Jackson struggled last year with his accuracy, and the Ravens employ a very run-heavy offense. Even so, Brown is likely to be the No. 1 receiver for the Ravens right away, so his target volume should be respectable, and he could have some big performances thanks to the attention that opposing defenses will have to pay to the run.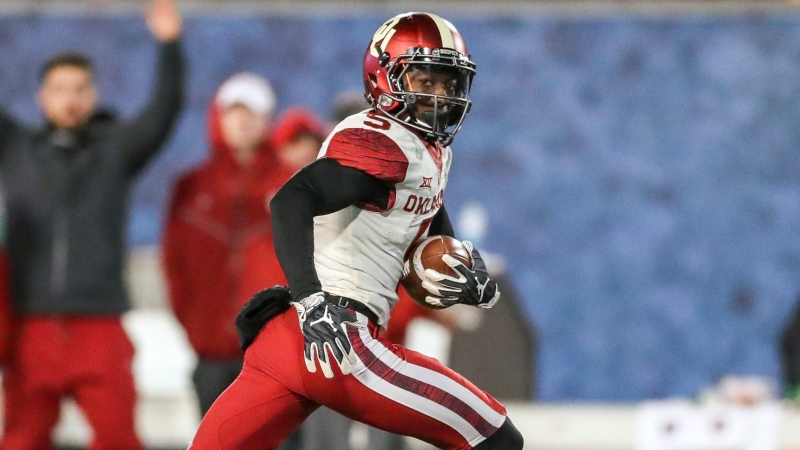 Assuming he has the speed to translate his game to the NFL, Brown could be a strong field-stretching producer as early as this season. He's someone I'd like to draft as a volatile best-ball depth receiver with league-winning upside.
In dynasty leagues, I'm likely to have him ranked behind a number of other rookie wide receivers — guys who are bigger and have verified athleticism. I don't mind Brown in redraft formats, but I can't get on board with the idea of making a premium long-term investment in a small receiver without the certainty that comes with a combine 40-yard dash.
NFL Comp: DeSean Jackson without the rushing production and verified 40 time
Pick No. 24: Josh Jacobs, RB, Oakland Raiders
Height: 5'10" | Weight: 220 pounds
40-yard dash: 4.60 seconds
School: Alabama | Class: Junior | 2019 age: 21
What Kenyon Drake was to Alabama for 2012-15, Jacobs was for 2016-18: An explosive runner and competent receiver with game-breaking ability as a return man (30.6 yards per kick return, one return touchdown).
Jacobs has never been a collegiate lead back — last year he had just 887 scrimmage yards on 140 touches — but in a weak running back class, he has emerged as the clear-cut No. 1 prospect at the position.
And I guess it's not all that hard to see why: Of all the backs likely to be drafted, Jacobs is first with a 59.2% positive play rate and second with 38 broken tackles per 100 touches, 2.4 yards per route and 41.9 expected points added. But he has below-average athleticism and not one 1,000-yard season to his name.
This is a poor class for running backs, but in a normal year, Jacobs would have probably been talked about as a likely third-rounder with upside.
But Jacobs has three — maybe four — significant factors in his favor. Because he saw just limited action at Alabama as a committee back, he should enter the NFL relatively fresh.
And he's young. The backs who play as 21-year-old rookies have historically been significantly more impressive than backs who enter the league at an older age.
And, of course, there's Jacobs' draft position. As a first-rounder, he's likely to see a significant workload because so much was invested into him: In a self-fulfilling mechanism, the Raiders will give him every opportunity to prove himself so that they might be proven correct in drafting him with a premium pick.
And there's his size. At 220 pounds, Jacobs is built like a lead back. He should be able to withstand the grind of getting 20 touches every week.
Over the past two decades, 11 guys have entered the league as big-bodied first-round 21-year-old backs:
Saquon Barkley
Ezekiel Elliott
Todd Gurley
Beanie Wells
Jonathan Stewart
Marshawn Lynch
Laurence Maroney
Steven Jackson
T.J. Duckett
Jamal Lewis
Edgerrin James
Literally every guy in this cohort has had multiple seasons of fantasy utility.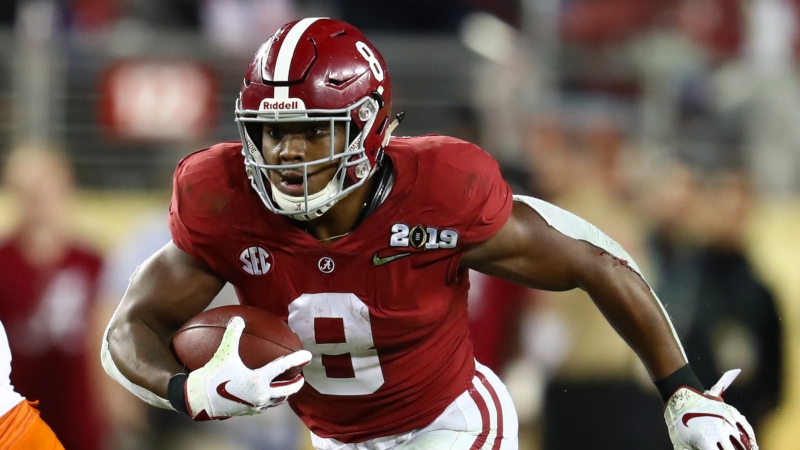 Given how important age, draft position and size are to the running back position, it's not unreasonable for fantasy players to expect a lot out of Jacobs as early as this year.
Could Jacobs finish his rookie season as a top-10 back? I honestly don't see why he couldn't.
Is Jacobs the 1.01 in 2019 dynasty rookie drafts? You bet he is.
NFL Comp: Kareem Hunt with less production but more youth
Pick No. 20: Noah Fant, TE, Denver Broncos
Height: 6'4″ | Weight: 249 pounds
40-yard dash: 4.60 seconds
School: Iowa | Class: Junior | 2019 age: 22
Ever since Kirk Ferentz started at Iowa in 1999, the school has transformed itself into Tight End U. Fant has been groomed for professional success since his first day on campus.
Despite sharing the field with Hockenson, the supremely athletic Fant led the Hawkeyes with 11 and seven touchdowns receiving over the past two seasons.
An NFL-ready receiving tight end, Fant doesn't have Hockenson's strength as a blocker, and he dropped 11 of 80 catchable passes in his two final seasons (per Pro Football Focus).
But he has a real chance to be the more productive NFL player, especially early in his career, because unlike Hockenson, Fant will probably not be used heavily as a blocker.
He's a willing blocker when asked to pitch in, but he will almost certainly be used much more as a receiver, perhaps as a big slot man. And if he's asked to focus on only one aspect of his game — the thing he already does well — he could be a serviceable player rather quickly.
And it only helps that Fant was drafted by the Broncos. With Emmanuel Sanders recovering from a season-ending Achilles injury and Courtland Sutton and DaeSean Hamilton entering just their second seasons, the Broncos don't have an established wide receiver to hog targets.
It's very possible that even as a rookie, Fant could be one of the top receiving options for the Broncos.
And it doesn't hurt that Joe Flacco will be the guy throwing to Fant. For all his faults, Flacco is one of the league's most tight end-friendly quarterbacks: He has regularly relied on the position throughout his career.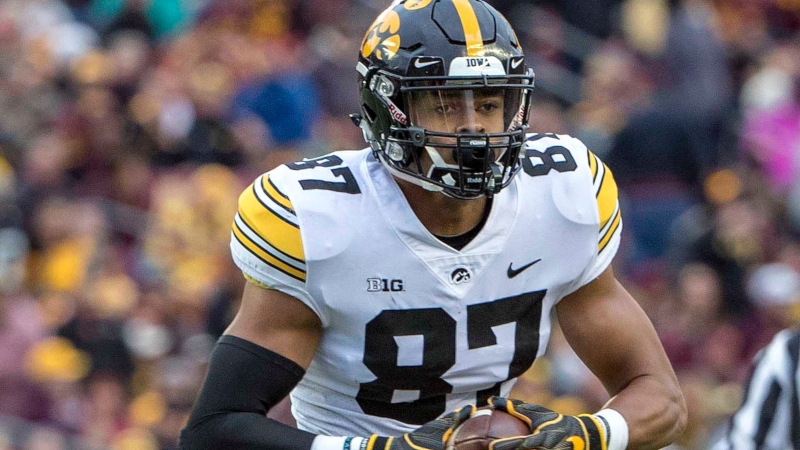 As a rookie, Fant is probably best thought of as a volatile second tight end for best ball leagues. I expect him to have an up-and-down rookie campaign, which makes him hard to rely on in standard seasonal leagues. But I also expect him to have some big performances.
And in rookie drafts, I think he should go off the board shortly after Hockenson. Whenever I finalize my rookie rankings, Fant will definitely be a first-rounder and maybe in the top six.
NFL Comp: Eric Ebron with more athleticism
Pick No. 15: Dwayne Haskins, QB, Washington Redskins
Height: 6'3″ | Weight: 231 pounds
40-yard dash: 5.04 seconds
School: Ohio State | Class: Redshirt Sophomore | 2019 age: 22
Unlike Daniel Jones, Haskins actually looks like a first-rounder. In his one season as a starter, he passed for an elite 4,831 yards and led the nation with 50 touchdowns. Scouts note that he's not the most fundamentally sound of passers, but rarely did he make poor decisions with the ball.
Still, Haskins is not without his flaws.
Almost no quarterbacks with just one collegiate starting season have had NFL success. In three years at Ohio State, he started only 14 games, which gives him an unfortunate Mark Sanchez-Mitchell Trubisky type of vibe. Given his inexperience, the Redskins might open the season with Haskins on the bench behind Case Keenum — although I would expect him to get at least a few starts down the stretch.
Additionally, Haskins offers very little in the running game. It's not necessary for NFL quarterbacks to be able to run to have success, but without any rushing ability to fall back on, Haskins could struggle as a fantasy producer early in his career. It's easier for a young quarterback to be a viable fantasy starter if he can score points with both his arm and legs and not just his arm — especially because it often takes quarterbacks a couple of years to catch up to the speed of the league.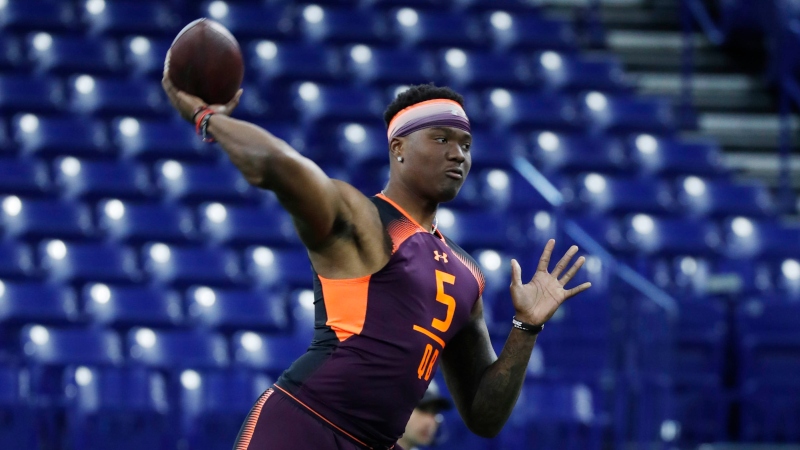 Finally, it's not great for Haskins' projection that he rarely challenged defenses deep with his arm. As a point of comparison: Kyler Murray for his career had an average depth of target (aDOT) of 10.5 per attempt. Drew Lock's aDOT was 10.4. Will Grier's was 10.6. They were never shy about throwing the ball downfield.
Haskins, though, has a career aDOT of just 7.8 yards. I'm not saying that he can't throw the ball deep or attack opposing defenses with difficult throws. But at Ohio State he relied heavily on screen passes and other short throws. He might struggle with his transition to the NFL.
If he plays as a rookie, Haskins will likely be viable only in advantageous streaming situations, but in dynasty I would start to consider him at the beginning of the third round.
NFL Comp: Jameis Winston but older, less experienced and less willing to pass downfield
Pick No. 8: T.J. Hockenson, TE, Detroit Lions
Height: 6'5" | Weight: 251 pounds
40-yard dash: 4.70 seconds
School: Iowa | Class: Redshirt Sophomore | 2019 age: 22
Within three seasons, Hockenson could be the best tight end in the league.
Winner of the 2018 Mackey Award as the nation's top tight end, Hockenson has top-end potential as a mismatch weapon in the blocking and receiving game. Entering the NFL from the same institution that produced George Kittle, C.J. Fiedorowicz, Tony Moeaki, Scott Chandler and Dallas Clark, the young tight end will be a solid professional right away.
Last year, he was first on the Hawkeyes with 760 yards receiving and second with 49 receptions and six touchdowns through the air, and he led all tight ends likely to be drafted with 47.4 expected points added.
Over the past 12 years, only 10 tight ends have been selected in Round 1, and it's rare for first-round tight ends to do absolutely nothing with their careers, but it does usually take tight ends at least a season to acclimate to the NFL.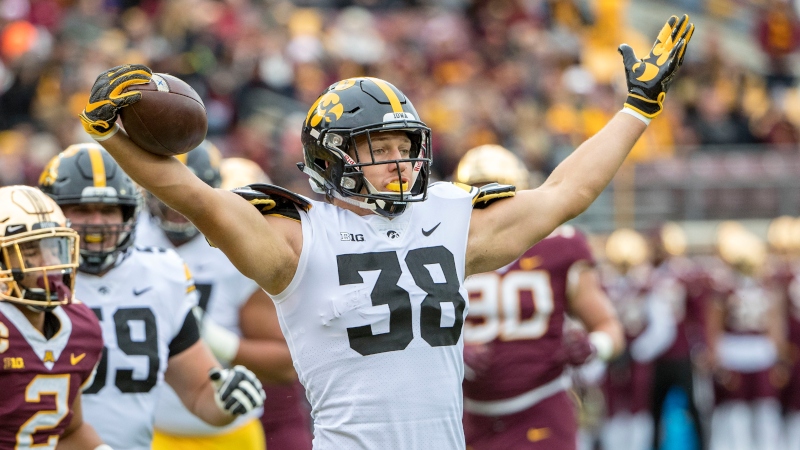 I expect Hockenson to start right away for the Lions, but that playing time might not translate into many targets in his first season. As a rookie, Hockenson will likely be a matchup-dependent producer.
In dynasty, though, I want as much Hockenson as I can get. After the first couple of running backs and wide receivers, if you took him in the top half of the first round of a rookie draft, I wouldn't fault you for it. That honestly might be where I try to get him.
NFL Comp: Tyler Eifert with more inline nastiness
Pick No. 6: Daniel Jones, QB, New York Giants
Height: 6'5" | Weight: 221 pounds
40-yard dash: 4.81 seconds
School: Duke | Class: Redshirt Junior | 2019 age: 22
Here we are. The impossible has become the inevitable.
Jones is the quintessence of the Round 1 reach. For some reason unknown, the Giants have convinced themselves that Jones is a viable NFL starting quarterback.
He almost certainly is not.
Jones exhibited above-average athleticism and intelligence at the combine, and after that his stock steadily rose to the day of the draft. Former NFL executive and Hall-of-Famer Gil Brandt sees Jones as a latter-day Peyton Manning.
Needless to say, I think that evaluation is off: Jones looks not at all like a first-rounder. He had just 6.9 adjusted yards per attempt in 2018 — and that was his best season.
Even though Jones is likely to be afforded the opportunity to sit on the bench as a rookie and learn behind starter Eli Manning, I very much doubt that Jones will be a long-term starting quarterback in the league. In fantasy, though, his lone saving grace might be his functionality as a runner.
While he's not an elite rusher, Jones is admittedly good on scrambles and designed runs: In his three years as a starter, Jones rushed for 1,323 yards (including sacks) in 36 games. Still, it's hard to be excited about a guy who completed just 59.9% of his passes over his career.
As a rookie, Jones might be streamable in the softest of matchups if he somehow makes his way into the starting lineup, but I won't consider drafting him till the fourth round of rookie drafts — and even then I expect to be able to find other players I like better.
Of the four rookie quarterbacks expected to enter the league as first-rounders, he's probably my least favorite.
NFL Comp: Josh Allen with less speed, size, arm strength, rushing ability and passing aggressiveness
Pick No. 1: Kyler Murray, QB, Arizona Cardinals
Height: 5'10" | Weight: 207 pounds
School: Oklahoma | Class: Redshirt Junior | 2019 age: 22
It's no surprise that Murray was drafted first overall. From a betting perspective, we have been bullish on him for months.
When it comes to fantasy, we're just as optimistic about his future. Murray and Cardinals head coach Kliff Kingsbury were seemingly made for each other: They've had a relationship since Murray was a sophomore in high school.
Entering the combine, there were doubts about Murray's size, but he measured in with a Russell Wilson-esque physique and saw his draft stock soar. Although just last summer he was selected with a top-10 pick in the MLB draft and was expected to play baseball professionally after the 2018 season, he is now easily the top fantasy quarterback in the class.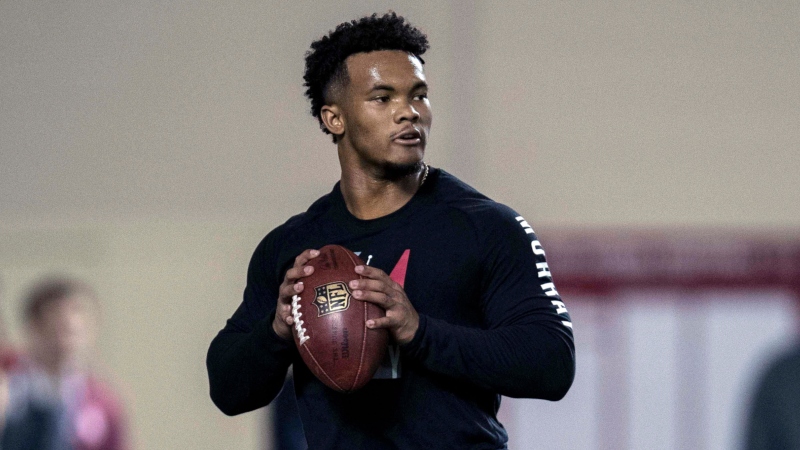 Last year, the Heisman Trophy winner led the nation with 13.0 adjusted yards per pass attempt, and he flashed elite athleticism in running for 1,001 yards and 12 touchdowns. With his Konami Code rushing upside, Murray could develop into a high-end fantasy starter sooner rather than later.
At a minimum, Murray is likely to be a high-end streamer in seasonal leagues as a rookie. In dynasty, Murray continues to move up my draft board: I won't be surprised if he settles into the top half of the first round of rookie drafts. He has the true potential to be a plug-and-play option for a decade.
NFL Comp: Michael Vick with a better arm
How would you rate this article?