Raybon: 4 NFL Win Total Overs I'm Betting Before the 2019 Draft
Credit:
Credit: Cary Edmondson-USA TODAY Sports. Pictured: Baker Mayfield
Chris Raybon breaks down why bettors will generally find the best value on win-total overs early in the offseason.
He also offers his four favorite overs heading into the 2019 NFL Draft, with fantasy analysis for each team.
Whether we're talking game totals, props or win totals, overs are overrated.
Books get a lot more action on overs than unders, causing inflated lines that eat into the expected value of over bets like a parasite. For that reason, the best time to bet on overs is usually early on, before books have taken lopsided action and are forced to raise increase their lines.
So while I'm not a big fan of betting overs on win totals, the best time to do so is now.
The majority of win totals won't change much, but there will be a spike in action as a reaction to the draft, and any lines that are off will quickly be adjusted. Since the difference between a +EV or -EV win-total bet can be as small as 0.5 wins or a few cents of juice on the moneyline, I want to ensure I get the best value if I'm tying up money until the season is over.
Here are four win totals I think are good bets now, but could increase after the draft, potentially eroding much of their value. For those interested, I also added a fantasy spin for each team.
Cleveland Browns Over 9 Wins
Even when the market kinda maybe sees a seismic shift coming, it tends to be overly conservative: Heading into 2017, the Rams closed with a win total of six after winning four games in Jeff Fisher's last season, and the Bears closed with a win total of 7.5 heading into 2018 after winning five games in the final year of John Fox.
Now the Browns — having gone a 7-8-1 under a half-season of Hue Jackson (2-5-1) then Freddie Kitchens (5-3) — are being given the same conservative two-win bump.
Free money.
While the Browns retained Kitchens and acquired one of the best receivers in football, they watched their top two division rivals stumble backwards. The Steelers lost Antonio Brown and seem on the precipice of a much larger meltdown, and the Ravens lost half their defense and decided to move forward with a starting passer whose major flaw is being awful at passing.
Earlier this offseason, I published a piece on a model I created that can accurately predict which teams have an actual shot at the Super Bowl and which teams we can disqualify based on last season's data alone — and Cleveland is the only team I disagree with the model on.
Not only are the Browns set to be the class of the AFC north, but they have the kind of talented, high-upside corps to be one of the best teams in the entire NFL.
Coach: Anyone not named Hue Jackson would have been an improvement, but Kitchens acquitted himself well in an interim role. He's a relative unknown, but we've seen first-year head coaches have success when they have talent around them, particularly when they work well with the team's starting…
Quarterback: Once Kitchens took over, the only quarterback to average more yards per attempt than Baker Mayfield was Patrick Mahomes.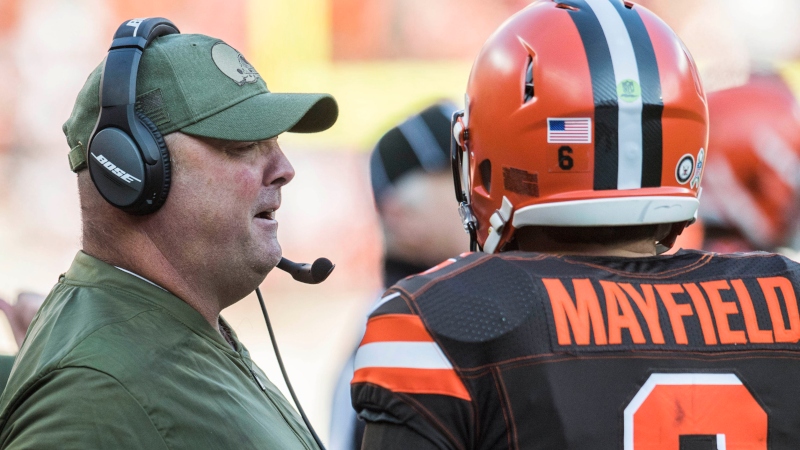 Offensive weapons: Mayfield put up his impressive digits over the second half of last season despite targeting his best receiver, Jarvis Landry, only 21% of the time and athletic tight end David Njoku only 14% of the time. Meanwhile, Mayfield connected with formerly (and still?) nondescript 2016 fifth-rounder Rashard Higgins for 10.6 yards per attempt on 74.3% completions, and kick-started the growth curve of Antonio Callaway (10.5 YPA, 64.7%), who had been wildly inefficient up to that point. Perhaps most impressively, Mayfield even revived 2016 Baltimore first-rounder Breshad Perriman from the depths of first-round bust zombieland (14.5 YPA, 65.2%)!  Save for Perriman, all of those guys are back, along with a stacked backfield featuring Nick Chubb, Duke Johnson and, at some point, Kareem Hunt. Some guy named Odell Beckham Jr. is also in the mix now.
Difference-makers on defense: It doesn't jump off the page, but the Browns finished last season 12th in Football Outsiders' defensive DVOA and have early first-round talent at impact positions in 2018 No. 4 overall pick Denzel Ward (ranked 15th of 112 cornerbacks in Pro Football Focus' grades) and 2017 No. 1 overall pick Myles Garrett (12th of 112 edge rushers).
As I mentioned on the Action Network NFL Podcast, the 2019 Browns are the 2018 Chiefs. And the earlier you see it coming, the more you'll be able to profit.
Regardless of what Cleveland does in the draft, once it's over and the market begins to pay more attention to how each roster stacks up, you'll be hard-pressed to find many teams that look as good as the Browns do. There's no doubt in my mind this team better than .500, so I love being able to secure no worse than a push if they go 9-7.
Fantasy Spin: Again, this offense has 2018 Chiefs potential.
Don't be shy about reaching for guys like Jarvis Landry and David Njoku a round early, snagging Duke late for early-season PPR value or taking late-round fliers on Callaway or Higgins. Even though I'm a proponent of the late-round QB strategy, I don't even hate Mayfield as the QB2 once Mahomes is off the board — though I think Mahomes offered more value at last year's ADP than Mayfield does now.
---
Houston Texans Over 8.5 Wins
Yes, the schedule is tough compared to last season's cakewalk, but 11-win teams have still averaged 9.0 wins the following season over the past 15, and Houston has won nine or more games in four-of-five seasons under Bill O'Brien, with three of those coming with shaky quarterback situations and less-talented rosters.
In Deshaun Watson, DeAndre Hopkins and Jadeveon Clowney, this team has the type of high-end corps that knocks off great teams.
With a corps of that caliber in place, if the Texans come out of the draft with even modest improvements in areas of need such cornerback (Georgia cornerback DeAndre Baker is a possibility) and offensive line, they're going to start looking dangerous quickly and their price will go up.
Fantasy Spin: I'm paying attention to what this team does at running back and offensive line. If they address the latter more than the former, the offense might resemble the high-octane 2017/early-2018 version more than the one that went in a shell to protect Watson's health.
Keke Coutee has already shown he can fulfill a high-volume role, and coupled with Will Fuller's durability issues, Coutee is shaping up like a massive value.
---
Arizona Cardinals Over 5 Wins
Since Sean McVay rescued the Rams from the dilapidated shelter that was Jeff Fisher and bred them into one of the NFL's top teams almost instantly, everyone has been on the lookout for the next version of that team. Last year the trendy pick was the Bears, and for good reason. But this year's Cardinals remind me even more of the 2017 Rams than the Bears did last season.
For one, these Cards aren't as trendy (yet) — remember, the Rams' win total closed at 6 heading into 2017, while the Bears were attracting Super Bowl love once they dealt for Khalil Mack.
That's why I want to get on the Cards now: As far as price in the market, they have the potential to turn from the 2017 Rams to the 2018 Bears pretty quickly.
Despite the ghastly product Arizona put forth last season, its foundation heading into this year's draft is solid:
The hire of a forward-thinking, offensive-minded head coach in Kliff Kingsbury.
Improved quarterback play, be it from Josh Rosen or an even higher-upside player like Kyler Murray.
A borderline offensive superstar in David Johnson (whose disappointing 2017 is eerily reminiscent of Todd Gurley's disastrous 2016).
One of the top cornerbacks in the game in Patrick Peterson and a defense littered with steady veterans at each level — defensive end Chandler Jones, linebacker Terrell Suggs and safety D.J. Swearinger — and high-upside young players like linebackers Jordan Hicks, Hasaan Reddick and safety Budda Baker.
The NFL's third-most draft capital per Chase Stuart's Draft Value Chart.
There's almost no way this Cards team doesn't come out of the draft looking way better than it did going in, but the market is still being conservative with the NFL's worst team from 2018.
Even if you refuse to skip the Kingsbury/Kyler-as-savior Kool Aid, history tells us we tend to underestimate these types of teams: Over the past 15 years, teams that won three games have gone on to average 6.5 wins the following season.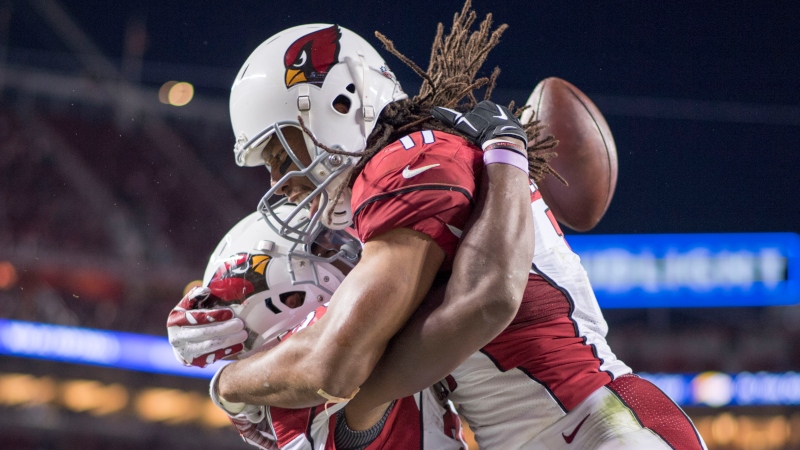 Fantasy Spin: David Johnson is getting drafted as a low-end RB1, but as we've seen in the past when he's had a good offensive coach, he has the upside to be the overall RB1. Larry Fitzgerald is also being undervalued. Again.
---
New York Giants Over 6 Wins
The public perception is pretty anti-Giants after the Beckham trade, and it's created value on this team that could be gone once the draft ends.
With Eli Manning sitting atop the quarterback depth chart, their cup runneth over with slot receivers and the league's most draft capital still yet to be realized, this team looks about as bad as it can look right now. But their "reward" for another dismal season is one of the league's easiest schedules, and as crazy as it sounds, they weren't even as bad as you might think.
Despite going 5-11, their Pythagorean win total was 7, and that has shown to be the more predictive of future wins than prior-season win-loss record.
Losing Beckham hurts, but a pass-catching top-four of Golden Tate, Sterling Shepard, Evan Engram and Saquon Barkley is still well above-average. The OBJ trade also netted PFF's sixth-ranked guard, Kevin Zeitler, and with a plethora of underneath threats and a less collapsable pocket, this team is built to survive even if it has to trot out the ghost of Manning again.
You can still get this at 6 with plus-money juice at some books, and given all the draft capital this team has, I think it will settle in at 6.5. I don't necessarily trust this team to win 8 games, but I think this is closer to a 7-win team than a 5-win team, so I like the security blanket of a potential push at 6 while I can still get it.
Fantasy Spin: The dumpster-fire-with-no-choice-but-to-feed-Saquon perception of this team is causing their Tate and Shepard to go undervalued, but this team could easily be a pass-heavy team depending on what happens in the draft in regard to the quarterback position — or simply out of necessity if the new-look defense is shaky.
---
Chris Raybon is a Senior Editor at the Action Network and a co-host of "I'll Take That Bet" on ESPN+. He has watched every snap of every NFL game since 2010 — even the kneel downs. Follow him on Twitter @ChrisRaybon and read about how he quit his accounting job and got paid to watch sports.
How would you rate this article?