Koerner: My Way-Too-Early 2019 Projections for First-Round Rookies
Credit:
USA Today Sports. Pictured: Josh Jacobs, Kyler Murray, T.J. Hockenson
See Sean Koerner's 2019 projections for the eight rookies drafted in the first round of the 2019 NFL Draft, including QB Kyler Murray and RB Josh Jacobs.
With the first round of the 2019 NFL Draft less than a day old, I've compiled my initial 2019 projections for the eight skill positions rookies selected on Day 1.
One important thing to keep in mind: These projections aren't a reflection of how I think these eight rookies should be used — I'm simply trying to project how they will be used.
Let's get started with the first overall pick.
Draft position featured in parenthesis.
2019 NFL FIRST-ROUND ROOKIE PROJECTIONS
Kyler Murray, QB, Arizona Cardinals (No. 1)
To no surprise, the Cardinals went with Murray despite having already having a first-round quarterback from just a year ago on their roster in Josh Rosen. The fact of the matter is that Kliff Kingsbury is the new head coach and Murray is his guy.
Expect him to start Week 1; that's how I'm projecting him.
Here are my initial projections for Murray:
3,350 passing yards
18.8 pass touchdowns
14 interceptions
500 rush yards
4.6 rush TDs
I created the following polls to gauge what other people were thinking — an opening line if you will. I had shaded a few of the numbers a bit higher, but it appeared like my raw projections seem to be in line with the consensus opinion:
How many passing yards will Kyler Murray (Cardinals) throw for in 2019?

— Sean Koerner (@The_Oddsmaker) April 25, 2019
Being a dual-threat quarterback makes him an instant fantasy commodity — it's why I currently have him as my No. 21 quarterback in our most recent set of fantasy football rankings. His upside makes him an ideal backup QB to stash, which I've done before with rookie QBs like Deshaun Watson in 2017 and Lamar Jackson in 2018.
Kingsbury will likely tailor the offense around Murray's strengths, and I'm afraid that could be a ding to David Johnson's fantasy value. Murray is more likely to pull the ball down and run with it then dump it off to Johnson. Not to mention that Murray's scrambling ability could take away some rushing touchdowns from DJ around the goal line.
The offense as a whole should improve, which could allow for more touchdowns to be handed out, mitigating some of the concerns I laid out for DJ. Larry Fitzgerald and Christian Kirk should get a bit of a boost having Murray under center this season. And there aren't any fantasy-relevant tight ends on the current roster, so nothing to see there.
Daniel Jones, QB, New York Giants (No. 6)
Dwayne Haskins, QB, Washington Redskins (No. 15)
I'm not here to critique draft selections. Rather, this is my mindset: "OK, this team drafted this guy — let me update my projections with him on that team." Neither one of these QBs will be on my fantasy radar this season, so I won't spend too much time on them here.
Having said that, I do think Haskins could either start Week 1 or fairly early in the season. He doesn't offer the rushing upside of Murray and won't necessarily boost the stock of any pass catcher if/when he takes over as Washington's starter. If anything, I think the Redskins could lean on the power running game combo of Derrius Guice and Adrian Peterson.
I'm largely staying away from the Redskins offense as a whole.
Jones will likely be the Giants' 2020 opening week starter. There's a chance that if they get off to a slow start (which is likely), we could be see Jones sooner rather than later. Right now I pegged his games started over/under at 5.5. Based on the Twitter poll I threw up, it seems like most people think it'll be four or fewer. Either way, he isn't someone we need to pay close attention to fantasy wise this season.
How many games will Daniel Jones start for the Giants in 2019?

— Sean Koerner (@The_Oddsmaker) April 26, 2019
Josh Jacobs, RB, Oakland Raiders (No. 24)
The only RB taken in Round 1 was not a surprise, and it wasn't a surprise that he went to the Raiders. Considering they spent a first-round pick on him, they intend to use him heavily in his rookie season.
Looking back at the 18 running backs selected in the first round over the past decade, we see a median rushing line of 180 rushes, 735 rush yards and 6.5 touchdowns their rookie season.
As of writing, here are my initial projections for Jacobs:
191 rushes
804 rush yards
6.7 rush TDs
29 receptions
210 receiving yards
1.3 receiving TDs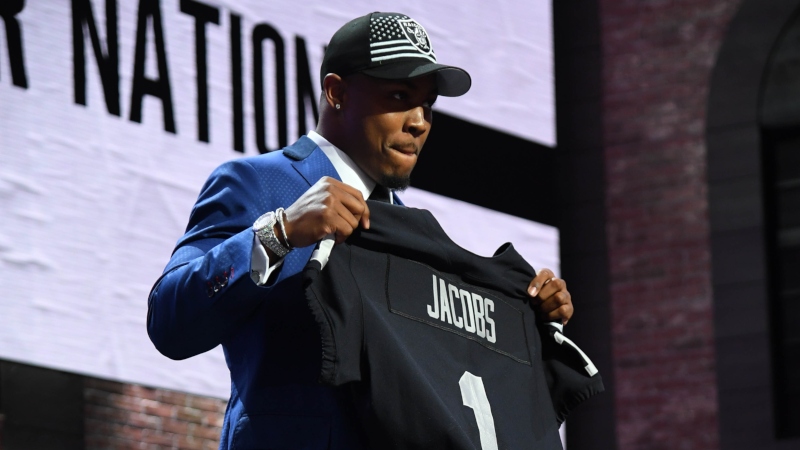 Jacobs certainly has the potential to be a three-down back in the NFL. Despite not getting much opportunity as a pass-catcher at Alabama, he certainly displayed the skills to do so at the next level.
I'm just a tad worried that Isaiah Crowell could eat into Jacobs' early-down work, and Jalen Richard could eat into the rookie's passing down work. It would be fairly similar to Kerryon Johnson's situation last year with LeGarrette Blount/Theo Riddick limiting Johnson's potential in the run/pass game, which was frustrating to see.
Again, my projections aren't a reflection of how I think he should be used — I'm simply trying to project how he will be used.
Right now I have Jacobs pegged as my No. 28 RB, but realize I'm being a bit conservative with my projections. His upside definitely warrants taking him a bit earlier as he doesn't pose too much risk for a rookie.
The Raiders spent a first-round pick on him for a reason and think they give him a long leash this year.
Marquise Brown, WR, Baltimore Ravens (No. 25)
It was clear the Ravens needed to add a wide receiver via free agency or the draft, and whoever that ended up being I was going to cast off as a non-fantasy factor for 2019.
The Ravens' passing game under Jackson just doesn't offer enough yards/touchdowns to support a WR3, let alone a couple of them. Brown, however, seems like the perfect fit. He can make huge plays after the catch underneath, or break the lid off the defense over the top. It's a weapon that will allow Jackson to keep opposing defenses honest.
If anything, I view this as a bit of a boost to Jackson's fantasy value as opposed to treating Brown as a must-own fantasy commodity.
I still believe the passing game (or lack thereof) will limit him a bit. Brown is better suited for a best ball format as he will surely have some big games, but more often than not, he'll put up fairly lackluster lines.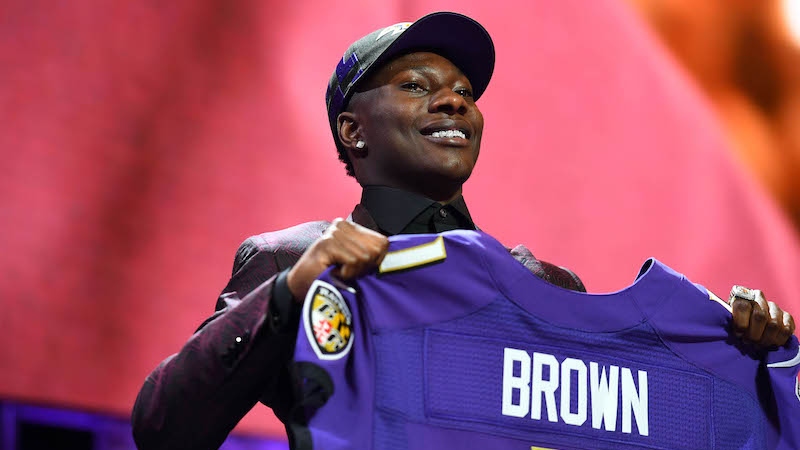 I have his initial projections at:
42 receptions
525 receiving yards
3.3 receiving TDs
While I do love the landing spot for "real life" purposes, it's important to not be too bullish on Brown this season. A good way to do that would be to every once in awhile look at John Brown's game log last year and see what happened to it starting in Week 11 when Jackson took over as a quick reminder to be a bit cautious.
N'Keal Harry, WR, New England Patriots (No. 32)
The Patriots were a fantastic landing spot for Harry and it's worth noting they typically do not target wide receiver this early in the draft.
It's a clear sign that the Patriots are aware they need to give Tom Brady some weapons; their wide receiver depth chart is pretty thin behind Julian Edelman. It's no guarantee that Josh Gordon will return to the team, or that Demaryius Thomas will be able to return anywhere near 100% after he tore his Achilles fairly late in 2018 — it's not an injury one can come back from quickly, let alone when they are 31 years old.
Add into the fact that Rob Gronkowski retired, and you get a scenario in which Harry could play a pivotal role in the red zone.
He doesn't create much separation, but can make contested catches. If there were any system that would be able to utilize his skill sets, it would be Bill Belichick/Brady. It's not often you see a rookie receiver thrust into a high octane offense with a need at the position, so this was arguably the best landing spot for Harry.
My initial projections for his rookie season are:
47 receptions
620 yards
4.2 rec TD
T.J. Hockenson, TE, Detroit Lions (No. 8)
The Lions were a bit of an odd landing spot, only due to the fact they just gave Jesse James a four-year deal for $25 million. Hockenson will be a great two-way tight end and is impossible to not have start right away.
For fantasy purposes, I'm a bit hesitant with him, especially with how Matthew Stafford typically suppresses TE production. A perfect example of this would be Eric Ebron, who caught 17 touchdowns in his four years with the Lions and then put up 13 with the Colts last season.
My initial projections for Hockenson are:
40 receptions
440 yards
3.6 TD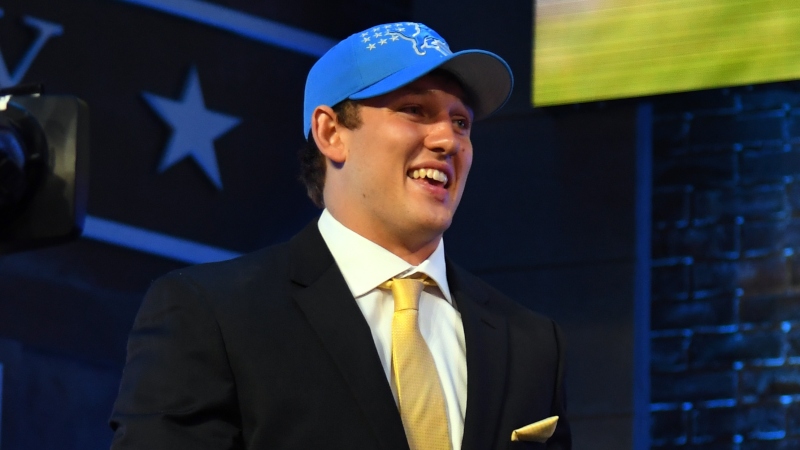 Noah Fant, TE, Denver Broncos (No. 20)
Fant is much more of the receiving tight end between the two Iowa first-round picks. His landing spot in Denver is an above-average one in my opinion. They have an immediate need at tight end, but also factor in that he isn't going to be competing against veteran receivers for targets.
With Emmanuel Sanders likely to miss some time to start the season due to an Achilles tear, the Broncos are set to start Courtland Sutton and DaeSean Hamilton on the outside, who are entering their second year. Factor in the Broncos bringing in Joe Flacco to start in 2019, and it seems like targets are as wide open, as he has zero chemistry with any pass-catchers heading into this season.
Flacco has a history of leaning on the tight end as seen with fantasy relevant seasons from Dennis Pitta, Todd Heap, Ben Watson and Ed Dickson (of all people) over the past decade.
Fant could be worth a flier in deeper leagues or as a high-upside, late-round pick if you decide to punt tight ends.
My initial projections for Fant are:
44 receptions
505 yards
4.2 rec TD
How would you rate this article?