Freedman: How I'm Betting the 2020 NFL QB Free Agency Market
Credit:
Maddie Meyer/Getty Images. Pictured: Tom Brady
With the NFL Players Association approving the new collective bargaining agreement on Sunday, the league year and "legal tampering" period will kick off Monday.
Under the new CBA, teams can tag only one player in 2020, which might impact the way they approach their pending free agents, many of whom happen to be quarterbacks.
Even though football is months away and the coronavirus pandemic has shut down every sports league that would otherwise be active right now, we can still bet on the 2020 landing spot for every major quarterback expected to be available via free agency or trade in the coming weeks and months. 
And I'm looking for action.
To be clear: I'm betting these props for entertainment, not as investments, because I doubt there's much value in the market at this late stage in the process, and I have no real way of handicapping the odds of any particular outcome.
Like everyone else, I'm just making pseudo-educated guesses. But I'm still putting some money behind my guesses, so that probably means something.
Here's how I'm betting the 2020 NFL quarterback free agency market.
NFL Free Agency Odds & Picks
---
Odds are as of Sunday afternoon and via FanDuel, but note that they're moving quickly. Get up to a $500 risk-free bet at FanDuel today or see more offers and reviews for the best online sportsbooks.
---
Tom Brady's Week 1 Team
New England Patriots: -200
Tampa Bay Buccaneers: +360
San Francisco 49ers: +600
Los Angeles Chargers: +650
Las Vegas Raiders: +900
Miami Dolphins: +1500
No Team/Retired: +2900
Tennessee Titans: +3000
Dallas Cowboys: +3400
Indianapolis Colts: +4000
New York Giants: +4000
Chicago Bears: +5000
Carolina Panthers: +9500
Over the past few weeks, there has been a flurry of reports regarding Brady and his future.
For months, it had seemed like a fait accompli that Brady would return to the Patriots for what would be an NFL-record 21st season with one franchise. At one point, Brady's odds to return to the Pats were in excess of -500 (bet $500 to win $100).
But then on Feb. 27, ESPN's Jeff Darlington said this: "I'm now at the point where I would be stunned if Tom Brady went back to New England."
Since then, Brady has been linked to almost every team with an obvious opening at quarterback.
Within hours of Darlington's report, the Patriots dropped to -105 at one sportsbook, and that's where I bet them.
I think the Patriots are the likeliest team to sign Brady.
He knows the organization, the owner, the coaching staff, the players, the building, the community, etc.
He is incredibly protective of his legacy, and he must know that if he signs with another team and plays poorly, his legacy — rightly or wrongly — will be impacted.
On top of that, although owner Robert Kraft has reportedly indicated that he will not advocate on Brady's behalf during any conversations or negotiations with head coach/general manager Bill Belichick, it seems likely that Kraft will do everything he can to ensure that Brady stays with the Patriots.
As I've been writing this Brady blurb, his odds have moved from -175 to -200 to return to the Pats. A return to the only team he's ever played for makes so much sense. Inertia is an under-appreciated universal force.
But I also think Brady has a real chance to end up with the Buccaneers, whose odds have moved from +470 to +360 as I've been writing on Sunday. I bet on the Bucs to sign Brady last week at +1200 (bet $100 to win $1,200).
Side note: Although I'm using FanDuel's odds for this story, you can bet on Brady to the Bucs at +400 at PointsBet (NJ and IN only) — it always pays off to shop for the best lines.
It might seem strange to think that Brady would sign with a team that went 7-9 last year and plays in a tough NFC South division that houses three strong quarterbacks in Drew Brees, Matt Ryan and Cam Newton.
But the Bucs have a two-time Coach of the Year in Bruce Arians, who is beloved by his players, especially his quarterbacks. Arians is basically the anti-Belichick. He collaborates with his signal-callers and caters to their strengths. Over the past decade, he has worked with Ben Roethlisberger, Andrew Luck and Carson Palmer — and all of them have praised him and noted the positive impact he had on their careers.
With the Bucs, Brady would have what he notably lacked in 2019 with the Patriots: Outstanding pass-catching options.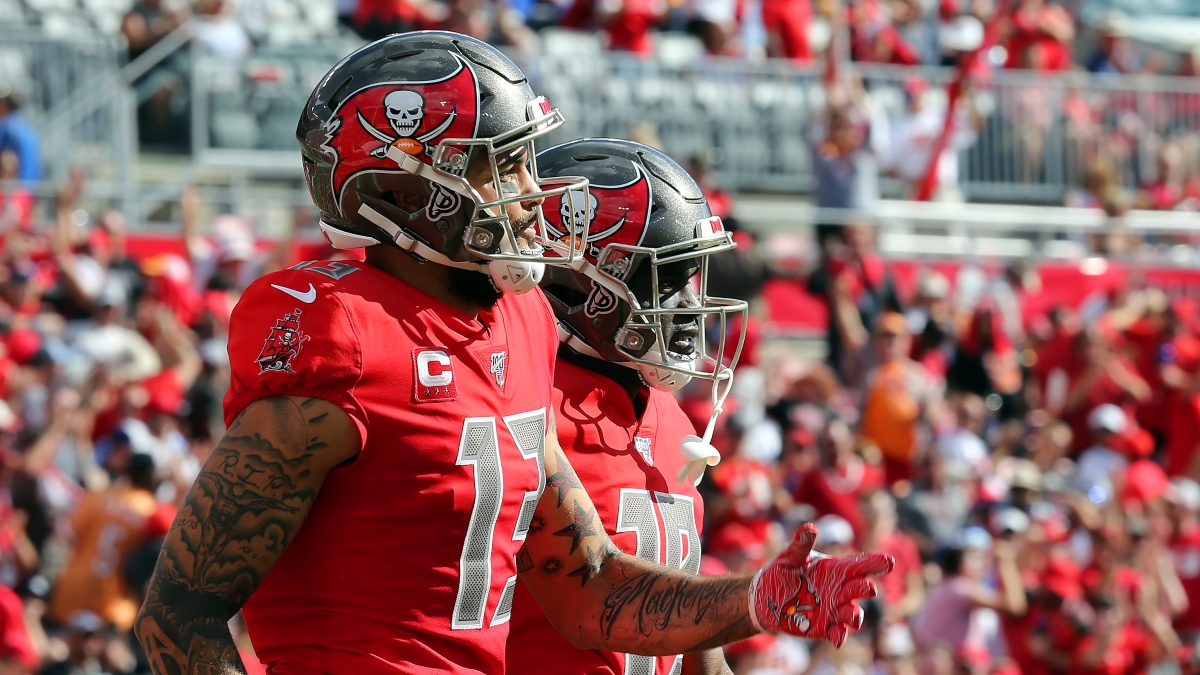 Mike Evans and Chris Godwin are probably the league's best wide receiver duo. O.J. Howard has the potential to develop into a top tight end, and Cameron Brate is a solid veteran at the position. Even running back Ronald Jones, who entered the league as an unproven receiver, flashed last year in the pass-catching game with 31 receptions on 40 targets, and change-of-pace back Dare Ogunbowale added 35 receptions on 46 targets.
Although the Bucs struggled early in the year on defense, they finished the season ranked No. 5 in Football Outsiders' DVOA metric and specifically were No. 1 in rush DVOA.
With Brady, there's a real chance the Bucs could jump from 7-9 to 12-4 and win their division.
I could also see Brady signing with the Colts, who have a strong head coach in Frank Reich and perhaps the league's best offensive line: Of the five starters, only right guard Mark Glowinski had a below-average offensive grade last season (60.5 per Pro Football Focus).
The Chargers and Raiders have been linked to Brady, but I don't believe he'll sign with either.
Why would Brady sign with the Chargers when they had the league's second-worst PFF pass-blocking line last year (59.9 grade)?
Why would Brady join the Raiders, who have an unsettled receiving unit and a megalomaniac head coach in Jon Gruden?
My Picks for Tom Brady 
Patriots -200: Two units. Limit: -200.
[Bet now at FanDuel. NJ, PA, IN and WV only.]
Buccaneers +400: 0.5 units. Limit: +350.
[Bet now at PointsBet. NJ and IN only.]
Colts +4000: 0.5 units. Limit: +3500.
[Bet now at FanDuel. NJ, PA, IN and WV only.]
Philip Rivers' Week 1 Team
Indianapolis Colts: -180
No Team/Retired: +430
Las Vegas Raiders: +750
Tampa Bay Buccaneers: +750
Chicago Bears: +1600
Tennessee Titans: +1600
Miami Dolphins: +1900
Washington Redskins: +2300
Carolina Panthers: +3400
New England Patriots: +3400
I expect that Rivers will land with either the Colts or Bucs.
With the Colts, Rivers could reunite with Reich, who was first his quarterbacks coach and then offensive coordinator with the 2013-15 San Diego Chargers.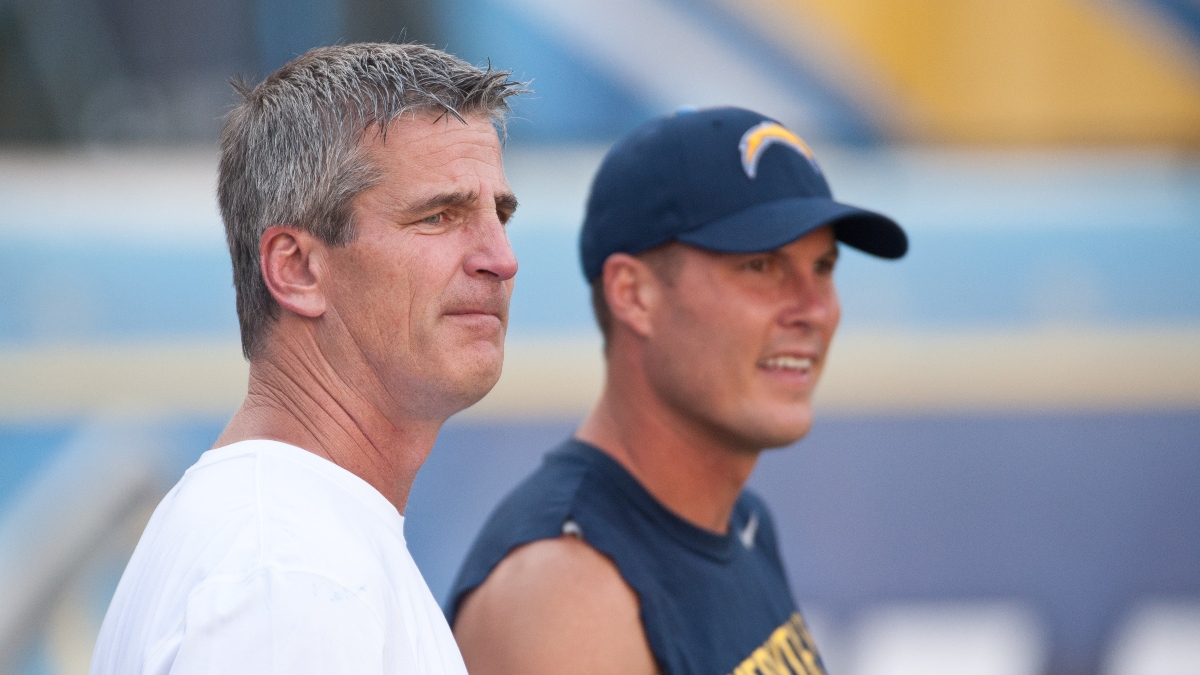 With the Bucs, Rivers would get to work with Arians and throw to Evans and Godwin. And in Rivers, the Bucs would get a slightly less interception-prone version of quarterback Jameis Winston.
Although the odds suggest that Rivers is much likelier to sign with the Colts than the Bucs, I think in reality their odds are much closer. Between the Colts and Bucs, it's hard to say that one has a real edge over the other.
And since the -180 odds for the Colts imply that they have a 64.3% probability of signing Rivers, I won't bet it. But I do see value in the 11.8% implied probability in the +750 odds for the Bucs.
My Pick for Philip Rivers 
Buccaneers +750: 0.5 units. Limit: +650.
[Bet now at FanDuel. NJ, PA, IN and WV only.]
Andy Dalton's Week 1 Team
Chicago Bears: +270
Indianapolis Colts: +450
New England Patriots: +450
Miami Dolphins: +600
Tampa Bay Buccaneers: +600
Los Angeles Chargers: +750
Las Vegas Raiders: +750
Cincinnati Bengals: +900
Tennessee Titans: +1500
Carolina Panthers: +2500
There's a strong expectation in the market that the Bears will acquire Dalton from the Bengals to serve as the backup/starter-in-waiting to Mitch Trubisky, in much the same way that the Titans last year traded for Ryan Tannehill.
But ask yourself this question: When have the Bears ever done anything smart regarding Trubisky?
The Bears should try to get Dalton on the cheap if they can, but they could easily talk themselves out of it because adding Dalton could hinder the development and/or shake the confidence of Trubisky.
And in all fairness to NFC North Blake Bortles, Trubisky is entering just his fourth year in the league and third with head coach Matt Nagy. It really might be too soon for the Bears to bring in such a transparent Trojan horse backup.
So what do I expect to happen with Dalton?
If Brady leaves the Pats, I could see them trading for Dalton, a long-time veteran with above-average intelligence and a team-first attitude. He seems like the kind of undervalued guy Belichick would find a way to overvalue.
And I could also see him somehow just staying with the Bengals. Under owner and GM Mike Brown, the Bengals have been remarkably unwilling to trade former starters.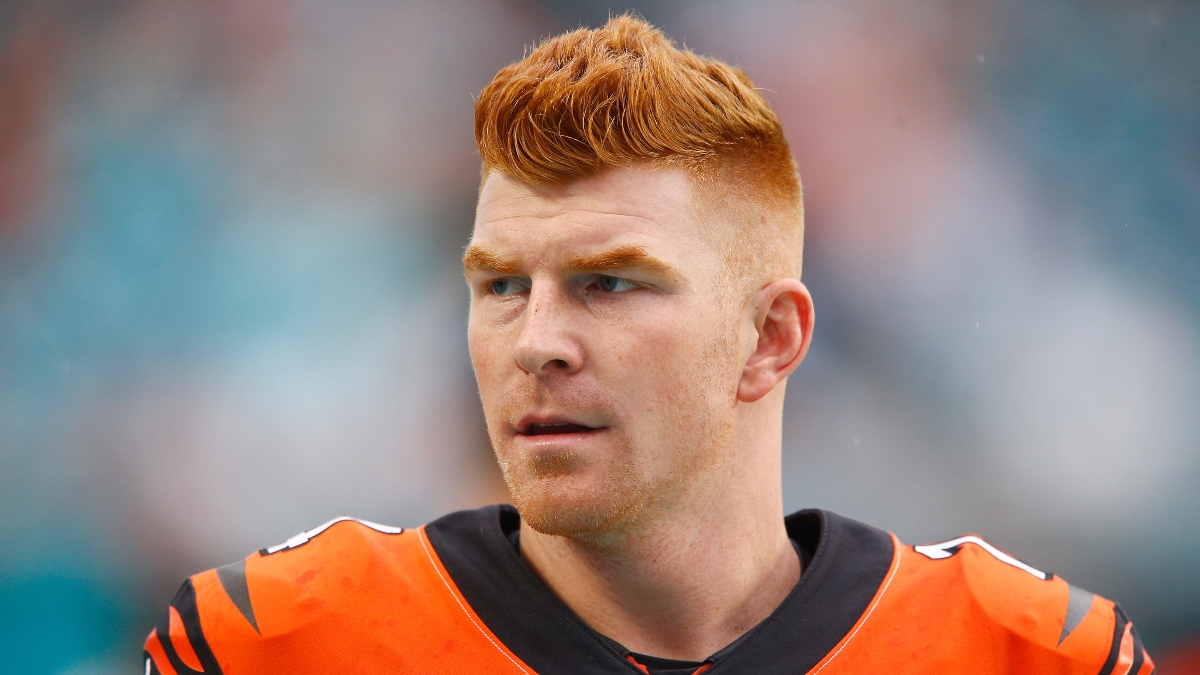 Just think back to quarterback Jon Kitna, who started for the team in 2001-02. The Bengals drafted Carson Palmer with the No. 1 overall pick in 2003 — and then they redshirted him for an entire season so he could "learn" behind Kitna.
And then even when the Bengals named Palmer their starter in 2004, they still kept Kitna around as the backup. They kept him around for even the 2005 season.
Think about that: The Bengals drafted a quarterback at No. 1 and then could have traded Kitna — a guy with four years of starting experience — but they instead decided to keep him around for three more years.
I fully expect the Bengals to draft a quarterback with the No. 1 overall pick this year — almost certainly LSU quarterback and Ohio native Joe Burrow — but that doesn't mean the Bengals will be done with Dalton.
Not by a long shot.
My Picks for Andy Dalton
Patriots +450: 0.25 units. Limit: +400.
[Bet now at FanDuel. NJ, PA, IN and WV only.]
Bengals +900: 0.25 units. Limit: +700.
[Bet now at FanDuel. NJ, PA, IN and WV only.]
Jameis Winston's Week 1 Team
Tampa Bay Buccaneers: -150
Chicago Bears: +600
Miami Dolphins: +600
Los Angeles Chargers: +950
New England Patriots: +950
Indianapolis Colts: +1200
Jacksonville Jaguars: +1500
Las Vegas Raiders: +1500
New Orleans Saints: +1900
Dallas Cowboys: +2500
Tennessee Titans: +3400
I think it's Bucs or bust for Winston.
After the Bucs, it seems like a game of roulette, but I think Winston is probable to sign with his longtime team. And if Brady returns to the Pats and Rivers goes to the Colts, then Winston's return to the Bucs would look extremely likely.
At -150, Winston has a 60% implied probability of re-signing with the Bucs, but I think the true odds are closer to 65%.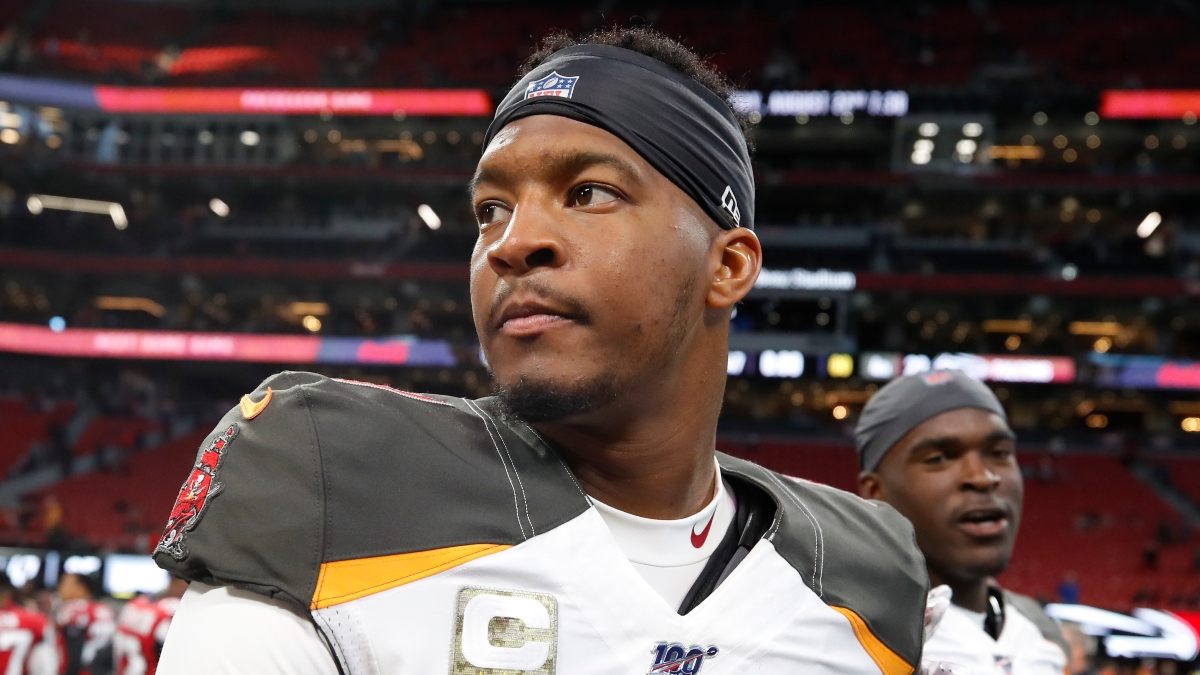 My Pick for Jameis Winston 
Buccaneers -150: 1.5 units. Limit: -180.
[Bet now at FanDuel. NJ, PA, IN and WV only.]
Teddy Bridgewater's Week 1 Team
New Orleans Saints: +200
Miami Dolphins: +310
Chicago Bears: +340
Tampa Bay Buccaneers: +380
Indianapolis Colts: +650
New England Patriots: +850
Los Angeles Chargers: +1000
Las Vegas Raiders: +2500
Bridgewater will be too expensive for the Saints.
The Dolphins don't need him because they have Ryan Fitzpatrick.
The Bears won't want to undermine Trubisky be bringing in Bridgewater, and they probably will be unable to sign him for backup money.
I expect the Bucs to sign either Brady, Rivers or Winston. Bridgewater doesn't seem to fit with Arians.
The Colts I project to sign either Brady or Rivers or draft a quarterback to compete with incumbent starter Jacoby Brissett.
The Patriots are intriguing: If they lose Brady, Bridgewater would be a decent fallback option.
The Chargers seem likely to start a rookie quarterback or Tyrod Taylor, who is still under contract and was a competent starter with the 2015-17 Buffalo Bills.
Like the Pats, the Raiders are intriguing: They clearly would like to upgrade the quarterback position, and they might truly believe that Bridgewater is better than Derek Carr.
My Picks for Teddy Bridgewater
Patriots +850: 0.25 units. Limit: +700.
[Bet now at FanDuel. NJ, PA, IN and WV only.]
Raiders +2500: 0.25 units. Limit: +2000.
[Bet now at FanDuel. NJ, PA, IN and WV only.]
Nick Foles' Week 1 Team
Jacksonville Jaguars: -250
Miami Dolphins: +500
Chicago Bears: +650
Indianapolis Colts: +650
Tampa Bay Buccaneers: +900
Los Angeles Chargers: +1000
Philadelphia Eagles: +3400
Like Bridgewater, Foles seems unlikely to land with the Dolphins, Bears, Colts, Bucs and Chargers.
Because he is due $15.125 million in guaranteed money next year, Foles will be hard to trade. His cap number is almost $21.838 million, and if he's cut before June 1, his cap hit will be $33.875 million.
Although there are reports that the team wants to trade him, those reports mean almost nothing: I would also like to be watching live sports right now, but what I want doesn't matter. It has no bearing on reality.
Foles seems extremely likely to be on the Jags in 2020.
My Pick for Nick Foles 
Buccaneers -250: 2.5 units. Limit: -300.
[Bet now at FanDuel. NJ, PA, IN and WV only.]
---
Freedman is the Editor-in-Chief of FantasyLabs, part of The Action Network.
How would you rate this article?