2021 NFL Betting Preview: Win Total Picks for the 8 Worst Teams, Including the Bears & Eagles
Credit:
Jonathan Daniel/Getty Images. Pictured: Justin Fields.
The 2021 NFL season is finally here, so let's preview the season and collect our bearings as we kick off 18 weeks of football goodness.
Each year heading into the season, I like to separate all 32 teams into four buckets of exactly eight teams each. Which eight teams can truly contend for the Super Bowl? Which eight are not there yet but are trending up, and which eight are headed in the wrong direction?
Today, we'll start with the last group of eight: the teams at the bottom. These are the teams with little hope of a playoff berth, let alone a Super Bowl run. They're the ones who'll ultimately end up competing for the No. 1 draft pick.
This is nota power rankings. We'll go through teams in increasing order of Vegas win total, analyzing and previewing each team and deciding whether to pass, lean, or play the over/under. Along the way you'll find offensive and defensive unit ranks for each team, plus other bets worth considering.
We start at the bottom, and that can only mean one thing: the Houston Texans.
Check out the entire four-part season preview:
NOTE: Team totals in headings are from DraftKings, with each pick recommendation listing the book with the best available line as of writing.

Texans Over/Under 4.5 Wins
The 2021 Houston Texans might be one of the worst constructed NFL rosters in modern history. This team just isn't even trying to compete.
Look up and down the roster and it's genuinely hard to find anything the Texans would consider a strength or even anything league average. In my team-by-team position rankings, teams turn red when they're in the danger zone near the bottom of the league. On my spreadsheet, the Texans are red at QB, RB, WR, TE, OL, DL, Edge, S, special teams, and coach.
That seems … sub-optimal? In case you haven't watched football in awhile, that's pretty much the entire team.
The Texans ranked dead last in my OffensiveandDefensive team unit rankings. And they're not just last. They're so "last" I had to create a separate tier for them at the bottom of each, apart from every other team. The Texans are a team destined for one of those October "Guys, do you think Alabama could beat the Houston Texans?" conversations (As always, the answer is no).
If you're looking for signs of life, maybe Lovie Smith coaches up the veterans and makes this defense more bad than terrible, and perhaps Tyrod Taylor stays healthy and stabilizes the offense. That's the path to five or six wins, and honestly, it's a pretty bad outcome for this team. The only way out now is to lose a whole lot and start over.
Win Total Verdict: Lean Under 4.5 (-159) at DraftKings
Lions Over/Under 5 Wins
If any team challenges Houston for the No. 1 pick, it might be the Lions. Detroit was pretty bad a year ago and then lost Matthew Stafford, Kenny Golladay, Marvin Jones, Adrian Peterson, Desmond Trufant, Reggie Ragland and Matt Prater among others.
The Lions are making no bones about it. They are in rebuilding mode, and they are reshaping the team in the mold of wonky new coach Dan Campbell. That means building from the inside out with a focus on the lines. That may work out long term, but for now it's left Detroit with the worst receivers and worst secondary in an increasingly pass-happy league.
Detroit is the bad half of The Great Stafford Experiment. Have you ever watched Jared Goff and thought, you know, I think that guy's pretty good? Now Goff loses the security blanket of Sean McVay's offense, great protection and terrific weapons in a lame duck role where it could get ugly.
The Lions have a young coaching staff with a bunch of intriguing names. Maybe Aaron Glenn gets CB Jeff Okudah on the right track. Maybe Mark Brunell, Duce Staley and Antwaan Randle-El get the most out of their offensive position groupings … or maybe you'd feel better about the Lions if those three guys were playing instead of coaching. Yikes.
Win Total Verdict: Pass
Jaguars Over/Under 6.5 Wins
For the Texans and Lions, the biggest reason to be careful about fading them too hard is the presence of another terrible team right there in the division.
Jacksonville is a Week 1 road favorite with a rookie QB and coach making their debuts, so that tells you just how bad Houston might be. Still, are we totally positive the Jaguars will be much better?
Trevor Lawrence played on the most talented team in both high school and college. Now he joined a team on a 15-game losing streak. Urban Meyer has never coached at this level. In college, if Urban didn't like his blocking or his defense, he could just go knock on a few doors and bring in new guys. It doesn't work that way in the NFL. Meyer is stuck with this roster.
It sure feels like Meyer still thinks he's coaching in college, and that has not gone well in the past for coaches making the leap. The Tim Tebow signing was a red flag, and so was the pointless QB competition all preseason for a team that drafted a generational prospect with the first pick. Meyer seems hell-bent on building around speed, another thing that probably works better in college than in a league with world-class athletes.
The Jaguars are one of the league's most improved teams — it was hard not to be — and were more like a 4-12 team than a 1-15 one a year ago, aided by tanking. The path to improvement is easy: If Trevor Lawrence is as good as Jacksonville hopes, things could swing quickly.
The more likely outcome is that the Jaguars struggle again as Lawrence and Meyer face growing pains together. You can play Jacksonville to go under 2.5 division wins at +125 at FanDuel. If the Jaguars are swept by the high-floor Colts and Titans, you win. If Jacksonville loses either game to Houston, it's a lock. Either way, this could be a bumpy road.
Win Total Verdict: Lean Under 6.5 (-135) at FanDuel
Bengals Over/Under 6.5 Wins
In another division or another timeline, the Bengals might be an improving team on the verge of a breakout. In that world, Joe Burrow stayed healthy to finish off a promising rookie season, showing good chemistry with Zac Taylor and a coaching staff that started to hit its play calling rhythm.
In the real world, Burrow looks very rusty and lacking in confidence after his long time away from football. He played only three preseason snaps and hasn't had much time to develop cadence and chemistry with his players, including first-round WR Ja'Marr Chase, who's also struggling so far after almost two years without football.
The play calling isn't helping. Taylor's offense just isn't making things easier for his young QB. Burrow ranked near the top of the league in tight-window throws and near the bottom in expected completion percentage, per RBSDM. Burrow is accurate enough to overcome that, but it would be great if the scheme wasn't setting him up to fail.
For a bad team, the Bengals lost a shocking amount of talent this offseason. Carl Lawson and William Jackson were top 10 at their position, and A.J. Green, Gio Bernard, Geno Atkins and Mackensie Alexander are losses too. The offensive line missed a chance to take a step forward.
The division and schedule are brutal. It feels like the Bengals are a year away.
Win Total Verdict: Lean Under 6.5 (-120) at FanDuel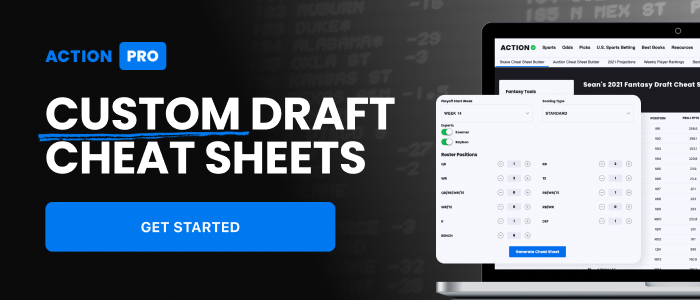 Eagles Over/Under 6.5 Wins
There's a world where the Eagles hang around and keep things interesting. That world involves the veterans on this team finally staying healthy for the first time since about the Super Bowl run.
The healthy version of this defense could still be pretty tough. Fletcher Cox is a stud, and Darius Slay and free agent signing Anthony Harris are stars in the secondary. It could be a tough transition without Jim Schwartz for the first time in ages, though. The offensive line is also a question mark, pending health. If everyone stay son the field, this could be a top five line. A great offensive line and strong defense would give this team a pretty high floor to work with.
The worry is that the key injury questions on this team are from increasingly aging players on the wrong side of their career, and that makes the answers less likely to turn out well for Philadelphia. And the ultimate ceiling for this team will come from the Nick Sirianni and Jalen Hurts combo, mostly a complete unknown for now.
Hurts can certainly run the ball, but he hasn't proven his arm yet in the NFL, and DeVonta Smith and Jalen Reagor need to show up at receiver too. It's entirely possible that Hurts, Smith and Sirianni are the real deal and the next great offense, but it's safest to assume otherwise until we see it.
If the Eagles stay healthy and Hurts is decent, Philadelphia could contend in the NFC's weakest division. That would make Sirianni badly mispriced at +5000 to win Coach of the Year at BetMGM, so that's not a bad price to nibble if you're fading Dallas and Washington. But if Hurts is bad, this team will have major incentive to bottom out and put itself into position to draft a replacement.
Win Total Verdict: Pass
Giants Over/Under 7 Wins
The Giants defense could be really fun. Leonard Williams was a beast last year, though we'll see how he holds up without Dalvin Tomlinson next to him, and New York got a huge season from James Bradberry and added Adoree' Jackson this offseason in what should be one of the league's best corner pairings.
The star of the defense is Patrick Graham, the defensive coordinator who could be the next hot, young head coach candidate if this team takes another step forward. They're going to need to find some pass rushing to get there. Keep an eye on Azeez Ojulari, +1600 to win Defensive Rookie of the Year at DraftKings.
The offense is the problem. This may be last chance saloon for Daniel Jones, and Jason Garrett's prehistoric scheme won't give him much help. Saquon Barkley can't seem to shake the nagging injuries, and the biggest issues is up front where the Giants have the worst offensive line in the league.
A line this bad can doom an entire offense, especially with a mistake-prone QB like Danny Dimes. The NFC East seems wide open, but the Giants have the lowest ceiling in the division. They're +185 to finish last in the East at FanDuel, just 35.1% to finish last per our Betting Calculator.
That's a worthy bet, and it's hard to envision a scenario where the Giants get to 8-9 and beat this line. If things don't click, it makes much more sense for this team to punt on the season and get into position to start over with a new QB.
Win Total Verdict: Bet Under 7 (+118) at DraftKings
Raiders Over/Under 7 Wins
The Raiders are a tough team to get a handle on. What exactly is Las Vegas doing? Do they even know the answer to that question themselves?
The strength of this team for years has been its offensive line, which they willingly blew up this offseason. What's the strength now? In a weird way, it might be depth? Derek Carr isn't an exciting starter, but Marcus Mariota is one of the best backups in the league. Josh Jacobs has been disappointing by efficiency metrics, but Kenyan Drake was signed as a great second back.
But how valuable is depth if the first stringers aren't particularly good? The Raiders added names like Drake, John Brown, Yannick Ngakowe, Solomon Thomas and Casey Howard in moves that reeked of "Hey, didn't he have a good game against us or on national TV that one time?" What's the plan? What is this team supposed to be good at?
The Raiders went 8-8 last year but deserved seven wins by Pythagorean expectation. This team is more below average than bad, but they're in the wrong place for that, in a division featuring the Chiefs plus two of the league's most improved teams.
Sometimes average teams turn out bad in the wrong environment. This is clearly the worst team in a tough AFC West, so I'll consider playing them to finish last in the division at -180 at FanDuel, but at 64% implied, that may not be worth the squeeze. Instead, I'll sprinkle a little on a more aggressive play: +1600 at DraftKings to go 0-6 in the division. Vegas will be significant dogs in all three road games and home against the Chiefs, and if the Broncos and Chargers are as improved as expected, this could get ugly for the Raiders.
Win Total Verdict: Bet Under 7 (-106) at DraftKings
Bears Over/Under 7.5 Wins
The Bears have a nice defense, a capable run game, and a question mark at quarterback. Sound familiar?
It's the same old story in Chicago, where Andy Dalton will apparently start the season after doing almost nothing to earn the job all preseason other than not being Justin Fields. Dalton caps the offense's ceiling, and it's not clear Matt Nagy and the play calling will do much to elevate things, especially with a roughshod offensive line that makes everything worse.
The defense is good but not great. Khalil Mack, Roquan Smith, Eddie Jackson and Danny Trevathan leave plenty to like, but the corners are a big question mark and this feels more like a unit with top-10 potential than one that can lead the league and carry the team.
That means the offense is going to have to do something, and that all comes back to Fields. When will he play? Chicago appears afraid to throw him to the wolves in a tough Week 1 matchup without protection, but this isn't going to get much easier. The blocking issue isn't going anywhere, and the Bears face one of the league's hardest schedules.
Just look at the quarterbacks the Bears will play this year: Rodgers (twice), Brady, Russ, Lamar, and Kyler are the headliners. Stafford, Baker, and Burrow are next, and even guys like Cousins (twice), Goff (twice), Big Ben, Jimmy G and Carr are middle of the road.
In case you weren't counting, that's 16. That means the Bears will have a deficit at the league's most important position in all but one game (thanks Giants). It's tough to be bad at QB, OL and CB and win in 2021, especially against a brutal schedule. Even Fields probably can't save this roster.
Win Total Verdict: Bet Under 7.5 (-120) at FanDuel
How would you rate this article?
This site contains commercial content. We may be compensated for the links provided on this page. The content on this page is for informational purposes only. Action Network makes no representation or warranty as to the accuracy of the information given or the outcome of any game or event.