2021 NFL Draft: Reviewing the College Football Season to Find Under-the-Radar Running Backs
Credit:
David Stacy/Icon Sportswire via Getty Images. Pictured: Chuba Hubbard.
Most of the talk surrounding the running back position heading into the 2021 NFL Draft has focused around Najee Harris and Travis Etienne — who should be drafted first, and should either go in the first round?
Behind them is the two-headed monster out of North Carolina in Michael Carter and Javonte Williams. Ohio State running back Trey Sermon has also gotten some attention after his breakout performance during the College Football Playoff.
But while maybe not as deep as the wide receiver position, there is plenty of talent available further down the board where teams can find coveted value later in the draft.
In recent years, we have seen plenty of running backs find success after getting picked on Day 3 of the NFL Draft. The 2017 Draft is the best example of this. Obviously, Leonard Fournette and Christian McCaffrey (first round), along with Dalvin Cook and Joe Mixon (second round), have turned into stars. But that class also saw Alvin Kamara and Kareem Hunt go in Round 3, Tarik Cohen, Jamaal Williams, Wayne Gallman and Marlon Mack were all fourth-round picks, Aaron Jones was drafted by the Packers in the fifth round, and Chris Carson didn't go until the seventh round.
I will touch on some of these players who are flying under the radar a bit amongst NFL fans who do not watch as much college football. These players are not likely to hear their name called until Saturday but are very capable of turning into successful NFL running backs.
I will also provide a couple of player comparisons for those who fit a similar playing style and own the same attributes while providing a ceiling outlook for a best-case scenario for what their pro career could look like.
Kenneth Gainwell, Memphis
NFL.com Projection: Round 4
Kenneth Gainwell decided to opt-out of the 2020 college football season after he lost four family members to COVID-19 over the summer.
Gainwell will enter the NFL with only one full season of college football under his belt. However, in that one season, he managed 2,069 total yards and 16 touchdowns. Gainwell was seventh in the country in all-purpose yards during the 2019 season, rushing for 1,459 yards and adding 610 receiving.
NFL fans saw what a great rookie season Antonio Gibson put together in his first pro season with Washington. Well, it was Gainwell who was the star of that 2019 Memphis team, forcing Gibson into more of a slot receiver role as Gainwell earned featured back status. Gibson had just 33 carries and 38 receptions, while Gainwell received 231 carries and hauled in 51 passes.
Gainwell has excellent hands, and his biggest strength is his change-of-direction quickness and quick-cut agility. While slightly undersized at 5-foot-8 and 201 pounds, he never shies away from contact and showed a willingness to lower his shoulder and fight for interior yards.
As receiving ability becomes more and more important in the pass-happy NFL, Gainwell reminds scouts that he's the best pass-catching back in this draft class.
He was more productive at Memphis than Gibson, who showed great production in his rookie year. Despite just one year of college experience, Gainwell was a work-horse in that season.
Gainwell projects as a three-down No. 1 back at best and a great third-down receiving back at worst.
Player Comparisons: Ray Rice, Austin Ekeler
With Pro Days rolling in you may want to watch more film on these prospects. Well, look no further. 🚀

Today, #Memphis held their pro day, and Kenneth Gainwell ran a 4.42 40 at 201 lbs. The kid is a weapon. pic.twitter.com/ChbWzatHfb

— Fantasy Football Astronauts (@FF_Astronauts) March 19, 2021
Rhamondre Stevenson, Oklahoma
NFL.com Projection: Round 4
Rhomandre Stevenson is another back who enters the draft without a ton of experience.
Stevenson started at the junior college level, rushing for over 2,000 yards in 2018 at Cerritos College, earning him the No. 1 JUCO running back ranking.
In his first season at Oklahoma, he shared a backfield with Kennedy Brooks and Trey Sermon, garnering just 64 carries for 515 yards and six touchdowns. He led the Sooners backfield with 8.0 yards per carry. Stevenson was then suspended prior to the 2019 Peach Bowl for failing a drug test.
The suspension forced him to miss the first five games of 2020 as well. Stevenson returned an averaged 110.83 yards per game over the six games he appeared in.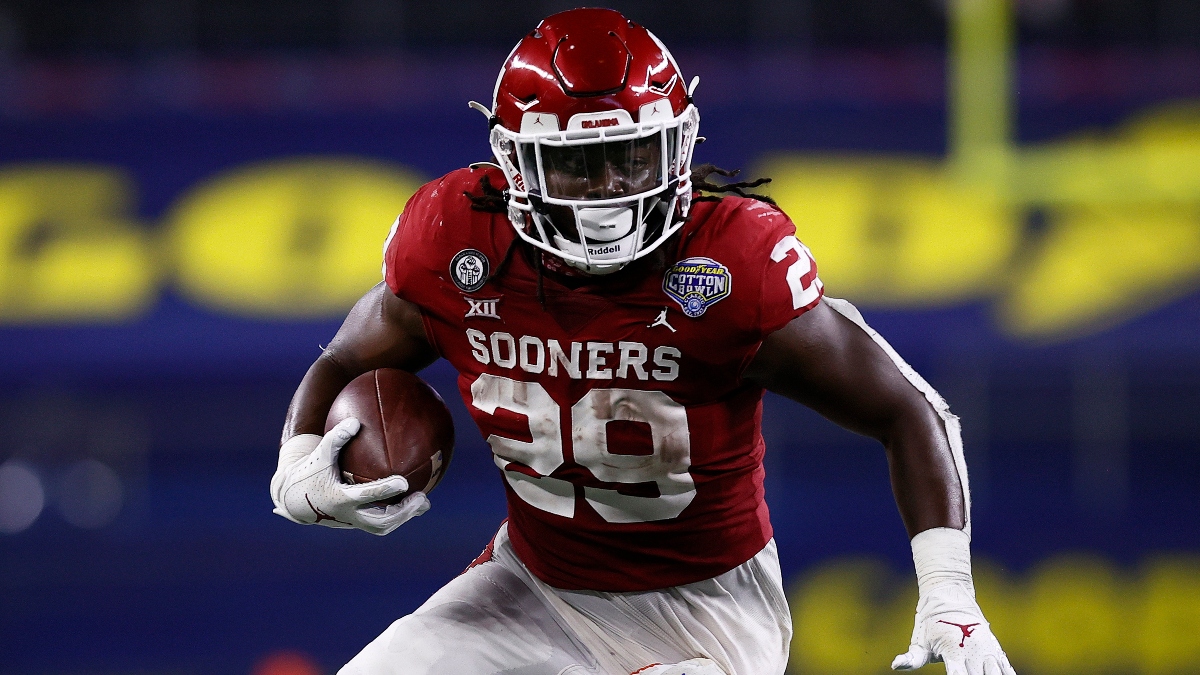 Stevenson also showed better receiving upside than you would expect for a back of his size at 6-foot and 246 pounds. He averaged 3.0 receptions and 35.3 receiving yards per game last year and went for 11.7 yards per catch.
The lack of carries is probably an advantage for him, though, meaning there's less wear on the tires for somebody as physical and big as Stevenson. Since the season, he has cut some weight down to 231 and will still likely be the biggest running back taken in the draft this year.
He doesn't possess breakaway speed but is faster than many would expect for somebody his size, running a 4.63 40-yard dash at his pro day. He runs downhill and hits the hole like a wrecking ball.
His strength is just that — his strength. Stevenson averaged 4.8 yards after contact in college, the most of any player in this draft class.
He likely projects as a two-down back who will thrive in short-yardage situations, but he does have better receiving ability than you'd think. He would be an ideal fit in a shared backfield alongside a smaller and quicker back.
Players Comparisons: Brandon Jacobs, LeGarrette Blount
Rhamondre Stevenson cooked the entire Florida defense

— PFF Draft (@PFF_College) December 31, 2020
Chuba Hubbard, Oklahoma State
NFL.com Projection: Round 5
While being drafted in the NFL is a joyous occasion for every player as they see their childhood dreams fulfilled, it's going to pretty hard for Chuba Hubbard not to think about how much money he cost himself by not entering the 2020 NFL Draft.
Hubbard finished the 2019 season leading the country with 2,094 rushing yards and 161.0 yards per game. He rushed for 21 touchdowns and had more games with three touchdowns (3) than with none (2). He was named a unanimous All-American and Big 12 Player of the Year.
Then 2020 happened. While Hubbard made noise off the field, he really struggled on it. His production dropped to 89.3 yards per game and 4.7 yards per carry. Hubbard battled an ankle injury all season and just never looked like his 2019 self. He had just six and eight carries in his last two games before shutting it down and opting out for the final four games of the year.
Hubbard's game can be described in three words: speed, speed, speed. He has legitimate world-class track speed. Hubbard's a three-time 100-meter national champion in Canada and finished fourth in the 100-meter sprint at the IAAF World Youth Championships in 2015. He is shifty, elusive and has great balance as he dances around tacklers.
At 6-foot and 210 pounds, Hubbard has good size, although he doesn't use it to his advantage much. He won't run defenders over in the NFL and doesn't always fall forward when tackled. He is a below-average route runner but did a decent job in the screen game. He struggled in pass protection, so he might be limited on third downs.
After likely being a second-round pick last season, he is now projected to go in the fourth or fifth round, which makes him very underrated and potentially a great value pick. He might not project as a full workhorse No. 1 but could be very successful in a committee or as a speedy No. 2 option.
Player Comparisons: Raheem Mostert, Devontae Booker
Khalil Herbert, Virginia Tech
NFL.com Projection: Round 5
After spending the first four years of his college career at Kansas, Khalil Herbert transferred to Virginia Tech in 2020 and saw his production explode. After averaging 49.57 yards per game in his four years as a Jayhawk, Herbert had a breakout season as a Hokie, averaging 118.2 yards per game, and 7.68 yards per carry.
Herbert is flying under the radar in this draft class, just as he has his entire career. He was ranked just a three-star recruit out of high school, and Kansas was the only Power Five scholarship offer he received.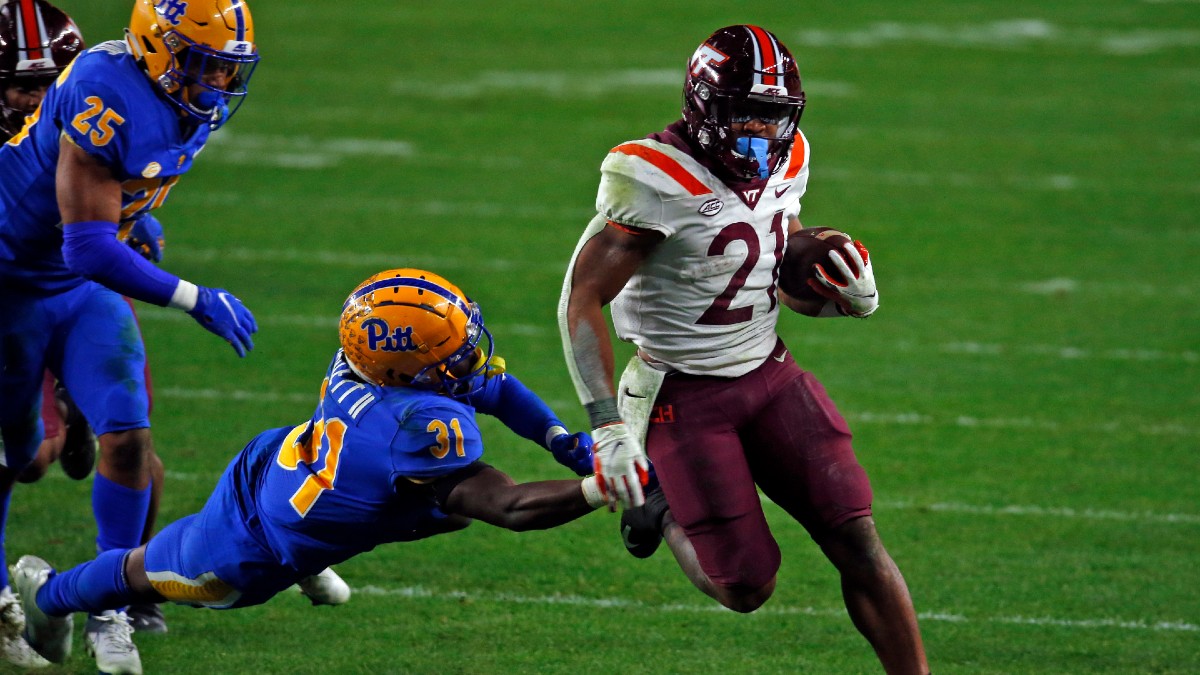 At 5-foot-8 and 210 pounds, he has been considered undersized, but he uses his frame to his advantage. He runs very low to the ground, and while he doesn't necessarily run over guys, he can break tackles because has excellent balance and the ability to bounce off defenders. He led the country last season with 4.7 yards after contact per carry.
Herbert has high-end speed and home-run ability. His 10 career 50+ yard runs in college are the second most in this draft class, one behind Etienne.
Herbert was never really used in the passing game as a receiver and will be 23 years old as a rookie running back, but he has excellent vision, speed and the ability to change direction quickly, as well as intangibles (he earned Virginia Tech Williams-Moss Award for highest quality of leadership and character). Those skills will make him a valuable third-day selection with high upside.
Player Comparisons: DeAngelo Williams, Bilal Powell
Jaret Patterson, Buffalo
NFL.com Projection: Round 5-6
If you don't watch college football, you probably assume Harris or Etienne was the most productive running back last season. Nope. That would be Buffalo's Jaret Patterson.
Patterson led the nation with an incredible 178.67 yards per game, the highest mark since 2016. Patterson tore up the MAC, which again, if you don't watch college football, you probably didn't know the MAC is the best conference in the country. OK, maybe not the best but certainly the most fun (#MACtion!). Well, Patterson is the most fun player to watch in this draft class.
Patterson rushed for 19 touchdowns in just six games last season. He averaged 7.6 yards per carry and scored in every single game he played. Patterson had a two-game stretch in November in which he totaled 710 yards (301 and 409) and 12 touchdowns  — in two games.
Last year was not a one-year fluke, either. It was Patterson's third straight year totaling over 1,000 yards and at least 14 touchdowns. He finished his three-year career at Buffalo with 53 touchdowns in 32 games.
The knock on Patterson is going to be his height, as he stands just a little over 5-foot-6. He also hasn't been used as a pass-catcher at all and had just 20 receptions in college. He might be short, but he is stocky and powerful and runs downhill like a bowling ball.
No player in the country had more yards after contact over the last two seasons than Patterson. He uses his low center of gravity to break tackles, and is never shy of contact, preferring to run right over cornerbacks. He is able to hide behind the offensive line and use his speed to burst through the hole and use his elusiveness to break big runs.
Patterson has been overlooked his entire career, but he has an incredible work ethic and was one of the most productive players in college football. He will be an absolute steal on Day 3.
Player Comparisons: Maurice Jones-Drew, Dion Lewis
How would you rate this article?
This site contains commercial content. We may be compensated for the links provided on this page. The content on this page is for informational purposes only. Action Network makes no representation or warranty as to the accuracy of the information given or the outcome of any game or event.