2021 NFL Win Totals Betting Guide: Over/Under Projections For Every Team (Plus 10 Picks)
Credit:
Getty Images. Pictured: Dak Prescott, Tom Brady, Justin Herbert
Looking for action on 2021 NFL win totals? Our Director of Predictive Analytics, Sean Koerner, runs through all 32.
Find his projected wins for every team, his regular-season expectations for each, and his 10 favorite over/under picks.
The 2021 NFL season is almost here (!) — and to help you find the best futures values on the board, I've compiled this comprehensive guide to betting all 32 win totals.
You'll find my projected wins, analysis and verdict on whether (and how) to bet each team's over/under. As of writing on Monday, there are 10 bets that are still offering value, and seven "leans" for you to evaluate based on your risk tolerance.
I've also included a downloadable NFL Win Total Calculator that you can plug whichever lines are available to you as of reading and it'll calculate the edge based on my win projections.
Now let's dive right in!
---
2021 NFL Win Totals
---
» Download Sean Koerner's NFL Win Total Calculator Here «
---
NAVIGATION
AFC: East | North | South | West
NFC: East | North | South | West
---
AFC EAST
Buffalo Bills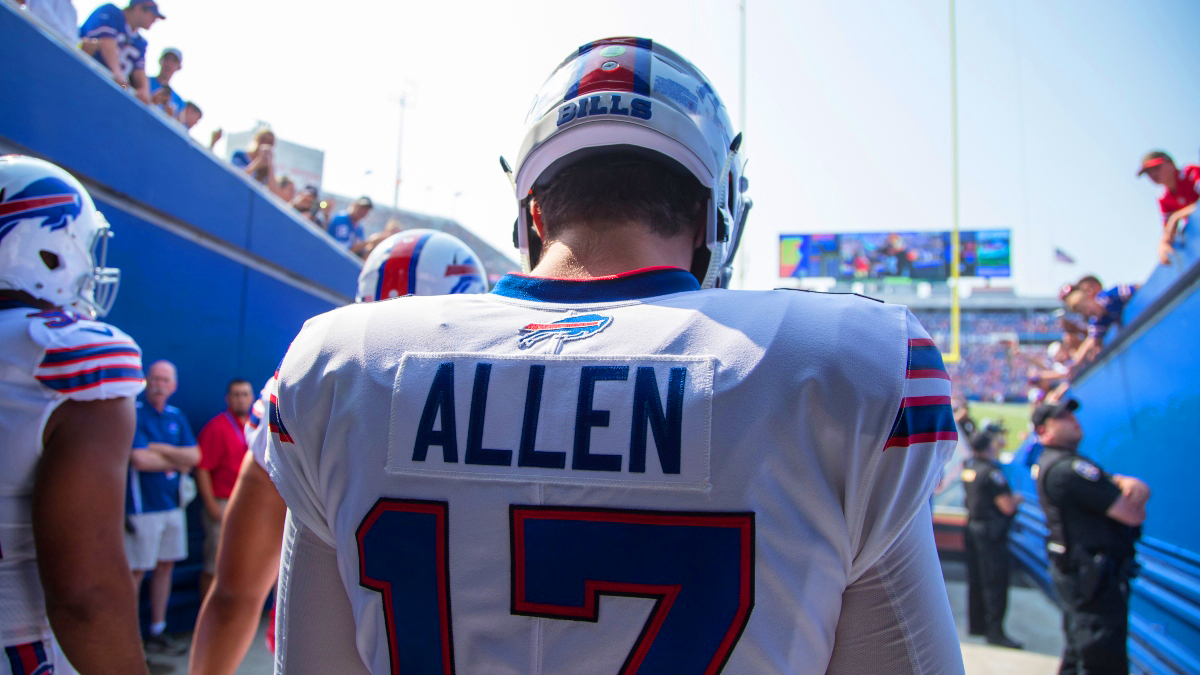 Josh Allen is coming off a breakout season in which he finished as runner-up for the 2020 MVP award.
Offensive coordinator Brian Daboll deserves a ton of credit for Allen's Year 3 breakout. Not only did he turn the Bills into a pass-heavy offense (second-highest early-pass down frequency), but he also dialed up more play-action dropbacks for Allen (led the league with 217). Daboll created an offensive scheme that was able to unlock the young QB's massive potential.
Neither Daboll nor defensive coordinator Leslie Frazier was plucked away from another organization to become a head coach, meaning both will return to Buffalo for the 2021 season. That is a big reason why I lean on the Over 11 wins for the Bills. They maintain the continuity of being one of the best-coached teams in the league.
Their Pythagorean expected win total of 10.6 makes their 13-3 record last season seem a bit lucky. However, I like to also look at Game Time (Leading) that Football Outsiders tracks. Last season the Bills led for 38:02 of game time on average, translating to roughly 13.1 wins based on my expected wins metric. It's likely the Bills played softer defense with the lead — which hurt their point differential — but were every bit as dominant as their 13-3 record would indicate.
Verdict: Lean Over 11.5 (+120) at BetMGM
---
New England Patriots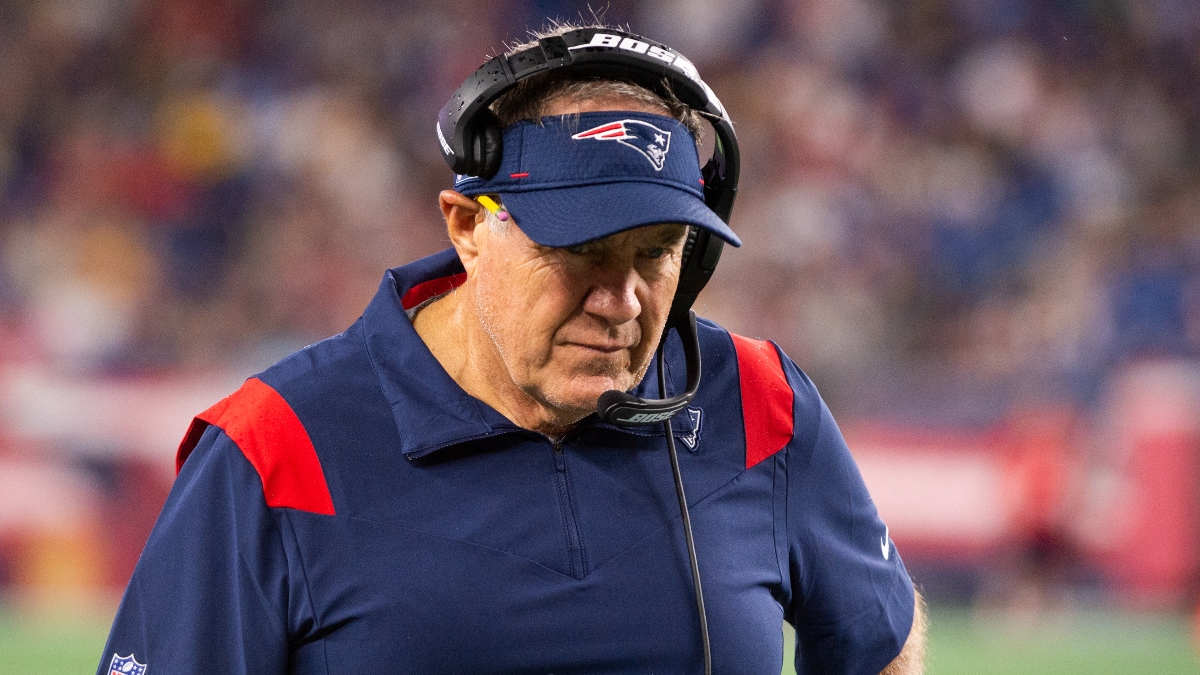 The Patriots did not enjoy the first season of the post-Tom Brady era.
They finished with a 7-9 record, failed to make the playoffs for the first time in more than a decade, and Brady won a Super Bowl with the Buccaneers 一 in Tampa Bay's home stadium no less. Therefore it wasn't surprising to see Bill Belichick go on a $170 million spending spree in free agency and use the Patriots' first-round pick on Mac Jones.
They did overpay a handful of players in free agency: Nelson Agholor, Hunter Henry and Jonnu Smith are all quality additions, but not enough to make this a 10+ win team. As a result, I'm projecting New England to finish under 9.5 wins.
Verdict: Bet Under 9.5 (-115) at BetMGM
---
Miami Dolphins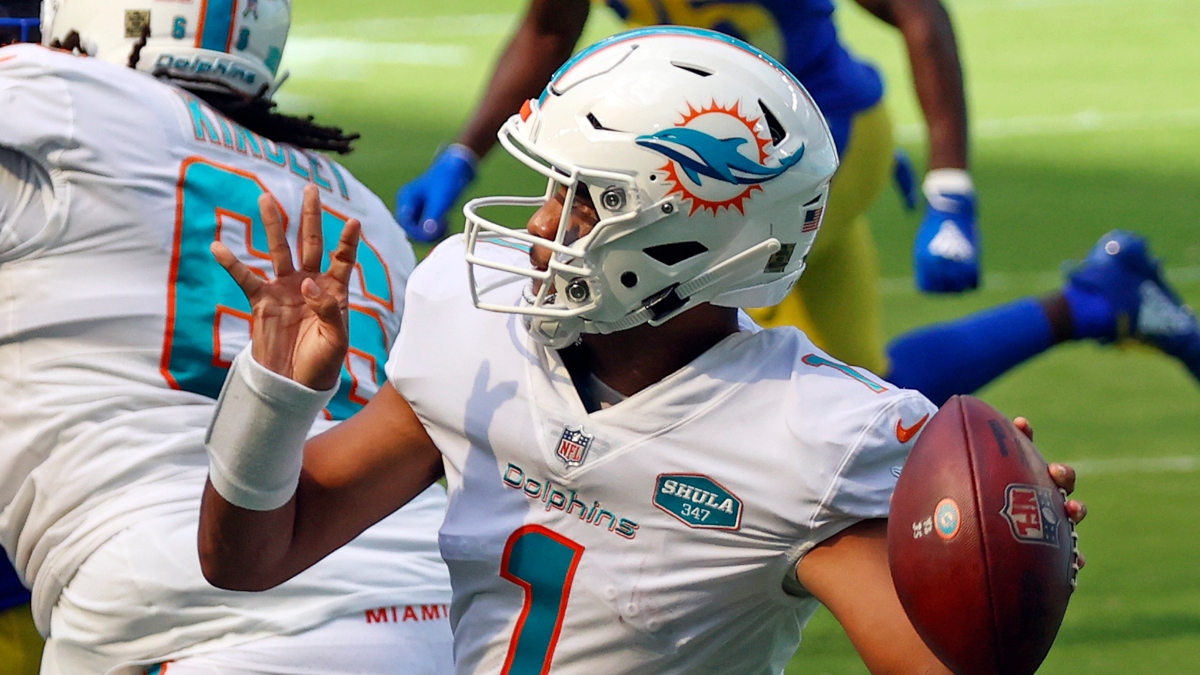 Tua Tagovailoa's rookie season was a disappointment almost any way you slice it.
Here is where he ranked in a few key metrics I like to look at for QBs (out of 43 qualified passers):
ANY/A: 5.4 (32nd)
QB Rating: 87.1 (29th)
EPA/play: (31st)
He was a below-average quarterback as a rookie, but he was above average when comparing him to other rookie seasons. Since 2010, there have been 42 rookie QBs to attempt 200+ passes; here is how Tagovailoa stacked up against his peers:
ANY/A: 5.4 (18th)
QB Rating: 87.1 (13th)
Considering Tagovailoa was coming off a significant hip injury and entered the  NFL with a COVID-deleted offseason, I'm willing to cut him some slack. I also expect him to make considerable progress this season, especially with Will Fuller and Jaylen Waddle added to the mix.
Miami's offensive line is a huge question mark considering it will have three second-year players in the starting lineup, which could prevent the Dolphins from posting 10 or more wins. But their above-average defense will keep them above .500 and they'll finish 9-8.
Verdict: Lean Under 9.5 (-145) at DraftKings
---
New York Jets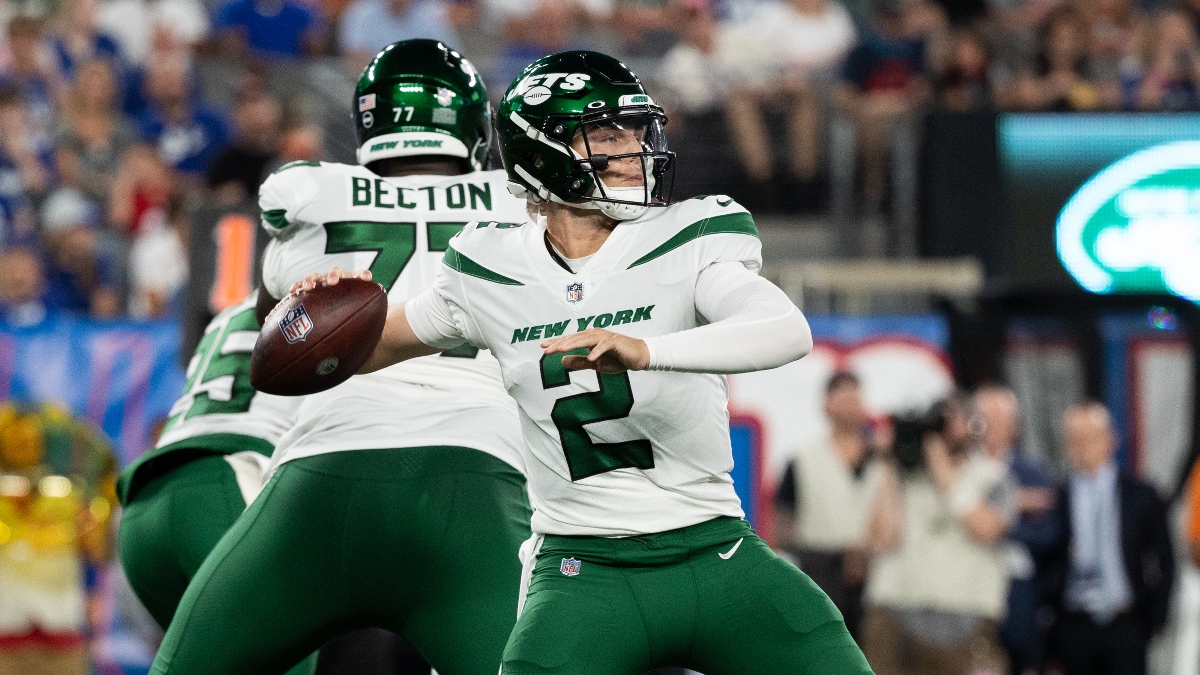 The needle is pointing up for the Jets organization long term.
Adam Gase is out and Robert Saleh is in. The coaching change will have an immediate positive impact on the team's culture and decision making, but this team is still a year or two away from ending its decade-long playoff drought. Zach Wilson comes into Year 1 oozing with talent but was a late bloomer in college and may need a year or two to adjust to the NFL.
After ranking 28th in Football Outsiders' DVOA against the pass last season, the Jets' secondary remains a huge concern. It's the main reason I'm in line with sportsbooks and have the Jets with the third-lowest win total (6.2).
The Jets will be a team to look out for in 2022 as they will have the third-most cap space entering next offseason, which should allow them to finish their rebuild as Wilson plays out his rookie contract. Therefore, I expect them to be a serious playoff contender as soon as next season.
Verdict: Pass
---
» Return to the table of contents «
---
AFC NORTH
Baltimore Ravens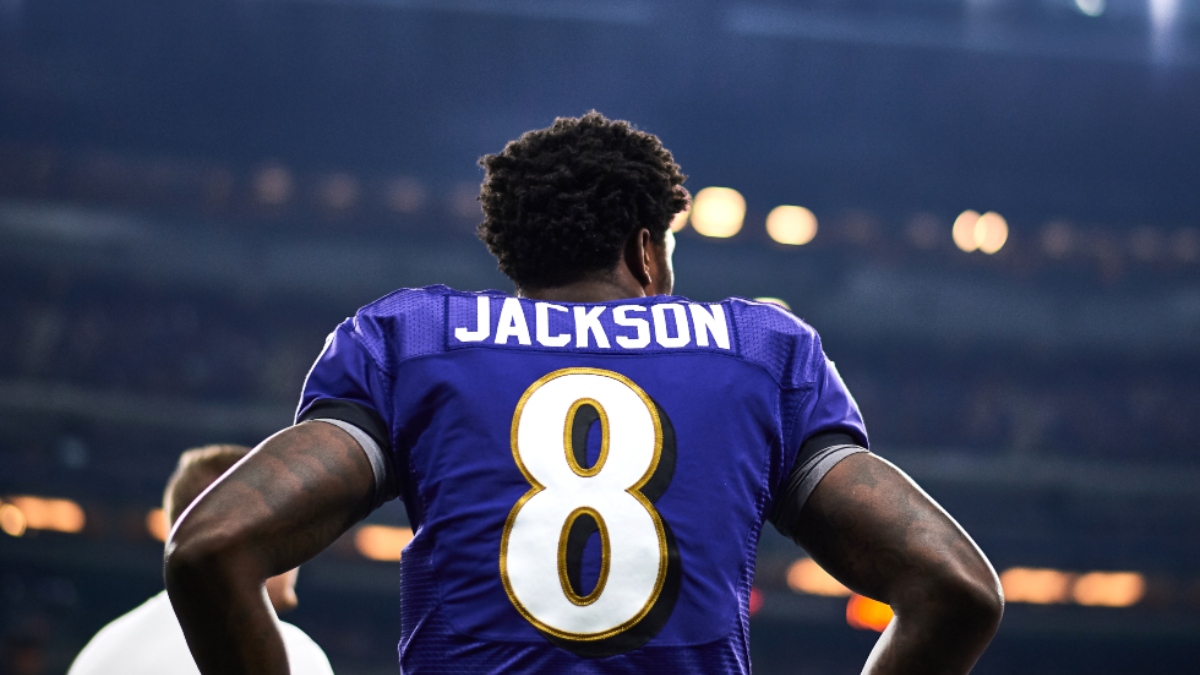 There are a few reasons to be bullish on the Ravens.
Despite winning "only" 11 games, they played closer to a 12.7-win team.
Their defense is loaded up front and in the secondary. Their offense should be better.
The additions of free-agent acquisition Sammy Watkins and first-round rookie wide receiver Rashod Bateman should help Lamar Jackson bounce back from a disappointing season.
My only concern is the tougher schedule. The Ravens go from the third-easiest schedule in 2020 to the 11th-hardest in 2021, so they could have more trailing game scripts, which is bad news since Jackson plays better with a lead.
My projection is in line with this 11-win total, so this is pass for me.
Verdict: Pass
---
Cleveland Browns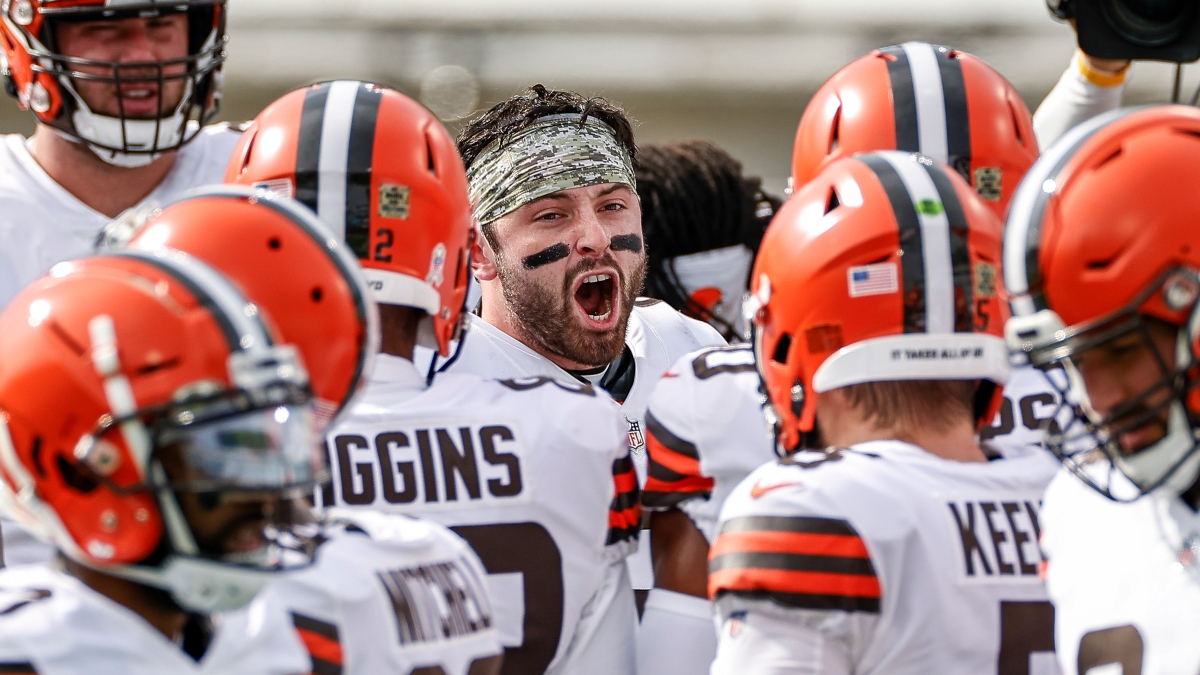 It's hard to not like the Browns. And after making significant upgrades to the defense in free agency and the draft, they should be one of the most complete teams in the NFL.
The one potential concern is the role luck played in them winning 11 games — they had a -11 point differential and a 7-2 record in one-score games, so they should have finished closer to a 9.9-win team. But head coach Kevin Stefanski is an analytical in-game manager, so I wouldn't expect them to regress too much.
I like Cleveland a lot, but given the strength of this division and my 10.2-win projection, I lean toward the under.
Verdict: Lean Under 10.5 (-110) at BetMGM
---
Pittsburgh Steelers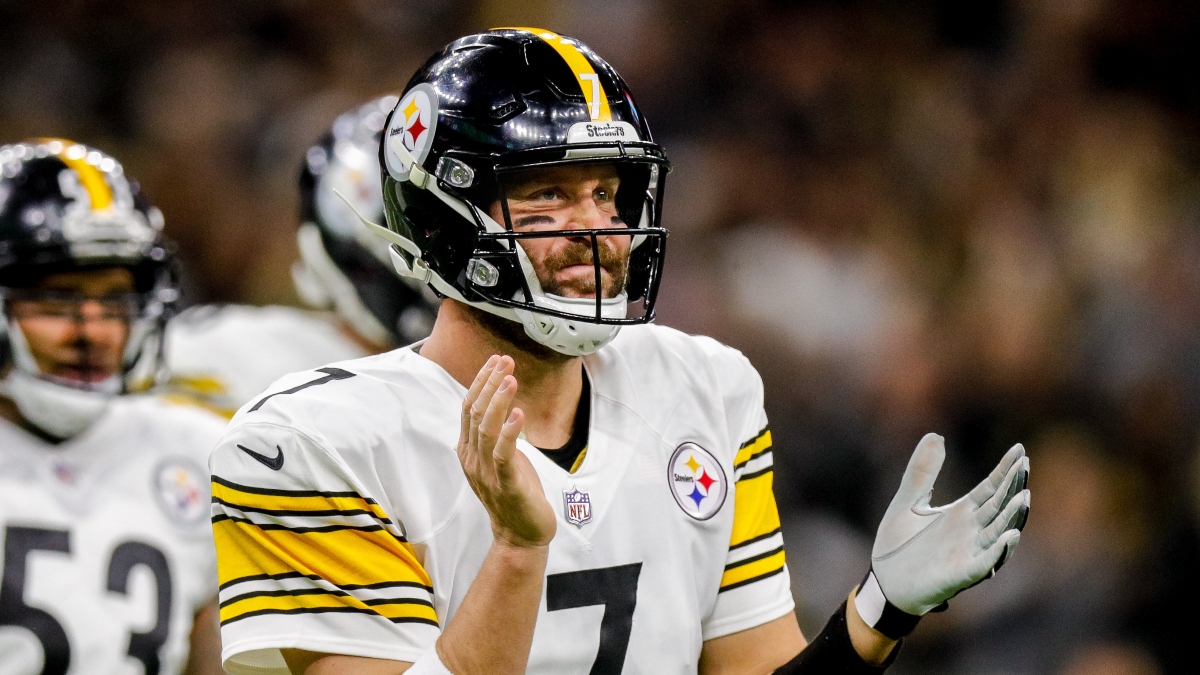 There are plenty of reasons to be bearish on the Steelers:
They were a 12-win team that played more like a 9.6-win team.
They went 7-2 in one-score games.
They had the fifth-best injury luck.
They go from the second-easiest schedule to the second-hardest schedule.
The offensive line could also be an issue, though that might not have a notable impact on Ben Roethlisberger, who got rid of the ball at the fastest rate in the NFL — it just might prevent the offense from being balanced.
Overall, this is still a solid roster. Head coach Mike Tomlin and their defense give them a high floor, but 8.5 is a good line, so this is a pass for me.
Verdict: Pass
---
Cincinnati Bengals
The Bengals played closer to a 7.3-win team than the 4-win team they were in 2020, and that was without Joe Burrow for the final six games. That was largely due to their 1-5 record in one-score games, so they should see some positive regression there. But the offensive line and defense could be shaky — and this is not the division to have a shaky O-line in.
I lean toward the over 6.5 wins, but ultimately, this is a pass for me.
Verdict: Pass
---
» Return to the table of contents «
---
AFC SOUTH
Indianapolis Colts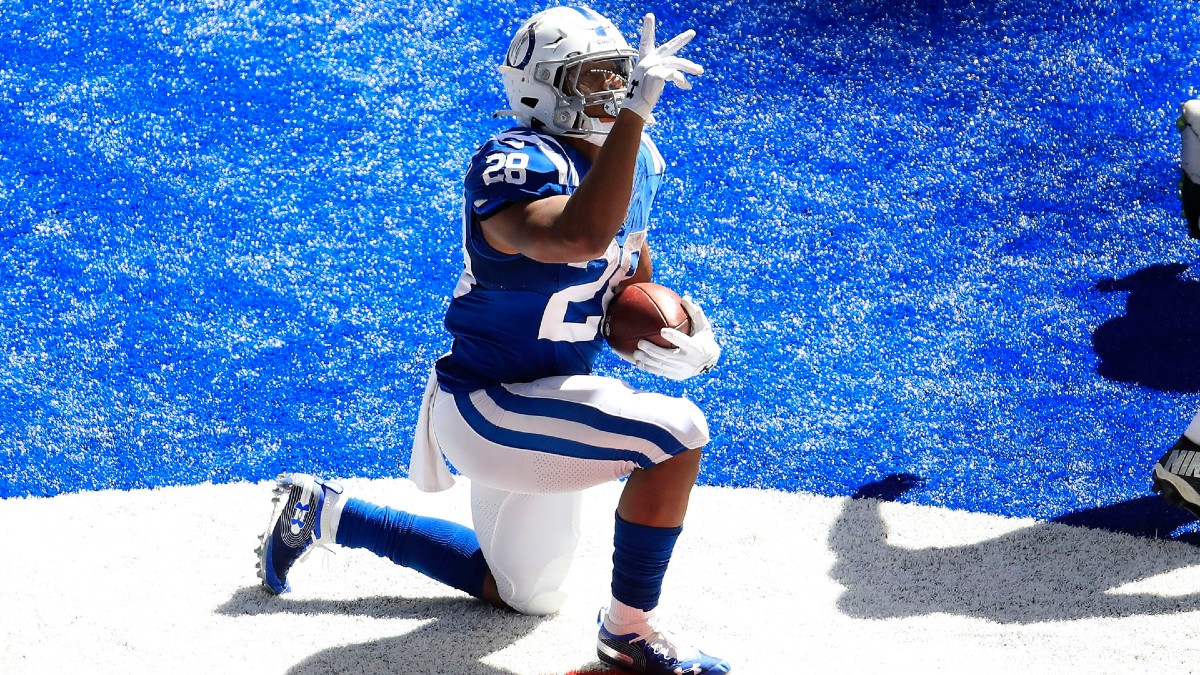 The Colts' win total fell from 9.5 to 8.5 after news broke about Carson Wentz's foot injury, but is back up to 9 with him expected to return earlier than later. Still, how soon he returns is what this bet comes down to, and while I liked the over at 8.5 wins, this is now a pass for me at 9.
Verdict: Pass
---
Tennesse Titans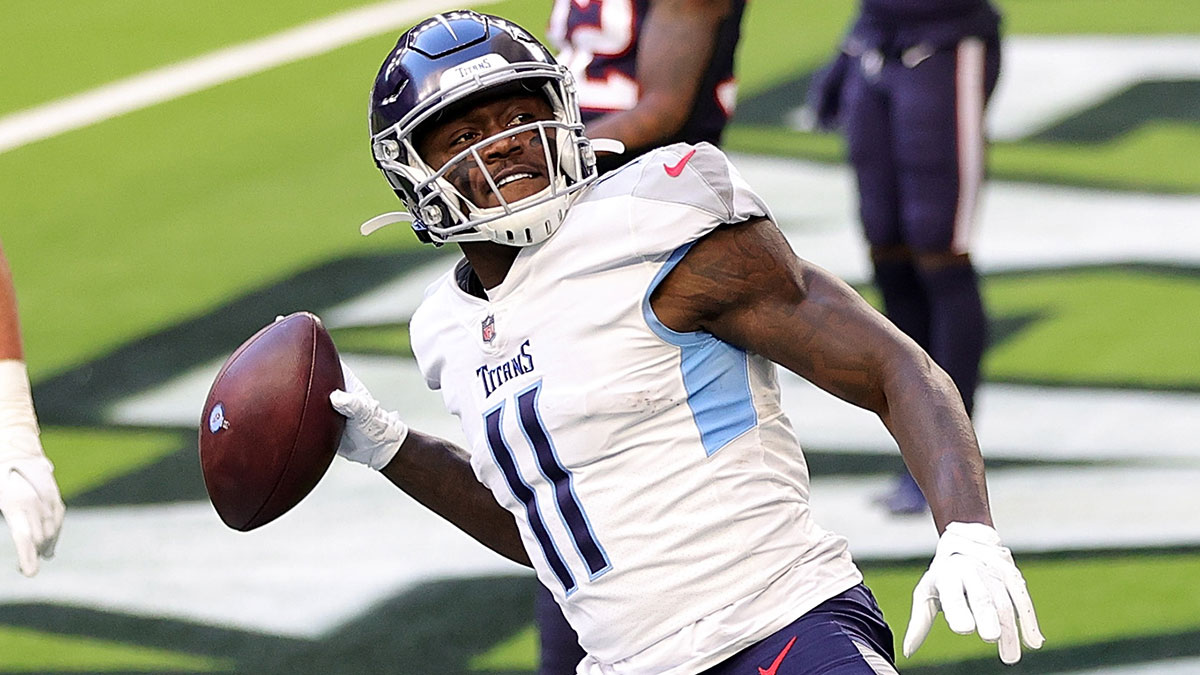 The Titans should've won closer to 8.9 games, not the 11 they did, making their 2020 season a bit lucky.
They added Julio Jones this offseason but lost Corey Davis, Jonnu Smith and offensive coordinator Arthur Smith. Still, the offense should be good if Ryan Tannehill, Derrick Henry, Brown and Jones can all stay healthy.
The defense is still their biggest weakness, but should improve from their 30th-place finish in Football Outsiders' DVOA. The Titans added former Steeler Bud Dupree to provide a much needed boost to their pass rush, and they took a gamble on first-round rookie cornerback Caleb Farley that could pay off if he's able to play Week 1.
All that said, I'm in line with the market at 9-9.5 wins, so this is a pass for me.
Verdict: Pass
---
Jacksonville Jaguars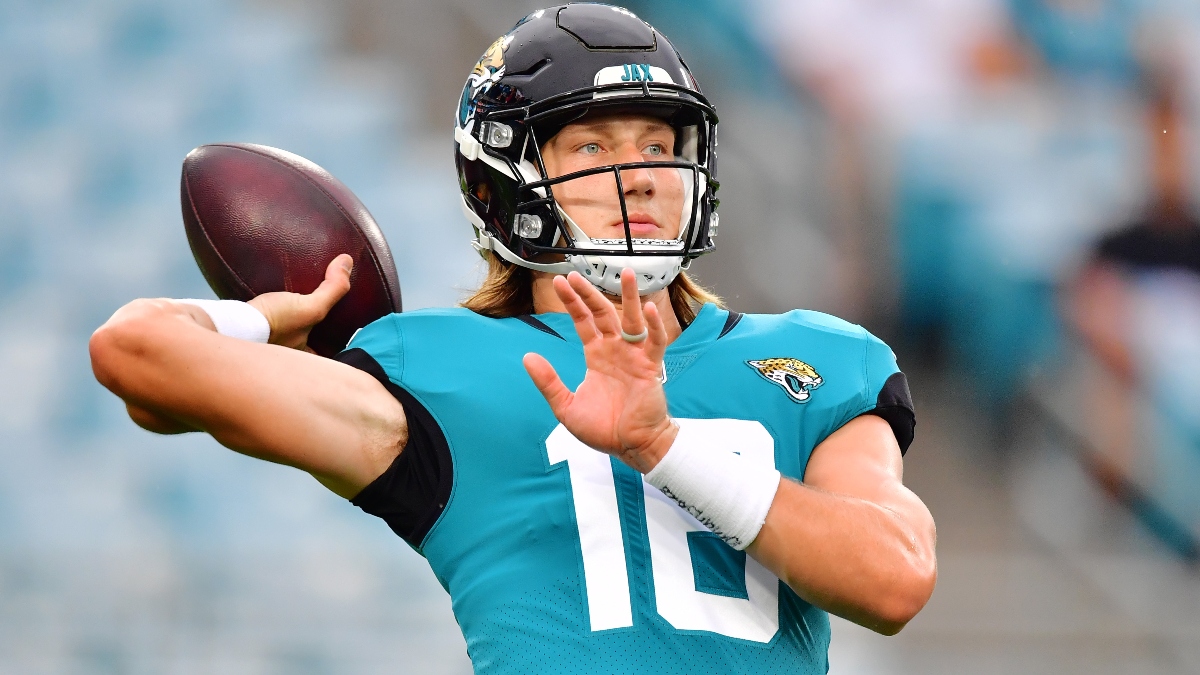 The Jaguars were unlucky last season, going 1-5 in one-score games, but that also helped them land first overall pick Trevor Lawrence, who should be ready out of the gate.
While this is a very young team and Urban Meyer will have to adjust to the NFL, the Jags do have the second-easiest schedule, so this could go either way, making their win total a pass for me.
Verdict: Pass
---
Houston Texans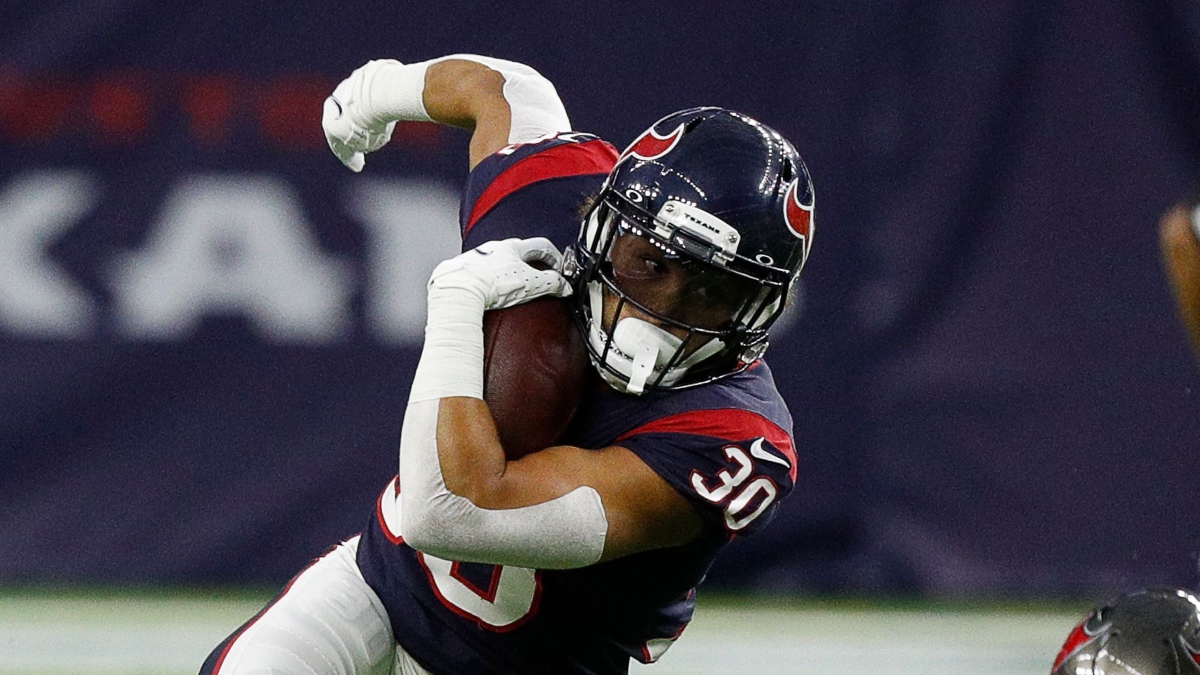 The Texans won only four games last season with Deshaun Watson. How are they going to win more than four without him?
It's hard to find even one thing to be optimistic about when it comes to the Texans this season.
They had the seventh-best injury luck last year and now face a tougher schedule. They're also entering the post-J.J. Watt era and should struggle on both sides of the ball.
Their sights should be set on the first overall pick of the 2022 NFL Draft, so I like under 4 wins (+100) at FanDuel.
Verdict: Bet Under 4 (+100) at FanDuel
---
» Return to the table of contents «
---
AFC WEST
Kansas City Chiefs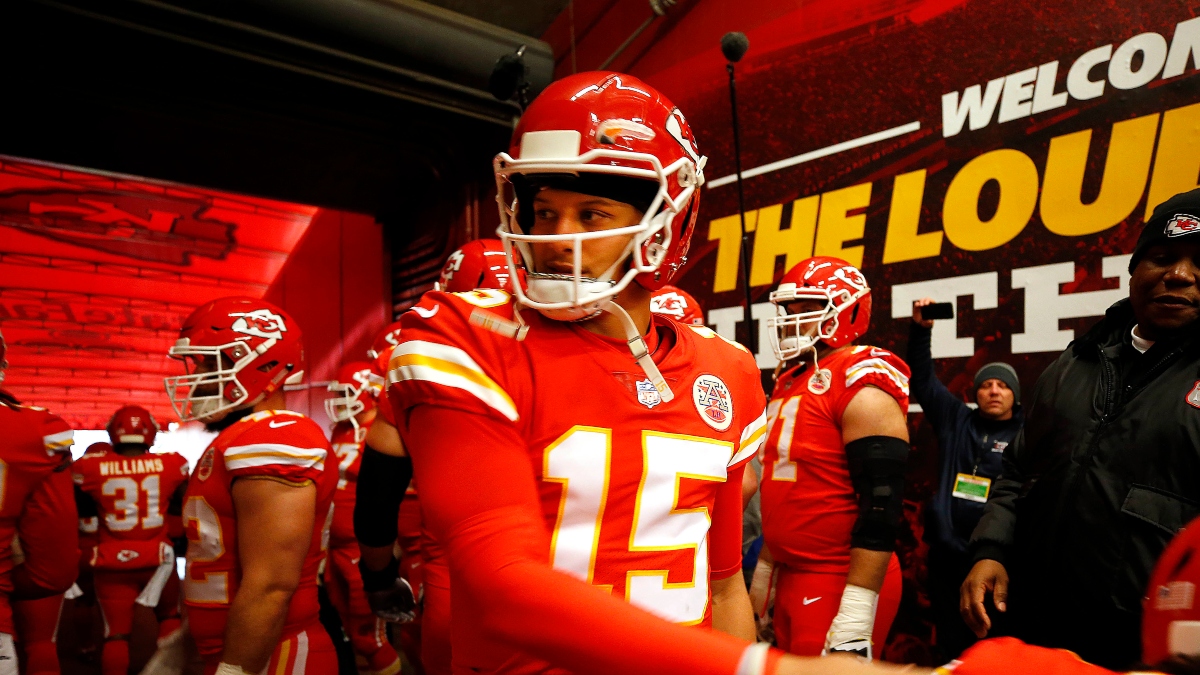 The Chiefs are the No. 1 team in my power ratings, but I lean toward the under on their win total (though I'm not going to bet it).
They went 7-1 over their final eight games despite not playing dominant football — they were the first team in NFL history to win six straight games by six or fewer points. They also went 8-1 in one-score games last season.
That said, the offensive line should be much better and Patrick Mahomes should be motivated after the humiliating Super Bowl loss, making this is a pass for me.
Verdict: Pass
---
Los Angeles Chargers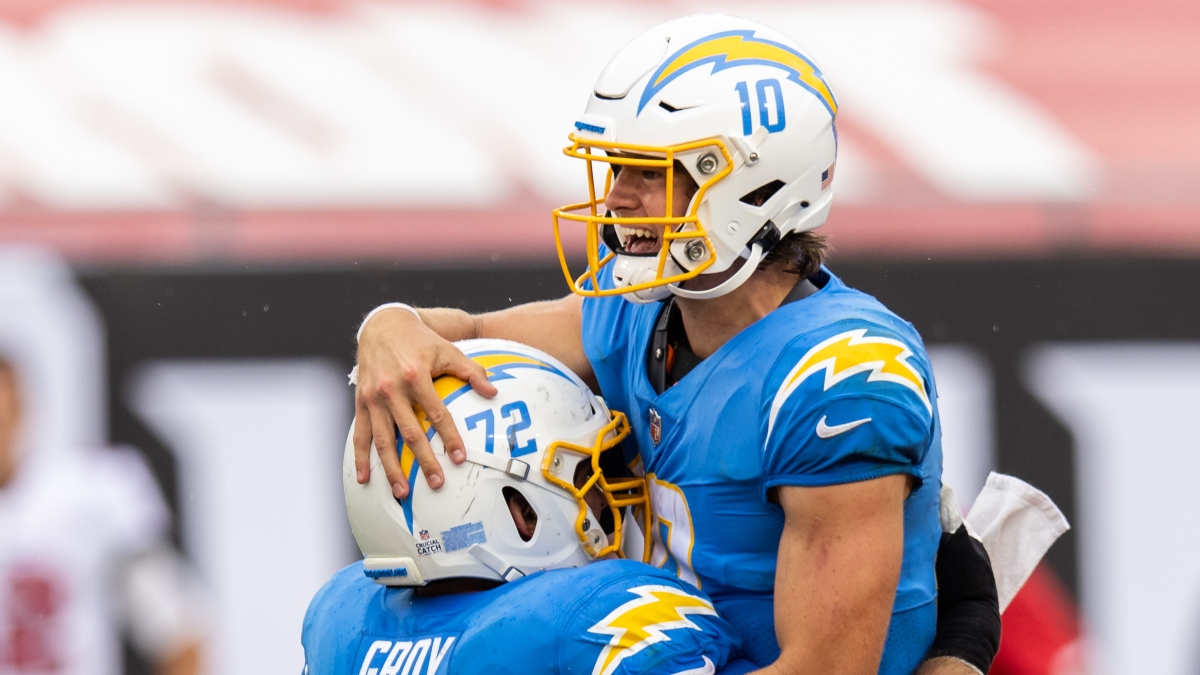 I can't tell you how many bets I've lost on the Chargers over the past few seasons because of bad coaching. Well, they upgraded from Anthony Lynn to Brandon Staley, who should improve the defense and in-game decision making.
The Chargers also improved their offensive line, adding center Corey Linsley and left guard Matt Feiler before drafting left tackle Rashawn Slater with the 13th overall pick. These additions should help Justin Herbert grow in Year 2.
And finally, the Chargers are due for some positive regression: They went 7-9 in 2020 but played like an 8.5-win team, which I believe we can chalk up to in-game decision making (which Staley should be better at). They also had the sixth-worst injury luck and finished 32nd in special teams DVOA, both of which should improve.
I bet this over when it was at 9 (-110), but I still like it at 9.5 (+110).
Verdict: Bet Over 9.5 (+110) at FanDuel
---
Las Vegas Raiders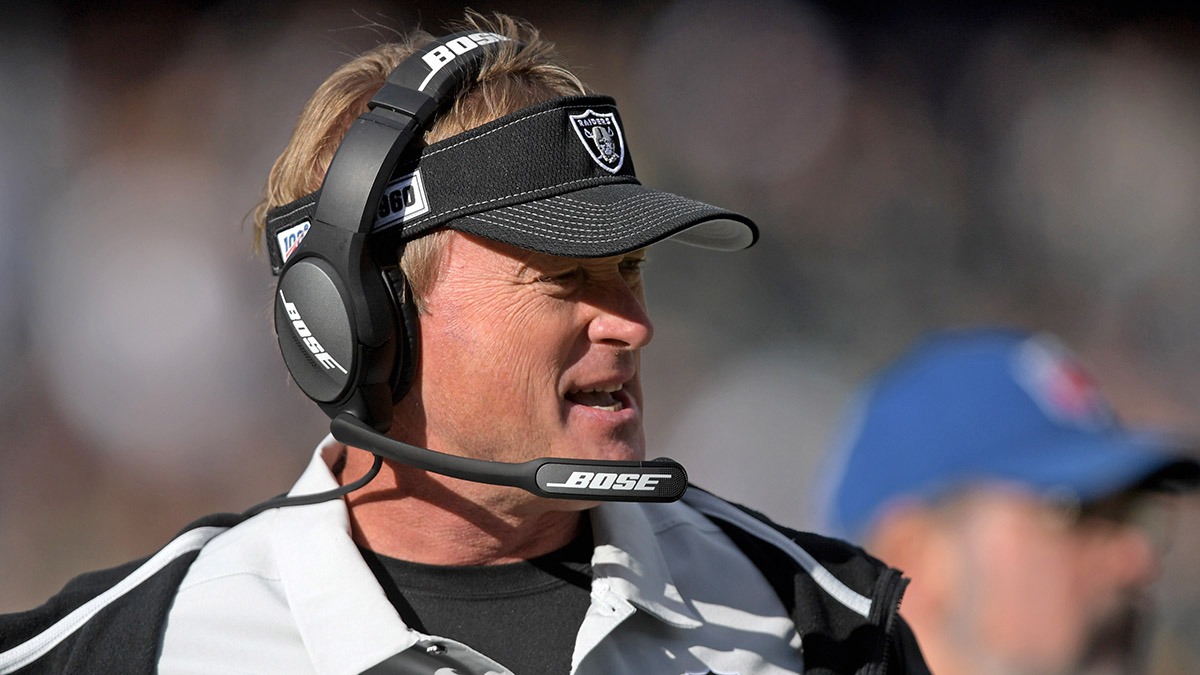 This line should be closer to 6.5 wins.
The Raiders took a wrecking ball to their offensive line, then confusingly overpaid Kenyan Drake to split time with Josh Jacobs. They also lost Nelson Agholor to free agency, and I'm not so sure that Henry Ruggs or Bryan Edwards are ready to step up in Year 2, leaving tight end Darren Waller to continue as the heart of this offense.
The defense should be better, but even with their offseason additions — including new coordinator Gus Bradley as well as free-agency acquisitions DE Yannick Ngakoue and CB Casey Hayward — the improvements might not be enough to overcome the hardest schedule.
Verdict: Bet Under 7 (+100) at DraftKings
---
Denver Broncos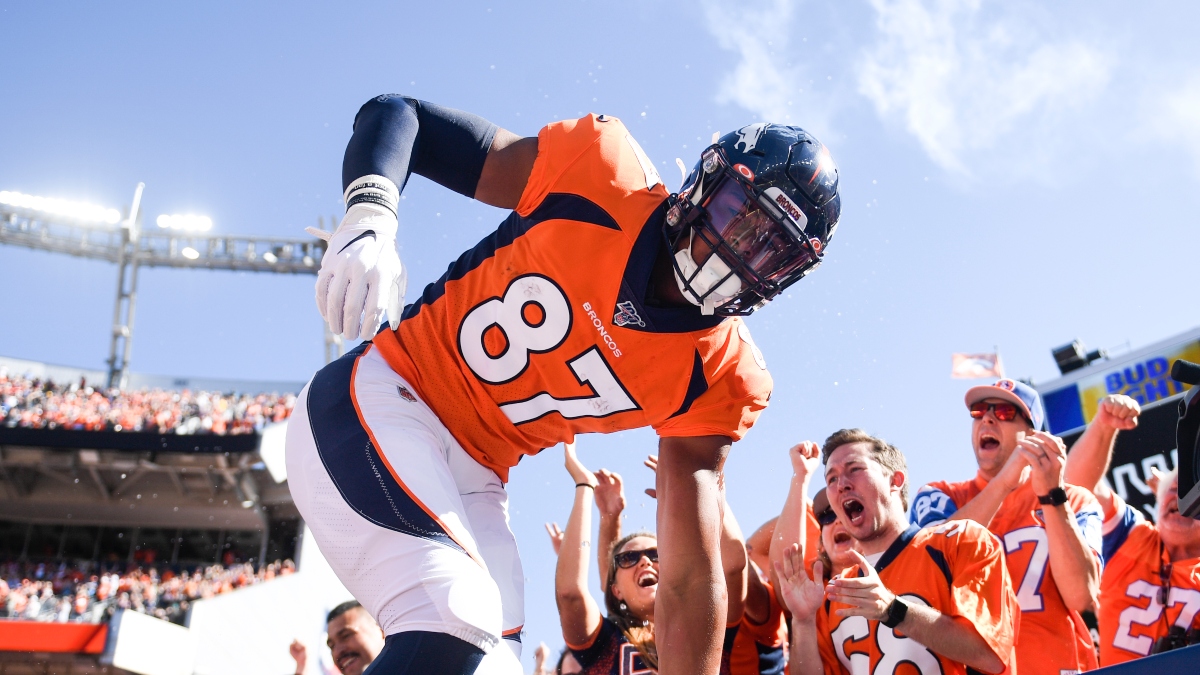 There are a couple reasons for optimism around the Broncos' season:
They had the seventh-worst injury luck in 2020 but now welcome back Von Miller.
They're going from the fifth-most difficult schedule last year to the ninth-easiest this year.
The defense should also be solid.
But while Teddy Bridgewater gives them a solid floor, you have to wonder why they opted to draft cornerback Patrick Surtain II at ninth overall instead of Justin Fields.
I don't think Denver has a high enough ceiling to take over 8.5 wins.
Verdict: Pass
---
» Return to the table of contents «
---
NFC EAST
Dallas Cowboys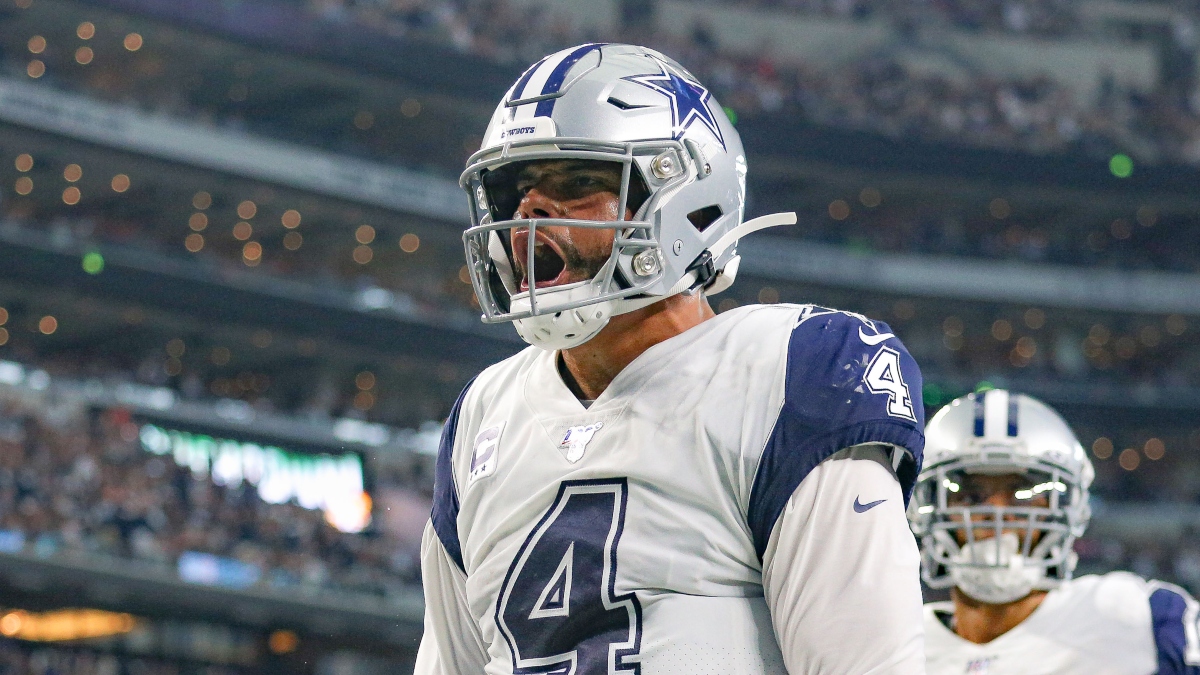 The Cowboys had the fifth-worst injury luck in 2020, with Dak Prescott's season-ending ankle injury being the most important, though their offensive line was also plagued. But if Prescott and the O-line can stay healthy this season, we can expect this offense to be elite.
That makes the defense the biggest question mark in Dallas.
New defensive coordinator Dan Quinn is an upgrade from Mike Nolan, but not enough to make up for the weak secondary — especially since Quinn has employed single-high safety schemes in the past, which could put more pressure on Travon Diggs and their cornerbacks to hold their own in one-on-one matchups. It didn't help that the Cowboys missed out on rookie CBs Patrick Surtain II and Jaycee Horn in the 2021 NFL Draft, but their first-round pick — linebacker Micah Parsons — should be solid.
Parsons will need to hit the ground running, though, otherwise this defense could be bad.
There's a path for the Cowboys to win 10-plus games … if this defense plays league average. But with their defense a legitimate concern, I'm leaning toward the under.
Verdict: Lean Under 9.5 (-130) at BetMGM
---
Washington Football Team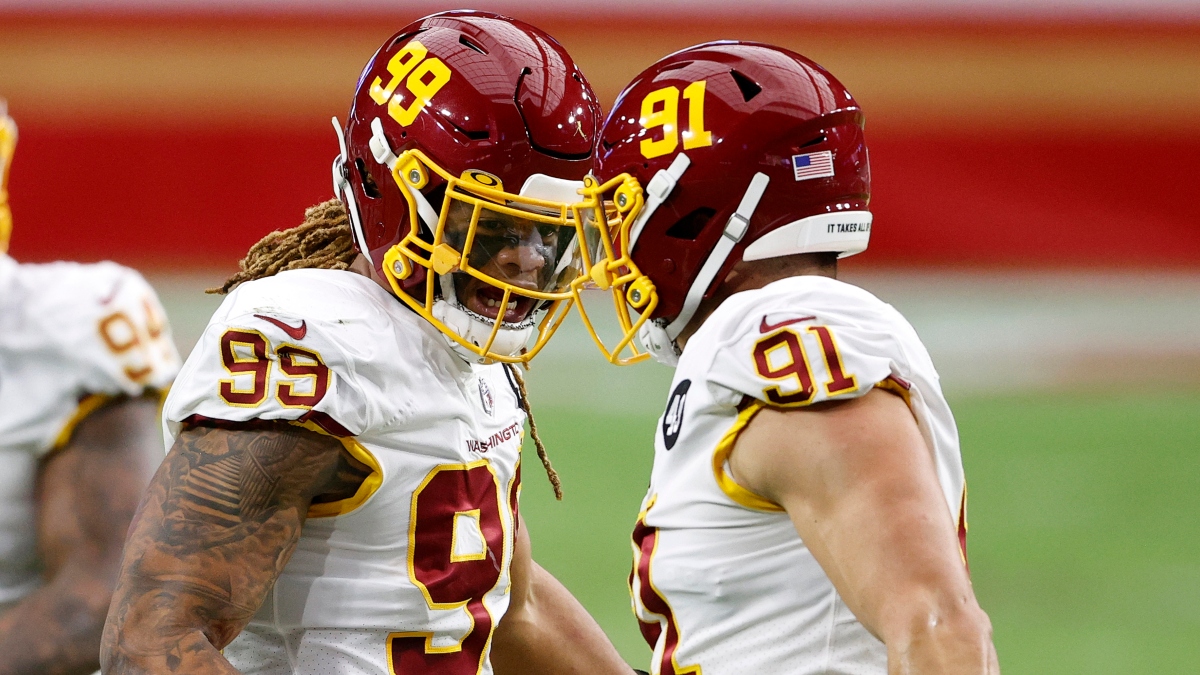 Any Ryan Fitzpatrick-led team is going to be volatile by nature.
It's possible that if Fitzpatrick struggles, Taylor Heinicke could step up like he did in the 2020 playoffs, but either quarterback is an upgrade over Dwayne Haskins and Alex Smith. And with a supporting cast featuring Terry McLaurin, Curtis Samuel, Logan Thomas and Antonio Gibson, this offense could be sneaky good.
The defense also provides this team a high floor — even in games that Fitz struggles in. They're loaded up front with Chase Young, Jonathan Allen and Montez Sweat, and should keep the team in games.
I bet the over when this total sat at 8 (-130) earlier in the offseason, but now that it's up to 8.5, the over is only a lean — and an outright pass for me at -130 juice or higher.
Verdict: Pass
---
New York Giants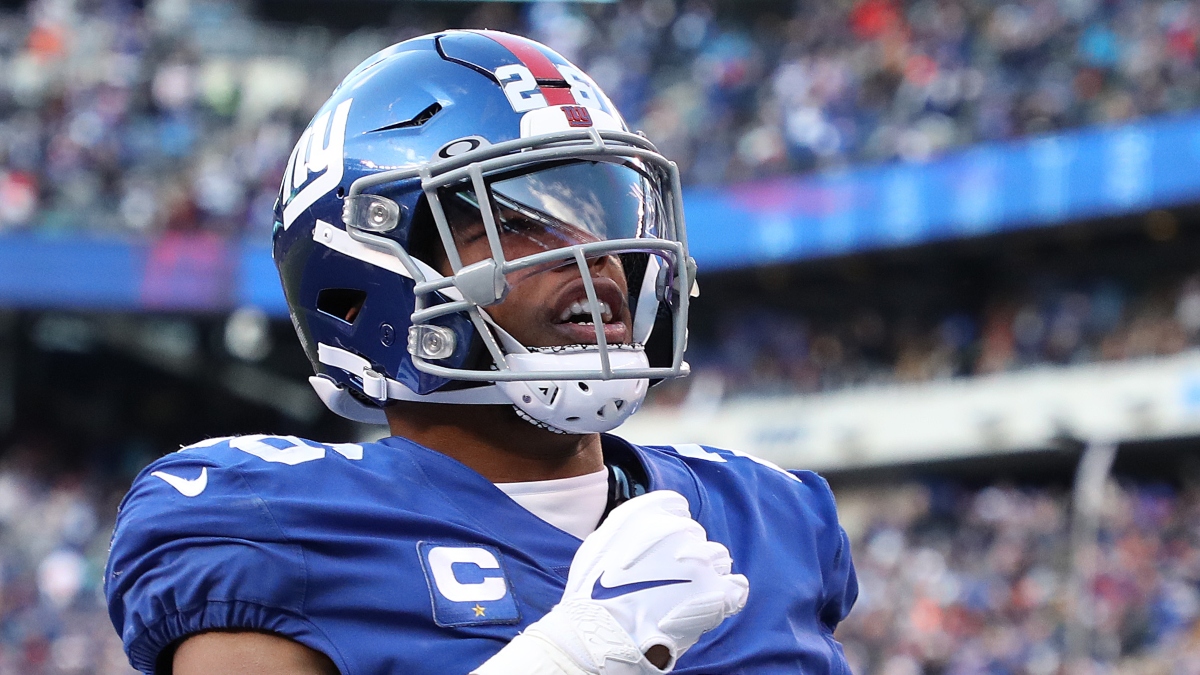 The Giants offense seems solid on paper: Saquon Barkley is set to return (at some point), free-agent acquisition Kenny Golladay gives them a true No. 1 wideout, and first-round rookie receiver Kadarius Toney could be a playmaker. But all three of them have missed significant time in camp — and their potential for slow starts isn't the only concern.
Daniel Jones has led the NFL in fumbles lost over the past two seasons and Jason Garrett has yet to prove he's the coordinator to maximize the potential of this offense, but the O-line is the biggest concern. And after finishing dead-last in Pass Block Win Rate last season, the Giants did nothing to address the O-line.
The defense should be above average, but because of the offense, this team has a high ceiling … if everything lines up for them. Otherwise, their floor is low, so this line seems about right.
Verdict: Lean Under 7.5 (-145) at BetMGM
---
Philadelphia Eagles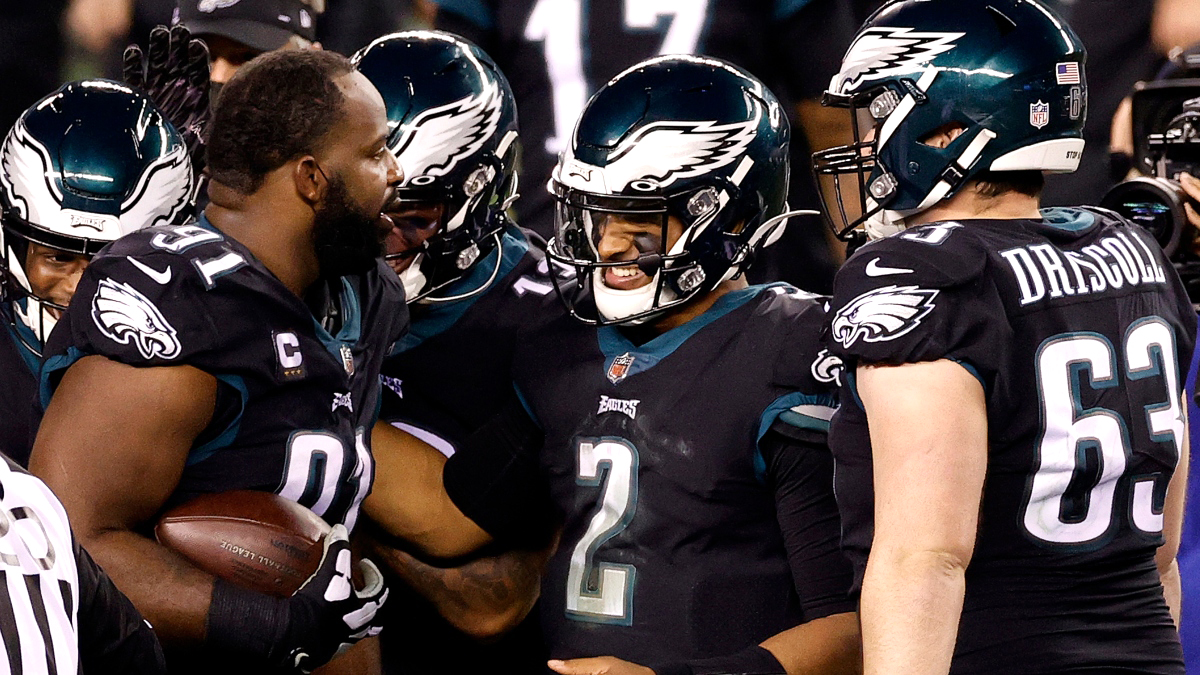 The Eagles have a wide range of outcomes.
Their defensive line is an obvious strength, and new coordinator Jonathan Gannon figures to employ more pre-snap disguise, diverse fronts and split-safety looks than his predecessor, Jim Schwartz. But the Eagles can't afford to test their depth at cornerback, so Darius Slay staying healthy will be critical to their success on that side of the ball.
Ultimately, though, whether the Eagles go over or under their 7.5-win total all comes down to Jalen Hurts.
If Hurts can make a big Year 2 leap, the Eagles could fly over the total. But there are plenty of scenarios in which this falls apart — like Joe Flacco replacing Hurts or injuries on the defense — and they finish in the basement of the NFC East. Because of that, their win total is a pass for me.
Verdict: Pass
---
» Return to the table of contents «
---
NFC NORTH
Green Bay Packers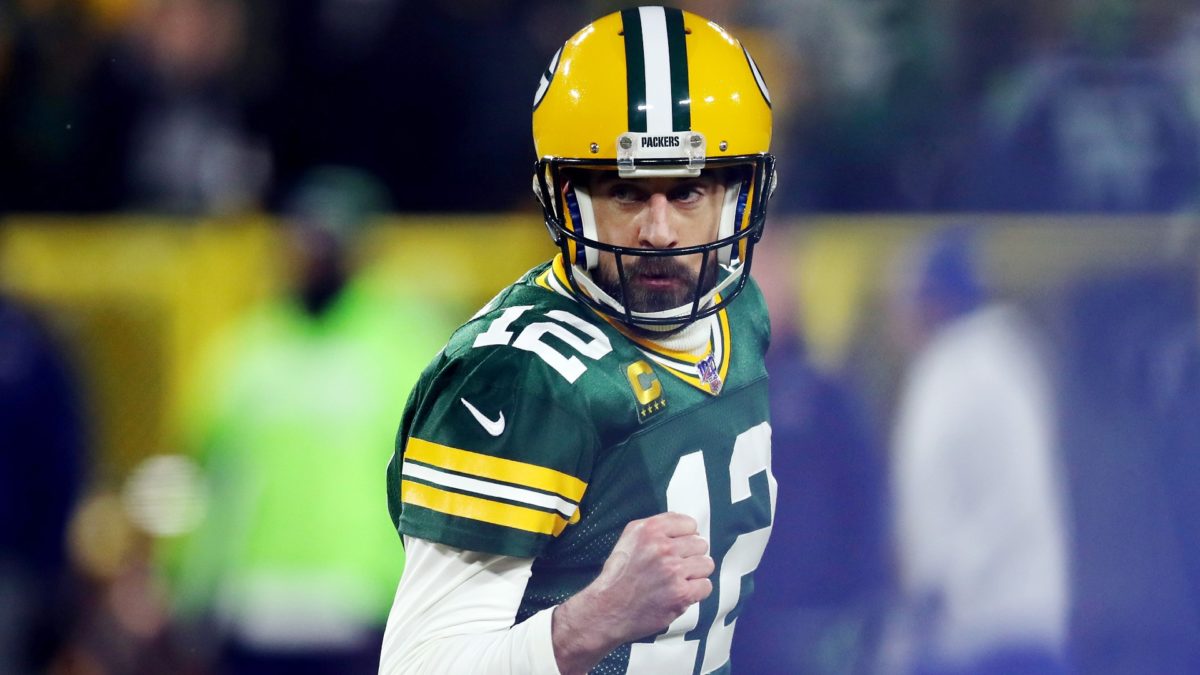 The Packers have elite players at all the key positions: Aaron Rodgers at QB, Davante Adams at WR, David Backtiari at LT and Jaire Alexander at CB.
Even if Rodgers sees his 9.1% touchdown rate regress, this offense will still be top of the league. The Packers have better depth at WR after adding Randall Cobb and Amari Rodgers, and Devin Funchess is back after opting out of the 2020 season. Then there's Aaron Jones and second-year RB A.J. Dillon, who could be a lightning and thunder combo at RB.
The offensive line could take a step back with the loss of center Corey Lindsley to the Chargers, and even if second-round rookie Josh Myers plays well, it'll likely be a downgrade. But even still, the Packers would only need their defense to be average in order to win 11 or more games.
Verdict: Bet Over 10.5 (+110) at BetMGM
---
Minnesota Vikings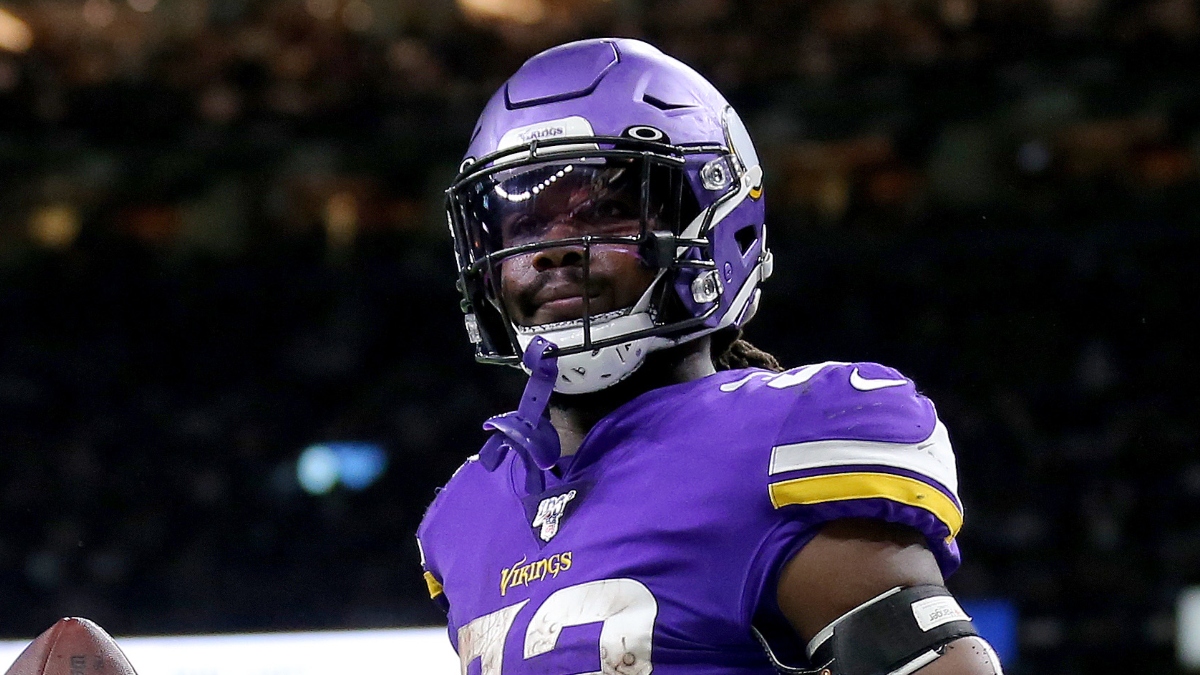 The defense uncharacteristically finished 30th in Football Outsiders' DVOA against the run, but the overall unit should bounce back this season.
The Vikings didn't benefit from a single snap from edge defender Danielle Hunter (season-ending injury) or defensive tackle Michael Pierce (COVID opt out), but both are back. They also added Dalvin Tomlinson and Sheldon Richardson, so Tomlinson and Pierce should specifically shore up their run defense. Minnesota also added Patrick Peterson.
Overall, head coach Mike Zimmer should get this unit back to above average
I'm projecting this team for 9 wins, and don't see value on a juiced over 8.5 wins, so this is a pass for me.
Verdict: Pass
---
Chicago Bears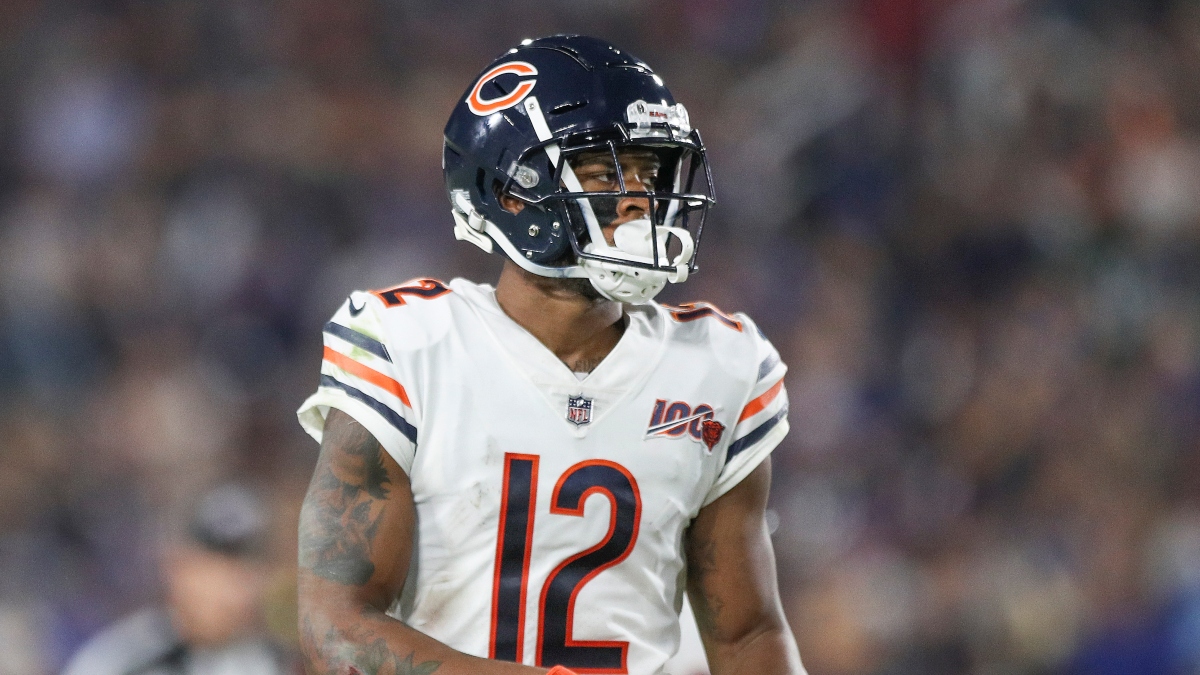 I lean over 7.5 wins for the Bears, but they do have a couple issues to consider:
The offensive line is brutal: Second-round rookie Teven Jenkins is expected to miss the season after undergoing back surgery.
Cornerback is a weakness: After releasing Kyle Fuller, this unit is the obvious sore spot of the defense.
That said, the defense should still be very good thanks to their front seven anchored by Khalil Mack and Akiem Hicks. And the quarterback competition between Andy Dalton and Justin Fields could actually be good, considering Dalton provides the offense with a high floor while Fields provides it with a high ceiling — and has the scrambling ability to contend with this O-line.
Considering the Bears won 8 games with Mitchell Trubisky under center last season, Dalton and Fields will be an upgrade, and the defense should do enough to keep them in games.
Verdict: Lean Over 7.5 (+110) at BetMGM
---
Detroit Lions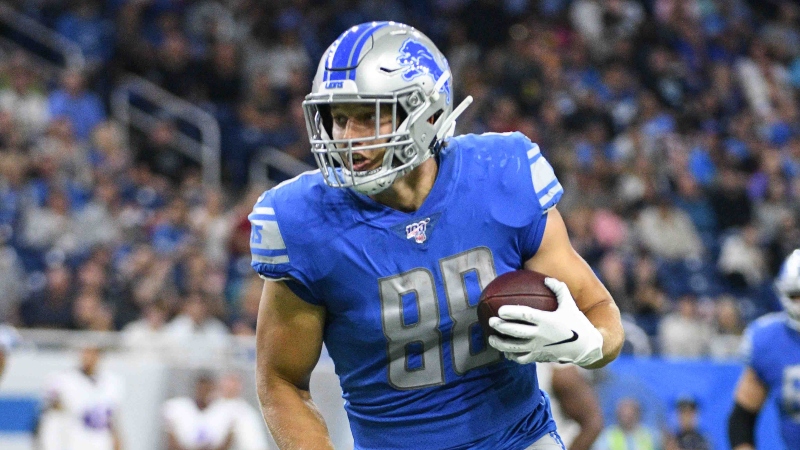 Even with the second-lowest win total on the board, I'm not convinced 4.5 or 5 is low enough.
The Lions are one of the worst teams on paper.
New head coach Dan Campbell is a mystery, and I doubt he's capable of getting the most out of this weak roster. And while they do have an above-average offensive line, I'm not sure their power football "break kneecaps" style of play will work when they're trailing. They also have arguably the NFL's worst pass-catcher depth — Jared Goff doesn't have much to work with outside of tight end T.J. Hockenson and rookie receiver Amon-Ra St. Brown.
As for the defense, they'll need Jeffrey Okudah to step up in Year 2 in order to fill the hole left by Darius Slay as it's critical to have a shutdown corner in the NFC North with WRs like Allen Robinson, Davante Adams, Adam Thielen and Justin Jefferson in the division.
Finally, the Lions have the second-most difficult schedule according to my power ratings, so there is potential for outright implosion.
Verdict: Lean Under 4.5 (+125) at BetMGM
---
» Return to the table of contents «
---
NFC SOUTH
Tampa Bay Buccaneers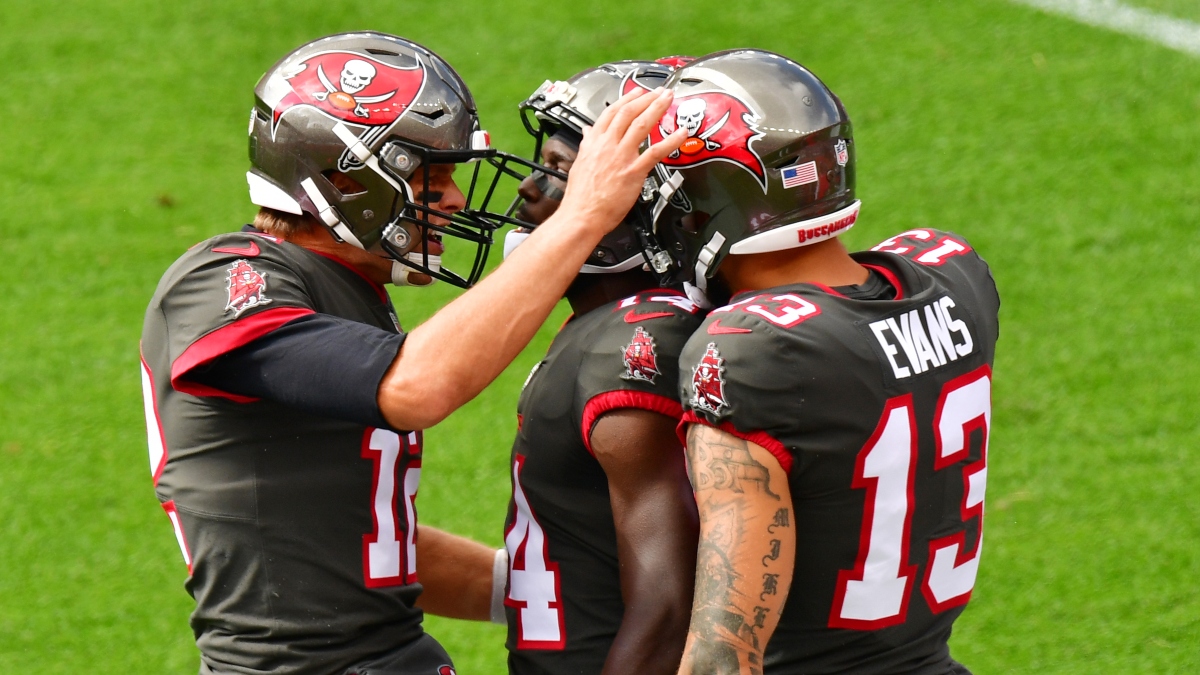 Last season, the Buccaneers were the only team to finish in the top five in Football Outsiders' DVOA for both offense (third) and defense (fifth). They were also able to hang onto all 22 starters from their championship team. And for these reasons, it seems foolish to fade them in any way heading into 2021.
However, my projections show there is some value in taking them to go under their win total of 12.
The Bucs had the best injury luck of 2020, according to Football Outsiders' Adjusted Games Lost metric. It's nearly a given they will face more adversity when it comes to injuries in 2021. They were also fortunate to go 11-5 based on their average time leading/tied/trailing. My expected wins formula had them closer to an 8.3-win team based on their splits.
While I still consider the Bucs a legit Super Bowl contender and have them at No. 2 in my power ratings, they are due for some slight regression in 2021. I'm projecting them closer to 11.5 wins this season.
I'm also seeing value in taking the Bucs to win the NFC South (-200) at DraftKings. It will be a much weaker division this season, and they don't need to win 13+ games to finish first.
Verdict: Bet Under 12 wins (-110) at DraftKings
---
New Orleans Saints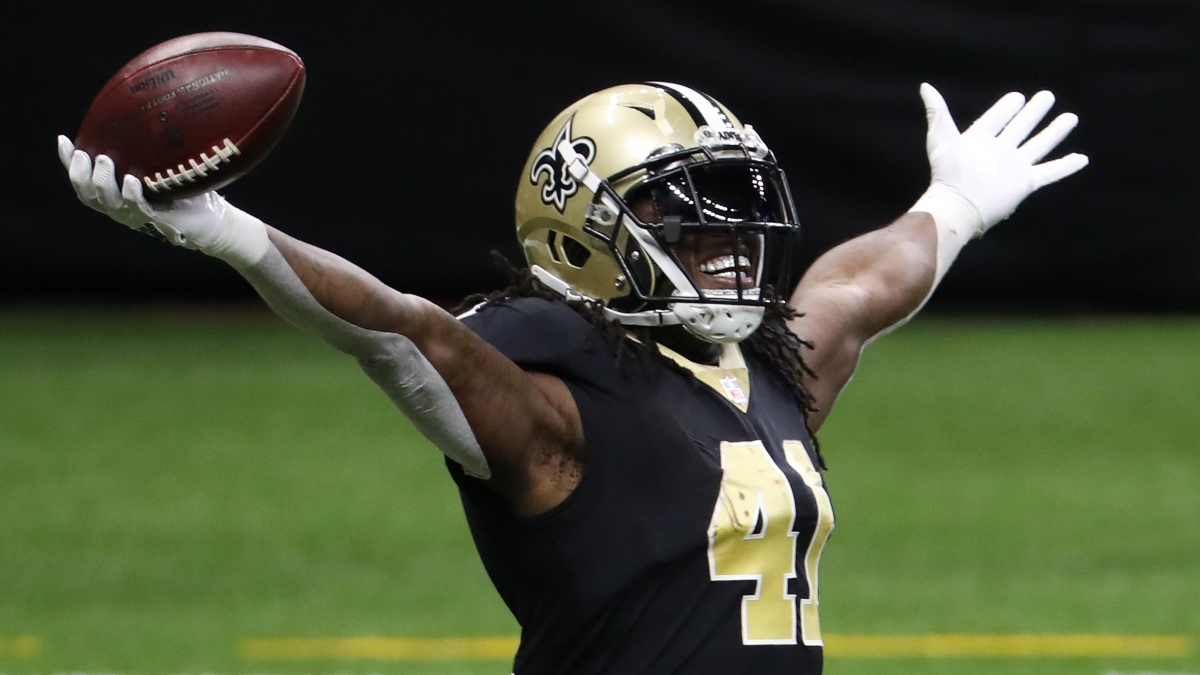 According to Football Outsiders' Adjusted Games Lost metric, the Saints benefited from the fourth-best injury luck last year. Unfortunately, that luck has already taken a turn for the worst as New Orleans has lost star receiver Michael Thomas (ankle) and defensive tackle David Onyemata (suspension) for the first six games of the season.
Thomas' injury is a significant blow to the offense, especially considering the Saints' lack of WR depth after losing Emmanuel Sanders in free agency.
Here are how the Saints fare in my season simulations:
8 or fewer wins: 48.8%
9 wins exactly: 20.1%
10 or more wins: 31.1%
I'll be betting on the Saints to go under 8.5 wins as a result. This is a team that likely missed its Super Bowl window and will transition into a rebuilding period over the next couple of seasons.
Jameis Winston being the team's Week 1 starter gives this team a wide range of outcomes, but I'll be betting on the Saints to finish closer to their floor.
Verdict: Bet Under 8.5 wins (+125) at BetMGM
---
Carolina Panthers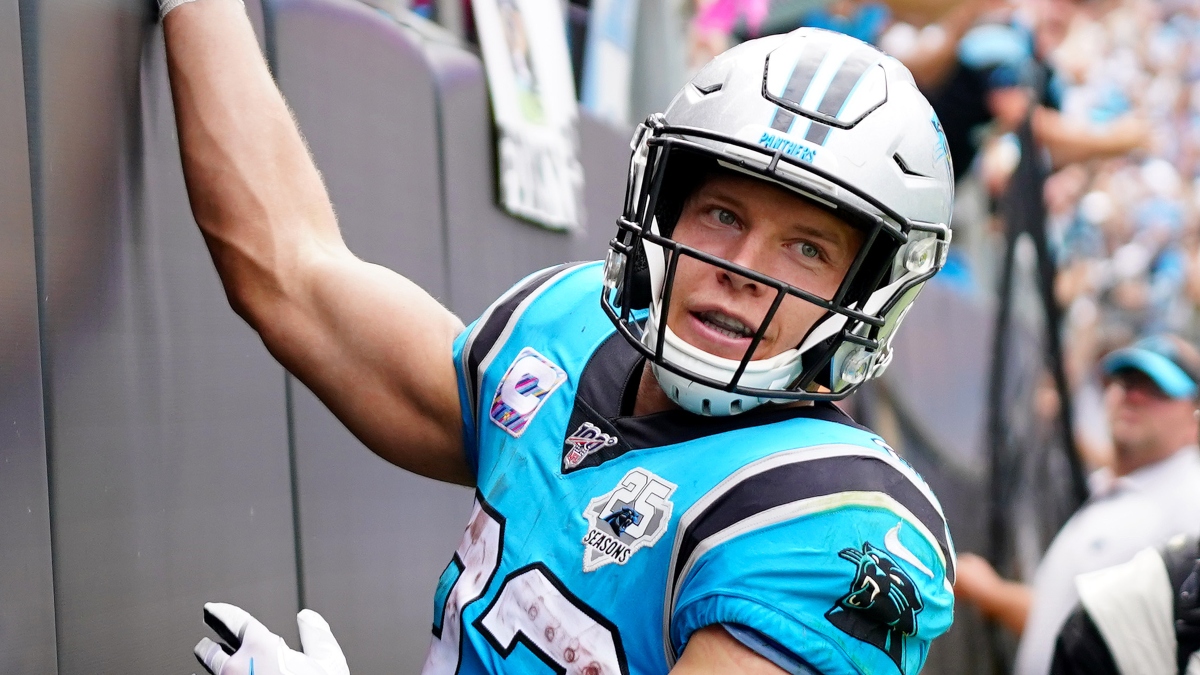 There are plenty of reasons to be bullish on the Panthers heading into 2021.
They are certainly due for some positive regression after going 3-8 in one-score games last year. They also have the 15th-easiest schedule this season after being strapped with the second-hardest slate in 2020.
When it comes to big-name players in Carolina, stud running back Christian McCaffrey is back at 100% after missing 13 games due to injury last season. Sam Darnold, fresh off his trade from the Jets, has ample potential for a post-Adam Gase breakout — something we've seen from numerous players now. (See: Ryan Tannehill, Robby Anderson, Jarvis Landry, etc.)
Deciding whether to bet the over or under on their 7.5-win total comes down to where you stand on Darnold. I don't have much confidence in a Tannehill-like post-Gase glow-up for Darnold, so I'm taking the under.
Verdict: Bet Under 7.5 wins (+100) at DraftKings
---
Atlanta Falcons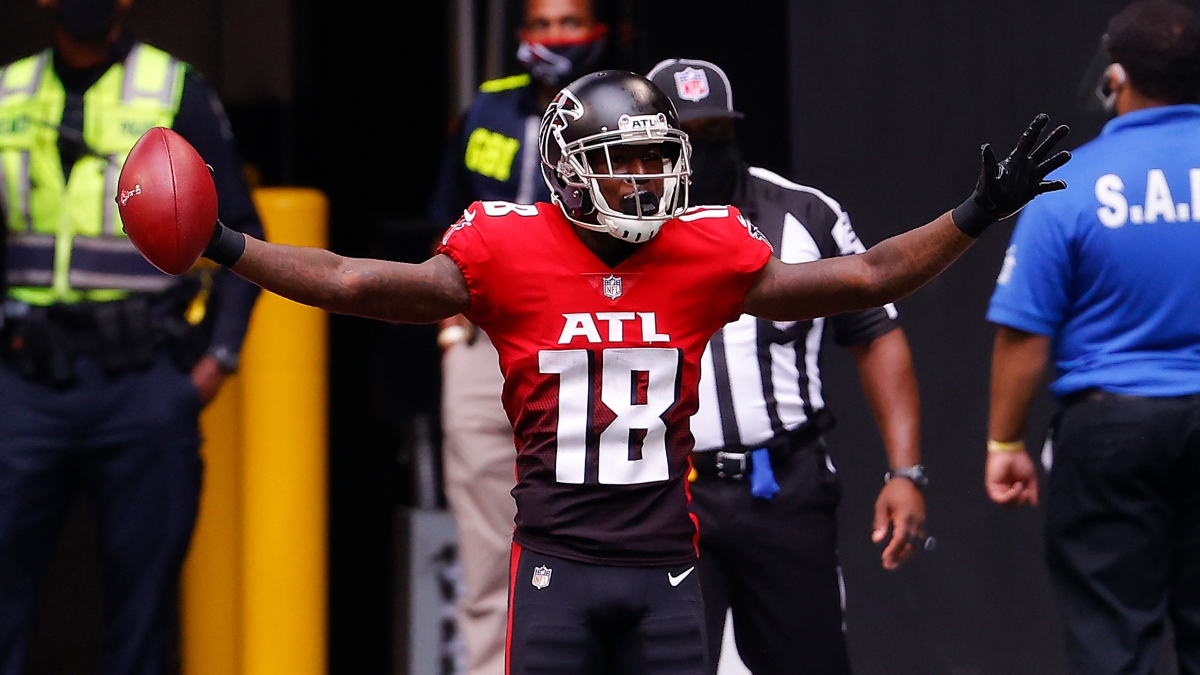 Atlanta averaged 28.5 minutes with the lead a game last season, ranking 10th in Football Outsiders' Game Time Leading metric.
No other team inside the top 10 finished with fewer than 10 wins. So it's safe to say the Falcons were significantly better than their 4-12 record would indicate. The reason for this was likely a mixture of bad luck and inept coaching.
New head coach Arthur Smith should help the Falcons get back on track, at least in terms of in-game decision making. Another factor that should help Atlanta turn its fortunes around will be a much easier schedule. The Falcons had the hardest schedule last season (according to DVOA), and I'm projecting them to have the 10th-easiest schedule in 2021.
Between a very shaky secondary and the departure of Julio Jones, the Falcons aren't going to be Super Bowl contenders. However, I've found that the market is overlooking how much positive regression they are due for heading into 2021. Matt Ryan, Calvin Ridley and rookie Kyle Pitts give Smith plenty of firepower to put up points. Therefore, I'm taking the over.
Verdict: Bet Over 7.5 wins (-110) at DraftKings
---
» Return to the table of contents «
---
NFC WEST
Los Angeles Rams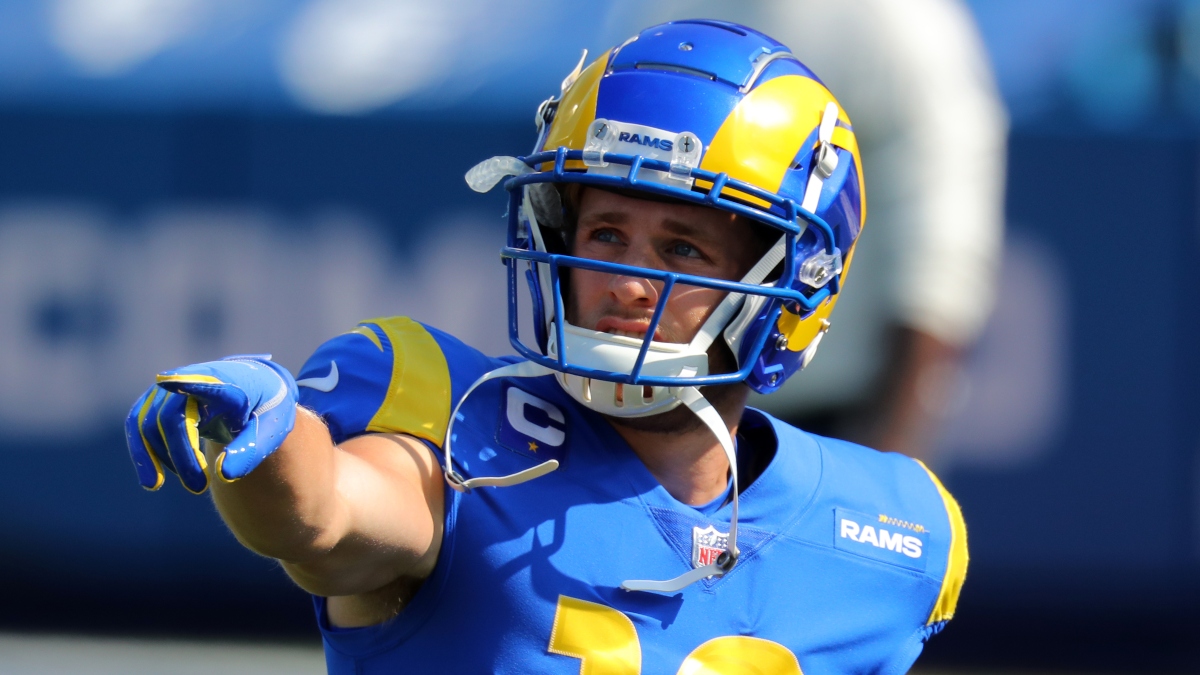 The offense should take a step forward with Matthew Stafford taking over under center — Sean McVay will be more comfortable throwing the ball downfield than he was with Jared Goff, as already seen by the additions of DeSean Jackson and second-round rookie Tutu Atwell.
On the flip side, the defense could take a step back.
They lost defensive coordinator Brandon Staley to the Chargers' head coaching job, bringing in Raheem Morris, who should be fine. But the Rams had the second-best injury luck last year and we've already seen their depth tested. If they were to lose defensive stars like Jalen Ramsey or Aaron Donald, they would be in big trouble.
I'm projecting them for only 9.8 wins, so I would lean toward the under, but the juice is scaring me away.
Verdict: Pass
---
San Francisco 49ers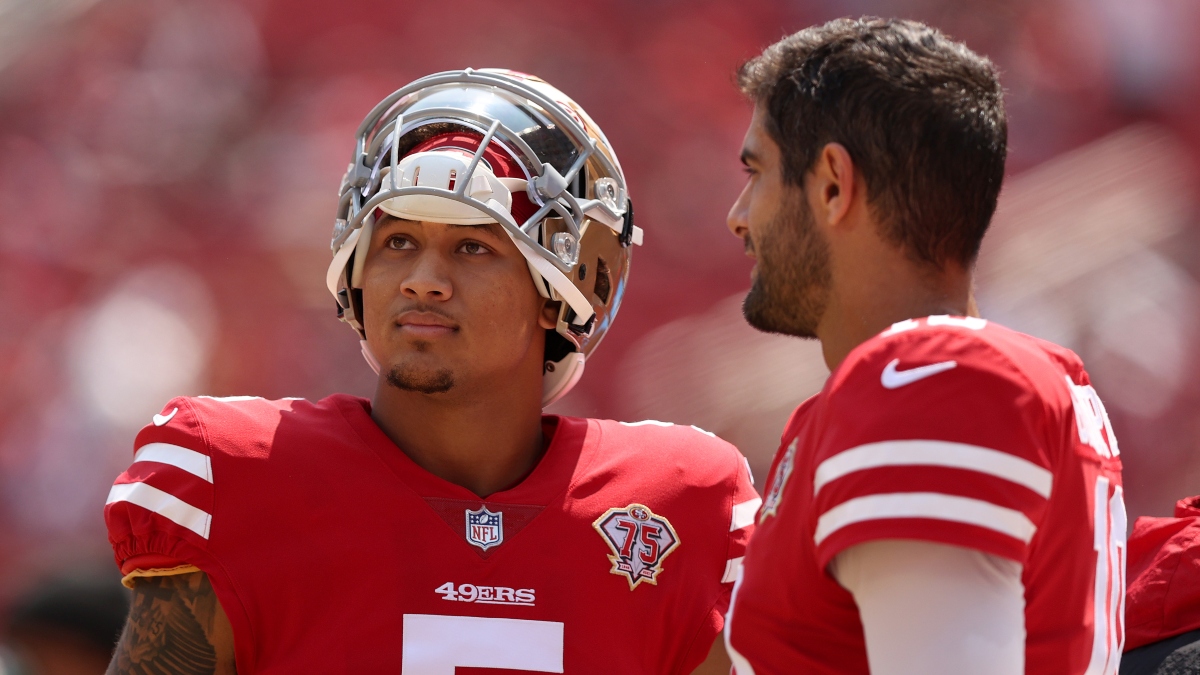 There are reasons to be bullish on the 49ers.
They had the worst injury luck in 2020, so they're due for positive regression on that front. It also helps that they're going from the third-toughest schedule to the fifth-easiest.
The biggest question is at what point Trey Lance will overtake Jimmy Garoppolo as their starting quarterback, but having both actually gives them a high floor (Garoppolo) and a high ceiling (Lance).
Their 10.5-win total is right in line with my projection of 10.7 wins, but at +100 at FanDuel, I like the over.
Verdict: Bet Over 10.5 (+100) at FanDuel
---
Seattle Seahawks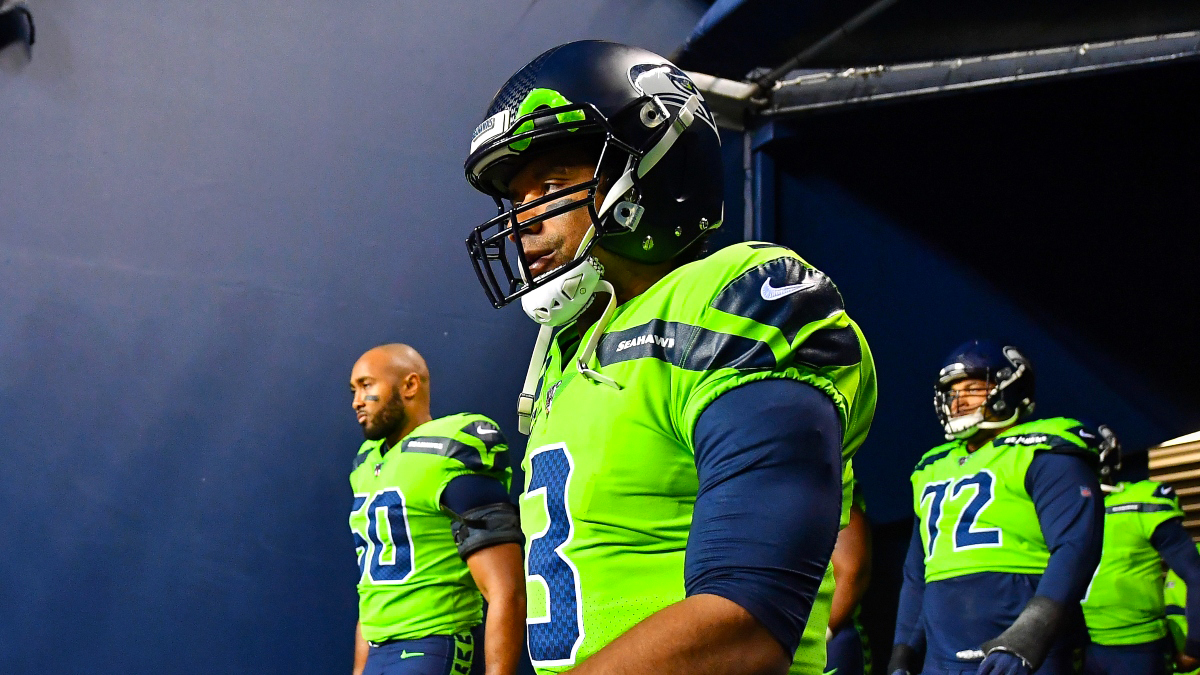 Russell Wilson gives the Seahawks such a high floor.
He looked like an MVP over the first half of 2020, opening their season 5-0. But then their defense got better, and the offense got conservative. New coordinator Shane Waldron could help implement a more up-tempo offense, but Pete Carroll's conservative in-game management hurts the team — Seattle has ranked dead-last in fourth-down aggressiveness over the past two seasons, which should not be the case when Wilson is your quarterback.
Their reliance on winning one-score games is a concern (7-3 record in 2020), as is their third-place finish in Football Outsiders' special teams DVOA.
I'm projecting them as a 10-7 team, so I'm right in line with their 10-win total, making this a pass.
Verdict: Pass
---
Arizona Cardinals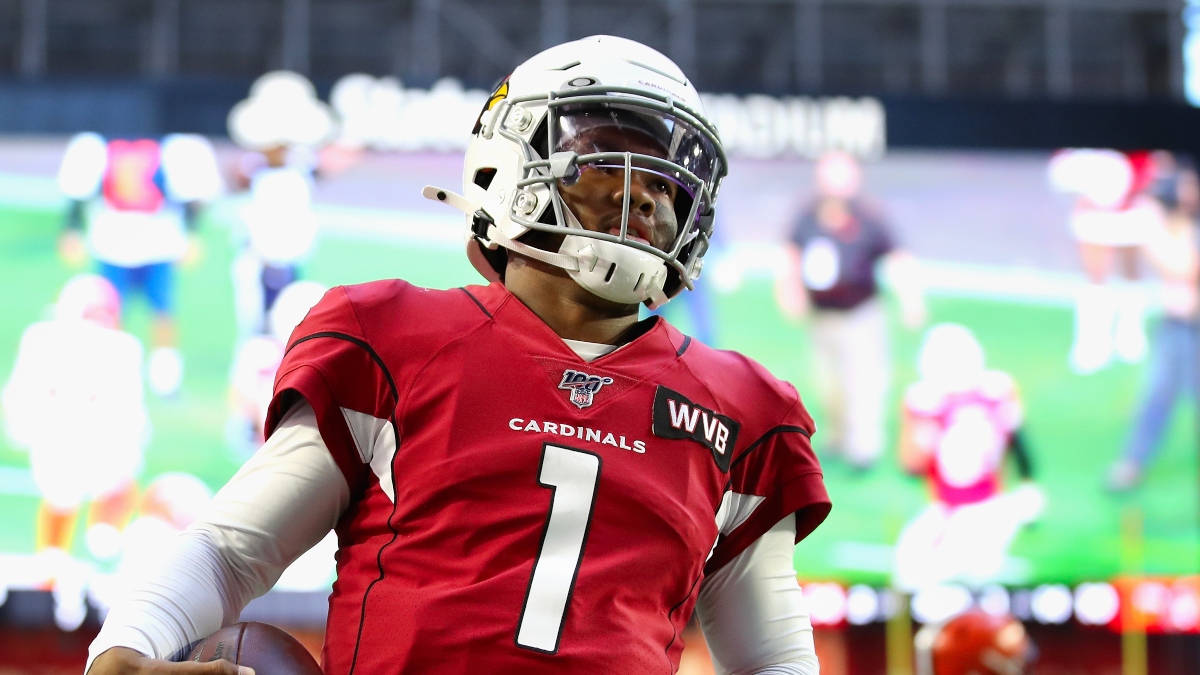 The biggest question for the Cardinals is whether Kyler Murray can take a Year 3 leap.
Murray still has room to grow as a passer, but how much progress he makes likely comes down to head coach Kliff Kingsbury, who needs to be more creative with DeAndre Hopkins. Free-agent acquisition A.J Green and second-round rookie Rondale Moore do strengthen a wide receiver corps that already features Christian Kirk, though — and Kirk could be primed for his best season yet lined up more in the slot — so the ceiling is high for this offense.
The defense also has a high ceiling with J.J. Watt joining Chandler Jones to form what should be a solid pass-rushing duo if both stay healthy.
This team should settle in right around league average again, so the 8.5-win total seems right, making this a pass for me.
Verdict: Pass
---
» Return to the table of contents «
---
How would you rate this article?