Freedman: Five AAF Players Who Should Get a Shot in the NFL
Credit:
USA Today Sports. Pictured: Orlando WR Charles Johnson, Arizona WR Rashad Ross
With the AAF suspending operations, Matthew Freedman identifies five skill-position players who deserve another shot at the NFL.
Sadly, the Alliance of American Football is suspending football operations immediately.
Here's some context on the length of the league's run from my colleague Darren Rovell:
If the AAF folds today, it would have lasted 52 days from its first game to end, 20 days shorter than Kim Kardashian's marriage to Kris Humphries. pic.twitter.com/lYKtvc8qd2

— Darren Rovell (@darrenrovell) April 2, 2019
Now that the AAF is presumably finished, what will happen to the hundreds of players who no longer have jobs? (And not to mention my season win total bets and futures tickets?)
Here are five skill-position players I'd like to see get a shot to play in the NFL in 2019, listed in no particular order.
---
WR Charles Johnson (Orlando Apollos)
Age for 2019 NFL season: 30
Height: 6'2″ | Weight: 216 pounds
He's old, but he flashed in the NFL. And in the AAF, Johnson was daily fantasy money.
Through eight weeks, he led all Alliance wide receivers with 152.7 fantasy points, 45 receptions, 70 receptions, a 0.27 market share of targets, 687 yards receiving and 213 yards after the catch.
He also led the position with an overall 85.5 Pro Football Focus grade and 2.8 yards per route (among qualifying wide receivers).
Johnson would be a strong option for any team looking for competent receiver play at a discount.
WR Rashad Ross (Arizona Hotshots)
Age for 2019 NFL season: 29
Height: 6′ | Weight: 179 pounds
Like Johnson, Ross isn't young. But Ross was a solid deep threat and kick returner in his brief NFL career, with 21.3 yards per reception and 23.9 yards per return.
Ross has been almost as impressive as Johnson in the AAF, ranking second at the position with 142.3 fantasy points and 583 yards and first with seven receiving touchdowns, a 0.40 market share of air yards and a 0.64 Weighted Opportunity Rating (a metric created by Josh Hermsmeyer of Five Thirty Eight).
With a league-high 481 yards receiving out of the slot, Ross is an arbitrage T.Y. Hilton: He can run routes across the middle and also stretch the field.
QB Garrett Gilbert (Orlando Apollos)
Age for 2019 NFL season: 28
Height: 6'4″ | Weight: 229 pounds
Gilbert is almost certainly the MVP of the AAF, and 28 isn't all that old for a quarterback. He has NFL experience as a backup with the Carolina Panthers in 2017-18, and he impressed in head coach Steve Spurrier's offense.
Gilbert led the league with 178.5 fantasy points, 2,152 yards passing, 2,480 air yards and 8.3 yards per attempt. He was second with 13 touchdown passes, and even with his league-high 259 pass attempts, he's thrown just three interceptions.
He leads the position with his overall 79.6 PFF grade.
RB Trent Richardson (Birmingham Iron)
Age for 2019 NFL season: 29
Height: 5'10" | Weight: 229 pounds
I wish I were joking, but I'm not.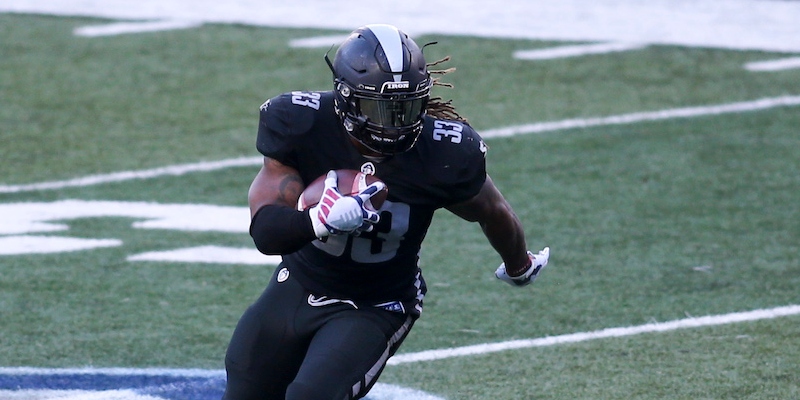 Even though Richardson has massively underwhelmed in the AAF with his 2.9 yards per carry, at least he's been able to show that he's capable of keeping his weight under control. And more importantly, he impressed as a receiver and in short-yardage situations: He's first among all running backs with 49 targets, 31 receptions and 195 yards after the catch as well as 11 touchdowns rushing.
There are more than a few NFL teams that could use a cheap, big-bodied back with short-yardage and pass-catching skills to serve as a backup.
RB Terrell Watson (San Diego Fleet)
Age for 2019 NFL season: 26
Height: 6'1″ | Weight: 243 pounds
After a record-setting college career at Azusa Pacific and a strong performance at his pro day, Watson entered the NFL in 2015 as an undrafted free agent and floated around the league for a few years.
With stints on seven different NFL teams, Watson is familiar with how to be a professional. And although he rarely suited up on game day, he earned praise from multiple coaching staffs.
Stuck in a committee in an antiquated Mike Martz offense, Watson doesn't have great AAF numbers (63-271-2 rushing with three 2-point conversions), but he played behind an offensive line with a league-worst 43.2 run-blocking grade.
Given the circumstances, Watson has done well, and he's also shown some ability as a receiver, turning his 10 targets into an 8-77-1 stat line.
With his college production, NFL experience, size, athleticism and recent AAF performance, Watson deserves one more NFL shot.
Matthew Freedman is the Editor-in-Chief of FantasyLabs. He has a dog and sometimes a British accent. In Cedar Rapids, Iowa, he's known only as The Labyrinthian.
How would you rate this article?