A Tribute to the AAF: 10 Reasons We'll Miss this Awesome League
Credit:
Pictured: Trent Richardson (USA Today Sports), Steve Spurrier (courtesy of @AAFExress/Twitter), Johnny Manziel (courtesy of @TheAAF/Twitter)
Our resident AAF expert Ian Hartitz pays tribute to the short but sweet eight weeks of action we got from the league, which is suspending football operations.
Here's a look at 10 reasons the AAF will be missed, featuring Trent Richardson, Johnny Manziel, a frisbee-catching dog and more.
It's a sad day at The Action Network headquarters.
Probably. I don't know, actually. I work from home.
Let me rephrase that: I am devastated.
The Alliance of American Football is suspending football operations only eight weeks into its inaugural season. It's not a massive surprise considering the AAF publicly battled financial problems as early as Week 2, and its on-field product certainly wasn't as good as the NFL (or even Division I football). But I think I speak for all AAF lifers out there when I say that the league was awesome just the way it was.
I certainly hold a more cynical view toward beta activities other sports like basketball and simply prefer to watch any level of football. But at the very least the AAF provided us with a previously non-existent avenue for digesting full-contact football during February and March.
I produced upwards of 30 written pieces and 10 podcasts about this league and would assume I'm inside the top 1% of viewers in terms of total plays watched. So I feel uniquely qualified to present you with the AAF's top 10 finest highlights, in no particular order.
Let the mourning begin.
1. There Was No Shortage of Big Hits
It took fewer than 30 minutes of action for the AAF to make clear that defenses were still more than capable of producing highlight-reel hits despite the league's limitations on blitzes.
The above massacre was hardly an isolated incident; Christian Hackenberg got destroyed not once but twice in the same game.
The AAF could be a not-so-gentle reminder of how dominant any defense can look against suspect quarterback play. That produced some poor games, but it was at least more live football action than we've ever had the chance to consume in the middle of winter.
2. There Was a World Record Halftime Frisbee Throw to a Dog
And it was awesome.
3. Rashad Ross Was Unstoppable
The former NFL preseason star made a habit of balling out in his short AAF career. He caught 36-of-53 targets for 583 yards and a league-high seven receiving touchdowns.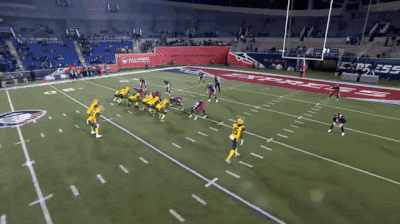 The only thing more entertaining than Ross' scores were his consistently on-point celebrations.
The Arizona Hotshots joined the Orlando Apollos as the most visibly pleasing offenses for pretty much the entire season thanks to both their modern up-tempo offenses and plethora of playmakers like Ross.
4. Charles Johnson Was Also Unstoppable
FantasyLabs Editor-in-Chief Matthew Freedman wrote a lovely feature on Johnson that describes the former seventh-round pick as the "original Jeff Janis," which basically means he was a prospect who was "amazingly productive in college and impressively athletic at the combine."
Injuries along with a lack of opportunity behind Stefon Diggs and Adam Thielen helped push Johnson out of Minnesota after three seasons. A failed stint with the Jets during the 2018 preseason gave Johnson the chance to thrive in Steve Spurrier's Fun 'N' Gun offense: He set league-high marks in receptions (45) and receiving yards (687) while trailing only Ross in receiving touchdowns (five).
Johnson was the most consistently dominant player in a league in which defenses thrived.
5. Eminem Tried His Hardest to Save the League
Marshall Mathers hoped to turn the AAF into a hybrid of football and hockey.
6. Patrick Mahomes Was Involved at One Point
A league without a handful of competent quarterbacks managed to get the recognition of one of the world's finest athletes to currently play the position.
7. Johnny Manziel Played Multiple Games!
#ComebackSzn might be on pause for the time being, but that doesn't mean that Manziel wasn't the most accomplished quarterback in AAF history.
Manziel ultimately played only a couple of series over his two AAF games before suffering a head injury and being forced out of action in Week 8. Still, the artist formerly known as Johnny Football managed to flash some of the ability that helped him win a Heisman Trophy and dominate the SEC back in the day.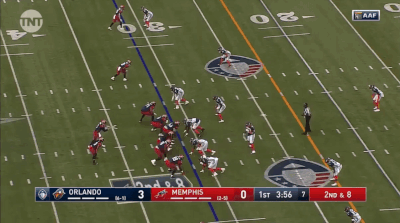 We also witnessed vintage Manziel thanks to the AAF's splendid decision to mic him up for his debut.
It remains to be seen where Manziel's football career will go from here. No matter what happens, thank you for the cake, Johnny.
8. Trent Richardson Was Also A Thing
T-Rich finished the season with a pedestrian average of 2.9 yards per carry, but he also racked up a league-high 11 rushing touchdowns thanks to his dominant ability around the goal line.
Personally, my favorite memory of Richardson will be decision to rock a swaggy visor despite the obvious visual limitations it offered.
9. The Onside Kick Rule Was Pretty Cool
The AAF didn't have a rule that was as unique/cool as the XFL's substitute for a coin toss, but their decision to replace onside kicks with a fourth-and-12 conversion attempt from the offense's own 28-yard line made for some exciting moments.
The idea that good quarterbacks will always have one final opportunity with the ball in their hands is appealing, especially in a world where recovering an onside kick has become next to impossible with the NFL's rule changes on kickoffs.
10. The Orlando Apollos Are Your AAF Champs
This isn't up for debate.
Steve Spurrier and Garrett Gilbert engineered the league's top offense from Day 1, and the defense even ended up boasting the AAF's top ranked secondary in yards per attempt.
The league's final standings with point differential:
Orlando Apollos (7-1): +100
Arizona Hotshots (5-3): +42
Birmingham Iron (5-3): +32
San Antonio Commanders (5-3): +4
San Diego Fleet (3-5): -3
Salt Lake Stallions (3-5): -8
Memphis Express (2-6): -42
Atlanta Legends (2-6): -125
Spurrier agrees, of course.
Thanks to everyone who read and listened to our AAF coverage at The Action Network! Perhaps we'll do this all over again in 2020 with the XFL.
Either way: Long live the AAF.
How would you rate this article?