Is Aaron Donald the NFL's Most Valuable Defensive Player?
Credit:
Dec 2, 2018; Detroit, MI, USA; Los Angeles Rams defensive tackle Aaron Donald (99) celebrates during the fourth quarter against the Detroit Lions at Ford Field. Mandatory Credit: Raj Mehta-USA TODAY Sports
Aaron Donald and the Los Angeles Rams nearly captured Super Bowl glory last season.
Where does Donald stack up among the league's best defenders?
The Rams had more than a few opportunities to capture Super Bowl glory last season before ultimately falling short to Tom Brady and the Patriots. This wasn't exactly the fault of the Los Angeles defense; New England's 13 total points were its fifth-lowest mark in 57 combined regular-season and playoff games since 2016.
Perennial All-Pro defensive tackle Aaron Donald didn't record a sack during the playoffs last season. Still, his 82-game body of work is more than enough evidence to safely rank him among the game's very elite defenders.
But just how great is Donald relative to the rest of the NFL's defensive linemen, and does he deserve to be called the most valuable defender in football?
Aaron Donald Has Pretty Much Always Been Unstoppable
The last time anyone truly doubted Donald's football ability was coming out of high school, when the game-wrecker was given a rather pedestrian three-star rating. Donald quickly put to rest any notion that he was an average player by racking up 66 tackles for a loss and 29.5 sacks over his four seasons at the University of Pittsburgh.
Donald fell to No. 13 in the 2014 draft in part because of concerns over his 6-foot, 285-pound frame. All he's done since is rank atop the leader boards in pretty much every statistical category that measures a defender's ability to disrupt opposing quarterbacks:
Total pressures: 401 (first among all defenders since 2014)
Hurries: 254 (second behind Khalil Mack)
Hits: 86 (second behind J.J. Watt)
Sacks: 61 (tied for third with Chandler Jones, behind Von Miller and Ryan Kerrigan)
You could make an argument that Donald is on his way to becoming the most disruptive interior defender of all time considering his only peers at this point are almost exclusively defenders who make their living coming off the edge.
Piercing through opposing offensive lines is supposed to be tougher from the inside, where defenders are more prone to double- and even triple-teams. But somehow Donald has managed to pretty much brush aside anything that's been placed in his path for the better part of the last half decade.
Humans who are as powerful as Donald aren't supposed to also be this quick.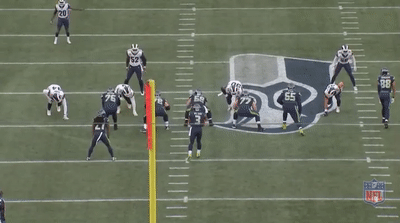 As for run defense? Pro Football Focus has graded Donald as the No. 1, No. 1, No. 4, No. 13 and No. 1 best full-time interior defender from 2014-2018, respectively.
Donald is clearly the best interior defender the NFL has seen in awhile. But how does he stack up against the league's best defensive players regardless of position?
Donald Is One of Few Defenders Who Impact the Point Spread
Sports Insights has talked to oddsmakers during each of the past three seasons to get an idea of how much quarterbacks as well as non-quarterbacks are worth to their team's point spread. Very few non-quarterbacks have cracked the list, and even fewer defensive players have been named.
Overall, just four defenders were mentioned as good enough players whose absence would negatively impact their team's point spread:
Rams DT Aaron Donald
Bears DE Khalil Mack
Texans DE J.J. Watt
Broncos DE Von Miller
It shouldn't be a surprise that essentially the only players competing with Donald for the league's top marks in a variety of pass-rushing metrics are the same ones who have been deemed as the most vital defenders in the NFL.
Watt, Miller and Mack are also incredible talents in their own right. Still, none were quite able to match Donald's production as both a pass rusher and run stopper in 2018.
Donald's league-high 20.5 sacks easily topped the numbers put up by Watt (16), Miller (14.5) and Mack (12.5), while Donald's 29 run stops trailed only Damon Harrison (30), T.J. Watt (32), J.J. Watt (32), Akiem Hicks (34) and Calais Campbell (43) among all defensive linemen.
Nobody has been more consistently dominant than Donald over the last half decade regardless of position.
Here's one last piece of evidence that he's a monster, if you weren't already convinced.
Donald consistently stands out as an elite player in a league filled with large and athletically-gifted freaks.
Donald Is in a Tier of His Own Among NFL Defenders
The debate between whether pass rush or coverage is more important has been a hot topic during the 2019 offseason.
As a whole, I side with coverage being more important than pass rush. Quarterbacks have increasingly displayed an ability to make smart pre- and post-snap decisions that help them get the ball out quickly and neutralize even the best pass rushes. But passing offenses still don't have a counter to when defenses are good enough to simply blanket every receiver with suffocating man coverage.
With that said, I believe the NFL's most valuable pass rusher is more important than the NFL's best cornerback. One dominant force on a defensive line can alleviate the amount of attention opposing offensive lines can spend on the other defenders, thus creating an above-average pass rush. A single elite cornerback can be more easily schemed away from and doesn't always come hand-in-hand with an above-average secondary.
It's fairly difficult to consistently stop someone who starts every play only a few feet away from the football, especially when they're arguably the best player in the league.
Most tackles for a loss by a defensive tackle in a season over the past 20 years:

1. 2018 Aaron Donald (25) 👑
2. 2015 Donald (22)
…
T3. 2004 Cornelius Griffin (21)
T3. 2014 Ndamukong Suh (21)
5. 2000 Warren Sapp (20) pic.twitter.com/SBakL8QE7Q

— Ian Hartitz (@Ihartitz) May 22, 2019
Donald was more than deserving of winning Defensive Player of the Year in 2017 and 2018. While his impact didn't lead to the Rams working as a top-10 defense in fantasy points allowed against any position, we shouldn't be at all surprised if Donald once again emerges as the league's very best defender in 2019.
How would you rate this article?