Is Aaron Rodgers Still Capable of Overall QB1 Fantasy Football Production?
Credit:
Matthew Emmons-USA TODAY Sports. Pictured: Aaron Rodgers
Aaron Rodgers has been the model of consistency for fantasy football quarterbacks for more than a decade.
Ian Hartitz analyzes whether Rodgers' reputation can carry over with a new coach calling the plays in Green Bay.
Our experts are constantly refining their rankings and projections in the run-up to the 2019 season. Build custom cheat sheets featuring their latest updates with our Draft Kit.
---
Aaron Rodgers could retire tomorrow and go down as one of the best quarterbacks to ever play the position. He's made the impossible look easy for  the better part of the past decade since taking over for Brett Favre in 2008.
Tom Brady on how he thinks Aaron Rodgers would do in New England's system:

"He'd throw for 7,000 yards every year … He's so much more talented than me." pic.twitter.com/ROw7Hr0yif

— Ian Hartitz (@Ihartitz) June 30, 2019
Still, things haven't been going all that swimmingly over the past two seasons. The Packers have racked up double-digit wins on seven separate occasions since 2008, but limped to 7-9 and 6-9-1 finishes in 2017 and 2018, respectively.
What follows is a breakdown on how Rodgers has performed in recent seasons as well as what to make of his fantasy football value entering 2019.
Aaron Rodgers Hasn't Been at His Best in Recent Years
The Packers' longtime franchise quarterback will turn 36 in December. The recent history of older NFL signal callers bodes well for Rodgers' chances of potentially playing into his 40s, but it remains to be seen if he'll be able to recapture some of his previous elite-level efficiency.
Aaron Rodgers yards per attempt and rank among QBs by year (min. 7 starts)

2008: 7.5 (10th)
2009: 8.2 (4th)
2010: 8.3 (2nd)
2011: 9.2 (1st)
2012: 7.8 (7th)
2013: 8.7 (2nd)
2014: 8.4 (2nd)
…
2015: 6.7 (30th)
2016: 7.3 (14th)
2017: 7 (18th)
2018: 7.4 (17th)

— Ian Hartitz (@Ihartitz) June 24, 2019
Rodgers' reduced effectiveness over the past four seasons can be explained by a few different factors:
The only wide receivers selected by the Packers in the first three rounds of the draft over the past 10 years are Jordy Nelson (second round), Randall Cobb (second), Davante Adams (second) and Ty Montgomery (third).
An anonymous source told Bleacher Report that "Mike (McCarthy) has a low football IQ, and that used to always bother Aaron … He'd say Mike has one of the lowest IQs, if not the lowest IQ, of any coach he's ever had."
Rodgers has ranked 35th, 25th, 36th, 35th and 30th in slowest average release time over the past five seasons, respectively. His 59 throw aways in 2018 were 19 more than Jared Goff's second-place mark of 40.
Of course, even a lesser version of Rodgers is still one of the better quarterbacks in the league. Only Rodgers (8.13 adjusted yards per attempt), Deshaun Watson (8.48), Goff (8.53), Philip Rivers (8.68), Matt Ryan (8.74), Russell Wilson (8.98), Drew Brees (9.01) and Patrick Mahomes (9.58) averaged at least eight adjusted yards per attempt last season.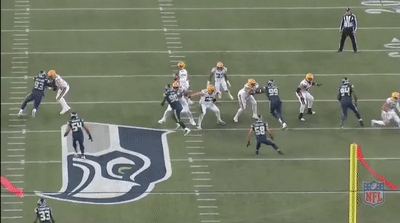 Helping matters for Rodgers in 2019 is the potential for a more modern and creative offensive attack.
---
New Head Coach Matt LaFleur Is Here to Help
The Packers' somewhat messy divorce with McCarthy resulted in former Rams and Titans offensive coordinator Matt LaFleur becoming the franchise's new head coach. LaFleur also spent time with Kyle Shanahan and the Falcons from 2015 to 2016 as Matt Ryan's quarterbacks coach.
LaFleur has only called plays for the 2018 Titans, as Sean McVay handled that duty when they were both on the Rams in 2017.
The Titans certainly didn't benefit from Marcus Mariota's persistent nerve injury last season that impacted his ability to throw the ball with appropriate velocity. Still, the unit was pretty much worse in every available offensive metric compared to the Packers in 2018.
Titans points per game in 2018: 19.4 (27th)
Yards per play: 5.3 (26th)
Overall offensive DVOA ranking (Football Outsiders): 22nd
Pass DVOA ranking: 25th
Rush DVOA ranking: 11th
LaFleur will be joined by former Bills and Jaguars offensive coordinator Nathaniel Hackett.
You would think LaFleur would decide to lean on Rodgers more than Mariota, but it's worth mentioning the Packers finished first in pass-play rate (67.5%) while the Titans finished 31st (51.5%) last season.
Meanwhile, only Ben Roethlisberger (10) had more games with at least 40 pass attempts than Rodgers (nine) in 2018.
A big change we could see in the Packers' offense is a trend toward more play-action passes. Overall, LaFleur's offenses ranked fifth and third in play-action rate over the past two seasons, while Rodgers hasn't ranked inside of the top-30 quarterbacks in percentage of play-action passes since 2014.
Green Bay will need this new-look scheme to make an impact sooner rather than later, as the offense is largely bringing back the same group of skill-position players.
Rodgers Is Probably Being Drafted a Bit Too High
Rodgers' best-case scenario in LaFleur's offense seems to be enhanced efficiency at the cost of reduced volume. This should be just fine for the team's success as long as Aaron Jones and Co. are up for the challenge, but this won't necessarily be great for Rodgers' fantasy football value.
There hasn't been a more consistent fantasy quarterback than Rodgers over the past decade when it comes to per-game production.
Aaron Rodgers fantasy points per game rank by season:

2008: QB2
2009: QB1
2010: QB2
2011: QB1
2012: QB2
2013: QB4
2014: QB1
2015: QB10
2016: QB1
2017: QB6
2018: QB9
…
Current 2019 ADP: QB3

— Ian Hartitz (@Ihartitz) June 30, 2019
This year's deep crop of quarterbacks makes the idea of waiting on the position in drafts more appealing than in past years. I'm targeting the following three players who are being selected outside of the top-16 quarterbacks in average draft position:
Dak Prescott joins Russell Wilson and Drew Brees as the only players to rank as top-10 fantasy quarterbacks in each of the past three seasons.
Lamar Jackson is an extreme dual-threat quarterback, the likes of which the league has never seen before. His 147 carries were the most in a single season at the quarterback position in the history of the NFL. He worked as the QB8 from Weeks 11-17 as the starter.
Mitch Trubisky was the QB7 in Weeks 1-11 before suffering a shoulder injury. Further improvement from the Bears' franchise quarterback as a natural passer could make him and the Bears league winners sooner than later.
Rodgers might be the single-most naturally gifted quarterback of the pre-Mahomes NFL era. It'd be far from shocking to see him experience a revitalization in efficiency, but recent history paints a different picture than the always elite quarterback most of us remember.
He doesn't offer much value at his current average draft position as the QB3, as I'd take Mahomes, Watson, Baker Mayfield and Ryan ahead of Rodgers.
How would you rate this article?