Aaron Rodgers Isn't Having A Comeback — He's Just Not Getting Pressured That Much
Credit:
Ezra Shaw/Getty Images. Pictured: Aaron Rodgers
After a half-decade of middling play largely masked by a pristine interception rate, Aaron Rodgers was finally exposed in 2019, and it came at the hands of the San Francisco 49ers.
When the two teams met in Week 12 of the regular season, Rodgers completed just 20-of-33 passes for 104 of the most listless yards of his career in a 37-8 trouncing. Then in the NFC Championship Game, the 49ers picked him off twice — his first multi-interception game in more than two years — en route to a 37-20 romp.
But it's a new season, and Rodgers is second in the league in ESPN's Total QBR (84.2) and fourth in touchdown passes (20). And after five straight years of posting middling yards per attempt figures between 6.7 and 7.4, he even ranks 10th in that metric at 7.8.
You could attribute his resurgence to watching his old film in the offseason, Year 2 in Matt LaFleur's offense, finally embracing the use of pre-snap motion or whatever you would like, but the big numbers make it undeniable: Aaron Rodgers is back.
Or is he?
The reason for Rodgers' struggle against the 49ers last season was not uncommon — it's the same reason that every NFL QB struggles: Pressure.
Last season, the 49ers stopped many offenses dead in their tracks due to pressuring quarterbacks at the second-highest rate in the league (28.7% per Pro Football Reference). The impact of this pressure was enchanted by the fact that defensive coordinator Robert Saleh often didn't have to send extra rushers to attain it, blitzing at the league's fourth-lowest rate (20.9%), affording him the ability to drop seven into coverage.
With the pass rush bearing down and no time for downfield routes to uncover from extra defenders, opposing QBs were forced into throwing passes that traveled an average of just 6.5 yards behind the line of scrimmage against San Francisco, the lowest mark in the league — and that was if opposing QBs even got the ball out at all as the 49ers pass rush got home for the sack at a rate of 8.9% (third-best).
This is exactly what played out in the first matchup last season, as the 49ers got pressure on Rodgers on 14-of-41, or 34.1% of his dropbacks, according to Pro Football Focus. The result? Three completions on seven attempts for 20 yards with five sacks.
As was the 49ers' signature, their pressure rate eclipsed the rate at which they blitzed, as Saleh sent extra rushers only 26.8% of the time.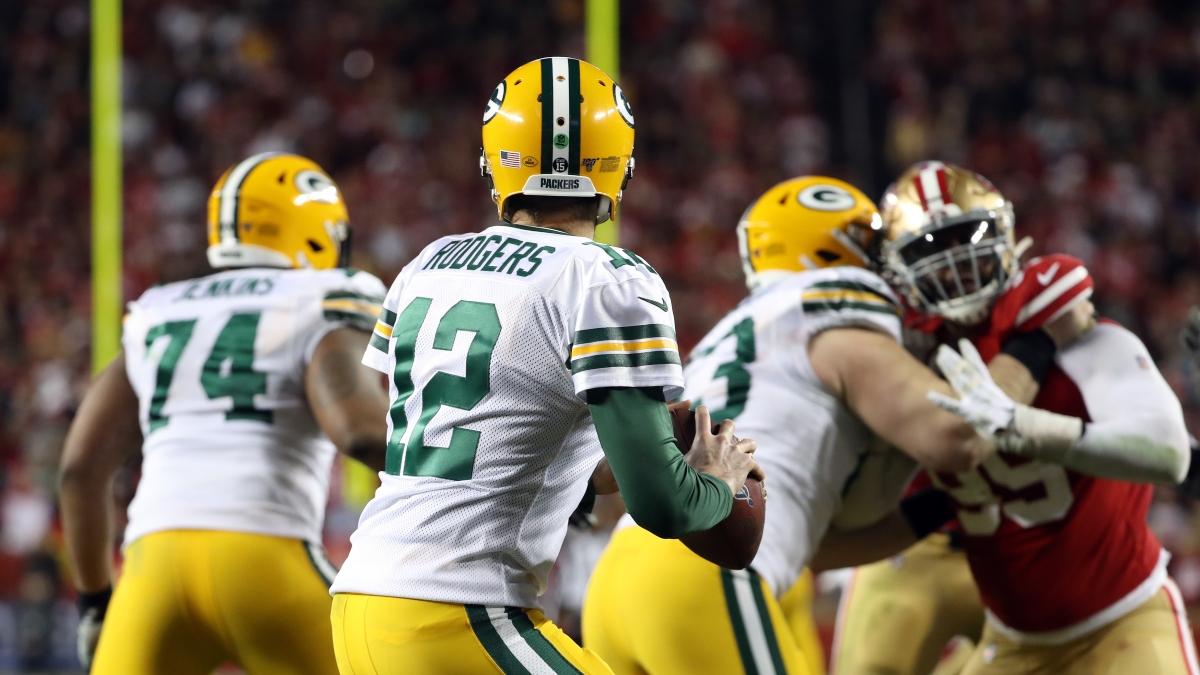 The second time around — in the conference championship — the 49ers played even more coverage, blitzing on only 4-of-42 dropbacks (9.5%), but got pressure at double that rate. And while Rodgers was better against pressure when he actually got the ball out (4-of-5 for 66 yards and a touchdown), he also got dropped for sacks three times (37.5% rate), which lost 30 yards, making his net yards per drop back an abysmal 4.5. And without vacated areas to exploit, Rodgers was coaxed into throwing two picks on plays in which he wasn't pressured or blitzed at all.
To ask if Rodgers has really turned things around in 2020 is to ask if Rodgers has improved against pressure. So, has he?
Here are his numbers against pressure last season compared to this season:
| 2019 | 2020 |
| --- | --- |
| 45.3% comp | 37.0% cmp |
| 5.94 YPA | 5.76 YPA |
Uh-oh.
Rodgers has actually gotten worse against pressure, which is not uncommon for a 36-year-old QB.
So what has changed?
This season, Rodgers has gotten pressured only 25.3% of the time, compared to 34.5% last season.
This isn't surprising considering where the defenses he's faced rank in terms of getting pressure. Five of Green Bay's seven opponents — Minnesota (twice), Detroit, New Orleans and Houston — rank in the bottom-half of the league, with a sixth (Atlanta) ranking 16th.
Only one — second-ranked Tampa Bay — is elite at getting pressure.
So let's compare how Rodgers performed against those other six middling-to-below-average defenses in terms of pressure to how he fared against Tampa Bay's elite unit:
Rodgers vs. defenses 16th or below in pressure rate: 148-of-214 (69.2%), 1,788 yards (8.4 YPA), 20 TD, 0 INT
Rodgers vs. Tampa Bay: 16-of-35 (45.7%), 160 yards (4.6 YPA), 0 TD, 2 INT
Oh.
In their Week 6 matchup, the Bucs pressured Rodgers on 18-of-41 (43.9%) of his dropbacks, and the results were predictable: 4-of-13 passing (30.7%) for 48 yards (3.7 YPA) with five sacks.
The Bucs are a bit different than last season's 49ers in that, while the Bucs possess the talent to get pressure with four, they also blitz 42.9% of the time (second-most) and blitzed Rodgers more than half the time in that game. And similarly to the 2019 NFC Championship Game, the threat of pressure coaxed Rodgers into mistakes, as he once again threw two picks — both on plays in which he was blitzed but not pressured.
Rodgers had been known for holding onto the ball too long, which had become problematic as the talent in his receiving corps diminished over the years, and which obviously doesn't work in the face of pressure.
To his credit, he has made strides in that area this season, getting the ball out in 2.54 seconds on average compared to 2.74 last season. But as Rodgers' continuously declining performance under pressure shows, a quicker release only goes so far unless you're actually making plays in those throws. And against quality defenses, that still isn't happening.
Rodgers' time to throw numbers tend to be inflated because many have come on throwaways, and despite already having a bye, Rodgers' 20 throwaways still lead the league (he also finished second in that category last season with 39).
So although Rodgers' numbers in 2020 look more like the Rodgers of old, don't call it a comeback. Rodgers can still pick apart lesser defenses, as you would expect from any future Hall of Famer who has made it this far, but he doesn't have his old magic that enabled him to thrive under all conditions.
Take, for instance, his best season (2011) when he led the league with 9.2 yards per attempt while compiling a 45-to-6 touchdown-to-interception ratio. That season, Rodgers was seventh in passer rating under pressure (80.2) and threw the ball away 17 times all season. This season, Rodgers ranks 22nd in passer rating under pressure (63.1) and already has five more throwaways in seven games (20) than he had all of 2011 (17).
The drop-off is not all Rodgers' fault, per se: To beat pressure, you need receivers who get open quickly — emphasis on plural "receivers." Unfortunately, even the all-world skills of Davante Adams can be neutralized when he's the only pass catcher defenses have to worry about, which has been the case for far too long.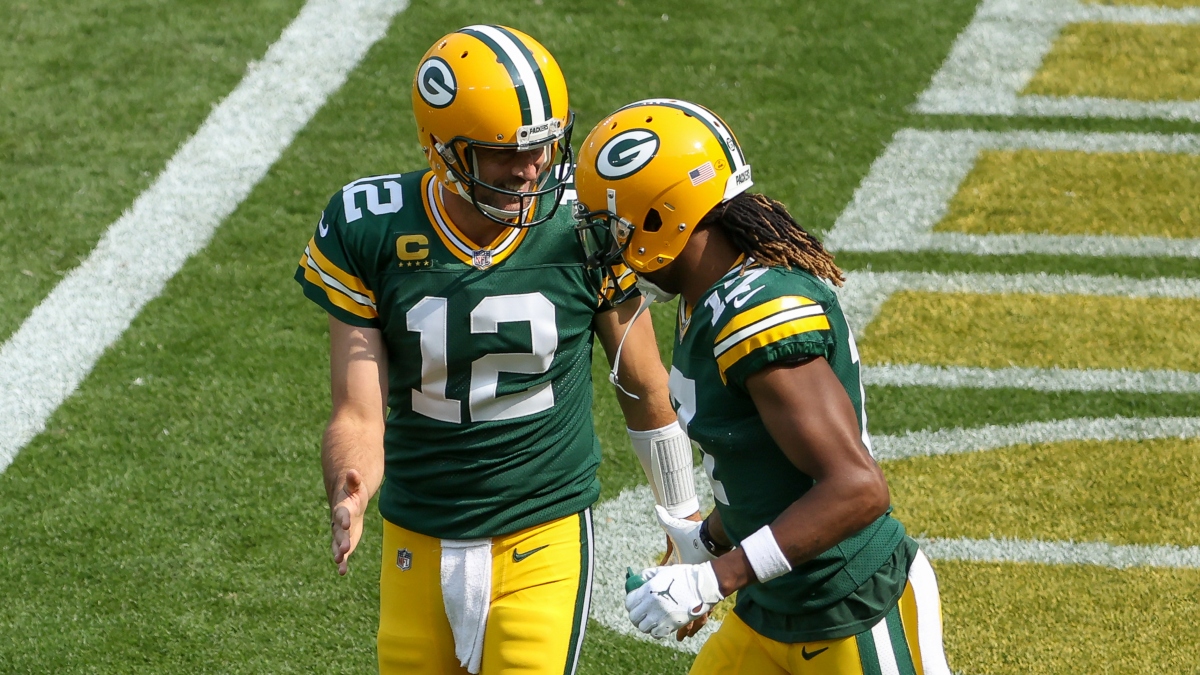 That's why it was head-scratching when Packers brass refused to dabble in the wealth of receiver talent in the 2020 draft, then decided that Will Fuller "wasn't worth the spend." As a metric, average separation at the target point tells an incomplete story, but it's clear Fuller — who,  according to Player Profiler ranks 30th in separation (1.85) — would have been an upgrade over Marquez Valdez-Scantling (1.69, 45th) and Allen Lazard (1.44, 78th).
As Rodgers continues to age, the talent of his receiving corps will come into play more and more, as he can no longer escape pressure with his legs the way he used to — nor would it be smart for him to do so given his injury history. Rodgers averages 17.3 rushing yards per game started for his career, but posted a career-low 11.4 last season and is on pace to shatter that low with just 7.7 this season.
Rodgers may or may not get exposed by the 49ers on Thursday Night Football — the 49ers do rank sixth in pressure rate (26.0%) this season, but they are blitzing a lot more to achieve it (34.9%, eighth) and are not fully healthy. In fact, he may again cruise through the regular season, as only two remaining opponents (Colts and Eagles) rank top-10 in pressure rate.
But if the road to the Super Bowl goes through Tampa Bay, Rodgers will be in trouble. And if the Packers are able to make it to the big game, it's notable that all of the AFC's top Super Bowl contenders — the Chiefs, Ravens and Steelers — rank top-four in pressure rate.
So even if the narrative says otherwise well into December or January, just remember that Rodgers is still the same quarterback he's been for the past half-decade — not the early-2010s version we used to know.
How would you rate this article?