How A.J. Green Injury Impacts His Fantasy Ranking, Tyler Boyd's Value, More
Credit:
Jeremy Brevard-USA TODAY Sports, Pictured; Cincinnati Bengals wide receiver A.J. Green (18)
How does A.J. Green's injury impact his fantasy football value? Should you now draft Tyler Boyd?
Our experts answer both, including when to draft both receivers and how to approach the rest of the offense.
Editor's note: Bengals head coach Zac Taylor confirmed on Tuesday that A.J. Green is expected to miss a couple of regular-season games.
---
A.J. Green suffered torn ligaments in his left ankle during training camp and is expected to miss six to eight weeks, which will include at least one regular-season game.
Our fantasy football experts discuss how this affects Green's draft value, as well as what it means for fellow receiver Tyler Boyd and the rest of the Bengals' offense.
How Does This Impact A.J. Green's Draft Value?
Ian Hartitz: It certainly doesn't help!
Green turns 31 on July 31. The longtime stud receiver missed only four games from 2011-2015, but his expected absence in Week 1 of this season will already be his 14th missed game since 2016.
The good news is that there isn't much on-field evidence supporting the idea that Green is already in decline.
Green's Rank Among WRs With at least 50 Targets Over His Career (Per Pro Football Focus)
2011: 2.13 yards per route run (tied for No. 18)
2012: 2.32 (tied for No. 9)
2013: 2.3 (tied for No. 8)
2014: 2.96 (No. 1)
2015: 2.4 (No. 7)
2016: 2.86 (No. 2)
2017: 2.09 (No. 10)
2018: 2.39 (tied for No. 7)
Still, we now have a receiver who is at the very least on the back half of his career with anyone's idea of a mediocre quarterback under center. The losses of first-round offensive tackle Jonah Williams (shoulder) and left guard Clint Boling (retirement) add credence to the idea that the Bengals probably won't have a top-tier scoring offense in 2019.
Green has the size (6-foot-4 and 210 pounds) and contested-catch ability to age better than most receivers, but I'm going to have a tough time taking him inside of fantasy football's top-20 wide receivers in most formats.
Chris Raybon: I previously had Green's over/under for missed games set at 1.5 given his age and injury history — he's averaged 3.1 missed games per season over the past five and 2.1 for his career. With the news of his ankle injury, I'm tacking on an additional 2.5, which is essentially on the conservative end of his six- to eight-week timetable.
This drops his ranking to borderline WR2 for me in the WR22-24 range, depending on format. I would take him at or below that ranking but wouldn't reach, because this is a player whose instances of being a fantasy headache are starting to pile up, as he's missed 27.1% of his games since the start of 2016.
UPDATE (7 p.m. ET on Tuesday): Reading between the lines, Bengals head coach Zac Taylor saying that "hopefully [Green] will be ready to go at the beginning-half of the season" rings more negative than his assertion that Green's absence "just going to be a couple of games" is positive.
NFL franchises tend to put a positive spin on injuries, especially to star players, and that's particularly true at this time of year — and even doubly so when it's just brought in a new coaching staff that's eager to provide optimism and win over the fanbase.
The fact that surgery was involved, and that Taylor's optimism is framed within the context of dividing the season into halves, is an ominous sign. It makes me think that in the worst of scenarios, Green is a potential candidate for the reserve/PUP list (which would cost him at least the first six games of the season) or even the IR-return list (which would cost him the first eight).
Green played 10, 16 and nine games over the past three seasons, meaning 10 is his median over that span. Upon hearing this news, I'm adjusting his games played projection from 12 to that median of 10 — aka "let him be someone else's headache" territory.
Downfield wide receiver targets tend to get diverted underneath in the absence of an equally talented replacement, so while Tyler Boyd's target floor and Tyler Eifert's target ceiling increase, Joe Mixon should also see a few more early-down targets than he would have otherwise for as long as Green is out.
Sean Koerner: I have Green missing 2 to 2.5 games due to his injury, which bumps him down to WR23 in my raw projections. There's certainly more of a risk/reward in his value in that we still don't have an exact timeline of when he will be back.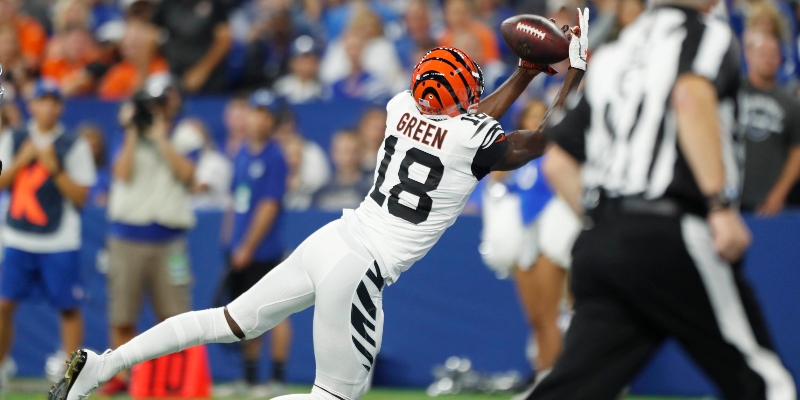 His per-game value will still be right around WR15 for me, so it's not as simple as just saying "he should be the 23rd receiver off the board." It'll be fairly easy to have a decent WR fill-in for the first couple games, if he were to miss the start of the season.
The easiest weeks to do so are the first few weeks when everyone is relatively healthy and we don't have any BYEs. If you're an experienced fantasy football player and still believe you have a good chance to make the playoffs — let's say you are also in a league in which six teams make the playoffs — I would say you can draft around the WR19 mark. That's the drop off after Julian Edelman, where there can be some value in stashing Green.
If you're a novice player and uncertain of your ability to manage your way into the playoffs — let's say you are in a 12- to 14 -team league with only four playoff spots — it might be best to stay away from Green. But if he falls outside of the top 25 receivers, you might want to consider him.
How Does This Impact Tyler Boyd's Value?
Hartitz: Let's take a closer look at Boyd's sample size without Green last season with Andy Dalton under center.
Week 10 vs. Saints: 3 receptions-65 yards-0 touchdowns (4 targets)
Week 11 at Ravens: 4-71-0 (11)
Week 12 vs. Browns: 7-85-1 (8)
This minuscule three-game sample shouldn't muddle our entire opinion of what Boyd is capable of achieving as the Bengals' clear-cut No. 1 pass-game option. Still, I wasn't too high on Boyd going into the season, as his current average draft position as the PPR WR27 doesn't seem too far removed from his ceiling after he finished last season as the WR19 in PPR per game.
Green's injury is more bad than good for Boyd due to the extra attention defenses will be able to send his way. Future daily fantasy investors shouldn't look to target Boyd in his brutal Week 1 matchup in Seattle, but the Bengals' substitute No. 1 receiver does offer upside in Weeks 2 and 4.
Week 1 at Seahawks: No. 1 in fantasy points per game allowed to slot receivers in 2018
Week 2 vs. 49ers: No. 27
Week 3 at Bills: No. 10
Week 4 at Steelers: No. 31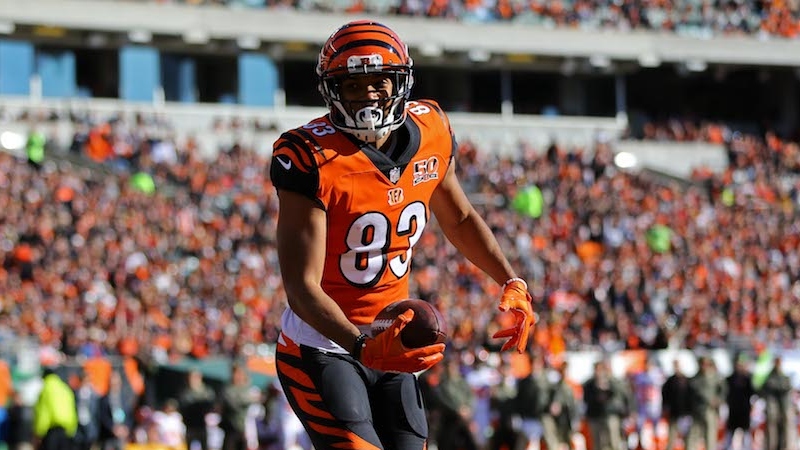 Raybon: Boyd's recent contract extension and the injury history of not only Green, but Tyler Eifert, inclines me to give Boyd a small bump into the WR2/3 borderline range. But Green's absence had minimal impact on Boyd's target share last season. Boyd's targets accounted for a 22.2% share of the team's attempts (8.2-of-37.1) with Green active in 2018, and 22.8% (6.8-of-29.9) without Green.
The team was more run-heavy with Green out, but that can just as easily be chalked up to having to turn to the inexperienced Jeff Driskel as their starting QB for over half of the games Green missed.
Koerner: Relatively very little.
Boyd was the WR12 when both he and Green were healthy Weeks 1-8 last season and was the WR20 when Green was out from Weeks 10 to 15. I don't want to look too much into the small sample size, but it certainly makes me think that Green could help draw defensive attention from Boyd and that when out of the lineup, the extra targets could just offset the lowered efficiency from Boyd.
It's also worth pointing out that Dalton was injured in a few of those games, so a lot of the split could be due from Driskel under center as well.
I have Boyd as my WR25.
How Does This Impact Value of Rest of Bengals' Offense?
Hartitz: The Bengals boast a fairly consistent history as a below-average offense whenever Green hasn't been healthy to suit up.
Raybon: I had previously liked Dalton as an early-season quarterback streamer or sneaky late 2QB/superflex pick due to his early-season schedule, but with Green now likely to miss one to three games to start the season, the Red Rifle is more likely to shoot early-season blanks.
In 14 career games without Green, Dalton's yards per attempt remains largely unchanged (7.29 with vs. 7.32 without), but his passing touchdowns per game fall from 1.63 with Green to 1.07 without.
John Ross has seen a substantial increase with Green out. The issue with Ross is that at no point in his NFL career has he done anything to convince us he's any good at football. Ross goes from 2.3 targets per game with Green to 5.7 without, but he's averaged only a 1.7-16.9-0.71 line.
Ross' value as a late-round flier for the first few weeks of the season increases, but don't get your hopes up for anything more than his patented one catch for three yards and a touchdown line.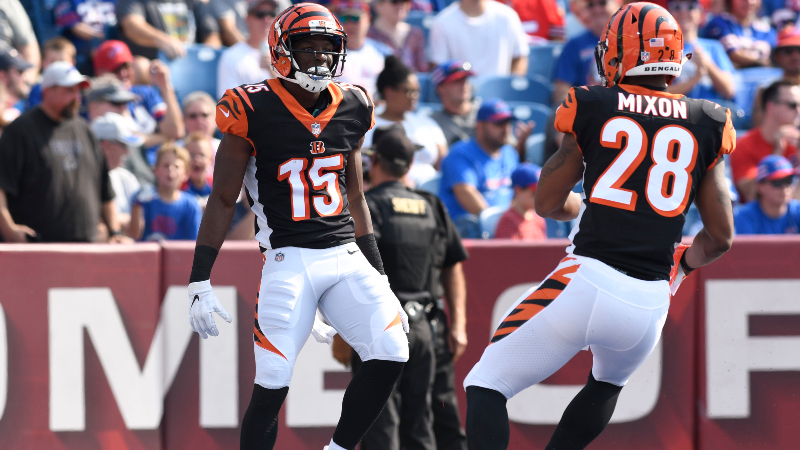 Less notably, Green's absence has accompanied small target increases for Eifert (4.7 to 5.5), Joe Mixon (3.1 to 3.6), and Alex Erickson (1.9 to 2.1), as well as a decrease for Giovani Bernard (4.4 to 3.4) in their respective careers.
In addition to Dalton potentially having to dump down to Mixon more often, Mixon could see increased touchdown upside if Green misses time: Since Green was drafted in 2011, the Bengals average 0.89 rushing touchdowns per game with him in the lineup, but 1.17 rushing touchdowns per game with him out.
This is despite the team winning only 33% of its games and averaging a -2.06 point differential with Green out compared to a 59% winning percentage and +2.54 point differential when he has suited up. (Bettors planning on wagering on Cincinnati in what look like potentially winnable games against Seattle, San Francisco and Buffalo from Weeks 1-3, beware.)
Koerner: Dalton was already nothing more than a 2QB-league late-round value. I could see him becoming a useful steamer in a 1-QB league certain weeks, but that might be on hold until Green is able to return.
The Bengals open the season in Seattle and have the second-lowest team total in the league. He wasn't going to be an option Week 1 anyway.
Considering this isn't a season-ending injury and Green very well could be back shortly after Week 1, I wouldn't use this as a way to invest in some of the secondary wide receivers. If anything, Ross has been a decent late-round flier in Best Ball formats, you might just have to reach for him a round earlier if you want to snag him.
How would you rate this article?