The All-Time Fantasy Super Bowl Team: Jerry Rice is the GOAT, More
Credit:
Credit: Kyle Terada-USA TODAY Sports. Pictured: Jerry Rice
Super Bowl 53 (Feb. 3, 6:30 p.m. ET, CBS) with the Patriots and Rams is rapidly approaching.
Ian Hartitz breaks down the biggest fantasy performances in Super Bowls 1-52, featuring all-time greats, such as 49ers wide receiver Jerry Rice.
Super Bowl 53 will pit the Patriots against the Rams in what figures to be another competitive matchup on the game's grandest stage. The opening over/under of 59 points marked the highest opening total in Super Bowl history, so there isn't expected to be a shortage of fireworks this Sunday.
While many players would take a Super Bowl win over any statistical accomplishment, that doesn't mean we can't also honor those who have balled out in February.
Without further adieu, here are the highest-scoring single-game fantasy performances in Super Bowl history (point-per-reception scoring).
Quarterback
1994 Steve Young (41.9 fantasy points)
The San Francisco 49ers dominated the 1980s with four Super Bowl victories, but their transition from quarterback Joe Montana to Young didn't immediately produce another ring.
That changed in Super Bowl XXIX, when Young led the 49ers to a dominant 49-26 victory over the San Diego Chargers. The veteran quarterback completed 24 of 36 passes (67%) for 325 yards (9.03 Y/A) with a Super Bowl-record six touchdown passes and zero interceptions.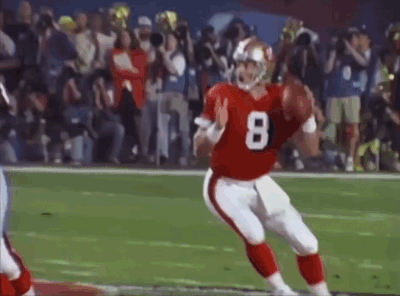 The monkey was removed from Young's back, and he also managed to lead the 49ers in rushing with 49 yards.
Best of the Rest
1984 Joe Montana (37.1): The 49ers easily dispatched the Miami Dolphins 38-16 in Super Bowl XIX, as Montana completed 24 of 35 passes (69%) for 331 yards (9.5 Y/A) with three touchdowns and zero interceptions. He also converted five carries into 59 yards and a score, marking the second-most productive rushing game of his career.
1989 Montana (33.4): Montana's was dominant in his last Super Bowl. Overall, he effortlessly completed 22 of 29 passes (76%) for 297 yards (10.2 Y/A) and five touchdowns during the 49ers' 55-10 victory over quarterback John Elway and the Denver Broncos.
2017 Nick Foles (33.0): The legend of Saint Nick was created from truly one of the best performances in Super Bowl history. Foles was excellent all night, completing 28 of 43 passes (65%) for 373 yards (8.67 Y/A) and three touchdowns with just one interception. Of course, his fantasy numbers were enhanced by his one-yard touchdown reception on the Philly Special.
2017 Tom Brady (30.8): The other quarterback to play in BDN's breakout performance wasn't too shabby himself. Brady completed only 28 of 48 passes (58%), but he managed to gain a Super Bowl-record 505 yards through the air along with three touchdowns in the Patriots' 41-33 loss to the Eagles.
Running Back
2016 James White (45.9)
White is responsible for the most fantasy points in a single Super Bowl ever.
The Patriots erased their 28-3 deficit against the Falcons in Super Bowl LI thanks in large part to their dual-threat running back, who eviscerated Atlanta's championship dreams as both a runner and receiver.
White converted 16 targets into a postseason-record 14 receptions for 110 yards and a touchdown.
White had scored just two rushing touchdowns in 37 career games before finding the end zone twice in six carries against the Falcons.
The Patriots might turn to their overqualified scat back once again in Sunday's matchup against the Rams considering how successful Saints running back Alvin Kamara was against Los Angeles in the NFC Championship game.
Best of the Rest
1984 Roger Craig (38.5): Montana's aforementioned masterful performance featured plenty of goodness from his running back. Overall, Craig converted 15 carries into 58 yards and a touchdown while catching seven passes for 77 yards and two scores through the air.
1983 Marcus Allen (34.9): Allen's 191 yards and two touchdowns on the ground in Super Bowl XVIII came on just 20 carries in the Los Angeles Raiders' 38-9 win over the Washington Redskins. The performance was highlighted by arguably the best run in Super Bowl history, when Allen essentially turned nothing into a 74-yard touchdown.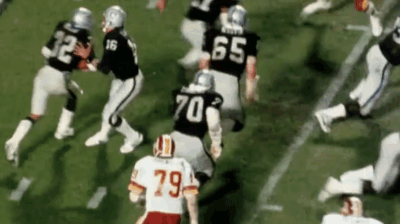 1997 Terrell Davis (34.5): Davis converted 30 carries into 157 yards and a trio of scores, but he could've had an even bigger performance if not for an in-game migraine. On one play, blinded by his headache, he served as a decoy on a John Elway touchdown bootleg.
1987 Timmy Smith (34.3): Smith broke Allen's Super Bowl rushing record with an absurd 204 yards on 22 carries. The Washington Redskins' rookie hadn't surpassed even 75 rushing yards in a game prior to his explosion in Washington's 42-10 victory over the Broncos.
1993 Emmitt Smith (31.8): The league's all-time leading rusher converted 30 carries into 132 yards and a pair of touchdowns on the ground and chipped in with a 4-26-0 line through the air in the Dallas Cowboys' 30-13 victory over the Buffalo Bills. Smith rushed seven times for 61 yards and a touchdown on the team's first drive of the second half to help secure the game.
1994 Ricky Watters (31.8): Young led the 49ers in rushing in their blowout win over the Chargers, but Watters pitched in with 47 yards and a touchdown on the ground to go along with a sterling 3-61-2 receiving line.
1990 Thurman Thomas (30.0): Bills fans likely still haven't forgiven kicker Scott Norwood for his missed 47-yard field goal at the end of Super Bowl XXV, but some blame also probably deserves to be placed on the play-calling. Thomas had just 15 carries, but he racked up 135 yards and a touchdown on the ground. The Bills' best offensive player also chipped in another 55 yards on five receptions as a receiver.
Wide Receiver
1994 Jerry Rice (43.9)
Picking one of Rice's Super Bowl performances to highlight doesn't feel right, as the GOAT always managed to dominate when the lights shined brightest.
Rice was particularly unstoppable with Young under center, as he caught 10 of 13 targets on his way to 149 yards and three touchdowns. This was hardly a fluke, as Rice posted a 12-144-0 line on 12 targets in the 49ers' 38-15 beatdown of the Chargers in Week 15 of the 1994 regular season.
Best of the Rest
1987 Ricky Sanders (39.9): Quarterback Doug Williams' breakout performance helped enable massive performances from both his running back and No. 1 receiver. Overall, Sanders caught nine passes for 193 yards and a pair of touchdowns … and all but 16 of those yards were gained before halftime!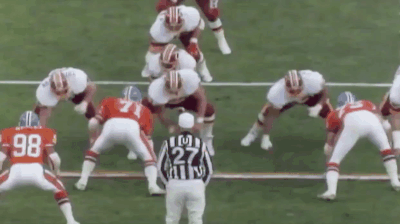 1989 Rice (39.8) & 1988 Rice (39): It's tough not to call Rice the greatest receiver of all time if we use the "Championships + Statistical Achievements = Success" model that favors Tom Brady and Michael Jordan over Joe Montana and LeBron James.
1966 Max McGee (32.8): Quarterback Bart Starr's long-time No. 1 receiver was well past his prime by the time Super Bowl I came around: He posted a season-long 4-91-1 line during the entire 1966 regular season. Still, McGee saved his best performance for last, as he posted a 7-138-2 line in the Green Bay Packers' 35-10 win over the Kansas City Chiefs.
2008 Larry Fitzgerald (31.7): It took career-best efforts from Steelers quarterback Ben Roethlisberger and wide receiver Santonio Holmes to keep Fitzgerald from winning a ring. Quarterback Kurt Warner and his No. 1 receiver were largely unstoppable during the Arizona Cardinals' 2008 postseason run.
1997 Antonio Freeman (31.6): Quarterback Brett Favre and the Packers did everything they could to extend Elway's winless Super Bowl streak, but they ultimately fell short, losing 31-24. But Freeman was magnificent, catching 9 of 13 targets for 126 yards and a pair of touchdowns.
2003 Deion Branch (30.3): Branch won Super Bowl MVP with a sterling 11-133-0 line in the Patriots' 24-21 win over the Eagles in Super Bowl XXXIX, but he was actually more productive in the previous year's title game. Against the Panthers in Super Bowl XXXVIII, Branch caught 10 of 13 targets for 143 yards and a score in the Patriots' 32-29 victory.
Tight End
1981 Dan Ross (33.4)
Ross is probably the biggest no-name player on this list, as the Cincinnati Bengals' starting tight end made just one Pro Bowl in his seven-year career and never scored more than five touchdowns in a single season.
Still, quarterback Ken Anderson needed a consistent No. 2 option behind top receiver Cris Collinsworth (eyeballs emoji), and Ross scored a pair of fourth-quarter touchdowns in the Bengals' 26-21 loss to the 49ers in Super Bowl XVI.
The Bengals' tight end finished the day with a strong 11-104-2 line. That reception total has been bested in the Super Bowl by only White (14) in 2016 and Demaryius Thomas (13) in 2013.
Best of the Rest
2017 Rob Gronkowski (32.6): The tight end position has only two players to crack 30 PPR points in the Super Bowl. Gronk has struggled to dominate this season, but he was an un-guardable mismatch on the game's biggest stage as recently as 12 months ago. Overall, the best tight end in the history of the game caught 9 of 15 targets for 116 yards and two touchdowns in the Patriots' 41-33 loss to the Eagles.