Is Alvin Kamara Worth the Top Pick in Fantasy Football Drafts?
Credit:
Derick E. Hingle-USA TODAY Sports. Pictured: Alvin Kamara.
Alvin Kamara is expected to be the lead back and an even more dangerous weapon in the New Orleans Saints' offense.
Ian Hartitz discusses how high he should be taken in upcoming fantasy football drafts.
We're in the thick of the NFL offseason and it's officially time to start fantasy football prep. I'll be answering the biggest questions heading into the 2019 season; this is part of that series.
---
The Saints haven't ranked outside of the league's top-12 scoring offenses or top-eight units in terms of total yardage since Sean Payton and Drew Brees came to town prior to the 2006 regular season.
The current edition of the Saints offense is as devastating as ever with one of the best quarterbacks to ever play the game still running the show. Brees is expected to again funnel most of the offenses production through stud receiver Michael Thomas as well as three-down talent Alvin Kamara.
The following breakdown will focus on both Kamara's fantasy football value as well as his ability to ball out as a rusher and receiver inside of the Saints' ever-efficient offense.
All Alvin Kamara Does Is Rack up Yards
There might not be another running back in the NFL who is more smooth than Kamara. Defenders seem to just slide off the Saints' 5-foot-10 and 214-pound talent, as Kamara's average of 5.1 yards per carry is the highest mark among 26 running backs with at least 300 carries over the past two seasons.
It's tough to watch a Saints game for long before inevitably spotting Kamara gliding through multiple defenders on his way to the end zone.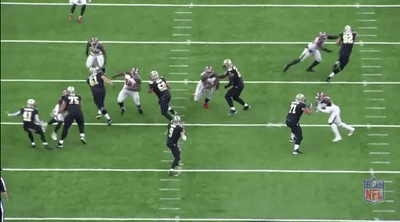 Overall, Kamara's single season average of 3.83 yards after contact per touch in 2017 trailed only Adrian Peterson (2012), Derrick Henry (2018), Kenyan Drake (2017) and Nick Chubb (2018) among all running backs since 2010 (Pro Football Focus, minimum 100 carries).
The two-time Pro Bowl running back is even tougher to corral as a receiver. Kamara is pretty much impossible for any linebacker to handle in open space.
Kamara has posted 81-826-5 and 81-709-4 receiving lines over the past two seasons. Only Marques Colston (168), JuJu Smith-Schuster (169), Christian McCaffrey (187), Odell Beckham Jr. (187), Jarvis Landry (194) and Michael Thomas (196) have racked up more receptions than Kamara (162) during the first two seasons of a career in the history of the NFL.
Of course, football is a team sport. Brees and Payton have consistently engineered one of the league's highest-scoring and most efficient offenses, and the 2018 edition of the offensive line was one of the better run-blocking units in recent memory.
Overall, the Saints' average of 5.19 adjusted line yards per rush in 2018 trails only the 2018 Rams (5.49) since Football Outsiders began tracking the metric in 1996.
Kamara is undoubtedly one of the more talented backs in the league. Still, there's a pretty good chance fans won't see him on the field for an alarmingly-high number of snaps in 2019.
The Saints Always Utilize Multiple Running Backs
We've only seen Kamara work as the Saints' undisputed lead back during Mark Ingram's four-game suspension in Weeks 1-4 of last season, when he played 81%, 77%, 85% and 84% of the offense's snaps, respectively.
The result was one of the most-productive fantasy football stretches from a running back in recent memory:
Carries: 56 (No. 11 among all running backs)
Rush yards: 275 (No. 8)
Targets: 47 (No. 1)
Receptions: 35 (No. 1)
Receiving yards: 336 (No. 1)
Total touchdowns: 6 (Tied for No. 1)
PPR: 136.1 (No. 1 — Gurley was No. 2 at 106.2)
Kamara's snap rate fell to 61% in 13 games after Ingram returned from suspension. Both that rate, as well as his season-long 63% rate, are more than Payton has given any other running back during his time with the Saints:
Took a decade but Sean Payton seems cool with having a featured RB again

2018 Kamara 63% snaps
2017 Ingram 55%
2016 Ingram 46%
2015 Ingram 46%
2014 Ingram 41%
2013 Thomas 50%
2012 Sproles 40%
2011 Sproles 46%
2010 Betts 25%
2009 Bush 36%
2008 Bush 39%
2007 Bush 58%
2006 Bush 57%

— Ian Hartitz (@Ihartitz) June 19, 2019
This snap rate is in the upper tier of today's running backs. Only James Conner (64%), Todd Gurley (75%), David Johnson (80%), Saquon Barkley (83%), Ezekiel Elliott (83%) and Christian McCaffrey (91%) were on the field more often than Kamara (63%) last season.
Overall, Kamara's 275 touches in 2018 trailed only Mark Ingram's 288 combined carries and receptions from 2017 among all running backs during the Brees-Payton era.
The Saints are moving on from Ingram with Latavius Murray, who has racked up an impressive 34 touchdowns since entering the league in 2014 — tied for the fourth-most scores on the ground in the league. Murray offers huge handcuff upside in the event of a Kamara suspension or injury.
He could also be a useful flex option if Sean Payton and Co. decide to continue to roll with multiple backs — although Murray's limited ability as a receiver will likely keep him from ever inheriting a true three-down role in New Orleans.
Even if Murray is a bit more involved than anticipated: It would be shocking if Kamara plays fewer than 60% of the offense's snaps again in 2019.
---
Kamara Is the Clear 1.04 Pick in Fantasy Football Drafts
The gap in projected workload between Kamara and fantasy football's additional top running backs is simply too high for me to feel comfortable taking him inside of the top-three selections.
My current top-three picks in fantasy drafts of all shapes and sizes:
This puts Kamara ahead of:
Kamara is one of very few running backs capable of producing as a RB1/WR2 hybrid talent.
His fantasy-friendly receiving workload makes him worthy of a top-four selection … and your team will likely be just fine if you want to roll the dice on the Saints' stud running back with the 1.01 selection.
It's your life, live it.
How would you rate this article?