Andrew Luck Retirement Drops Fantasy Rankings for T.Y. Hilton, Marlon Mack, More Colts
Credit:
USA Today Sports. Pictured: Eric Ebron, T.Y. Hilton, Marlon Mack
News of Andrew Luck's retirement shocked the football world on Saturday.
Our fantasy football experts reveal how it's changed their rankings for key players.
Andrew Luck's surprise decision to retire from the NFL has set off ripple effects that will extend to his teammates and fantasy football players alike.
Our experts Sean Koerner, Matthew Freedman and Chris Raybon sort through the fallout and how it changes their fantasy rankings for T.Y. Hilton, Marlon Mack and the rest of the Colts.
---
With Jacoby Brissett now slated to start for the Colts this season, I have him ranked as the No. 19 quarterback in fantasy, primarily because of his rushing ability.
Additionally, In Frank Reich's system, I expect Brissett to progress as a passer and put up better numbers than the 58.8% completion rate and 6.6 yards per attempt we saw out of him when he started in place of Luck in 2017.
Wide receiver T.Y. Hilton takes a significant hit to his projections. With Luck, I had Hilton projected for 81.3 receptions, 1,288.2 yards and 7.1 touchdowns — numbers that are line with what Hilton has done over the past half decade when Luck has played a majority of the games in a season.
Without Luck, however, Hilton has been a shadow of himself, and that is now reflected in his projections: I have him down to 70.7 receptions, 1,141.3 yards and 4.0 touchdowns. Hilton has also dropped from WR10 to WR24 in my PPR rankings.
As for the rest of the Colts' wide receivers, they're now almost undraftable. The same goes for tight end Jack Doyle.
---
>> Get our experts latest fantasy football rankings with our Draft Kit.
---
As for tight end Eric Ebron, he's dropped from my TE7 in PPR to TE12, primarily because I'm expecting far fewer touchdowns, which drove much of his fantasy value last year.
I've also downgraded the running backs. Marlon Mack has moved from my RB22 in PPR to RB25 while Nyheim Hines has dropped to my RB37 from RB31. And honestly I think I'm probably still too high on Hines, whose projection is driven primarily by his work as a receiver.
---
Luck's retirement has a massive impact on the entire Colts team.
I use my power ratings to estimate how many touchdown a team will score in the upcoming season. With the 4.5- to 5-point drop in the Colts' rating from Andrew Luck to Jacoby Brissett, I have the offense scoring 7.9 fewer TDs overall, which will come out of both passing and rushing TDs.
Here are how my updates changed Colt skill player's rankings (half PPR):
Jacoby Brissett: QB38 > QB25
Marlon Mack: RB17 > RB21
T.Y. Hilton: WR13 > WR20
Devin Funchess: WR49 > WR76
Eric Ebron: TE10 > TE15
Adam Vinatieri: K8 > K21
Brissett is now a low-end QB2 with some upside. The Colts are still a very talented team, which means Brissett has a ton of weapons at his disposal.
But I don't have Brissett projected to start every game this season. There's at least some risk that Chad Kelly could make some starts, or that the Colts bring in a veteran QB or make a trade to find a Luck replacement. They're in "win now" mode, so it'll be interesting to see how they handle the Luck fallout themselves.
I'm not doing backflips over Brissett, but you could do worse in 2QB/Superflex leagues, and he'll be a decent streaming option some weeks for 1QB leagues.
The RB position is also impacted by Luck's retirement. It'll likely mean defenses can pay more attention to stopping the run game and fewer TD chances in general. I'm bumping Mack down four slots, and I'm thinking the market might overreact and possibly push him into RB3/Flex range — and he could be a good target if he slips that far.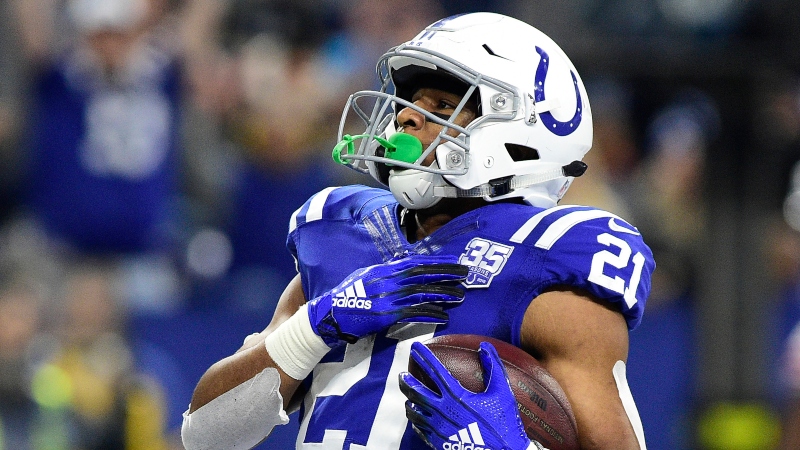 Hines was a low-ceiling, high-floor RB who I already wasn't too excited about, but this is devastating to his value. He's now RB58 and doesn't offer enough upside to consider even if he falls that far in drafts now.
All pass-catchers get massive downgrades.
Hilton goes from a high-end WR2 to more of a low-end WR2. It's a crushing blow to his draft stock and I'll be interested to see how far he moves down people's draft boards.
Funchess is no longer someone to target. He was going to be a potential red-zone threat for the Colts and had double-digit TD potential before, but that has all but vanished now.
Ebron is now outside of the TE1 range. He could still be a decent bet for a TD in certain matchups, but will be a bit of a headache since we won't be able to count on as much yardage to raise his weekly floor a bit.
Not that I recommend drafting a kicker, but this is also a crushing blow for Vinatieri. Kickers are totally dependent on their offense setting them up for field goals and extra points, and Brissett won't be able to set up Vinatieri as much as Luck would, so Vinatieri drops out of the top-10 all the way to K21.
---
Even though we have a 15-game sample of Brissett as a starter in 2017 to go off of, the comparison isn't necessarily apples to apples. In 2017, Brissett got rocked for 52 sacks behind the worst offensive line in football, according to Football Outsiders' adjusted sack rate metric (10.0%).
The offense was also coordinated by Rob Chudzinski, whose units have finished 24th or worse in points and 23rd or lower in pass attempts in more than half of his nine seasons as OC.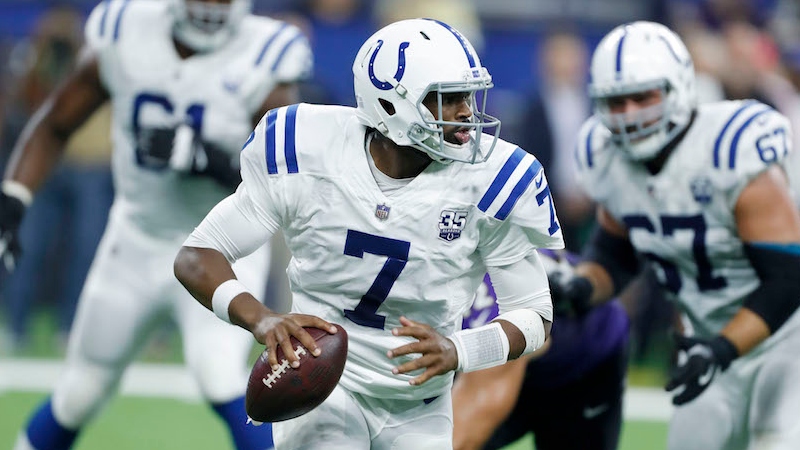 This year, Brissett has the benefit of an O-line that ranked No. 2 in adjusted sack rate last season. He also should be much improved after spending a year in a Reich system that saw Luck post career-highs in passer rating (98.7) and ESPN's Total QBR (71.5). In five years as head coach or OC, Reich's offense's finished top-six in pass attempts three times and never lower than 14th, so I expect a more experienced and prepared Brissett to attempt more than the 31.1 passes per game he averaged in 2017.
Because Brissett can also make it happen with his legs — he averaged 4.2 rushes for 17.3 yards and 0.27 TDs per game in 2017 — I believe he's worth a look as a low-end QB2 knocking on the door of the top 20 with upside to boot.
Brissett targeted Hilton 22.5% of the time in 2017 compared to 20.1% for Luck last season, so while I do expect Hilton to lose a small amount of volume and some efficiency — his 52.0% catch rate and 0.25 TDs per game in 2017 were career lows — Reich's scheme and Brissett's progression will allow Hilton to suffer minimal drop-off.
Hilton goes from WR14 to WR20 for me.
---
>> Read more about how Reich's playcalling tendencies will impact the Colts offense.
---
Doyle caught a career-high 80 passes in 2017, with tight ends on the receiving end of 34% of Brissett's targets overall. The Colts played with multiple tight ends on the field for 38% of the snaps last season when Doyle was active compared to 16% when he was inactive, so I'm not as worried about Doyle or Ebron as I am about the rotational newcomers at WR, Devin Funchess and Parris Campbell.
Ebron and Doyle come closer in ranking for me as fringe TE1s. I would target each as a value option depending on scoring system — Ebron for his TD upside in standard, Doyle for his reception upside in PPR.
Reich has already professed his desire to be a top rushing team, so Mack could see elevated carries. Mack saw 19.7 touches per game from Week 13 on last season, and I think this locks him in for a similar workload as opposed to his full-season mark of 17.7.
I already expected Hines to be a non-factor like he was over the final four games of last season (2.75 touches per game), and with Brissett's dump-offs tending to be directed at tight ends (30.4% target rate in 2017) more than running backs (18.3%), I don't expect that to change.
How would you rate this article?