Antonio Brown, Odell Beckham Jr. and the True Worth of a 'Diva' WR
Credit:
USA Today Sports. Pictured: Odell Beckham Jr., Antonio Brown
The Antonio Brown and Odell Beckham Jr. trades re-elevated the question of whether "diva" wide receivers are "worth it."
NFL expert Chris Raybon assesses their true value, breaks down who won these blockbuster deals and more.
Well, that escalated quickly.
In the span of a few days, Antonio Brown was traded to the Oakland Raiders then Odell Beckham was shipped to the Cleveland Browns.
Though they could conceivably go down as two of the three best receivers of all time, they're more commonly referred to not by their accolades, but as divas, which then comes with this question: "How much are they worth, really?"
Let's start here: What is a diva?
The most applicable definition I've found is "a self-important person who is temperamental and difficult to please."
But in the context of Brown and Beckham, it's essentially a catch-all term that's part archetype, part stereotype and refers to receivers with some combination of the following:

Contract dispute
Legal trouble
End-zone dances that bring joy to some but offend others
Workload complaints
Photographed in fur*
Sideline altercation
Described as "passionate" to cover for sideline altercations
Really f—ing good at football
*Being photographed in fur is HUGE for any wanna-be diva. Brown had diva tendencies for a while, but let's be clear: It was the fur, not the missed game or trade demands, that officially cemented his diva status.
Unless a contract dispute or legal trouble keeps them off the field, the final point would seem to trump the others … but does it?
Do Divas Win You Championships?
"Don't tell me that just 'cause you got an attitude and you like to floss and all of that other stuff — that means you can't win. You can win." — Stephen A. Smith
Stephen A. is in fact correct. And Michael Irvin is a big reason why.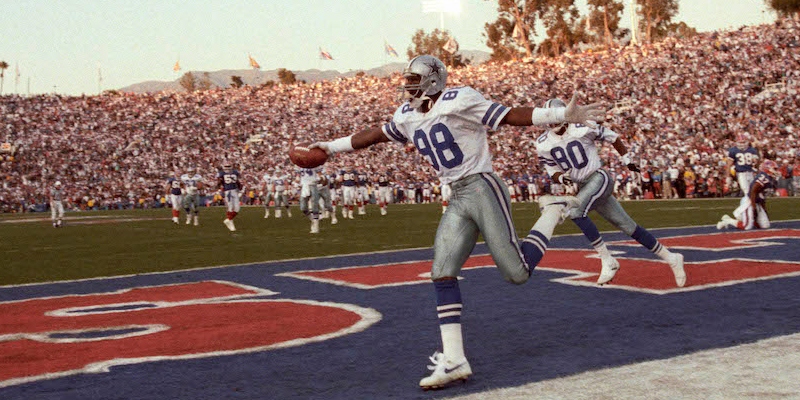 Though there were precursors to today's diva wide receiver such as Bob Hayes, Lynn Swann, and Billy "White Shoes" Johnson, Irvin is widely considered to be the first true diva.
Irvin did things like fight a senior teammate at the U over a steak and mastermind an illicit party house near the Cowboys facility.
But he also won three rings.
Since Irvin's last Super Bowl victory in 1995, the list of prominent diva wide receivers who have won championships include Andre Rison ('96 Packers), Keyshawn Johnson ('02 Bucs), Plaxico Burress ('07 Giants) and Santonio Holmes ('08 Steelers).
This means that of the 27 Super Bowls since Irvin won his first, seven (or 32%) have been won by teams employing a so-called diva wide receiver.
So I don't think there's any question about whether it can be done.
The real question is: How good does your top wide receiver have to be to win a Super Bowl?
Or put another way: How good does a wide receiver have to be to earn diva immunity?
What's the diva Mendoza line?
If one of the defining characteristics of a diva is self importance, in this context, it almost certainly stems from the belief that the position is integral to a championship — and probably now more than ever, you would think, given the modern-day passing explosion.
But that notion flies in the face of reality (somewhat).
Below is a table measuring the production of the top receivers from all Super Bowl-winning teams, with each receiver's yards, touchdowns and yards per reception expressed as a percentage of that respective season's league leader.
Aside from the 90s, Super Bowl-winning teams haven't been those with the best receivers.
On average, Super Bowl-winning squads of this century have a top wideout who give them about two-thirds as much yardage and half as many touchdowns as that season's league leader, which equates to roughly 1,040 yards and seven touchdowns.
Julian Edelman. Marques Colston. Demaryius Thomas. Alshon Jeffery. Golden Tate. Anquan Boldin. Greg Jennings. Hines Ward.
Super Bowl winners' WR1s of late have essentially been more like fantasy football WR2s: You know they're good, but you also know there's about a dozen or so guys who are better.
Even Marvin Harrison, who is easily the top receiver to win since 2000, was part of a 1a/1b tandem with Reggie Wayne.
If we've learned anything from the Patriots dynasty, it's that you need to have a head coach and you need to have a quarterback. Both have an outsized impact on what goes on on the field and don't feel the wrath of Father Time quite as much or as quickly as other positions.
If you're set at coach and quarterback, you can cycle through other parts.
If that happens to be an elite wide receiver with diva tendencies, fine. If not, also fine. The Patriots won with David Givens and lost with Randy Moss.
The constants are Belichick and Brady.
The Pats also seem to be at the forefront of another trend we've seen emerge: Championship offenses with top receivers who play in the slot. This isn't surprising given that a pass to the middle was 14.3% more efficient than a pass to the left last season, and 16.4% more efficient than a pass to the right, according to Football Outsiders' DVOA.
But Are They Worth It Anyway?
We know you can win with a diva receiver, but you don't necessarily need an elite receiver to win.
Going back to the Mendoza line question, the receiver with the lowest yardage total compared to the league leader was Quadry Ismail, whose 49-655-5 line was nearly 1,000 yards short of league leader Torry Holt. If someone like Ismail starts acting up, finding a replacement of similar value isn't too difficult.
But AB and OBJ are elite, GOAT-level guys.
To me, questioning a player's worth relative to the distraction they bring shouldn't even really be up for debate.
Distractions are present in every player's lives, whether we know about them or not.
And many times, what's considered a distraction by some could also be welcomed by others on the team — they can take the heat off others who might be underperforming.
A diva's true worth should probably be measured in unasked questions; when there's as much talk of missed games and missed meetings as missed playoffs, some get let off the hook easier than others.
There's also the business aspect.
My editor Katie put it best in a recent Slack: "Divas are good for business."
AB allows a relocating franchise to sell a new fan base on having the greatest wide receiver of our generation. OBJ gives the Browns a second player in the top 10 in jersey sales and, you know, another reason for the kind of optimism that has been eluding the franchise for decades.
Touchdown celebrations are some of the most watched and shared NFL clips on the internet, and to consistently reach the end zone — or be a good receiver, period — probably requires a little bit of diva. It's the only position where many times you're not only competing with the opponent, but also with your own teammates to gain more separation faster and be rewarded with a target.
So Who Won the Antonio Brown Trade?
Last season, 30 wide receivers achieved minimum threshold levels of production that we'd expect from a Super Bowl winner, and Oakland didn't have one after trading Amari Cooper. So in that sense, it made sense for the Raiders to go after AB.
But given that AB is 30 and OBJ is 26, the latter would have been the more ideal fit for a franchise that doesn't yet have its franchise quarterback.
Is Gruden falling into the trap of thinking he can recreate 2002, when he led the Bucs to a championship with a 30-year-old Keyshawn and a middle-of-the-road QB in Brad Johnson? Probably. But getting Antonio Brown for third- and fifth-round picks still qualifies as a win.
Who Won the Odell Beckham Jr. Trade?
Earlier this offseason, I wrote about how you can effectively cross two-thirds of the league off the list of next year's Super Bowl contenders just by looking at prior-season DVOA.
The Browns did not make the cut, but if any team is poised to buck the trend, it's them.
The essential theory behind it is that NFL teams can make only so big of a jump in one year, so the Browns' 17th-place finish in offensive DVOA works against them.
Of course, that includes the disasters that were Hue Jackson and Tyrod Taylor. The Browns finished eighth in weighted offensive DVOA, which gives more weight to end-of-year performance.
The AFC will most likely go through the team with Patrick Mahomes, Tyreek Hill and Travis Kelce, or the one that held Hill Kelce to a combined four catches in the AFC Championship Game.
Over the second half of last season, Mayfield's 8.57 yards per attempt was second only to Mahomes. That Mayfield did it while targeting Jarvis Landry less — 21.3% of the time vs. Landry's 31.1% rate in Weeks 1-8 with Mayfield and Taylor — while distributing the rest of his passes to Rashard Higgins, Breshad Perriman, Antonio Callaway and Damion Ratley was even more impressive.
Mayfield is already ahead of the curve as far as understanding where to go with the football. And with OBJ knocking Landry, David Njoku, Nick Chubb, Duke Johnson and (eventually) Kareem Hunt a peg down on the defensive priority list, this offense could absolutely explode.
Even with more competition for targets, I wouldn't be surprised if this is the year Njoku finally has a monster fantasy season; more one-on-ones should do wonders for the efficiency of an athletic beast of a tight end like him.
Where Do the Steelers and Giants Go from Here?
The OBJ trade was more sudden, but the AB trade is probably more disconcerting.
The Steelers are (were?) a legit Super Bowl contender, and AB was a player capable of putting them over the top. He will be missed when trying to keep pace with Kansas City or disrupting Belichick's defensive schemes.
That the Browns turned around and then acquired essentially a younger version of AB to pair with a QB who legitimately looks like he has a chance to be as good as Big Ben is a gut punch. On the bright side, the next time Pittsburgh inevitably blows a road game in Cleveland, it will almost certainly be as the underdog.
Interestingly enough, though, history tell us that both of these franchises will probably be OK. The Steelers and Giants are among the six teams that have combined for over half of all Super Bowl wins.
Sure, the Steelers didn't get one with Brown. But they seem to have no problem churning receivers out. They won with Hines Ward, Santonio Holmes and the first year after Plaxico Burress left.
And this is also a team that witnessed first-hand that losing Le'Veon Bell wasn't the end of the world. Who knows what kind of talent they'll unearth in this year's draft?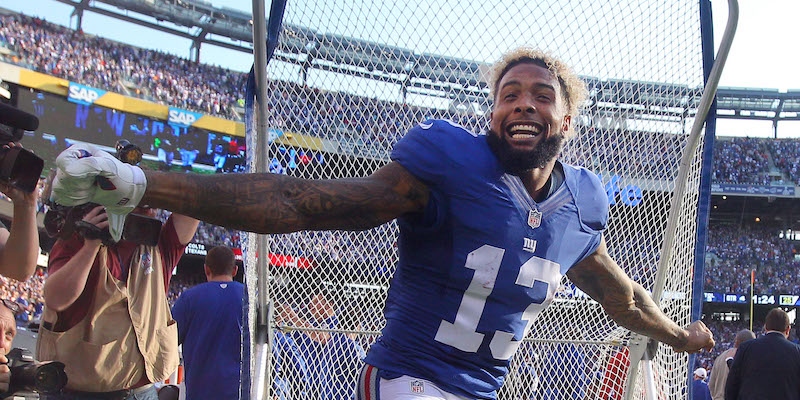 And though the Giants didn't get one with OBJ, they got one with Plax, and another with who turned out to be a 1,500-yard receiver they didn't even need to spend a draft pick on in Victor Cruz.
The Giants need a quarterback. To continue to let OBJ toil away on a hopeless roster with no franchise QB in place was a waste of everyone's time.
That speaks to making a point of addressing a need at quarterback first instead of, say, drafting a running back with the second overall pick. But in hindsight, the only quarterback that maybe could have saved this thing from imploding was the one taken before they got to pick (aka OBJ's new quarterback).
OBJ is more valuable to the Browns than he was to the Giants.
Ironically, even when it comes to divas, it's not about the receiver. It's about the team.
---
Chris Raybon is a Senior Editor at the Action Network and a co-host of "I'll Take That Bet" on ESPN+. He has watched every snap of every NFL game since 2010 — even the kneel downs. Follow him on Twitter @ChrisRaybon and read about how he quit his accounting job and got paid to watch sports.
How would you rate this article?