Freedman: Antonio Brown Props, Picks and Projections for 2019
Credit:
Jeffrey Becker-USA TODAY Sports. Pictured: Antonio Brown
Matthew Freedman makes his picks for Antonio Brown's 2019 props, complete with his own projections for the Oakland Raiders wide receiver.
The Antonio Brown saga is finally over.
Before he was traded to the Oakland Raiders, Brown suggested that he would rather retire than play for the Pittsburgh Steelers in 2019. But barring the unforeseeable — which is always possible with Brown — he will play this upcoming season.
It's even possible that his former teammate running back Le'Veon Bell could join him in Oakland. The Raiders have the salary cap space to sign Bell, and they've displayed a willingness to pay up for veterans.
So what can we expect from Brown in his first season with the Raiders? Below are my analysis and picks for his 2019 performance props.
For daily performance-based player props, follow me in The Action Network app.
---
Antonio Brown's Total Receptions: Over/Under 95.5
Over 95.5: -115
Under 95.5: -115
Since 2013, Brown has never had fewer than 154 targets in a season. But as it happens, no wide receiver for Raiders head coach Jon Gruden has ever had more than 153.
Jon Gruden leader in targets as a head coach:
153, 145, 133, 140, 142, 139, 122, 152, 143, 98, 138, 101

Antonio Brown targets by year:
2018: 168
2017: 163
2016: 154
2015: 193
2014: 181
2013: 167

— Ian Hartitz (@Ihartitz) March 10, 2019
While we should expect Brown to be heavily targeted, it's still fair to assume that he'll get fewer than the average of 11.15 targets per game he's seen with the Steelers since 2013 since Pittsburgh tends to be a fast-paced, pass-heavy team.
Let's say that Brown gets 10 targets per game. Considering that the Steelers led the league with 689 pass attempts last season and that the Raiders were tied for 16th with 556, 10 targets per game seems generous yet reasonable.
Very few players had at least 10 targets per game in 2018.
Davante Adams: 11.27
Antonio Brown: 11.2
Julio Jones: 10.63
JuJu Smith-Schuster: 10.38
Odell Beckham Jr.: 10.33
DeAndre Hopkins: 10.19
With 10 targets, Brown will still be in elite company.
Let's also assume that Brown will play 15 games.
While he's missed at least one game per year over the past three, he's never missed more than three games in a season. It's a little dicey to project a 31-year-old wide receiver with close to a full season of health, but Brown has never been an injury-prone player and he works hard to keep his body in peak physical condition.
Still, that would mean we're projecting Brown for 150 targets.
For his career, Brown has a 65.7% catch rate. But he had what was probably the worst season of his career in 2018, and he's had a reduced catch rate of just 61.9% since 2017.
And as much as Brown disliked catching passes from Steelers quarterback Ben Roethlisberger, it's not as if Derek Carr has distinguished himself much with the Raiders.
43 quarterbacks have started at least 16 games since 2014.

Derek Carr's career stats and ranks among this group …

Yards per attempt: 6.69 (38th)
Completion rate: 62.8% (28th)
TD rate: 4.4% (26th)
INT rate: 1.9% (12th)
QB Rating: 88.8 (26th)

— Ian Hartitz (@Ihartitz) March 10, 2019
But Carr did have a career-high 68.5% completion rate in 2018. Sure, it was accompanied by an embarrassing 7.14 average depth of target (aDOT) — one of the lowest marks in the league — but he was able to gift his primary wide receivers and tight ends with passes they could catch.
Jared Cook: 67.0% on 100 targets
Jordy Nelson: 72.4% on 87 targets
Seth Roberts: 68.3% on 63 targets
Let's assume that with Carr's newfound accuracy and shorter routes, Brown's catch rate rebounds to his career mark of 65.7%.
That would give Brown a reception total of 98.6 — too close to the over/under to find any value in this prop.
If I had to lean on a side, I'd honestly take the under despite the projection, because it's something of a best-case scenario. On a team that doesn't play fast and loose, Brown could see fewer than 10 targets per game.
Brown could also miss multiple games due to injury or suspension. If the Raiders' season doesn't go well, it's not hard to imagine Brown doing something that makes the team bench him for the final couple of games.
And Brown and Carr could fail to develop a strong connection. It's rare for a wide receiver not to regress in his first year with a new team
But, in general, I think this line is about right.
THE PICK: Pass
Antonio Brown's Total Receptions: Over/Under 105.5
Over 105.5: -120
Under 105.5: -120
This is an alternative line I've found. With my projection of 98.6 receptions, I'll take the under.
Over the past three years, Brown has averaged 103.7 receptions per season.
I'd bet the under to -130.
THE PICK: Under 105.5 (-120)
Antonio Brown's Total Receiving Yards: Over/Under 1,100.5
Over 1,100.5: -115
Under 1,100.5: -115
Brown has had a ridiculous average of 1,524.2 yards receiving per year since 2013. On its face, this over/under seems laughable.
While I don't think this number is absurd, I do think it's low — and that's despite my status as the original anti-Antonio truther.
It's hard to deny that Brown is starting to slow down.
He had a career-low 79.3 Pro Football Focus grade in 2018. And based on the RACR metric created by Josh Hermsmeyer of FiveThirtyEight, Brown has becoming increasingly inefficient over the past half decade when it comes to transforming targets and air yards into receptions, yards after the catch and ultimately receiving yards.
2014: 0.91
2015: 0.86
2016: 0.80
2017: 0.70
2018: 0.69
Carr is very much not someone who throws the ball down the field.
Ben Roethlisberger ranks in percentage of passes thrown 20+ yards downfield (PFF):
2018: 10th
2017: 4th
2016: 1st
2015: 4th
2014: 17th

And Derek Carr:
2018: 33rd
2017: 16th
2016: 29th
2015: 21st
2014: 26th

— Ian Hartitz (@Ihartitz) March 10, 2019
With a lower aDOT, Brown will have fewer air yards to turn into receiving yards, and there's little reason to expect him to be significantly more efficient than he has been over the past two years.
But even so, the over/under is too low based on Brown's various yards-per-reception rates throughout his career.
Career: 13.4
Since 2013: 13.3
Since 2016: 13.2
2018: 12.5
Non-Rookie Low: 11.9
Even if Brown has only 11.9 yards per reception this year — that's the mark he had in his injury-impacted 2012 campaign — Brown would still have 1,172.8 yards receiving based on his projection of 98.6 receptions.
Basically, the only way Brown won't hit 1,100.5 yards is if he misses multiple games, is targeted less frequently than we expect or suffers from career-worst efficiency.
Even I'm not willing to go that far.
I never feel great about betting on a 31-year-old wide receiver to go over 1,100 yards, but last year 13 (including Brown) surpassed that number. And for all my grumbling, I think that for at least 2019, Brown will still be a reliable (if volume-fueled) yardage producer.
I'd bet the over to -130.
THE PICK: Over 1,100.5 (-115)
Antonio Brown's Total Receiving Yards: Over/Under 1,250
Over 1,250: -120
Under 1,250: -120
This line is within the range of possibility, but it's on the high side.
If you're going to bet only one of the two yardage options, you might want to go over 1,100.5 — but I'm also going to take the under here and hope that Brown lands between 1,100.5 and 1,250 yards. Go for it.
THE PICK: Under 1,250 (-120)
Antonio Brown's Total Receiving Touchdowns: Over/Under 9.0
Over 9.0: -115
Under 9.0: -115
This number says it all.
Despite missing Week 17 of 2018, Brown was top-three in the league with 168 targets, yet he was just ninth with 104 receptions and 11th with 1,297 yards.
He significantly underperformed: For a guy getting so many targets, Brown should've had more receptions and yards.
But Brown made up for his yardage shortfall by leading the league with 15 touchdowns receiving thanks to an absurd career-high 8.93% conversion rate of targets into touchdowns and league-high 23 end-zone targets.
My theory: In order to appease a declining Antonio, who trailed JuJu in receptions and yards, the Steelers made a point of getting Brown the ball in the red zone so that he at least could save face with lots of touchdowns.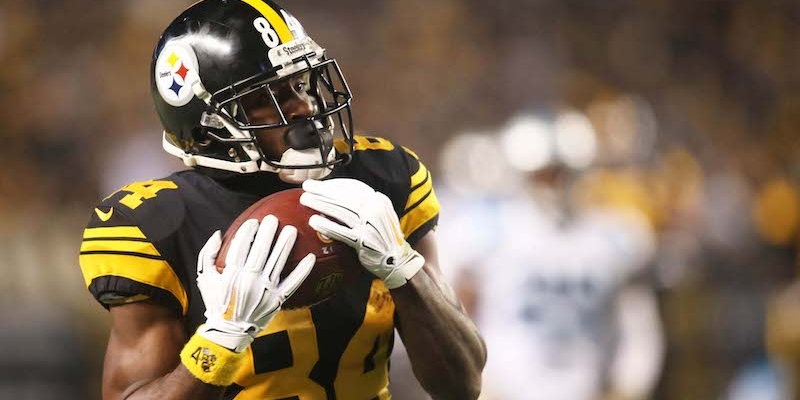 Because of Brown's inflated touchdown total, the average fan who looks at just fantasy points per game still thinks of Brown as the best receiver in the league.
He's not.
Touchdown production is fickle on a game-to-game and year-to-year basis.
Even if Brown were still with the Steelers in 2019, he would be a prime regression candidate given that his career touchdown rate is 6.53%.But we should expect even more regression because the Raiders are highly likely to score fewer touchdowns overall.
Even if Brown has the same number of targets (and he'll probably have fewer), a lower percentage of his targets will come in the red zone because the Raiders will have fewer possessions inside the opponent 20-yard line.
So if Brown gets 150 targets but his touchdown rate drops to the 5.52% mark he had in 2017, that would give him 8.3 touchdowns.
And what if it drops to other marks he's had over the past six years?
5.18% (2015): 7.8 touchdowns
4.79% (2013): 7.2 touchdowns
How many passing touchdowns do you think the Raiders will have this season?
Gruden's past five teams have been amazingly poor at producing touchdowns through the air.
2018 Raiders: 19
2008 Buccaneers: 18
2007 Buccaneers: 18
2006 Buccaneers: 14
2005 Buccaneers: 17
It seems unreasonable to expect the 2019 Raiders to have more than 25 touchdowns passing, and even that seems high.
Brown has caught 36.4% of his team's receiving touchdowns over the past six year. So if the Raiders have 25 passing touchdowns and Brown's market share rate stays steady, that would give him 9.1 touchdowns.
And I don't think the Raiders will get 25 touchdowns through the air.
I'd feel a lot better if this over/under were 9.5, but I'm still on the under because I think the odds are likelier that Brown gets seven to eight touchdowns than nine or more.
I'd bet the under to -130.
THE PICK: Under 9.0 (-115)
Will Antonio Brown Be the NFL's Receiving Leader in 2019?
Leader in receptions only: +550
Leader in receiving yards only: +600
Leader in receptions & receiving yards: +2500
Leader in neither receptions nor receiving yards: -3000
Over the past five years, Brown has led the league twice in receptions and twice in yards receiving. In 2014, when Brown was at his peak, he led the league in both with 129 receptions and 1,698 yards on 181 targets.
But Brown has had just 104, 101 and 106 receptions over the past three years, and it will be hard from him to lead the league in receptions if he doesn't massively exceed his target projection of 150.
But what if he does get lots of targets? Even then, he could lead the league in receptions and not be the leader in yards, because I expect him to have a lower aDOT than he has in the past.
So if I had to bet on any of the plus-money options, I'd probably bet on him to be the receptions leader at +550.
And if you're an Antonio truther and believe that he's still as efficient as he's ever been, then you might want to bet on him to lead in both categories at +2500.
I think a low aDOT will limit his yardage upside, but if you think he'll be targeted down the field and will be a yards-after-the-catch producer, there is value in this bet because there's generally a strong correlation between reception volume and raw yardage.
But I strongly expect that he will lead the league in neither receptions nor receiving yards.
At -3000 odds, he has a 96.8% implied probability not to lead the league in both categories. That number feels about right to me. And honestly, maybe a little high.
So I'm passing on all of these.
THE PICK: Pass
Freedman's Antonio Brown Projections
Here are my projections for Brown with the Raiders this season.
Receptions: 90-100
Receiving yards: 1,150-1,250
Receiving touchdowns: 7-8
On the one hand, there's nothing wrong with those numbers. On the other hand, they would give Brown his worse season since 2012. And if he were to miss multiple games, he could end up with the worst non-rookie campaign of his career.
Given Brown's age, recent and long-term production as well as 2019 projection, the player to whom I think he's most similar is 2012 Roddy White.
I grant that Roddy is not quite at Brown's level, but they are comparable in key ways.
For the five seasons preceding 2012, White was one of the best receivers in the league. He was a perpetual Pro Bowl selection. In 2010, he was an All-Pro player, leading the league with 115 receptions on 179 targets.
In 2011, with decreasing efficiency, he still had a league-high 11.3 targets per game. And in 2012 he had another strong campaign with a 92-1,351-7 receiving performance on 142 targets.
I think that's basically who Brown will be in 2019.
And I probably don't need to tell you that 2012 was the last good year of Roddy's career.
2013: 63-711-3 receiving on 97 targets in 13 games
2014: 80-921-7 receiving on 125 targets in 14 games
2015: 43-506-1 receiving on 70 targets in 16 games
I'm not saying that 2019 will be the last good year of Antonio's career, but it wouldn't be a surprise if it marked his final 1,000-yard campaign.
Last November, I said that Antonio Brown was falling off a cliff. I was obviously wrong about that.
I should have said that he was sliding down a cliff.
The only questions are these: What is the speed with which he's sliding, and how far down does the cliff go?
Matthew Freedman is the Editor-in-Chief of FantasyLabs. He has a dog and sometimes a British accent. In Cedar Rapids, Iowa, he's known only as The Labyrinthian.
How would you rate this article?