The Fantasy Impact of Antonio Brown's Potential Trade to the Bills
Credit:
Charles LeClaire-USA TODAY Sports. Pictured: Buffalo Bills wide receiver Antonio Brown.
Wide receiver Antonio Brown is reportedly close to being traded to the Buffalo Bills, per the NFL Network's Ian Rapoport.
Here's a look at fantasy football ramifications for Brown and the Steelers moving forward.
Editor's note: This article was posted shortly after Ian Rapoport first reported the Steelers and Bills were "closing in on a deal" involving Antonio Brown. But seven hours after the initial report, Bills GM Brandon Beane told ESPN's Adam Schefter that the team has "moved on" and wouldn't be trading for Brown. When a deal actually gets done, look out for fantasy and betting reaction from The Action Network and FantasyLabs.
Rumors circulated on Thursday that the Steelers had given teams a Friday deadline to put together their best deal for Antonio Brown. The Buffalo Bills will apparently win the sweepstakes for the star wide receiver, according to a report from NFL Network's Ian Rapoport.
Sources: The #Steelers are closing in on a deal to send star WR Antonio Brown to the Buffalo #Bills. There it is.

— Ian Rapoport (@RapSheet) March 8, 2019
ESPN's Adam Schefter questioned the legitimacy of the report, as the NFL reaches NBA levels of offseason madness.
Let's break down the potential repercussions of what would be the biggest trade in recent memory for all parties involved.
Life in Buffalo for AB
I'd venture to guess that Brown didn't have Buffalo towards the top of his list of preferred suitors. Regardless, he's now expected catch passes from second-year quarterback Josh Allen, who was one of the league's worst passers during his rookie season.
Yards per attempt: 6.48 (28th among 29 quarterbacks with at least 10 starts)
QB Rating: 67.9 (28th)
TD Rate: 3.1% (27th)
Interception Rate: 3.75% (29th)
Completion Rate: 52.8%
Allen was electric as a rusher, but AB hasn't exactly been the league's most-willing downfield blocker throughout his career.
Zay Jones was Buffalo's top receiver in 2018 and finished as the PPR WR34. And both Robert Foster (WR19) and Jones (WR24) showed upside during the final six weeks of the season after Allen returned from a shoulder injury. The only problem? Allen showed no inclination to overly feed Jones (7.2 targets per game) or Foster (5.2).
Brown hasn't averaged fewer than 7.75 targets per game since his rookie season. It wouldn't be surprising to see the offense force feed as many targets as possible to their new star receiver — but the dropoff in both quarterback play and surrounding talent can't be overstated.
Can one of the best to ever play the position still put up over 1,000 yards and score double-digit touchdowns? Maybe, but it certainly doesn't look good.
The biggest issue is the potential for Brown to have an even higher share of uncatchable targets than he saw during his final season in Pittsburgh.
NFL team ranks for percentage of targets that were catchable in 2018 (PFF):

1. Saints (80%)
…
23. Steelers (73%)
…
32. Bills (65%)

— Ian Hartitz (@Ihartitz) March 8, 2019
I don't think AB is washed, but his new team had the single-worst offense in the league when it came to throwing the ball on target. This wasn't because Allen was consistently attempting tight-window throws, as he ranked 29th in percentage of throws into tight coverage compared to 17th for Roethlisberger (Next-Gen Stats).
Brown is electric after the catch, but he's still a five-foot-10 receiver that just finished last season ranked outside of the league's top-70 receivers in average separation (PlayerProfiler).
AB's reign as fantasy's top wide receiver is over.
Get used to seeing a non-prime AB attempt to fight off consistent double-coverage from a quarterback that is comically inaccurate and unwilling to take risks in tight coverage.
Life in Pittsburgh for Everybody Else
The Steelers are going to have a tough time replacing Brown's coverage-drawing ability, but they certainly aren't done adding pieces on offense.
Regardless, they now have to replace a player that had at least 150 targets in each of the past six seasons. We can probably expect to see a more-consistent Juju Smith-Schuster, although he already received an absurd 166 targets as the offense's "No. 2" option in 2018.
The big winner in Pittsburgh from a fantasy perspective is 2018 second-round pick James Washington. The former Oklahoma State field-stretcher needs a ton of refinement on both his routes and hands, but Washington possesses the type of jump-ball ability that is now needed more than ever for the Steelers.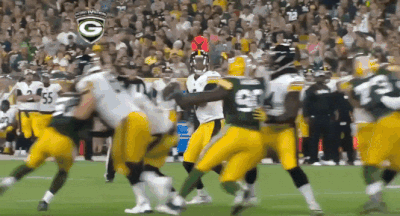 We won't be able to properly evaluate this trade until the draft picks that are dealt have matured. Still, it's hard to see the Steelers offense being a better unit in 2018 without one of the best receivers to ever play the position.
How would you rate this article?