Hartitz: Fantasy Football Impact of the Antonio Brown Trade for Raiders, Steelers
Credit:
Ben Queen-USA TODAY Sports. Pictured: Antonio Brown
Ian Hartitz breaks down how the Antonio Brown trade will affect the wide receiver's fantasy football outlook.
He also analyzes how the Pittsburgh Steelers will be impacted.
Fool me once shame on you. Fool me twice, shame on Antonio Brown.
ESPN's Adam Schefter has confirmed that Brown will be traded to the Oakland Raiders for a third- and a fifth-round pick.
The Raiders are also reportedly adding money to AB's deal: He's now expected to have three years worth $50.1 million, with incentives to reach $54.1 million. He essentially gained $30.1 million in guaranteed money.
I already had the privilege of breaking down Brown's falsely reported trade to the Bills, so portions of the following analysis draw from that article because, like Josh Allen, we don't have a ton of evidence that Derek Carr is what some might call an "elite" quarterback.
What the Trade Means for Brown, Oakland
Sure, the Raiders' franchise quarterback is more accurate than the Bills' second-year signal caller, but Jon Gruden and Co. should still have a number of unanswered questions surrounding Derek Carr's future.
20 QBs make $15M+ per year

Career Y/A:
Jimmy G (8.2)
Russ (7.9)
Ben (7.8)
Rodgers (7.8)
Rivers (7.8)
Brees (7.6)
Cousins (7.6)
Ryan (7.5)
Brady (7.5)
Cam (7.3)
Luck (7.2)
Dalton (7.2)
Stafford (7.1)
Eli (7)
Tannehill (7)
Smith (6.9)
Keenum (6.9)
Elite (6.7)
BOAT (6.7)
Carr (6.7)

— Ian Hartitz (@Ihartitz) February 24, 2019
Carr has proved he can play at a high level for stretches, but he's yet to live up to his status as one of the league's highest-paid quarterbacks.
Remember that Carr didn't manage to enable Amari Cooper for the better part of the past four seasons. And he's never made a habit of overly feeding any of his wide receivers. Michael Crabtree and Cooper saw a combined average of 138.3 targets per season from 2015 to 2016.
AB hasn't had fewer than 150 targets since 2012.
It wouldn't be a surprise if the offense force fed as many targets as possible to its new star receiver, but the drop-off in both quarterback play and surrounding talent can't be overstated.
Can one of the best to ever play the position still put up more than 1,000 yards and score double-digit touchdowns? Maybe, but it certainly doesn't look good.
What the Trade Means for Pittsburgh
The Steelers will have a tough time replacing Brown's coverage-drawing ability, but they certainly aren't done adding offensive pieces.
Regardless, they now have to replace a player who had at least 150 targets in each of the past six seasons. We can probably expect to see a more consistent JuJu Smith-Schuster, although he already received an absurd 166 targets as the offense's "No. 2" option in 2018.
The big winner in Pittsburgh from a fantasy perspective is 2018 second-round pick James Washington. The former Oklahoma State field-stretcher needs a ton of refinement on both his routes and hands, but Washington possesses the type of jump-ball ability that is now needed more than ever for the Steelers.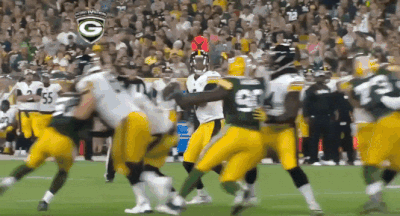 We won't be able to properly evaluate this trade until the draft picks that are dealt have matured. Still, it's hard to see the Steelers offense being a better unit in 2018 without one of the best receivers to ever play the position.
How would you rate this article?