Oddsmakers Know Your NFL Team's Win Total for 2018
Credit:
Kelley L Cox-USA TODAY Sports
Amid the fervor of Super Bowl 52, oddsmakers have posted early 2018 regular season win totals for all 32 NFL teams. It's the time of year when many recreational bettors deposit to bet the Super Bowl game line, player props, very serious entertainment props, and more.
Oddsmakers are fully aware that over the next week and a half, inexperienced bettors will flood the market and the win totals below, including vigs, are set accordingly.
AFC East

The New England Patriots have not won fewer than 12 games since 2009 and have the highest 2018 win total.
Six and a half wins for the Bills is also interesting considering they're coming off a nine-win season. This coaching staff is doing everything they can to get Tyrod Taylor out of Buffalo, which is surely factored in.
AFC North

Not only does Cleveland have the lowest win total for 2018, but they're also listed at +850 to pull off back-to-back winless seasons. While the team owns the first and fourth picks in the 2018 NFL Draft with oodles of cap space to boot, the juice implies oddsmakers expect four or fewer wins for the Browns.
AFC South

Indianapolis could only muster four wins in a disastrous 2017 campaign, but with Andrew Luck slated to return and Josh McDaniels reportedly taking over as head coach, oddsmakers expect at least six wins for the Colts in 2018.
AFC West

With reports indicating that a changing of the guard at quarterback is imminent in Kansas City, oddsmakers are projecting the Chiefs to take a step back in 2018, but still expect Patrick Mahomes to keep them in contention to win the AFC West title.
NFC East

Even with Carson Wentz missing three games, the Eagles put up 13 regular season wins in 2017. Uncertainty regarding whether Wentz will be ready for Week 1 is factored into their 2018 projection, but with Nick Foles proving to be a more than capable backup, don't be surprised to see early money take this 'over'.
NFC North

In my mind, this is the most interesting division when projecting 2018 win totals. Aaron Rodgers will return and oddsmakers are offering plus-money juice for over 10 wins? I smell a rat.
The Vikings are rightfully expected to fall off from 13 wins this season, especially with quite a quarterback conundrum on their hands this offseason.
NFC South

The NFC South has three legitimate Super Bowl contenders in 2018 and their win totals are priced accordingly. As for the Bucs? Oddsmakers expect Jameis Winston to eat between six and seven wins next season.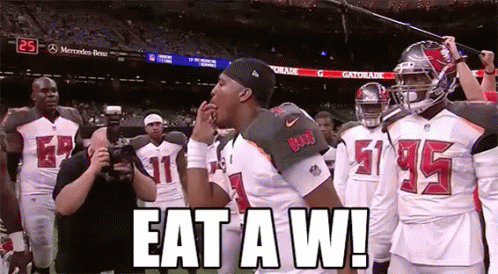 NFC West

As I mentioned in the opening paragraph, oddsmakers understand that the Super Bowl attracts inexperienced bettors and know how to take advantage. Ask many NFL fans about next year's most improved team and San Francisco will surely be at or near the top of the list.
Those not paying attention to the vig will see 7.5 wins and want to autobet the over. However, at -350 juice, over bettors are forced to pay one helluva price and with $100 limits, having to wait almost an entire year for just over a $28 payout (if it wins) is not ideal.