Public All Over Pats, Despite Historic Spread
Credit:
Kelley L Cox – USA TODAY Sports
The Jaguars have done a damn fine job making Chad Millman proud, but they're still on the edge of being double-digit dogs this weekend in New England.
We also have yet another NFC matchup with the Eagles featured as a home dog. They took out their pooch masks after defeating the Falcons, but can they do it again against the cardiac 'Kings, who nearly killed their senile senior citizen super-fan with an amazing win?
Let's take a look at what we can learn from the early action on the AFC and NFC Championship Games.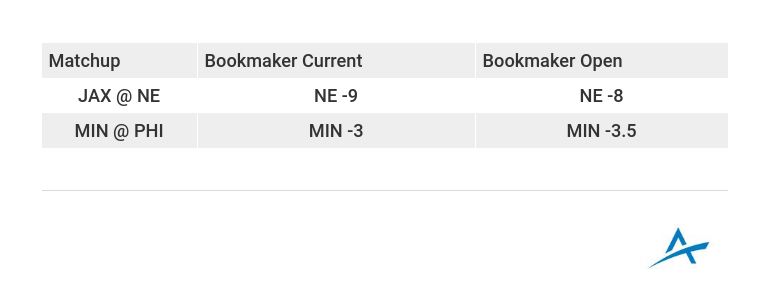 AFC Championship
Poor Jacksonville. They could've beaten the Steelers 50-0 and probably still would've been more than a touchdown dog to the Patriots.
After their dismantling of Pittsburgh, the Jags opened between an eight- and nine-point dog around the market. That's the second-biggest spread in a conference title game in our database (since the 2003-04 season). You may imagine that bettors would take Jacksonville plus the points given their recent play, but you'd be wrong.

So far, more than 60% of bettors are still not convinced the Jaguars have what it takes to run with the top men of the NFL. That's right, top … men.
The Patriots allowed the Titans to score first, but rattled off 35 straight points en route to an easy win and cover of the -13/-13.5 spread. However, it's been the AFC Championship Game and Super Bowl in which they've had some trouble covering historically (6-10 ATS since 2003, compared to 10-6 in the Wild-Card and Divisional rounds).
I won't be surprised at all if some sharp bettors push Jacksonville's line down to +7.5, but I can't imagine the line hitting or crossing over the key number of seven.
Sharp bettors grabbed the under early, moving the line from 47 to 46 within a few hours of opening. It has since moved back to 46.5 across the market. Weather isn't the reason for the sharp interest, as the game is expected to be played in the mid-40-degree temps with little wind.
NFC Championship
The Eagles were able to shut up the haters by winning the only game in which a No. 6 seed has ever been favored over a No. 1 seed. Bettors are really unsure about this game, as spread bets are almost 50/50.
This line is down to juiced-up -3 after opening -3.5 at Bookmaker.eu. Watch for this number to ping back and forth between -3 and -3.5 throughout the week.
At just 38.5 points, this game features the lowest total in a conference championship or Super Bowl since 2011, when the Steelers hosted the Jets in a game that featured a closing total of 38.
Even though bettors, especially public bettors, love to bet overs, both the total tickets and dollars on this over/under are within a few percentage points of 50%. This game is also expected to be played in mid-40s temperatures with calm winds, so it's up to bettors themselves to make up their minds and push the line.
Stay tuned for more action by following @ActionNetworkHQ.
Photo via Kelley L Cox-USA Today Sports