Am I the Type of Person Who Goes to Day 2 of the NFL Draft by Himself as a Pretend Browns Fan?
Credit:
Scott R. Galvin-USA TODAY Sports
Yesterday I went to AT&T Stadium with the intention of pre-partying Round 1 of the draft by eating as much food as possible. (Done.) While there, I was lucky enough to get a ticket to the event from a well-connected and very generous NFL.com employee whose identity must remain a secret. (Thanks, Roger. Sorry I booed.)
2018 Draft, Day 2?
When I contacted this ticket-yielding paragon of manliness today to thank him for yesterday's hookup, he responded with this message.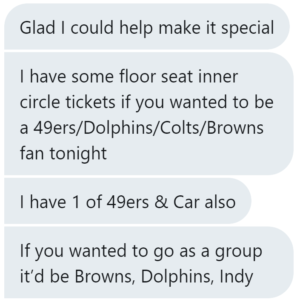 Here's my thought: This might be a once-in-a-lifetime opportunity, and I'm in my childhood hometown. I'm definitely forcing my old high-school friends to dress up as Browns fans. I'm not even giving them the Dolphins or Colts options — and one of my friends is actually a Colts fan. This is a Browns-only hard sell.
Browns or Bust
My text message to the group read something like this.
Brofos, it's Freedman, a.k.a. the best Super Nintendo baseball player in the world. [Within my text, I actually linked to the article. I'm that kind of jerk.] My source with the NFL can get us floor seats for Day 2 of the draft tonight. No big deal. I had to perform only moderately humiliating acts to acquire these. Again, no big deal. I'd rather not talk about it.

So the floor seats are ours for the taking — and these are really great seats, right near the stage — but there's one catch: We'd have to dress up as and pretend to be Browns fans! Honestly, for me this is a bonus, and it's not that hard to dress like a Browns fan:

Ugly orange shirt
Beaten-down body posture
Brown paper bag with a few holes cut out

Easy. Also, some of you guys should probably do society a favor and ALWAYS wear bags over your faces, so this just feels totally right.

How many tickets should I tell him we need? 
It took me about an hour to craft that text. I have a very stressful life.
My Friends Are Old and Lame
Here's how my friends responded.
Sorry, already have plans with the wife.
Nah, I'd need to get a sitter.
Busy, lots to do tonight.
I'm out unless they're also paying for my beer.
I can't, it's the Sabbath.
In short, my friends are old and lame, and now I'm faced with one of life's eternal questions.
Am I the Type of Person Who Goes to Day 2 of the NFL Draft by Himself as a Pretend Browns Fan?
I asked Twitter to help me make this decision.
Is it worth pretending to be a fan of the Browns in order to have a floor seat at Day 2 of the draft? Asking for a friend.

— Matthew Freedman (@MattFtheOracle) April 27, 2018
My bad for asking Twitter anything.
I thought about asking my mom if she wanted to go, but I ultimately chose not to insult her: No woman — especially a mother — should be asked to dress like a Browns fan. Besides, she'd be totally unconvincing. If the camera were ever to show her, people all across the country would say, "Look, there's a woman from Texas pretending to care about football in Cleveland. The NFL needs to hire better actors."
Mama Lynn is 100% Cowboys. She just radiates blue, silver, and Tony Romo hatred. It would be wrong for so many reasons to ask someone like that to fake fandom for another team — especially on the day news broke that Jason Witten plans to retire. I haven't seen my mother cry like that since my wedding.
Also, I have draft content I need to write. If I'm at the event tonight, I won't be able to start my Day 2 recap till super late. And if there's one thing in this life I value it's getting lots of sleep. (Said with a pseudo-ironic flair.)
And at some point this evening I'm supposed to record a NASCAR podcast with Nick Giffen (RotoDoc) of RotoViz. Talladega, baby!
So for a number of solid reasons I'm not going to the draft tonight.
But here's the real reason: I just don't want to be the type of person who goes to Day 2 of the NFL draft by himself as a pretend Browns fan.
If anything could make someone feel lonely in a crowd of 20,000 drunk people who all hate Roger Goodell, it's having to pretend to like the Browns while surrounded by total strangers also pretending that the Browns don't suck.
That's a Josh Allen-esque hard pass.
But if you're going to the draft tonight, have a great time. Especially if you root for the Browns.
——
Matthew Freedman is the Editor-in-Chief of FantasyLabs. He has a dog and sometimes a British accent. In Cedar Rapids, Iowa, he's known only as The Labyrinthian.
Pictured above: Cleveland Browns fan cheers at the 0-16 parade