What Bettors Need to Know About Super Bowl 52 Referees
Credit:
Mark J. Rebilas-USA TODAY Sports
Gene Steratore will be the crew chief for Super Bowl 52. He leads a seven-person crew including Roy Ellison (umpire), Jerry Bergman (down judge), Byron Boston (line judge), Tom Hill (field judge), Scott Edwards (side judge) and Perry Paganelli (back judge).
These officials were rated in the top tier at their position and are considered among the best at what they do. By nature, refs are impartial but are there tendencies that bettors can exploit?
Note: Placing a wager based solely on the past results of the referee officiating the game is a donkey move. This is just one more piece of information to make you a more informed gambler.
Gene Steratore: New England Patriots (-5.5) vs. Philadelphia Eagles
Favorites: 69-80-6 ATS (46.3%, -13.81 units)
Home Teams: 73-76-5 (49.0%, -6.75 units)
Overs: 75-76-4 (49.7%, -4.39 units)
Underdogs have found success with Steratore on the field. Teams getting points are 80-69-6 ATS when Steratore is the ref. He is the second most profitable official for dog bettors (+7.40 units) in our database. Underdogs have been .500 or better in eight of the ten seasons Steratore has been a referee.
Steratore's most recent game action came in the NFL Divisional Round between the Vikings and Saints. The game closed with Minnesota favored by 5.5 points and the underdog Saints managed to cover even as the Minneapolis Miracle gave the Vikes a surprising 29-24 win.
They Always Get the Calls
The Patriots were called for 1 penalty against the Jaguars

It is the fewest penalties called on one team in a playoff game since the 2011 AFC Championship… when the Patriots were called for 1 penalty in a win over the Ravens

— NFL Research (@NFLResearch) January 21, 2018
Jaguars players and fans were not happy about the disparity in penalties called during the AFC title game. Many believe the Patriots get preferential treatment from the officials. When refs are celebrating touchdowns with the team and congratulating Brady after the win it's easy to see why some might think Brady and Belichick have an unfair advantage.
So, conspiracy theorists won't like this. In Patriots games that Steratore has been the crew chief, New England is 11-5 straight-up and 9-6-1 ATS. And then there is this:
The Other Zebras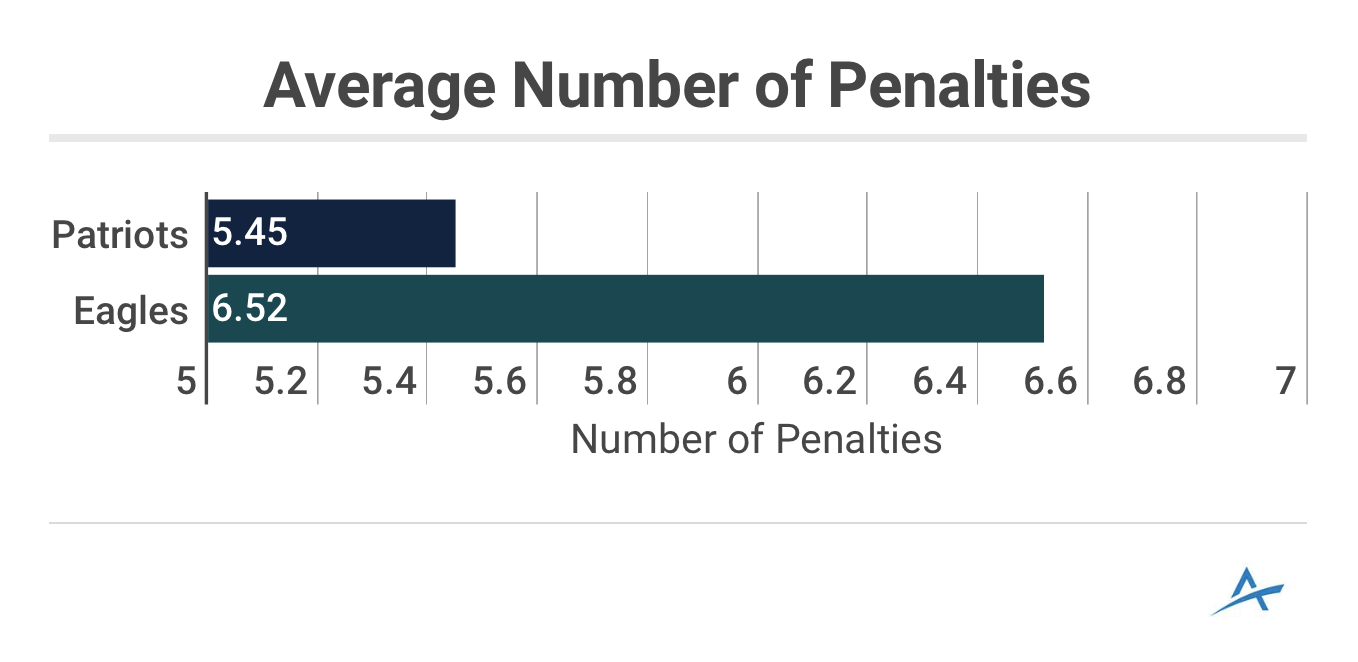 Bet Labs only tracks betting data for crew chiefs but using Pro-Football-Reference, I pulled all 248 games that the other Super Bowl 52 officials were on the field for involving either the Patriots or Eagles. On average, this year's championship refs called more penalties on Philadelphia than New England in games they officiated.
Before you angrily tweet Roger Goodell, it's worth noting that Bill Belichick's teams have been among the top five least penalized in four of the last five seasons. That has more to do with discipline and coaching than a referee conspiracy. And the Pats aren't the only team to enjoy success under Steratore's watchful eye, the Eagles are 9-2 straight-up and 7-4 ATS.
Referees have a thankless job and often get criticized whether or not the call they make on the field is correct. Here's hoping in two weeks that we are talking about the game after Super Sunday and not the officials.
Want more Super Bowl analysis? We've covered all of the Super Bowl 52 betting and props action.
Photo via Mark J. Rebilas-USA TODAY Sports
How would you rate this article?