Sportsbook in the Pit of Misery as "Dilly Dilly" Prop Taken off the Board
In a very unfortunate turn of events, it appears as though I was too convincing in my "Dilly Dilly" advice. So convincing that those who were late to the party are no longer able to bet on it.
Last week, many sportsbooks to released a full bevy of entertainment props for the Super Bowl. One prop caught my eye in particular, though.
"How many times will the word 'dilly' be said during the broadcast?"
You may have heard people say, "there's no such thing as a lock," or, "don't bet anything you aren't prepared to lose." Those people never saw this prop.
My official pick was, "Hammer the over. Liquidize all assets and invest in 'Dilly dilly.' I'm not even joking anymore. Liquidize the house, liquidize the car, and liquidize the dog. Create numerous falsified accounts to get down as much money as you can."
I guess people listened.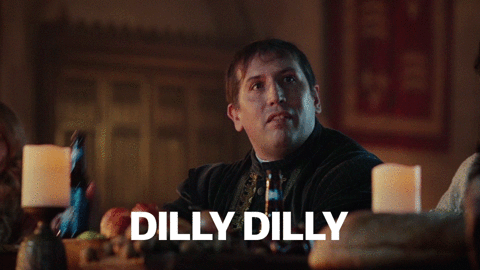 According to Scott Cooley, an odds consultant, "The 'Dilly' prop has been one of our most popular by far. We were getting hammered on the over so we pulled it off the board. Not sure if someone knows something that we don't, or if bettors just perceived the 12.5 to be a really bad number. Likely the latter."
Ooorrrr your boy Mark caused a market reaction so grandiose in nature that sportsbooks will just need to start factoring me into their oddsmaking equations.
I didn't know I was capable of swaying the masses to such a degree … if I told you all to jump off a bridge, would you do that, too? If I made something called Gallantville and had you all drink a fruity beverage in unison, would you join me? I hope not…
If you're waiting for them to re-open the prop at a higher number, don't get your hopes up. Cooley says, "We considered reposting with an adjusted number, but the middle opportunity would be too great. We're going to sit with the liability we have and hope we hear less than a dozen dillys."
Sounds to me like some oddsmakers are about to get a private tour of the pit of misery!
It would be rather ironic if the under does hit, but nothing has changed to make me think that it will.