52 Picks for 52 Super Bowl Props
Credit:
Nov 26, 2017; Philadelphia, PA, USA; Philadelphia Eagles wide receiver Nelson Agholor (13) runs for a touchdown against the Chicago Bears during the second quarter at Lincoln Financial Field. Mandatory Credit: Bill Streicher-USA TODAY Sports
The wait is almost over. Time flies when you've spent endless hours researching the hundreds of prop bets available on the offshore market. Oh, you haven't been doing that?
Well, let us catch you up. We've assembled our rag-tag crew of prop-loving experts to narrow the pool of hundreds down to our 52 favorite. Game props, cross-sport props, halftime-show props, entertainment props … we don't discriminate when it comes to betting the Super Bowl, and you shouldn't either.  — Mark Gallant
ICYMI: Win a 50-inch TV with our Props Sweepstakes | Print our props sheet for your party | Check out our amazing FantasyLabs props tool
---
Game Props, Pt. 1
1. What will the first offensive play be? Pass -120
In his seven previous Super Bowls, Tom Brady's first play from scrimmage has been a pass. In his five starts this year, Nick Foles' first play has been a pass. Although the Pats have split between the pass and the run 9-9 on their first offensive plays this year, the Eagles are radically skewed to the pass 15-3 to start their opening drives. Either way, I'm betting that whoever takes the first offensive snap of the game will want to be aggressive — and that probably means passing the ball. — Matthew Freedman
2. Will Danny Amendola have over/under 5 catches? Under -105
Amendola has led the Patriots with 22 targets over the past two weeks, but he's had five-plus catches in just eight of his past 32 games. Amendola will draw potentially his toughest matchup to date, as Eagles slot cornerback Patrick Robinson allowed the third-lowest QB rating among full-time nickel backs this season. The Eagles' top-seven-ranked defense in DVOA vs. WR1s and WR2s could lead the Patriots to attack with their backs and tight ends. — Ian Hartitz
3. Will Nick Foles have a higher QB rating than Tom Brady? No -200
The last thing the public saw was Foles shredding the Vikings' fourth-ranked DVOA pass defense to the tune of a 141.4 QB rating. They've long forgotten his 59.4 rating against the lowly Raiders just one month ago and a scary first-quarter performance against the Cowboys in Week 17. Give Bill Belichick two weeks to prepare for a shaky Foles away from the Linc and the Eagles have a problem. — Adam Levitan
4. Will Eagles score a rushing TD? Yes -130
Blount has scored in three of his past four postseason games, and the Eagles have relied more on the run in the red zone over the past two weeks than they did during the regular season (66.7% playoffs vs. 47.2% regular season). The Pats defense has allowed a rushing TD in five of the seven Brady-era Super Bowl appearances. — Evan Abrams
5. Which team will commit the first turnover? Patriots +110
The Pats have turned the ball over only 13 times this year, but the Eagles have an opportunistic defense that has created 34 turnovers, which is almost double the Pats' total of 18. Foles has been less prone to make mistakes since the Eagles adjusted the offense over the playoff bye. I'll take the odds. — Matthew Freedman
6. Which team will have the first coach's challenge? Eagles -115
I think this prop is less about which team is first to have the referees make a questionable call against them and more about how each coach tends to balance the importance of any given play with the risk of losing a timeout. Bill Belichick has used just 15 challenges over the past half decade. Doug Pederson has used 17 challenges since last year. To Belichick, any given play tends not to be too important: He'd rather save his timeouts. To the underdog Eagles, any particular play might be the difference between winning and losing. — Matthew Freedman
7-10. All the Rob Gronkowski props
Longest reception over 25 yards -110
Over 5 receptions -125
Over 73.5 yards -110
Will score a TD +120
Philly's defense has been its strength all season, but they've had one sneaky weakness: the middle of the field. Per Football Outsiders, the Eagles ranked 19th in the NFL in defending the pass over the middle of the field and 17th in defending tight ends. Prior to Gronk's injury-shortened game against Jacksonville, he had seven total touchdowns over his previous six playoff games. His averages for those six games? 10.5 targets, 6.2 catches, 85 yards. He had six-plus catches in all but one contest during that span. I feel confident that a healthy Gronk will get targeted at least eight times, so I'll pay the juice on over five catches, especially since Philly allowed a completion percentage of 68.9% on throws to TEs this season. Overall, I expect Gronk to have a game similar to Travis Kelce's against the Eagles earlier this year (8 catches on 10 targets for 103 yards and 1 TD). — Stuckey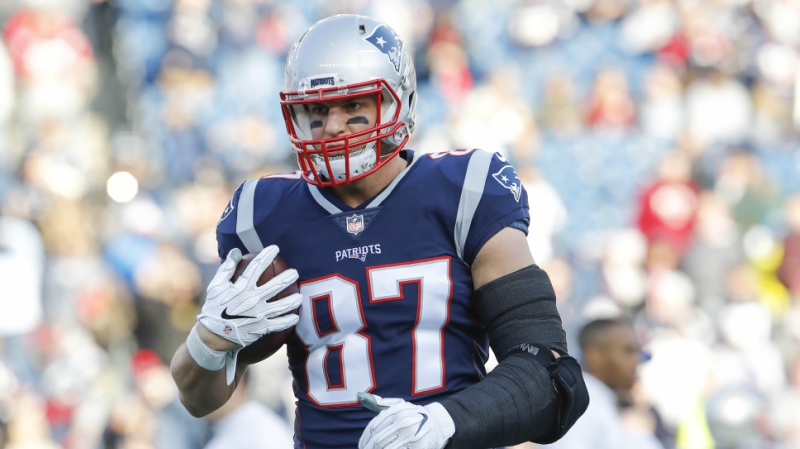 11. Dwayne Allen first Pats TD +2500
This one sounds crazy, and it probably is considering Allen hasn't even been targeted the past two games. But sometimes you just go with the script that plays out in your head. I just talked about how the Eagles struggle covering tight ends. If Philly makes Gronk its focal point in the red zone and locks down Amendola in the slot, I can see Brady checking to play action near the goal line and finding a wide open Allen for a touchdown. Worth a flyer. — Stuckey
12. Will Brandin Cooks have a rush attempt? Yes +160
Last year, Patriots wide receiver Julian Edelman had a rushing attempt in the Super Bowl. In Super Bowl 49, Edelman also had a rushing attempt. And in Super Bowl 46 they gave two carries to Wes Welker. In high-leverage situations, the Patriots like to use some misdirection involving their shifty wide receivers. Cooks has a total of six rushing attempts in his past eight games (including playoffs). — Matthew Freedman
13. Philly wins 1Q and New England wins in full time +565
In case you haven't heard, the Patriots have scored zero first-quarter points in seven Super Bowl appearances under Bill Belichick. Zero. The books will need New England to win the game straight-up, given the number of million-dollar bets coming in on the Eagles ML. I love getting a +565 payout to be on the books' side for the game, while fading New England in the first quarter. — Collin Wilson
---
Cross-Sport Props, Pt. 1
14. Who will have more?
James Harden points at Cavaliers (-110) OR
Distance of first made field goal of Super Bowl -5.5 (-110)
Oh, that 5.5 bump makes this a pretty easy choice. Harden all day. Saturday showcase vs. the worst defense in the NBA? Chance to put on a major MVP show? In a March showcase game last year, Harden put 38 on the Cavs. Given the variance of potential outcomes for that first field goal, I like the Beard.
The pick: Harden points at Cavaliers (-110) — Matt Moore
15. Who will have more?
Jon Rahm fourth-round strokes at Waste Management Open -26.5 (-110) OR
Patriots-Eagles longest touchdown (-110)
In the past two years, Rahm's scoring average is 69.5 over 26 events. So, to bet the longest touchdown as the winner you probably need a score of 44 yards or longer. In the past 20 Super Bowls, there have been 115 touchdowns scored, and only 22 (19.1%) of them were 44 yards or longer. And in seven Patriots Super Bowls only three (7.3%) of 41 touchdowns scored were 44 yards or longer.
The pick: Rahm -26.5 — John Ewing

16. Who will have more?
Liverpool/Tottenham yellow cards (-120) OR
Tom Brady rushing attempts (+100)
This season, Brady has only had more than two rushes in three different games. Overall, he's averaged just 1.7 rushes per game. Even if he goes above his average and gets two rushing attempts in the Super Bowl, I feel great about Liverpool and Tottenham combining for at least two yellow cards (which would push).
Their last meeting only featured one yellow card between the teams, but that was an anomaly, as it came in a 4-1 blowout. I'd expect Sunday's match to be much more intense and physical, mirroring their previous matchups that had 8, 5, and 8 yellow cards.
The pick: Liverpool/Tottenham yellow cards (-120) — Dan McGuire
17. Who will have more?
Washington Capitals shots on goal vs. Knights -8.5 (-110) OR
Philadelphia Eagles points (-110)
The Capitals average a league-worst 29 shots on goal per game, while the Vegas Golden Knights are one of the best in preventing them. Vegas ranks sixth in the NHL in shots on goal against at only 30.3 per game. Moreover, the Capitals have only exceeded 30 SOG seven times in their past 25 games. Washington victimized some of the worst SOG against teams in the league during that stretch, including the Panthers, Islanders and Rangers. (Vegas was not so accommodating in the teams' Dec. 23 matchup; Washington mustered only 26 shots on goal in that contest.)
The Eagles' team total is listed at 21.5, so even if the Capitals meet their average of 29, there is value in pegging Philadelphia to score more than 20.5.
The pick: Eagles points +8.5 (-110) — Collin Wilson
18. Who will have more?
Kyrie Irving points vs. Blazers (-110) OR
Patriots points -½ (-110)
A sneaky-great bet. So the Blazers have the No. 2 defense in the NBA, and it's predicated (among a few other things) on how they defend pick and roll. They drop the big and leave the ball-handler free while the guard goes over. That lets them stay home on shooters and limit spot-up shots.
You know who's awesome in those situations (97th percentile)? Kyrie Irving. I love grabbing the points with however much the Blazers will be dogs by here, but Kyrie's going to go off. The Celtics' offense is pedestrian, so Irving has to step up. Unless you think the Patriots are going to beat the ever-loving snot out of Philly, I would trust the flat-earther here.
The pick: Kyrie Irving points +½ (-110) — Matt Moore
---
The Props Jonathan Bales Is Betting
19. Will the game go to overtime? No -800
First of all, big thanks to Evan Abrams for providing some of the research here. This is my favorite prop on the board. No regular bettor wants to lay huge odds, even if the bet is correct. Here are the numbers: Over the past five seasons, 5.9% of games have gone to overtime, which equates to roughly +1600. But the "yes" side of this prop is listed at just +550 (15.4% implied probability). This is already a profitable bet.
20. Will there be a safety? No -900
Same logic here. Obviously it's not really fun to lay the odds, but if you're just looking to maximize EV, these high-probability bets are generally sharp. The public just doesn't want to risk a ton of money with the ability to profit much less.
Per Evan, there's been a safety in just 7.4% of NFL games over the past five seasons — an implied line of about +1250. And yet you get just +600 if you bet there will be a safety. I really have no good reason to think there's a significantly better or worse chance for a safety in this game than any other, which means anything in the -800 or -900 range is likely a +EV bet.
21. Will there be a missed XP? Yes +300
Based on their scoring rates and the current line, I think we can expect to see around 5.5 extra-point tries. The average for XP conversion rate since the league moved back the try has been 93.9%. Stephen Gostkowski has been better-than-average on extra points in his career, while Jake Elliott has been worse. Elliott has also missed a lot of field goals inside 40 yards, which suggests his 92% extra point rate might be skewed just slightly above Elliott's median range of outcomes.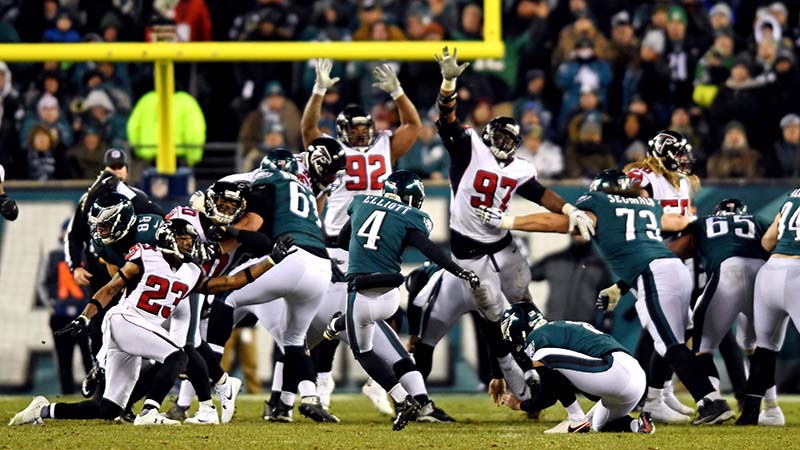 If we just go with the league average for both kickers, which I think is fair given it's difficult to identify what their "true" rates might be, there's somewhere around 71% chance that we see a missed extra point in the Super Bowl. The fact that the game is being played indoors matters, obviously, but I kind of like this bet at +300 or better. The number just feels wrong.
22. Will Brady announce retirement on broadcast? No -2500
Brady has said repeatedly that he's playing for multiple years to come. Maybe I'm a donkey, but I think the odds of him retiring after the game are <1%.
23. Will Donald Trump tweet over/under 2.5 during the broadcast? Under 2.5 (-115)
I believe I bet the over on this last year and lost. So now I'm betting the under and will also lose.
24. Will broadcasters say Pro Football Focus? Yes -200
NBC's Cris Collinsworth owns a significant stake in PFF and has the biggest stage in the world to promote it.
25. Who will Rodney Harrison predict to win? Pats -300
Lock.
26. Will the team that chooses heads or tails for the coin toss be correct? Yes -105
I mean you gotta have a little gamble in ya.
---
A Halftime Break, Courtesy of Lauren Joffe
27. Will Al Michaels make a halftime show appearance? Yes +1000
With the exception of the Super Bowl itself, I do my best to avoid watching commercials and promos, but I have seen NBC pushing one with Justin Timberlake saying his goal is to make Al Michaels dance. The heavy -2000 odds make me a bit nervous, but I can't imagine a world in which Al would want to disappoint JT and let all that NBC promo time go to waste. So prepare yourself to see Al Michaels shake his booty. And yes, I cringed a little writing that.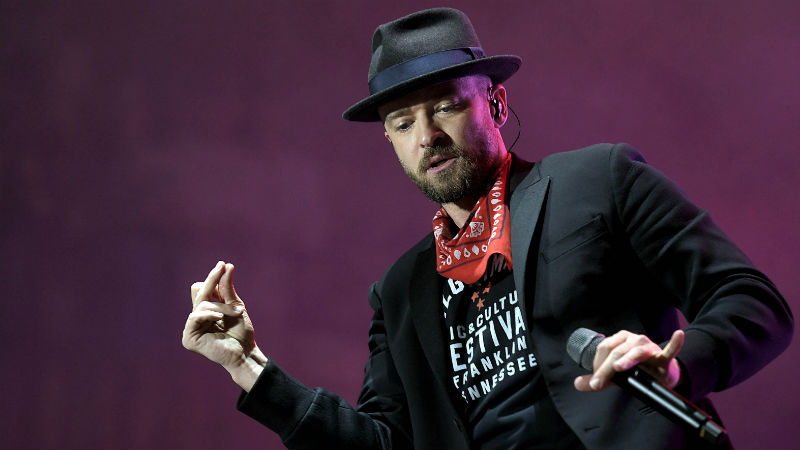 28. Will Justin Timberlake cover a Prince song during the halftime show? Yes -150
Minnesota's biggest claims to fame are, in no particular order, ice fishing, Prince, the Mall of America, Prince, freezing weather, Prince, having a crap-ton of lakes, and, oh, Prince. So it's pretty much a lock that JT will throw all Minnesotans a bone after a rough few weeks by honoring their hometown hero. It's the least he can do.
29. Will Britney Spears make a halftime show appearance? Yes +300
Not only is Brit Brit JT's ex-girlfriend, but she recently announced a summer tour and has been killing the selfie game on Twitter.
I don't know how friendly Justin and Britney still are, but Twitter might break if she appears with him while he sings "Cry Me a River" (which was said to be inspired by their breakup).
30. Will there be a wardrobe malfunction? Yes +1500
Do I think we will see a nip slip a la Janet Jackson? Probably not. But there better be a tease of some sort. You think JT waited all this time to get back onto the Super Bowl stage only to play it safe? Please! Hell, I may actually parlay a wardrobe malfunction with an Al Michaels halftime appearance. Pays 175-1. I'm gonna be rich … and a little sick … but mostly rich.
---
Game Props, Pt. 2
31-33. All the Nelson Agholor props
Will score a TD +215
Over 42.5 yards -110
Over 3.5 catches -110
I am all-in on the Nelson Agholor props. Agholor led the NFL with eight touchdowns from the slot in the regular season. He also finished third in receiving yards from the slot, averaging 47 yards per game. Overall, he had 768 yards receiving in the regular season (48 per), which is why the 42.5 number caught my eye. Those numbers include three catches for 11 yards in a meaningless Week 17 game against Dallas, where the starters barely played. The Patriots have two good man-coverage corners on the outside in Stephon Gilmore and Malcolm Butler, but slot corner Eric Rowe has struggled to match up against quicker receivers in space. Agholor should take advantage of this plus-matchup. Additionally, the Pats defense does a great job in the red zone and against tight ends, which I think increases the likelihood of Agholor scoring. — Stuckey
34. Will Tom Brady win regular season MVP and Super Bowl MVP? Yes -105
This is a double arbitrage play. Brady is the presumed 2017 MVP, and he's currently -170 to win the Super Bowl MVP. On top of that, the Pats moneyline is -200, and Brady has been the MVP in four of New England's five Super Bowl victories. By betting on Brady here, you're basically betting at a discount that the Pats win. Thanks to Matt LaMarca for calling my attention to this prop. — Matthew Freedman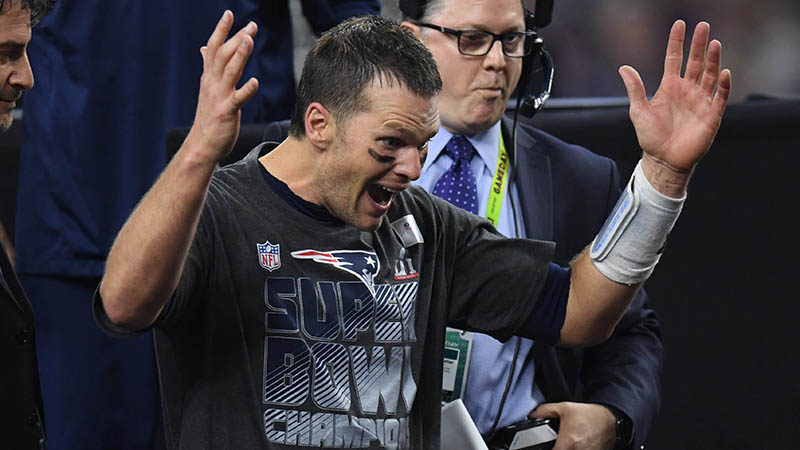 35. Will Jay Ajayi's longest rush be over/under 14 yards? Over -105
One of my favorite props on the board. The Eagles led the NFL in rushes of more than 10 and 20 yards this season. And the Pats ranked 31st in yards per rush allowed, 29th in second-level rank (yards earned between 5-10 yards), and 28th in open-field rank (yards earned 10-plus yards past the line of scrimmage), per Football Outsiders. This speaks directly to how much their LBs and safeties struggle defending the rush. In seven games with the Eagles, Ajayi has averaged 5.8 yards per attempt and had a 20-yard run once every 17.5 carries. I expect Ajayi, who is averaging 3.27 yards after contact in the playoffs, to break a few tackles for at least one explosive run on Sunday. — Stuckey
36. Will Patriots have the most penalty yards? Yes +140
For the season, the Pats have fewer penalty yards than the Eagles, and they have also drawn more penalty yardage than the Eagles. Even so, New England's median penalty yardage per game is 55; Philadelphia's is 56.5. The Pats are likely to have fewer penalty yards, but this prop is much closer to a coin flip than the current odds indicate. — Matthew Freedman
37. Will there be a lead change in the fourth quarter? Yes +300
New England taking (or losing) a lead in the fourth quarter of a Super Bowl is a tradition unlike any other. All seven of their Super Bowl appearances of the Brady era have involved a lead change in the fourth. It's like they crave the drama. — Collin Wilson
38. Will Chris Hogan have over/under 3 receptions? Under -128
Hogan has been dealing with a nagging shoulder injury and has played three games since Week 8. He's averaged a paltry 4.3 targets and 1.3 receptions in those three outings, and with Tom Brady's weapons all available on Sunday, Hogan's usage could continue to fall by the wayside. — Justin Bailey
39. Will Tom Brady's longest rush be over/under 2 yards? Over +155
The Eagles led the NFL in QB pressures this year, which means Brady can't just sit in the pocket all game. I can see Brady having to scramble out of trouble a few times, potentially getting loose for 3-4 yards up the middle when the pocket collapses from the outside. He's done this before in the playoffs: When you take out all of his kneels, Brady's postseason rushing stats are 54 attempts for 180 yards (3.33 yards per attempt). So there's there is quite a bit of value on the over. — Stuckey
40. Will the Patriots have over/under 2.5 sacks? Over +100
The Eagles offensive line ranks 12th overall in Adjusted Sack Rate (6.2 percent), and the Pats defensive line is full of no-namers, but over their past eight games, the Pats have averaged 4.5 sacks per contest. — Matthew Freedman
41. Will either team convert a fourth down? Yes -235
I like this prop because it doesn't depend on game flow. Plus, neither head coach is shy about going for it. The Eagles had the most fourth-down attempts this season and Belichick famously went for it on fourth-and-2 from his own 28-yard line. Lay the favorite. — Travis Reed
---
Entertainment Props
42. Will the National Anthem last over or under 2 minutes? Under +100
After some preliminary research, I can't find one video of P!nk ever singing the national anthem. There aren't any trends in Bet Labs either, which is a bummer. However, OddsShark does have some records for the official times over the past decade plus, so we can get a general idea for performance length.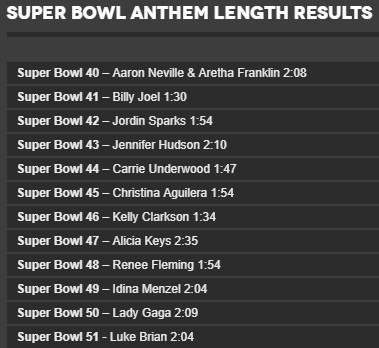 They basically range from 1:50ish to 2:10ish. Then you have Alicia Keys, who was misinformed and accidentally sang "Stairway to Heaven."
Given the unpredictability of the event, as well as the fact that P!nk doesn't have an anthem track record to consult, I'll be taking the under. I'd rather have an even payout for something like this than lay -140. — Mark Gallant
43. Will P!nk display cleavage during the National Anthem? No -550
The official rules for this one are: "Must be a clear separation of the bosoms for 'yes' to win." Clear separation of the bosoms … what a definition. The oddsmakers think this is a longshot, which may surprise you readers out there. P!nk has been known to show some skin. In fact, I stumbled upon some NSFW photos the other day whilst Googling a National Anthem image.
HOWEVER … the key piece of information to consider for this prop is the fact that she is performing the National Anthem and not the halftime show. I fired up Bet Labs to do some research and found that the last National Anthem singer to show cleavage was Jewel back in Super Bowl 32. Plenty of the ladies get risqué at halftime, but the anthem has been quite the formal event.
So while many of you will want to take that juicy plus money payout on "yes," I urge you to reconsider and fade the cleavage. — Mark Gallant
44. What color will P!nk's hair be? Green +305
Originally from Doylestown, Pennsylvania, Pink let the world know about her Eagles fandom via social media. There are other props from her mentioning "Eagles" or even wearing a hat or shirt that says "Eagles," but for my money I will concentrate on her hair. What better way for this Philly-area native to show her Eagles love? — Collin Wilson
45. Will "Nipplegate" be said during the broadcast? No -925
Take my money. — Matthew Freedman
46. Will there be over/under 4.5 Anheuser-Busch commercials during the broadcast? Under +120
Anheuser-Busch is always driving strong to the hoop with their Super Bowl commercials. Based on this website, there are at least four commercials they will be airing this go around. The big question is whether there will be exactly four or if they will double down on Bud Light or Bud Heavy and go with five or more commercials.
I'm going to be bold here and say that they go with the exact four that are listed on the Ad Age site. Seems like they know their stuff. Also, you can never go wrong with a +120 prop payout. — Mark Gallant
47. What color liquid will be poured on the winning team's head coach? None +1500
Look, folks. While this is commonly referred to as the Gatorade prop, the correct terminology is "liquid." These sportsbooks aren't going to bow to any sponsor. They also don't want any dweebs out there finding out that they technically poured Powerade so they can ask for their money back.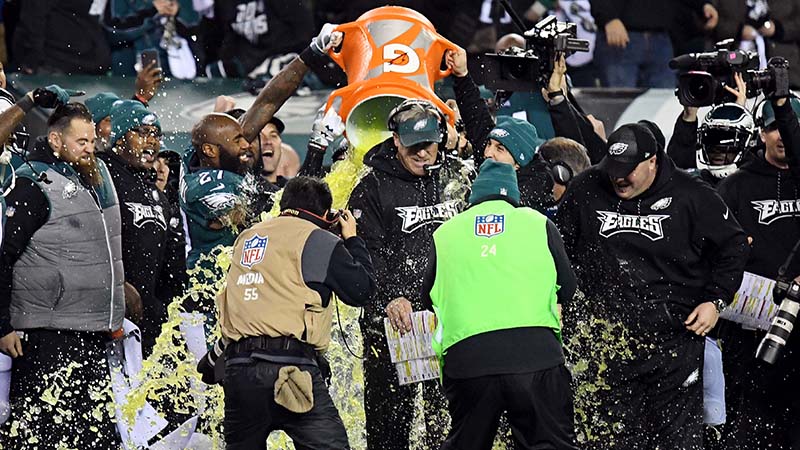 Historically, the Patriots have been odd ducks. In their five victories, they have only poured liquid twice — once clear, once blue. Last year, they went with a no pour, which is an option that I could only find at BetDSI. It also has a hell of a payout. Given my Patriots fandom and the great odds, that's what I'm gonna roll with. — Mark Gallant
---
Cross-Sport Props, Pt. 2
48. Who will have more?
Seton Hall-Villanova margin of victory -2.5 (-110) OR
Jay Ajayi rushing attempts (-110)
Rugged frontcourts figure to give Villanova some trouble this year, and that's Seton Hall's strong suit. The Pirates' 55-53 Big East tournament loss to the Cats last year offers a window into how Kevin Willard will try to limit Nova by uglying up the game. Perhaps the Eagles will copy the same example and hit Jay Ajayi early and often to establish a run game and limit Tom Brady's touches.
The pick: Jay Ajayi rushing attempts —Jordan Majewski
49. Who will have more?
Vegas Golden Knights penalties at Capitals (+130) OR
Patriots penalties (-150) (via William Hill US)
Vegas has averaged 3.3 penalties per game this season, compared to 5.6 for New England. But to nobody's surprise, Bill Belichick always has his team laser-focused and playing disciplined this time of the year. The Patriots are averaging a mere 2.6 penalties in their past five games. It feels like this could be closer than the odds are implying, so I'll take my chances on a plus-money payout.
The pick: Vegas Golden Knights penalties (+130) — Mike Marsh
50. Who will have more?
Victor Oladipo points + assists + rebounds (PAR) vs. 76ers (-110) OR
Eagles + Patriots points -14.5 (-110)
The Pacers will be on a back-to-back, but that hasn't phased Oladipo, who is averaging 36.8 PAR/game this season (49.1 PAR/48) in that spot. In his first game against the Sixers this year, Oladipo scored 31 points, including an extremely efficient second half (23 points on 8-of-13 field goals). On average, 52.8 total points have been scored in the past five Super Bowls. Expand the sample to the past 20 Super Bowls, and that shrinks to 48 ppg on average. If the Pats and Eagles stay around the listed total of 48, Oladipo has a good chance to find the backdoor.
The pick: Oladipo points + assists + rebounds (+14.5) — Evan Abrams
51. Who will have more?
Montreal Canadiens shots on goal vs. Senators -6.5 (-110) OR
Tom Brady completions (-110)
As of Sunday, Canadiens had averaged the fourth-most shots on goal (34.4) in January. They host a spiraling Senators team that has allowed the most shots against (40.0) over their past 10 games. Since 2012, Brady has averaged 28.1 completions in 14 postseason games and has thrown 30 or more only 35.7 percent of the time. The Eagles allowed the seventh-most completions per game to opposing quarterbacks this season (22.7), but Brady would still likely have to perform well above his median projection to keep pace with the Canadiens -6.5.
The pick: Canadiens shots on goal -6.5 (-110) — Joe Holka
52. Who will have more?
Lionel Messi goals at Espanyol (-110) OR
Tom Brady rushing attempts -½ (-110) (via Westgate)
Little Leo Messi has only failed to score in one of Barca's games so far in 2018, so it's a fair bet he'll find the net against Espanyol this weekend, especially considering he scored against the same side only last week in the Copa Del Rey.
But despite Messi's form in front of goal, I like the Tom Brady side of this prop. I fancy Fletcher Cox & Co. on the Eagles' defensive line to pressure up the middle and flush Brady out of the pocket and into an unscheduled scramble on a few occasions. There's always the possibility of the occasional QB sneak, too.
The pick: Tom Brady rushing attempts – ½ (-110) — Simon Head
All photos via USA TODAY Sports
How would you rate this article?