The NFL season win totals still causing bettors to sweat in week 17
Credit:
Aug 25, 2017; Seattle, WA, USA; Kansas City Chiefs quarterback Patrick Mahomes (15) carries the ball against the Seattle Seahawks during a NFL football game at CenturyLink Field. The Seahawks defeated the Chiefs 26-13. Mandatory Credit: Kirby Lee-USA TODAY Sports
Hopefully, you have cashed all of your season win total tickets by now, and don't have to count on a win or loss in the always-unpredictable Week 17. Headed into the final weekend of the NFL regular season, six season win totals remain undetermined against the closing number (nine against the opener). Let's take a closer look at the results by conference through Week 16.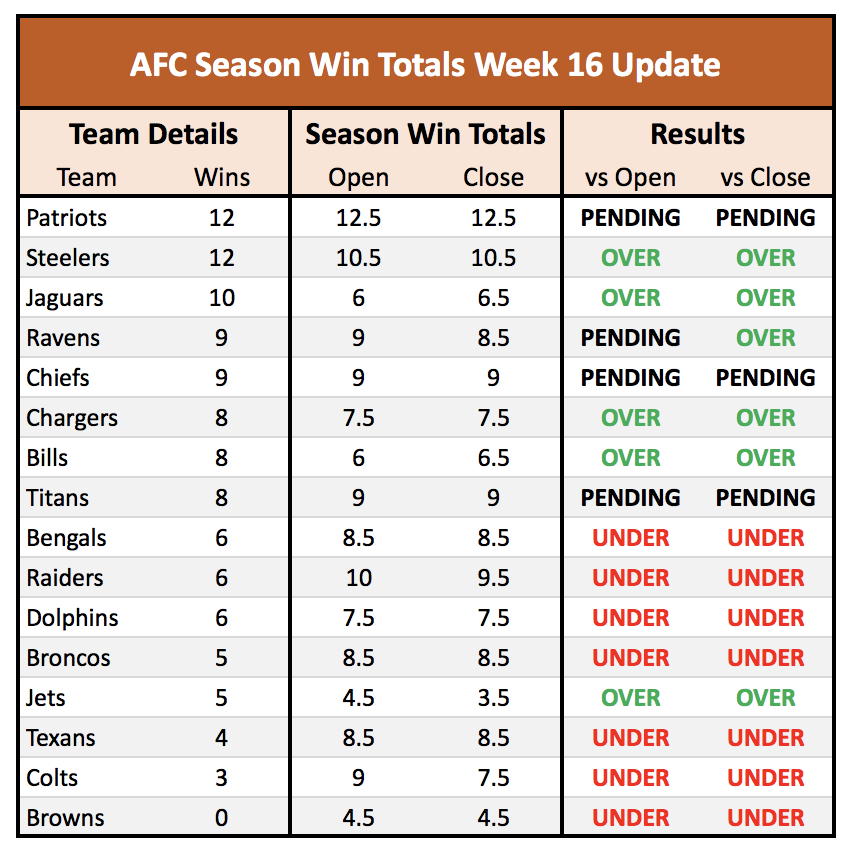 Those who bet the over on the total wins of the Patriots and/or Ravens (on the open) need a win this weekend to get to the window. However, I wouldn't sweat too much, as both teams will play home games as double-digit favorites.
Chiefs win total over bettors had to feel optimistic about getting that ticket-clinching 10th win in the final game against against a lifeless Denver team, but that sentiment may have changed after Andy Reid announced Patrick Mahomes will get his first start on the road in a game that means nothing to Kansas City. The line currently sits at Broncos -3.5.
A complete collapse by the Titans from 8-4 to 8-7 has over backers now just hoping to get a win against the Jaguars on the final weekend for a push. As of Thursday night, books had Tennessee listed as a 3-point favorite.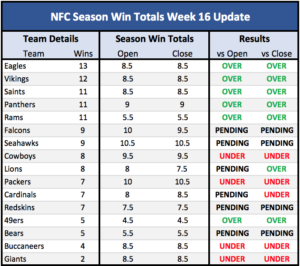 Not only do the Falcons need a win to get into the playoffs, but they also need a win for all of those who bet their season win total over (or a push if you bet the over on the open). Unfortunately for those who need a Falcons home win, Carolina still has seed motivation. Feeling uneasy or lucky? Go for the hedge/middle with Panthers +4.
If you bet the Bears and/or Redskins season win total over, you need a Week 17 win, which looks much more likely for a Washington team currently listed as a 3-point favorite. Chicago looks destined to finish a half game under their season win total of 5.5, as they will head to Minnesota as double-digit underdogs to take on a Vikings team playing to secure a first-round bye.
Jimmy Garoppolo miraculously got the 49ers over their season win total with four straight victories. What can't this guy do?
Some early bettors will need to sweat out their Lions and Cardinals season win totals this weekend.
Photo via Kirby Lee-USA TODAY Sports
---
Be part of the Action
Download the Sports Action app at the [App Store] or [Google Play]