Ultimate Guide to Betting Super Bowl 52
Credit:
Jan 31, 2018; Minneapolis, MN, USA; General overall view of Philadelphia Eagles and New England Patriots helmets at U.S. Bank Stadium prior to Super Bowl LII. Mandatory Credit: Kirby Lee-USA TODAY Sports
One football game remains in what has been a wild season. When the dust settles, Tom Brady or … Nick Foles will be the last man standing. Both have something in common with hoofed creatures. One is the GOAT; the other owns a pet llama named Tina.
That's just one thing you probably didn't know about Super Bowl 52, but there's plenty more below: Metrics, props, trends, injuries, ref insights, DFS nuggets, sneaky storylines, matchups to watch, biggest advantages (for both teams), and so much more.
That's right: Actual information you can quite literally bank on, as opposed to fantastical analogies regarding ungulates.
Get to reading folks, because the sportsbooks won't wait up for you. — Mark Gallant
Go here for the rest of our Super Bowl 52 coverage.
All info as of Sunday afternoon.
---
THE SETUP: Philadelphia Eagles vs. New England Patriots (-4.5) | O/U: 48.5
The line move, Pt. 1: The books have gotten a steady diet of Eagles money since opening initially at Patriots -6.5 during the second half of the NFC title game. The line is down to a consensus of -4.5 with some shops down as low as -4. On early Friday afternoon, sportsbooks moved to Patriots -4 (-110) for the first time since opening New England -6.  — PJ Walsh
The line move, Pt. 2: Since 2003, when New England has received positive line movement (-6 to -4.5), the Pats are 47-28-2 against the spread (62.7%) — the most profitable team in Bet Labs' database. — John Ewing
The line move, Pt. 3: The Pats might be good in this spot, but this kind of positive line movement (-6 to -4.5) hasn't been a good omen in the Super Bowl. The teams that saw the line move at least 1.5 points away from them have gone 2-13 straight-up and 4-11 ATS. — Evan Abrams
Trend to know No. 1: Public bettors don't fade Tom Brady very often, but they haven't had much success when doing so. Teams getting a majority of spread bets when facing TB12 have gone just 12-23-2 ATS (34.3%) since 2003. The Eagles were getting 54% of the betting tickets at the time of publication. — John Ewing
Injury watch: The Eagles were without LB Dannell Ellerbe (hamstring) during the NFC Championship win over the Vikings, but he'll suit up Sunday. Eagles DT Timmy Jernigan (illness), Patriots TE Rob Gronkowski (concussion), Patriots DE Deatrich Wise (concussion), and Patriots CB Malcolm Butler (knee) are also good to go after being listed on preliminary injury reports earlier in the week. — Ian Hartitz
Trend to know No. 2:  Since Brady's first Super Bowl in 2001, underdogs of more than 3 points are 9-2 against the spread in the big game, including a current five-game ATS winning streak. That meshes with the storyline from this year's playoffs: Underdogs are 9-1 ATS, with the Patriots' blowout win over the Titans being the only cover by a favorite. The Eagles were home dogs in each of their playoff wins. — Evan Abrams
Ref impact:  Gene Steratore is the crew chief for Super Bowl 52. Underdogs have gone 80-69-6 ATS when he is the referee, the second most profitable official for dog bettors in our database since 2003. Advantage Eagles. However, the Pats are 11-5 straight-up and 9-6-1 ATS when Steratore oversees their games. Refs are meant to be impartial, and there doesn't appear to be a clear edge for either team with the whistle in Steratore's mouth. — John Ewing
Did you know? Brady has covered 18 postseason games in his career. Nick Foles has covered 19 total games in his career. — Evan Abrams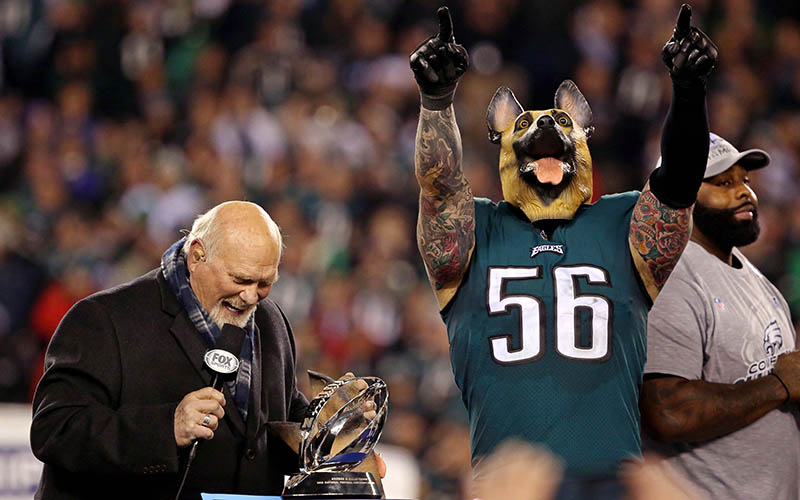 ---
WHEN THE EAGLES HAVE THE BALL
Matchup to watch: RB Jay Ajayi vs. Pats front seven. In his four full games with Carson Wentz at quarterback, Ajayi averaged just 8.5 touches for 64.3 yards per game. Since Wentz's season-ending knee injury, Ajayi's workload has literally doubled to 17 touches for 87.8 yards per game. He's easily the team's best rusher, averaging 5.2 yards per carry since being traded from the Dolphins. The Patriots defense has held opponents to 14.5 points per game since Week 7, but it is still just the 30th-ranked unit against the run in Football Outsiders' DVOA metric and 31st in Adjusted Line Yards. The Eagles will likely look to shorten the game, control the clock, keep Brady on the sideline, and minimize the impact of Foles by giving the ball to Ajayi 15-22 times in the Super Bowl. If he can consistently convert his opportunities into yards, the Eagles will have a real chance to win (or at least cover). — Matthew Freedman
Biggest advantage for Eagles offense: Explosive rushing attack. Philly led the NFL in rushes of more than 10 yards and 20 yards this season. That spells disaster for New England's linebackers and safeties, who are utterly useless against the run. Per Football Outsiders, the Patriots' rush defense ranked 29th in second-level efficiency (5-10 yards) and 30th in the open field (10+ yards). Another stat that speaks to this deficiency is the amount of explosive runs the Patriots have allowed. In the regular season game, New England gave up 11 runs of 20-plus yards, tied for 23rd in the league. That should interest all the prop bettors out there (the line for Ajayi's longest rush is set at 14). Ajayi leads all running backs this postseason with 3.27 yards per attempt AFTER contact, per Pro Football Focus. Expect the former Dolphin to break through to the second level, and rip off some long runs. — Stuckey
DFS nugget: Foles joins Donovan McNabb as the only quarterbacks in franchise history to surpass 350 passing yards and throw three touchdowns in a playoff game. It was an even more incredible feat after taking into account the Vikings' second-ranked defense in overall DVOA. Part of Foles' success can be attributed to his newfound ability to beat the defense deep. In Week 14 through the Divisional Round, he completed just 1 of 14 passes thrown 20-plus yards downfield for 17 yards, zero touchdowns, and one interception. In the NFC Championship Game, he completed 4 of 5 such passes for 172 yards and two touchdowns. New England's defense was one of just 12 units to allow at least 10 passes of 40-plus yards this season. Still, the Patriots managed to turn their once-porous defense around after a brutal start of the season. They've allowed 12.2 fewer points and 112.6 fewer passing yards per game since Week 6. — Ian Hartitz
Did you know? The Patriots defense hasn't had an interception since the game-clinching pick against the Steelers in Week 14. Keep that in mind when you're looking at Foles INT props. — Evan Abrams
Biggest advantage for Patriots defense: Red zone defense. Most of the Patriots' defensive metrics aren't pretty except for the one that really matters: scoring defense. They finished the regular season with a top-five unit, thanks to their aversion to allowing TDs inside the red zone (43.8 TD%, fourth overall).  And despite being one of the NFL's worst rushing defenses, the Pats allowed just six rushing scores all year (second-fewest in the league). New England scouts red zone tendencies very well, which should carry over to the Super Bowl after two weeks of prep. While Foles and the Eagles did everything right against Minnesota, Philly has seen a signficiant drop-off in red zone execution since Wentz went down. The Eagles led the NFL in red zone TD percentage after that Rams game (when Wentz got hurt) at 67.4%. Even after a perfect game vs. the Vikings, Philly has only scored touchdowns on eight of their 14 red zone trips (57%) since that Rams game. — Stuckey
Prop bet we're eyeing: Nelson Agholor over 42.5 yards (Bovada). Agholor has led the receiver group with 26 targets during Foles' five starts. Agholor — who scored 8 TDs from the slot (best in the NFL) and finished third in slot yards (752) — has the best matchup of the group against a Patriots defense that has struggled mightily against slot receivers this season. All of the following receivers went for at least six catches and 65 yards vs. New England this season: Jarvis Landry (twice), Tyreek Hill, Eric Decker, Allen Hurns, Mohamed Sanu, and JuJu Smith-Schuster. CB Eric Rowe has been the primary culprit. According to Pro Football Focus, he's been the 15th-worst overall corner out of 121 eligible defensive backs this season. — Ian Hartitz
For more info on the best props to bet, check out Jonathan Bales' article on the props he's betting and our amazing FantasyLabs props tool.
Sneaky storyline: The final two minutes. The Patriots do so much damage in the final two minutes of the first and second half. We all know about Brady's fourth-quarter comebacks, but the Patriots have actually scored 66 points in the final two minutes of the first half this year. 66! That is the most in the league. But don't sleep on the Eagles offense in this spot. They've outscored opponents 61-6 in the final two minutes of the first half in their past 16 games. If the Eagles can stay aggressive (something Jacksonville did not do), it'll go a long way toward preventing the Pats from gaining their usual advantage in the final two minutes of each half. — Stuckey
---
WHEN THE PATRIOTS HAVE THE BALL
Matchup to watch: TE Rob Gronkowski vs. Eagles secondary. Gronk is cleared to play, which is a boon to Brady and the Pats. Since Gronk entered the league in 2010, Brady has averaged 291.4 yards with his TE vs. 258.2 yards without him during the regular season. His touchdowns obviously get a boost too: 2.2 with vs. 1.8 without. Gronk gives New England its identity. The Eagles defense is seventh in pass DVOA, and strong safety Malcolm Jenkins is a respectable player with a Pro Football Focus grade of 83.6, but Gronk is a matchup-proof receiver, and the Eagles have struggled against premier tight ends this year: Travis Kelce (Week 2, 8-103-1), Jordan Reed (Week 7, 8-64-2), Jimmy Graham (Week 13, 3-26-1), Evan Engram (Week 15, 8-87-0), and Kyle Rudolph (NFC. Champ, 1-25-1). If Gronk does to the Eagles what other good tight ends have done, the Patriots will be well positioned to win. — Matthew Freedman
Biggest advantage for the Patriots offense: Gronk. Freedman hit the nail on the head. A few things I'd add: The Eagles' pass defense hasn't had too many holes this season, but they have been vulnerable over the middle of the field, specifically against tight ends. Philly played a number of poor QB/TE combos this season, but still allowed a 68.9% completion rate on passes to tight ends. I expect Gronk (6'6″) to have a huge day down the seam against the 6-foot Malcolm Jenkins. — Stuckey
DFS nugget: All Brady did in his toughest challenge of the season was throw for 290 yards and two touchdowns vs. the Jaguars' league-best defense, marking the ninth time in his past 10 playoff starts he managed to toss multiple scores. Passing the ball against the league's seventh-ranked defense in pass DVOA won't be a piece of cake either, especially considering the Eagles' tenacious defensive line has five of PFF's top-30 highest-graded pass rushers this season. Still, #DomeTom has proven to be nearly as terrifying as #PlayoffBrady, as he's thrown for 300-plus yards in 48 percent of his career games indoors compared to just 31 percent outdoors. The Eagles' 19th-ranked defensive line in Adjusted Sack Rate has played better in the playoffs than their season-long production might suggest, but even the league's best defenses at getting after the quarterback haven't slowed down the Patriots this season. Per our Trends tool, Brady has averaged 22.8 DraftKings PPG with a +1.0 Plus/Minus in five games against top-seven defensive lines in Adjusted Sack Rate. — Ian Hartitz
Biggest advantage for the Eagles defense: Pressure. Per PFF, the Eagles generated pressure on 41.3% of passing plays this season (including the playoffs). That is the best rate in the NFL. They have a ferocious defensive line that can get to Brady. Their pressure is so relentless because of their depth off the edges. You can't beat Brady without hitting him in the mouth. The Eagles can at least check this box. — Stuckey
Trend to know: The Patriots' offensive line ranks 14th in Adjusted Sack Rate and gave up 35 sacks in the regular season. Brady is 90-43-2 ATS (67.6%) when he gets sacked one or fewer times. That dips to 77-68-7 ATS (53.1%) when he gets dropped two or more times. — John Ewing
Prop bet we're eyeing: Danny Amendola under 5 catches (Heritage). Amendola has had five-plus catches in just eight of his past 32 games, but he's recently unseated Hogan as the offense's No. 2 option during the playoffs. The absence of Gronk in the second half of last week's game undoubtedly played a factor in Brady's target distribution, but Brandin Cooks and Amendola have led the group with 17 and 22 targets over the past two weeks, respectively. But Amendola will draw potentially his toughest matchup to date, as Eagles slot cornerback Patrick Robinson allowed the third-lowest QB rating among full-time nickel backs this season. The Eagles' top-seven-ranked defense in DVOA vs. WR1s and WR2s could lead the Patriots to attack with their backs and tight ends. Hogan should see the most of Jalen Mills, who allowed a league-high nine touchdown passes this season. — Ian Hartitz
For more info on the best props to bet, check out Jonathan Bales' article on the props he's betting and our amazing FantasyLabs props tool.
Sneaky storyline: Patriots might go no huddle. A lot. The Eagles defense allowed a respectable 5.0 yards per play overall, good for ninth in the NFL. Dig a little deeper into the splits, and you'll see a clear weakness against no-huddle offenses. They've allowed 4.7 ypp against the huddle (which would put them in the top-three), but a staggering 6.7 ypp against no-huddle offenses. That means Philly allowed 2.0 more yards per play (or 42.5%) against the no huddle this season. Their two games vs. the Giants offer a perfect illustration of this dichotomy. The Giants ran 72 plays in the huddle and gained 5.2 yards per play, compared to 73 plays in the no huddle at a shocking clip of 7.5 yards per play. That could help explain why the Giants, who finished 31st in scoring at 15.4 ppg, put up 24 and 29 in two meetings against Philly. I expect the Pats to utilize the no huddle throughout the game, which will limit the Eagles' ability to sub and help negate their depth along the D-line. — Stuckey
Did you know? The Eagles have played 21 consecutive games without allowing a single point in the final two minutes of the fourth quarter. Since allowing their last last score in the final two minutes, Philly's D is actually outscoring its offensive opponents 18-0 (three defensive TDs). — Evan Abrams
---
A WORD ABOUT SPECIAL TEAMS
The Patriots will have a distinct advantage on special teams, as they normally do. Stephen Gostkowski is much more reliable and experienced at kicker compared to Jake Elliott, who has a huge leg but missed three extra points and three field goals between 30-39 yards in the regular season. Gostkowski did miss two extra points this season, but he was perfect on his field goal attempts under 40 yards.
New England's elite coverage teams should also suffocate the Eagles' weak return units. Expect the Patriots to gain an upper hand in field position with their special teams on Sunday. The Patriots finished No. 1 overall in opponent average starting field position for a reason. In fact, they were the only team in the NFL to have their opponent start inside the 25-yard line. In contrast, the Eagles finished 17th in that same stat, as their opponents started at the 28.27 on average. That 4-ish-yard differential adds up over the course of a game. Per Football Outsiders, the Patriots had the third-ranked special teams unit in the regular season. The Eagles finished 18th.  — Stuckey
---
WHICH WAY ARE YOU LEANING, STUCKEY?
I think this plays out similar to many of the Patriots' previous Super Bowls, so I have to take the +4.5. In their seven Super Bowl appearances since 2000, New England has never held a lead of more than four points at the end of regulation. After digging into this matchup for two weeks, I am convinced New England will run a lot of no huddle, which should speed the game up. Tom will score, as he always does. Since the Eagles can gash the Patriots on the ground and have a plus matchup with Agholor in the slot, I think the over is the play from a total perspective. — Stuckey
Editor's note: The opinion on this game is from the individual writer, and is based on his research, analysis and perspective. It is independent of, and may not always match with, the algorithm-driven Best Bets from Sports Insights.
Photo via Kirby Lee-USA TODAY Sports
How would you rate this article?