Can Ben Roethlisberger Thrive Without Antonio Brown?
Credit:
Philip G. Pavely-USA TODAY Sports. Pictured: Ben Roethlisberger
Ben Roethlisberger and Antonio Brown formed a premier quarterback-receiver connection. What will Big Ben achieve without AB?
Ian Hartitz assesses whether the Pittsburgh Steelers quarterback is worth targeting in late rounds.
We're in the thick of the NFL offseason and it's officially time to start fantasy football prep. I'll be answering the biggest questions heading into the 2019 season; this is part of that series.
---
The Pittsburgh Steelers haven't had a losing record since 2003. Things have been particularly fruitful in recent seasons, as they won double-digit games from 2014-17 before going 9-6-1 in 2018.
They've operated as a top-10 scoring offense in each of the past five seasons after not finding a way to rank higher than 12th between 2008 and 2013, as the franchise has slowly transitioned its identity from one of the league's premier rushing and defensive-minded teams to a squad that looks to air the ball out and score as many points as possible.
Ben Roethlisberger deserves plenty of credit for the offense's success over the years, but 2019 will be the first time in a long time that we see the 37-year-old Big Ben without the assistance of arguably the league's best wide receiver.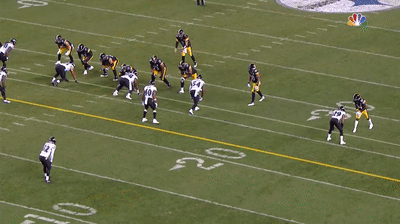 What follows is a breakdown of how the loss of Antonio Brown could impact Roethlisberger as well as what to expect from the Steelers franchise quarterback in fantasy football.
---
Ben Roethlisberger Has a (Brief) Not Great History without Antonio Brown
Roethlisberger and Co. have won three-of-four games without AB on the field since he became a featured receiver in 2011. The team success is good, but Big Ben hasn't demonstrated much upside without his No. 1 sidekick in this minute sample size:
Week 10, 2012 vs. Kansas City Chiefs: 9-18, 84 yards, 1 TD-0 INT
2015 Divisional Round at Denver Broncos: 24-37, 339 yards, 0 TD-0 INT
Week 16, 2017 at Houston Texans: 20-29, 226 yards, 2 TD-0 INT
Week 17, 2018 vs. Cincinnati Bengals: 31-45, 287 yards, 1 TD-1 INT
Note that Roethlisberger was injured shortly after the start of halftime in the Chiefs game and didn't return.
Quarterbacks performing worse without their No. 1 receiver on the field shouldn't be that shocking. With that said, the Roethlisberger-Brown connection wasn't quite what it used to be in 2018, as AB averaged only 7.7 yards per target — tied with Cole Beasley for the 49th-highest mark among 82 receivers with at least 50 targets.
Brown led the league in touchdowns (15) and interceptions (11) thrown his way last season. Not all of these picks should be blamed on AB, but there's support behind the idea that the league's longtime No. 1 quarterback-receiver connection was, at the very least, on the decline prior to the front office shipping Brown off to the Raiders.
The good news for Steelers Nation is that the offense boasts a number of talented options capable of helping pick up the slack. The bad news is that the options aren't exactly what some might call proven.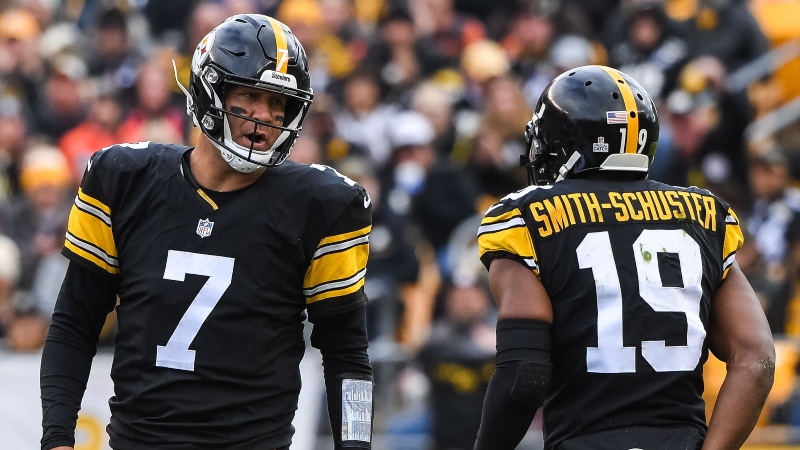 The 2019 Steelers Offense Is Full of Weapons
No single receiver will be able to replace what Brown brought to the Steelers offense. This includes JuJu Smith-Schuster, but he'll almost assuredly be the man that defenses craft their game plan around stopping anyways.
We do have three games of evidence that Smith-Schuster is plenty capable of producing at a high level without AB…
Week 16, 2017: 6 receptions-75 yards-1 TD (WR4)
Week 17, 2017: 9-143-1 (WR1)
Week 17, 2018: 5-37-1 (WR28)
…but his days of consistently seeing single coverage are likely over.
Brown (168 targets) and Smith-Schuster (166) were already two of only five receivers with more than 160 targets last season, so there's a scenario in which JuJu could be less efficient on a very similar workload.
This "worst-case scenario" would likely still yield more than enough targets for Smith-Schuster to work as a WR1 in fantasy football. His status as the PPR WR6 in average draft position is fair for a player who has already established himself as one of the position's better talents.
Five players have produced double-digit games with 100-plus receiving yards during their first two seasons over the past 50 years:

Odell Beckham Jr.
Randy Moss
T.Y. Hilton
Torry Holt
…
JuJu Smith-Schuster 👀 pic.twitter.com/fNfvMXHhrr

— Ian Hartitz (@Ihartitz) June 19, 2019
It's just a bit premature to expect Smith-Schuster to provide the same level of impact as this generation's Jerry Rice.
The rest of the crew isn't bad off, either.
Ben Roethlisberger adjusted yards per attempt to tight ends during his career (min. 10 targets):

1. Vance McDonald (8.54) 👀
…
Ladarius Green (8.21)
Heath Miller (7.88)
Matt Spaeth (7.42)
Xavier Grimble (7.34)
Jesse James (7.22)
David Johnson (7.14)
David Paulson (6.5) pic.twitter.com/heGjJ4fnvE

— Ian Hartitz (@Ihartitz) March 31, 2019
Donte Moncrief has a chance to work his way onto the field in 2-WR sets if he can regain some of the talent he demonstrated in Indianapolis with Andrew Luck. Moncrief scored 15 touchdowns in 34 games with Luck compared to seven touchdowns in 38 games with anybody else under center.
The potential big winner in the AB trade from a fantasy perspective is 2018 second-round pick James Washington. The former Oklahoma State field-stretcher needs some refinement on his routes and hands, but he has the type of jump-ball and big-play ability that's needed more than ever for the Steelers.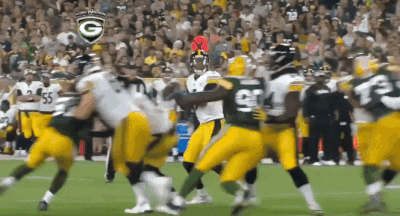 The Steelers used their 2019 third-round pick on Toledo receiver Diontae Johnson. He has a mediocre combination of size (5-foot-10 and 183 pounds) and athleticism (22nd-percentile SPARQ-x athlete), but does have some upside as a returner. The Steelers deserve the benefit of the doubt with wide receiver prospects considering their history of finding non-first round gems at the position, and Johnson deserves credit for managing to catch 21 touchdowns during his final 27 games in college.
Equipped with what figures to once again be one of the league's better offensive lines, and there's no reason why the Steelers can't compete for a division title in a wide-open AFC North.
Still, it might be time to curb our expectations for Big Ben's ability to consistently work as a high-end fantasy football quarterback.
---
Roethlisberger's Best Fantasy Football Might Be behind Him
Roethlisberger is presently the QB15 in average draft position.
His ability to dominate at home makes him worthy of investment for owners that prefer to wait on the position and rotate multiple signal callers (per our FantasyLabs NFL Trends tool):
This trend did seem to fade last season.
Ben Roethlisberger home/away fantasy points per game over the past five years

2014: 25.2 home vs. 14.8 away
2015: 23.5 vs. 14.5
2016: 25.5 vs. 13.8
2017: 21.3 vs. 15.4
…
2018: 21.5 vs. 21.7

— Ian Hartitz (@Ihartitz) July 10, 2019
The problem is that we should probably expect a dip in Roethlisberger's efficiency (due to Brown's absence) and volume. Big Ben's 675 pass attempts in 2018 were the fourth-highest mark in a single season ever, and this coincided with the first time that he managed to play all 16 games since 2014.
The Steelers ranked No. 6, No. 16, No. 9, No. 6 and No. 1 in total pass attempts from 2014-2018, respectively. Part of Roethlisberger's appeal as a fantasy football quarterback was his consistent nature of throwing the ball deep.
Ben Roethlisberger's Deep-Ball Rate via Pro Football Focus
2018: 12.9% (No. 10)
2017: 15.7% (No. 4)
2016: 16.9% (No. 1)
2015: 15.8% (No. 4)
2014: 13% (No. 17)
But he no longer has arguably the league's premier deep threat.
The trio of Moncrief, Washington and Johnson shouldn't be underestimated, although it would make sense if the Pittsburgh offense leaned on its group of running backs more than usual.
This year's crew of quarterbacks offers an abundance of late-round talent.
Personally, I'm trending towards dual-threat talents like:
Roethlisberger's status as a high-variance quarterback is useful for fantasy because we can prioritize his starts at home. Still, he accordingly offers a fairly low weekly floor in an offense that could regress in 2019.
I won't be going out of my way to draft Big Ben in any draft.
How would you rate this article?