Raybon's 2019 NFL Best Ball Draft Strategy: 10 Players I'm Fading
Credit:
USA Today Sports. Pictured: Todd Gurley, Patrick Mahomes
With fantasy football leagues ramping up, it's time to start working on your NFL best ball draft strategy for 2019.
Chris Raybon highlights 10 players who are overvalued in DRAFT NFL Best Ball right now and who to pick instead.
To be a profitable offseason best ball player, you'll need to have a few league-winners — like Patrick Mahomes and George Kittle in 2018 — among your highest-exposure targets.
But at many points in your draft, you'll be choosing between players of similar value and simply need to hold serve by avoiding potential busts.
Even though best ball results are largely a product of players' ceilings since your starting lineup is automatically optimized each week, drafting is also about avoiding low floors — not in the sense of the lowest possible score a player could produce in a given week, as those tend to even out, but in the sense of how many non-valuable weeks a player will end up with relative to the value on the board.
Non-valuable weeks can occur due to not only the usual suspects (such as injury or lack of opportunity), but also to positional value: For example, if you draft three quarterbacks in the first six rounds and they all finish in the top five, you'll probably still find yourself with a lot of unusable weeks because only one per week will count toward your score.
2019 NFL Best Ball Strategy
So with all that said, here are 10 players I'm fading as of early May.
And remember: Good players can have bad ADPs.
All ADPs are from DRAFT as of May 7
---
Todd Gurley, RB, Los Angeles Rams (ADP 7.8)
At first glance, this seems like a steal — Gurley finished as the RB1 in points per game and RB2 overall — but the first round is not the time to be all stingy with your glances. Every player in Round 1 (and well into Round 2) has a similar ceiling, but Gurley sticks out as the player with the lowest floor due to an arthritic knee condition that's given some medical professionals reason to believe he's already peaked.
From Week 9 through the Super Bowl, Gurley averaged just 16.6 touches in nine games — fine for a back in the Frozen Pond Tier, maybe, but well below the 23.4 in his first 24 games under Sean McVay that put him back on the high-end RB1 map.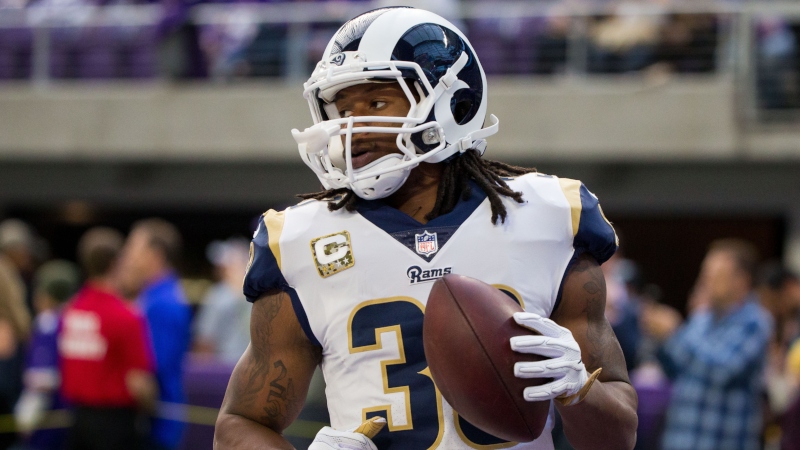 The Rams' pick of Memphis running back Darrell Henderson in the third round shouldn't be taken lightly, either: Over the past five years, backs picked in Round 3 averaged 137 touches their rookie seasons.
The Rams also matched Malcolm Brown's $3.25 million offer sheet, and C.J. Anderson showed that Sean McVay has no issues with plugging a back just signed off the street into a huge workload if necessary.
---
Patrick Mahomes, QB, Kansas City Chiefs (ADP 32.7)
If you're tempted to draft Mahomes this high, I'm going to assume it's because you're suffering from a severe case of FOMO after not getting enough exposure to him in the late rounds last year.
This is not even about Tyreek Hill's indefinite suspension or 2018 being an outlier that will be tough to match even if Mahomes goes on to have a Hall of Fame career. This is about the fact that from a value-based perspective, there's almost nowhere for a QB selected this high to go but down.
Even if Mahomes does give you first-round value, a max gain of +2 rounds of value is still not that valuable when a max of one QB will count toward your score each week.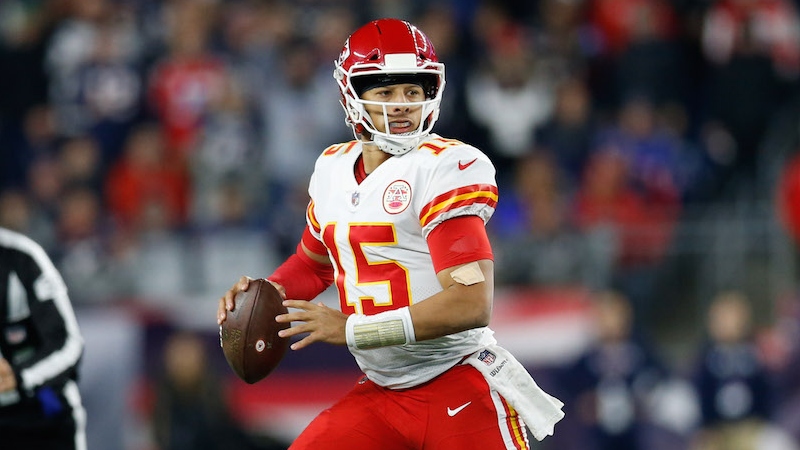 Not only is this nearly 30 picks too high for Mahomes, but the main advantage of using a pick this high on a QB — getting a matchup-proof player who you don't have to worry about whether to start or sit each week– is minimized in best ball formats.
UPDATE: With Hill good to go and rookies Mecole Hardman and Darwin Thompson coming along faster than expected, I'm now treating the Late Round QB strategy as a "know the rule but also know when to break it" situation in regard to Mahomes. While Mahomes' 2018 season was an outlier relative to the rest of the league, I no longer believe it's necessarily an outlier at all for him personally as long as his current supporting cast and coaching staff remain intact. I now like taking Mahomes so long as it's at or below ADP. For more on why, check out tip No. 5 here. If you need to pile up Mahomes exposure quickly, ramp up your entries into 3- and 4-man contests.
---
Cooper Kupp, WR, Los Angeles Rams (ADP 52.2)
At this point in the offseason, we're still too far out to take Kupp's injury timetable for granted with so much value still on the board. McVay said the goal is for Kupp to be ready for Week 1, but four months leaves plenty of time for timetables to change or setbacks to occur, and the last thing you need is for your fourth- or fifth-round pick to turn into Cooper PUP.
In these situations, ask yourself: "How much higher would this player get taken if we knew he was 100% healthy?"
At times you'll weigh the risk/reward and decide that it's best to take a risk on a player whose status is in doubt, but in this case, how much further do we realisitcally think  Kupp will rise? Maybe 4-5 WRs and 12 or so overall picks at best? There's no reason to force this pick now; Sammy Watkins (53.0), Allen Robinson (63.1), and Tyler Lockett (65.4) highlight a lengthy list of viable alternatives.
UPDATE: With Kupp reportedly healthy — and in better form than he was pre-injury, according to Jay Glazer of The Athletic — he's off my fade list.
Derrius Guice, RB, Washington Redskins (ADP 53.2)
This ADP makes too many assumptions:
That Guice is going to be 100% healthy, which according to ESPN's Adam Schefter as of late April, he is not.
That the Redskins coaching staff feels good enough about his health to give him a big workload.
That he plays well enough to knock Adrian Peterson completely out of the committee. AP signed for the veteran's minimum, but especially if Guice isn't 100%, that's no sure thing. And if he doesn't, he'd be in a three-way committee with AP and Chris Thompson, who caps Guice's pass-catching upside.
That there wasn't anything to Dwayne Haskins' draft-day free-fall, because if Haskins isn't a "make everyone around him better" QB in Year 1, Guice will have to create his own scoring opportunities and could end up with a game log that looks a lot like 2018 Isaiah Crowell, even if Guice is worth the hype.
Guice could end up being a dominant back from the moment he steps on the field, but I'd rather wait until we have a more definitive outlook for him before investing. And if that means I have to draft him a round or so higher come August, so be it.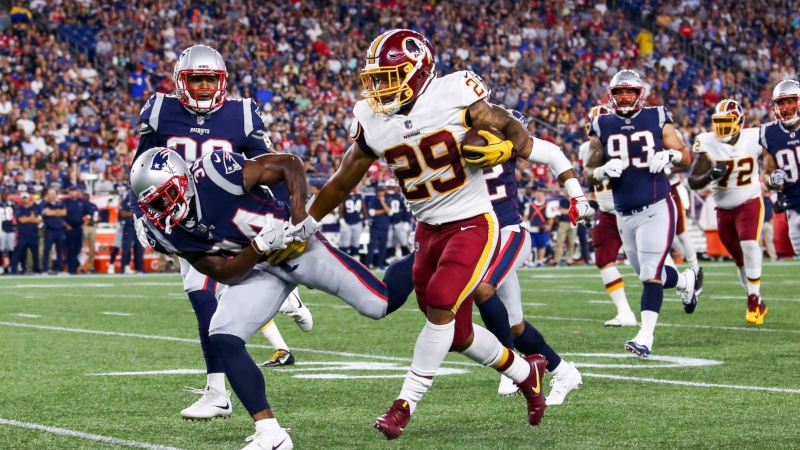 In my opinion, this is the part of the draft where you want to start attacking WR; if you feel a pressing need to grab Guice here, you've probably haven't drafted enough RBs in the earlier rounds.
---
Robby Anderson, WR, New York Jets (ADP 77.5)
I generally like the idea of targeting deep-threat WRs in best ball, but this is buying too high on Anderson.
Much of his upside over the last couple of seasons stemmed from the Jets' failure to field difference-makers at receiver post-Brandon Marshall and Eric Decker, but Anderson enters 2019 greeted by a new coaching staff and crowded receiving corps featuring Le'Veon Bell, Quincy Enunwa, Jamison Crowder and Chris Herndon. And with more competition for targets, Anderson's deep-ball acumen can be as much of a curse as it is a gift: He's a virtual lock to run the lowest-percentage routes on the team, and a potential lack of volume could be compounded if Sam Darnold can't up his deep accuracy rate (35.0%), which ranked 30th of 36 qualifiers in 2018, per Pro Football Focus.
If Anderson underperforms this ADP, there will have been other warning signs, such as his career splits with Enunwa active (2.9/43/0.25) compared to without (4.3/62/0.45).
Ultimately, Anderson will have his share of high highs, but there is no shortage of receivers going later than him who project for a similar range of outcomes: Marvin Jones (85.2), for instance, should again be in the neighborhood of his Lions career average (3.8/63/0.45), and receivers ranging from pick 117.5 (DeSean Jackson) to 152.0 (Kenny Stills) to 205.1 (Robert Foster) qualify as discount versions of Anderson with similar ranges of outcomes.
---
Drew Brees, QB, New Orleans Saints (ADP 87.7)
Over his last seven games, Brees averaged just 7.4 yards per attempt and threw a pick in all but one — notable given that he turned 40 in January.
Brees just simply is not the ideal fantasy QB we've gotten used to anymore: He doesn't run, gets a few snaps per game siphoned by Sean Payton pet project/man crush/"QB" Taysom Hill, and hasn't been a high-volume passer for some time now, averaging just 30.6 attempts per game in 2018 and 33.5 in 2017 after launching 41.4 per outing from 2010 to 2016.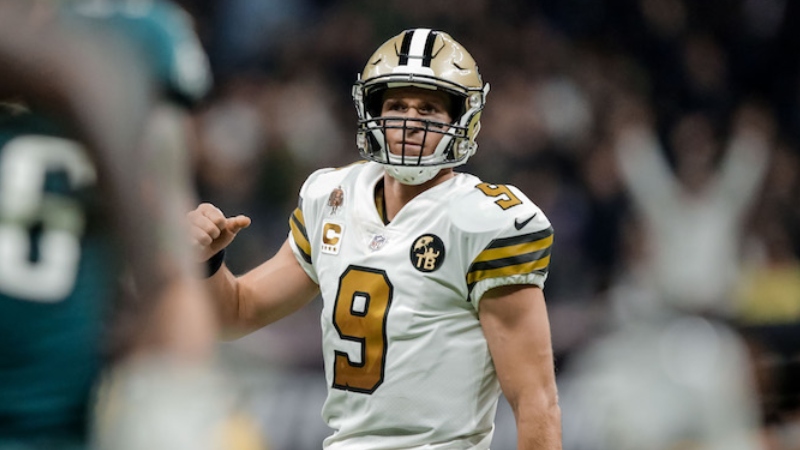 I think Jared Cook could potentially give this offense a dimension it lacked with the Ben Watson-Dan Arnold pass-catching rotation from last season, but Coby Fleener is somewhere hysterically laughing at me for thinking that.
If an aging, high-efficiency statue is what you seek, Ben Roethlisberger (117.3), Phillip Rivers (125.1) and Tom Brady (139.2) can be had 30-50 picks later — not to mention the other 10-odd QBs who I also have ranked ahead of Brees.
---
Austin Hooper, TE, Atlanta Falcons (ADP 96.3)
This is not a knock on Hooper as a player; he's solid. The issue is that Hooper represents a massive drop-off from the tier above him.
I see no point in chasing Hooper's volume from last season (71 receptions on 88 targets) when he wasn't all that impressive compiling it (4 TDs, career-low 9.7 yards per reception). And you can get a player with a similar outlook in Trey Burton (118.1) more than 20 picks later, or take the discount on a player like Jordan Reed (146.8) at a spot in the draft where the reward outweighs the risk.
UPDATE: Since this article was published, Hooper's ADP has dropped roughly 20 spots. I'm fine with taking him there and believe he represents the last reliable player in the TE1 tier before a drop-off to TE2 types with lower floors.
Emmanuel Sanders, WR, Denver Broncos (ADP 98.7)
Last year was the year to draft Sanders: He was in line for a huge target share, Demaryius Thomas' washed-ness was palpable, and Courtland Sutton and DaeSean Hamilton were still rookies.
Now Sanders is 32 and attempting to return in nine months from a career-threatening injury that normally requires an 11-month recovery period. As of May 8, there's still no timetable on when he will be able to resume running routes; both he and the team say they won't rush it.
When Sanders returns, he'll face competition for targets from younger, healthier players at every skill position, namely wide receivers Sutton and Hamilton, as well as rookie first-round tight end Noah Fant. And those targets will come from either Joe Flacco, or a rookie who lasted 41 picks in the draft before being selected by an executive who has literally never been able to find starting-caliber QB play if a future Hall of Famer doesn't just so happen to be an available free agent.
UPDATE: Sanders has looked like his usual self in the preseason, which is what I needed to see to bump him up. I'm still projecting him for 12 games played — the amount he's played in each of the past two years — and you can't drop injured players in best ball, so he's not exactly ideal for the format, but he's also no longer a hard fade for me. I have him ranked as the WR42 in half-PPR formats.
---
Jaylen Samuels, RB, Pittsburgh Steelers (ADP 104.8)
I get the multi-positional appeal with Samuels, who the Steelers can also stick at tight end and H-back in addition to halfback, but this is not quite a lock in the same way that scooping up DeAngelo Williams or James Conner as handcuffs to Le'Veon Bell in years past would equate to shoo-in RB1 value when Bell sat.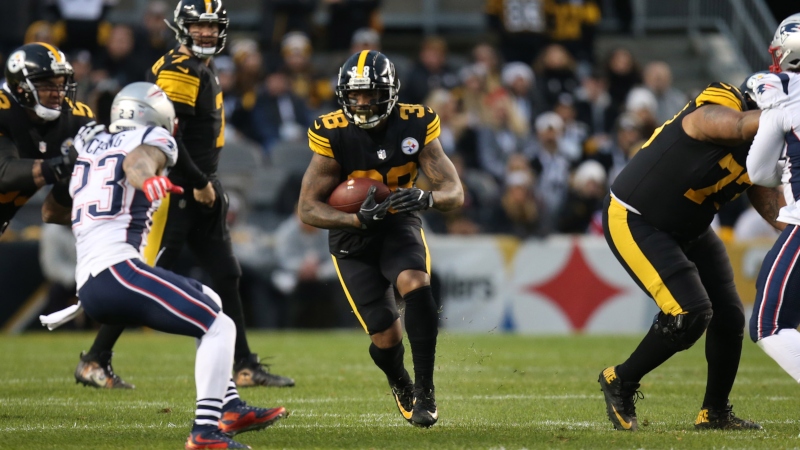 Samuel was often pulled at the goal line for Stevan Ridley in 2018, and as Matthew Freedman discusses in his 2019 dynasty rookie rankings, it's possible the coaching staff views fourth-rounder Benny Snell as a more ideal fit for the No. 2 role should Conner go down.
At this point of the draft, you can still get RBs with a shot at a 1a role in their respective backfields such as LeSean McCoy (102.8), Ronald Jones (103.6), Kalen Ballage (154.7) or Peyton Barber (154.7); one more firmly entrenched in a 1b role like Ito Smith (122.0); or a higher-upside wild card on an even better offense in Darrell Henderson (122.0).
---
James Washington, WR, Pittsburgh Steelers (ADP 123.6)
First things first: We all know that signing Donte Moncrief to a short-term deal is the universal sign for a team that's not feeling too great about its outside receiver situation.
It's way too early to know if Washington has any type of substantial volume locked up relative to many of the receivers going after him; in addition to Moncrief, it's possible rookie third-rounder Dionte Johnson jumps Washington on the depth chart, or that Pittsburgh decides to use JuJu Smith-Schuster more on the outside and one or both of Eli Rogers and Ryan Switzer in the slot.
There are too many roads that lead Washington right back to the same role he filled last season: A low-volume (2.7 targets), inefficient (42.1% catch rate) go-route runner.
The kid has talent and was thought to have sleeper appeal last season (guilty), but unlike in Martavis Bryant's heyday, Ben Roethlisberger may no longer be the ideal QB to unlock that talent: According to data from PFF, Big Ben has finished 28th or worse in deep accuracy in each of the past two seasons following a three-year stretch in which he averaged an 11th-place finish.
You're on the right track if you're targeting Year 2 wide receiver breakouts, but it's hard to make a case that Washington deserves to be drafted significantly ahead other potential breakout candidates such as Michael Gallup (148.7), Tre'Quan Smith (151.2), Anthony Miller (162.9), Marquez Valdes-Scantling (175.4), DaeSean Hamilton (192.1) and Robert Foster (205.1) — not to mention high-upside rookies like Mecole Hardman (131.5), Parris Campbell (156.7), Deebo Samuel (176.4) and Andy Isabella (186.9).
Chris Raybon is a Senior Editor at the Action Network and a co-host of "I'll Take That Bet" on ESPN+. He has watched every snap of every NFL game since 2010 — even the kneel downs. Follow him on Twitter @ChrisRaybon and read about how he quit his accounting job and got paid to watch sports.
How would you rate this article?