Raybon's Best Ball Draft Strategy for 10- and 12-Team Leagues
Credit:
Geoff Burke-USA TODAY Sports. Pictured: Saquon Barkley
Chris Raybon breaks down optimal best ball draft strategy for 10- and 12-team leagues.
He runs through how to attack each position -- the key difference between each league size.
There are six league sizes available on DRAFT, but strategy for the 10- and 12-team best ball leagues is most similar to traditional re-draft leagues: Running back is the most important position to attack early and you can wait on quarterback.
Below is a position-by-position strategy breakdown for 10- and 12-team best ball leagues, as well as how it pertains to 2019. But before we get into that, here are a few general strategies I employ across all DRAFT best ball leagues.
Always follow a 2QB/6RB/7WR/2TE roster construction through 17 rounds, which leaves you with the option of taking the best player available regardless of position with your final pick. (I prefer to avoid QB and spend it on a pass catcher.)
Positional tiers are more important than exact rankings. My colleague Sean Koerner has you covered with tiers for quarterbacks, running backs, wide receivers and tight ends.
The later in the draft, the more acceptable it is to take risks.
The later in the draft, the more acceptable it is to let bye weeks be a tie-breaker.
Let's start with an overview of every position then run through each.
---
Strategies For More League Sizes: 6/8 | 3/4
---
Importance of Positions in 10- and 12-Team Best Ball Leagues
Quarterbacks
In large leagues, you have the biggest incentive to wait on QB.
The QB10 has finished with the 77th overall VBD and the QB12 has finished with the 93rd overall VBD. But only 4.0 points per game separated the QB6 and QB21, so you can wait even longer than that so long as you're grabbing two QBs in the top 20.
I think the edge here is not necessarily waiting on QB (a lot of sharp players are already doing this), but taking two instead of three. Many drafters correctly wait on QB, then offset the potential edge by drafting three instead of two. But you're only gaining a minimal edge by selecting a third, especially since the best ball format will optimize starting weeks and the position cannot be used in the FLEX.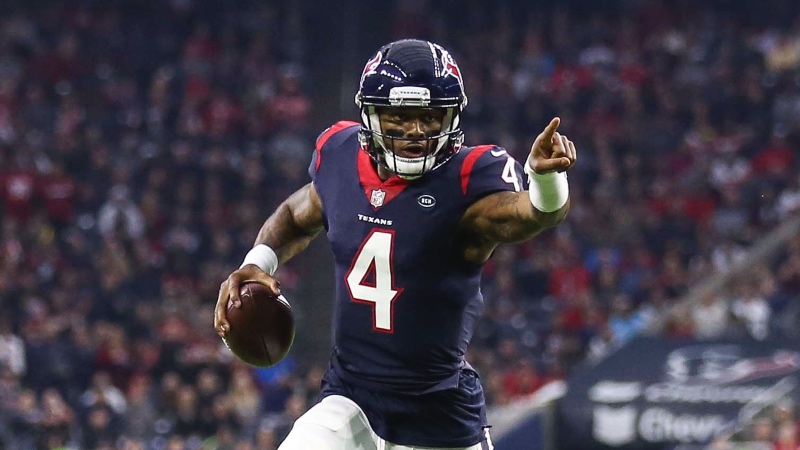 What It Means for 2019
I generally want to be one of the last owners to draft a QB1 — my top target is Kyler Murray — and one of the first to draft a QB2. I almost never draft a QB before Round 8, and when I do, it's usually when Baker Mayfield falls into my lap, as I think he has the potential for an all-time great season if Odell Beckham stays healthy.
The important thing for me here is to draft two QBs in the top 15, which is around where the tier of potential QB1s with rushing ability ends. Mitchell Trubisky and Dak Prescott are usually the last two to be drafted in this tier.
---
Running Backs
Running backs made up half of the top 10 VBDs in 10-man leagues and half of the top 12 VBDs in 12-mans, which puts the emphasis on drafting RBs early.
The only difference with best ball is that nabbing guaranteed starters who will be easy to predict isn't as important. It's actually a good idea to grab one or two backs who could post their big numbers later in the season, especially if they have a chance to earn a three-down role.
What It Means for 2019
Because stud RBs are still at a premium in large leagues, I usually go RB over WR in the first round and will draft up to three RBs in the first three rounds if I can get what I feel is top-five upside (Aaron Jones and Josh Jacobs mark the end of that tier for me). The more draft capital I spend early on RB, the less aggressive I will be at the position in the middle rounds, as I'm banking on my studs being consistent enough to do the heavy lifting in my RB1, RB2, and FLEX spots most weeks.
Starting caliber backs end around RB25 with Lamar Miller, so it would be ideal to get three by that point — especially if you neglected to acquire at least one stud.
However, with tight end dropping off a cliff after TE10 and wide receiver around WR40, it doesn't make as much sense to hoard backs at the expense of those positions: 50-70 RBs will come off the board in 10-mans, and 60-84 in 12-mans, so everyone in the league will have to draft a few backs from the clearance section (some of my current favorites are Kalen Ballage, Damien Harris, Mike Davis, Justice Hill, and Darwin Thompson).
---
Wide Receivers
Anywhere from 60-90 wide receivers will come off the board in 10-mans and 72-108 in 12-mans. The best ball format will blur the lines between quality and quantity to a certain degree, so the important thing to keep in mind is the major tier drop-offs: There tends to be one after WRs with high-end WR1 upside are gone, and another after all of the high-floor WR2/3 types are off the board.
What It Means for 2019
I prioritize stud RBs over stud WRs early for reasons stated earlier, but I usually want at least one WR before the drop-off at Julian Edelman (who typically goes around WR15).
There is another major one around WR40, after which most players' projected volume isn't as certain. As such, the ideal is to draft five in the top 40 in 10-mans, and four in the top 40 in 12-mans if possible. I'm usually fine with drafting from the back-end of this tier, as I believe the best ball format flattens out the value throughout the group, and a lot of players I like (Will Fuller, Christian Kirk, Keke Coutee, Curtis Samuel) can usually be had fairly late in the tier.
---
Tight Ends
Given that tight end scores fewer points than top RBs and WRs, it isn't as much of a priority in larger league sizes.
I think the bigger edge is again in the number of players you draft at the position. If you get a stud, taking only two will probably maximize your upside. If not, you're better off waiting and taking three.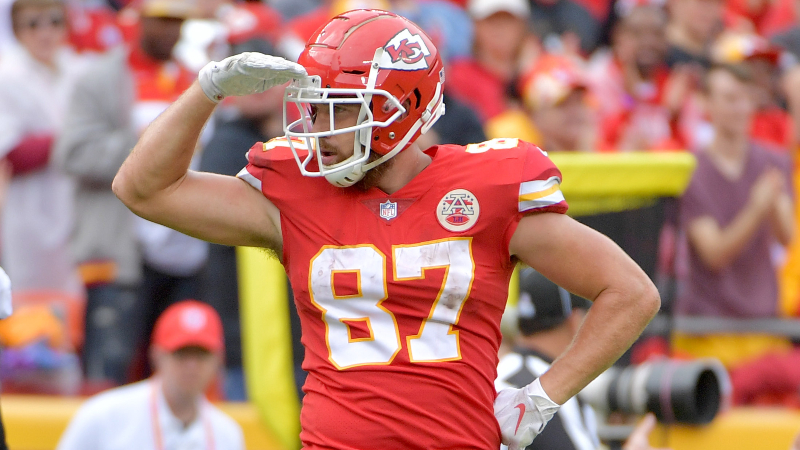 What It Means for 2019
Travis Kelce, George Kittle and Zach Ertz will provide a major edge, and you only need to draft one more TE if you get one of those three. I wouldn't recommend doubling up on stud TEs in larger leagues because top TEs tend to score the lowest of the three FLEX positions and more owners means there's a greater chance for your monopoly to be offset.
If you miss out on the three studs, you want at least one of O.J. Howard, Evan Engram, Hunter Henry, David Njoku, Eric Ebron, Jared Cook or Vance McDonald — though I wouldn't reach for any of them. If two fall into your lap, though, I think it's also viable to select only two TEs.
If you miss out on both of those tiers, you definitely want to pick three, especially since many of the top options outside this tier have age or injury concerns — i.e., Jordan Reed, Jimmy Graham, Delanie Walker, Greg Olsen, Tyler Eifert, Jason Witten, etc.
---
Chris Raybon is a Senior Editor at the Action Network and a co-host of "I'll Take That Bet" on ESPN+. He has watched every snap of every NFL game since 2010 — even the kneel downs. Follow him on Twitter @ChrisRaybon and read about how he quit his accounting job and got paid to watch sports.
How would you rate this article?